Make an easy succulent centerpiece for your table. This all natural arrangement is perfect for spring and summer, and adds a nice pop of color to your dining room or kitchen!
Spring and Easter are just around the corner, so I thought it was about time to make a new spring centerpiece for the dining room table. I used to use artificial flowers everywhere, but we've been adding more live plants in the family room and living room, and they're doing pretty well. I even used fresh greens to decorate at Christmas, and I loved the look and the fresh pine scent. Nobody had any allergy trouble either, so I decided to make a natural arrangement for spring.
Succulents were the obvious choice. They don't require a lot of fuss, and they're so easy to work with. Plus, they're the perfect fit for the wood planter box that I use in the dining room. The Hubs and I made this over a year ago, and I use it all year. I just change the contents up with each season. Easy peasy!
If you can't make your own planter box, you can always buy one. I've seen some in Home Depot, craft stores and other stores, as well.
How to Make an Easy Succulent Centerpiece
Materials needed:
Wood planter box
Succulents
Moss
Pine cones
Newspaper
I left the succulents in their original containers. I can easily transplant them later, but for now, I just watered them before adding them to the planter. Then, I lined the box with some old newspaper.
Next, I placed the plants in the box. I wanted to cover the plastic containers, so I purchased some moss from the craft store. I had my daughter help tear it apart and place the moss around the succulents. This part was super messy, so we did this outside. It was very windy out, and the moss was flying around the yard — good times! Still, better outside than all over the floor!
I love pine cones, and I use them around the house all year long. So, I added a few around the succulents. They just add some extra color and texture to the arrangement.
And, that's all it took to make this easy succulent centerpiece!
My dining room doesn't get a lot of light, so this is a little on the dark side, but you can get an idea of how it looks on the table. I love the extra pop of green, and it's a perfect centerpiece for spring and summer!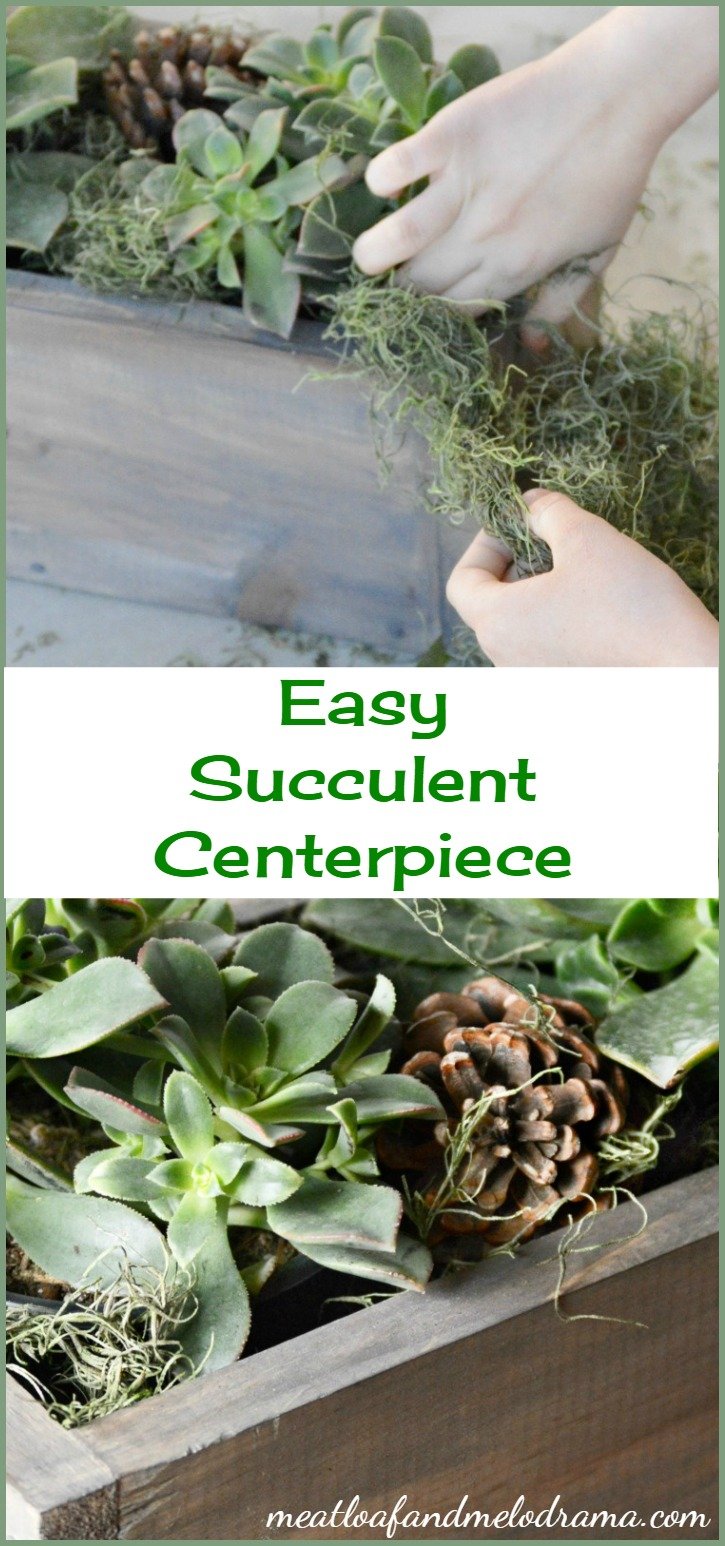 Are you a fan of succulents or natural arrangements?
Happy Decorating,

Sharing At
Met Monday, The Scoop, Wow Us Wednesday, Thoughts of Home, TT&J