Hey There,

Ever since we moved into our home, I've been trying to get the right look–you know, the look that says the house you live in is really your home? I'm not a designer or decorator, and it's take me a while to figure out how I wanted things to look. It's easy to walk into a store and buy artwork, but it's not so easy to create a custom look on budget. Now that I've decided to stick to rustic decor, I have been working hard to pull everything together.

Last year, I splurged and bought a large cut-out map of the United States from Cost Plus. This was on sale, but it wasn't cheap! So, we get home, hang it on the wall, and it's missing something. I loved the way the map looked, but it looked bare on the wall.

I added sconces with candles on either side of the map, which helped, but I still wasn't happy with the final result. I have to add that Hubby thought it was fine, and I think he was hoping I would just forget about it. Well, we all know how that goes–if something doesn't look quite right, you can't just forget about it.





Anyway, I finally decided that the map needed a background, and I decided to fake the look of an old, wooden gate and hang the map onto the gate. I found the type of wood I was looking for at Home Depot. I bought a combination of redwood and pine fencing, and some of the boards were nice and rough. I also sanded the ends so that they would look worn.


I thought about distressing them or adding a chippy paint finish, but I really loved the look of the natural wood. I alternated the colors and the ends so that one end is rounded and the other is straight.

Hubby was kind enough to do the heavy work for me–I think he was seeing a light to the end of this tunnel! He cut the wood and fastened the boards together with the cut pieces. On the back, we used heavy wire to hold the boards. The map already had two hooks on its back, so we just added two nails to the front of the boards and hung the map onto the nails.



Our family room gets a lot of sun in the afternoon, so the wood may fade over the years, which is fine with me! Getting a good photo is tricky sometimes, and the walls are really a nice tan. Actually I think it is Wilmington Tan, but we used Behr paint. I love how it looks on the wall now! The boards themselves were not expensive, and I think the whole project cost about $12!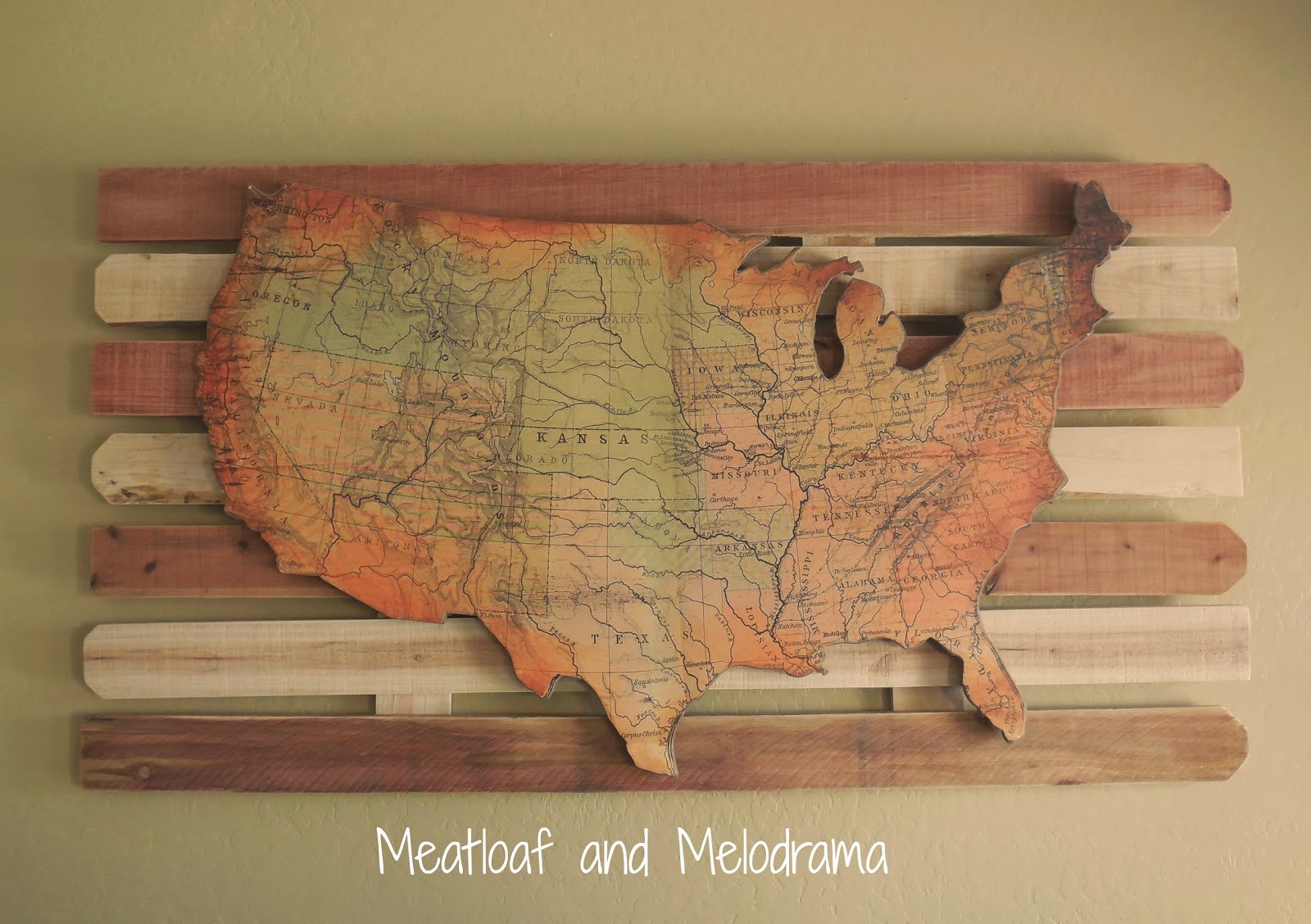 I'm planning to make a few more minor changes to the room, and then, I may be brave enough to show off our family room. I ended up painting the laminate bookcases and the TV stand too, and the effect is really nice since the map is on the wall above the TV. Everything fits well together.

So, I guess the moral of the story is you can combine store-bought pieces and your own DIY creations to get your own custom look! Yes–I've finally figured this out!

Thanks for listening, and have a wonderful day!

Dee 🙂