This easy recipe for Homemade Crock-Pot Cinnamon Applesauce uses only four ingredients and has no added sugar. It's the perfect fall side dish!
I've been wanting to make homemade applesauce for the longest time, and I can finally cross this one off of my huge to-do list. My kids all learned how to make applesauce in the Crock-Pot at school, back when they were in first grade, and all of them loved it.
My youngest has been bugging me to make our own homemade applesauce for the longest time, and finally, we made a big batch when the kids were on fall break. Better late than never, right?
The kids said that they remembered peeling the apples before adding them to the slow cooker, but I've seen a lot of applesauce recipes that call for using unpeeled apples. And since I found the idea of peeling so many apples very unappealing, I decided to leave the peels on. Sorry, friends. I just couldn't resist that one!
Anyway, making applesauce in the Crock-Pot is super easy. I cut up about 8 apples into small pieces, and then I threw them into the slow cooker. I used a mix of Granny Smith and gala apples because those are our favorites, but you can use what you like best.
I also added some cinnamon, water and a tiny bit of fresh lemon juice.
After about three hours on high, the apples were soft enough to mash with a potato masher. The kids loved this part!
When you leave the skins on, the texture is rustic and not completely smooth. But I love rustic, so that's fine by me! I did use my immersion blender to make the applesauce a little smoother, but this step is optional.
And that's all there is to making your own applesauce. Seriously, how easy it that?! And let me tell you, the house smells amazing while it's cooking. It's like an all-natural air freshener!
How to Make Homemade Crock-Pot Cinnamon Applesauce
Recipe
Homemade Crock-Pot Cinnamon Applesauce
An easy way to make homemade applesauce in the slow cooker
Ingredients
8

apples, washed and cut into small cubes

½

cup

water

1

tablespoon

ground cinnamon

1

teaspoon

lemon juice
Instructions
Wash apples, and cut into small pieces

Add apples to Crock-Pot, and top with cinnamon, water and lemon juice

Cook on high for 3 hours or until soft

Mash with potato masher or use immersion blender

Turn heat to low, and keep warm until ready to serve
Notes
This recipe uses a mix of Granny Smith and Gala apples, but you can use your favorite. If you prefer sweeter applesauce, try adding maple syrup or brown sugar. You can also peel apples if you like smoother applesauce.
Nutrition information is estimated. Please do your own calculation to fit special diets.
Nutrition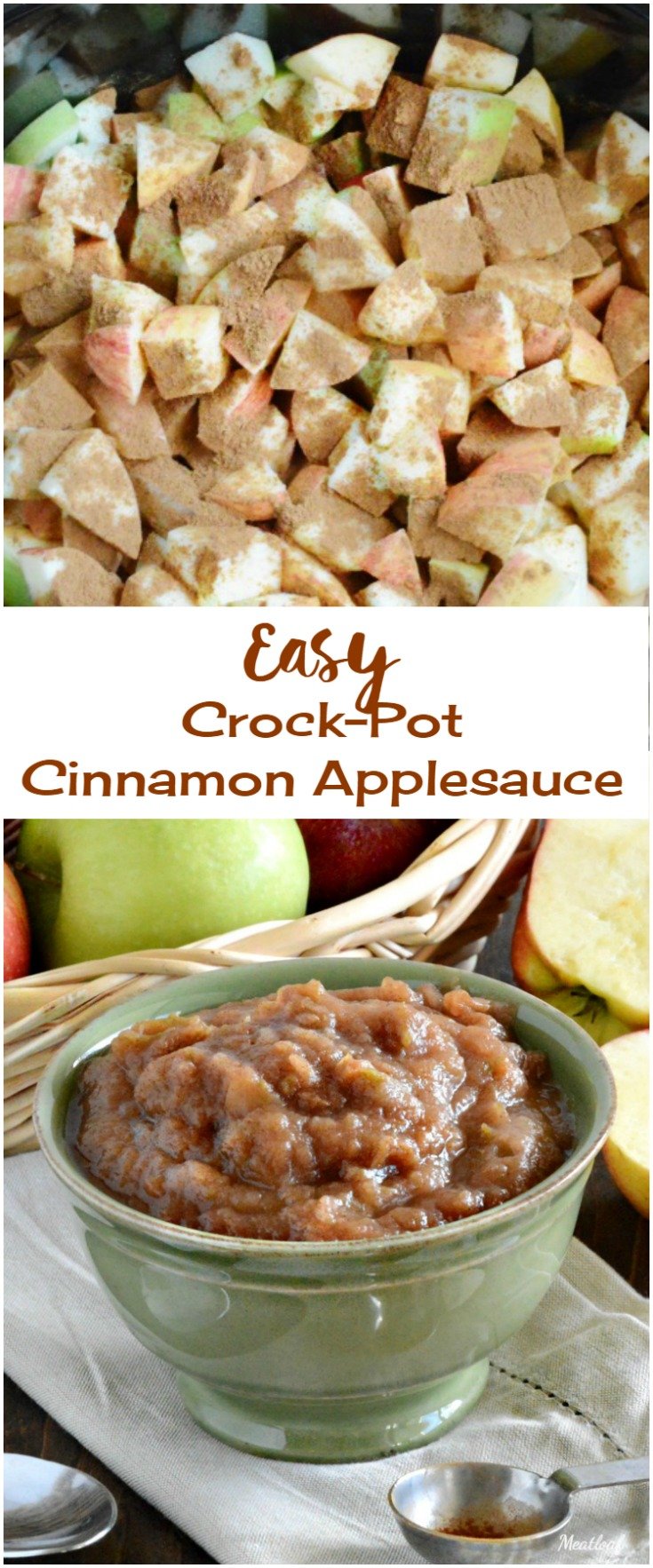 I didn't add any sugar to this recipe for homemade Crock-Pot cinnamon applesauce, but that's a personal preference. We always buy unsweetened applesauce, so this is what we're used to. It makes a delicious fall side dish for pork or chicken. And you can even serve it for Thanksgiving.
If you like yours a little sweeter, you can add maple syrup or brown sugar. That would actually be an awesome fall dessert!
Happy Cooking!