This easy Cinnamon Apple Crisp recipe is made without oats and is the best way to celebrate apple season! You'll love this simple, old fashioned fall dessert!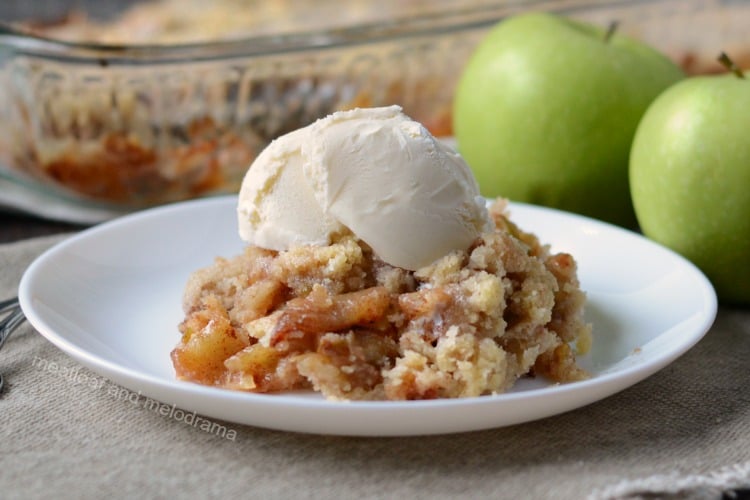 One of the best things about fall is that it's apple season. Everyone in my family loves apples in just about any form, but we especially enjoy eating them when they've been baked to perfection in a sweet and juicy apple crisp.
It's funny but I had never even heard of this simple fall dessert until I got married. Growing up, we had apple pies and caramel apples, and lots of applesauce. But the Hubs' mom always made old fashioned apple crisp.
This easy apple crisp recipe is made without oats, and it's incredibly simple to make. It's funny because almost everyone else uses oats in their apple crisp recipes. The Pioneer Woman's apple crisp is the only one I've seen that is made without oats!
Anyway, like I said, this is basically my mother-in-law's recipe for old fashioned apple crisp, except that I like to add a bit more cinnamon when I make it. That's why I call this tasty version Cinnamon Apple Crisp.
Not only is it easy to prepare, but the ingredients are very simple, as well. We think it's the best apple crisp recipe ever!
It basically consists of a few Granny Smith apples that have been seasoned with cinnamon and brown sugar and topped with a mixture of butter, sugar, flour and more cinnamon before being baked to perfection. Easy peasy, right?
How to make easy cinnamon apple crisp
What are the best apples for apple crisp?
I always use Granny Smith apples when baking or making sweet apple desserts. You get a nice balance of tart and sweet.
All you do is wash, peel, core and slice the apples. I'm not the best apple peeler in the world, but it's fine if there are some peels left on.
Mix the sugars and cinnamon together, and sprinkle them over the apples. You can do this in the baking dish! Then, dot with butter, and mix the topping.
Cut the topping with a knife, fork or pastry blender, then pat it over the apple filling. Pop it into the oven, bake it, and you're done! Super easy.
Topping the crisp with healthy scoop of vanilla ice cream really takes it to the next level! If you serve it when it's still warm, the ice cream melts into the apples and makes it cool and creamy. The brown sugar in the filling gives it a hint of caramel flavor -- yum!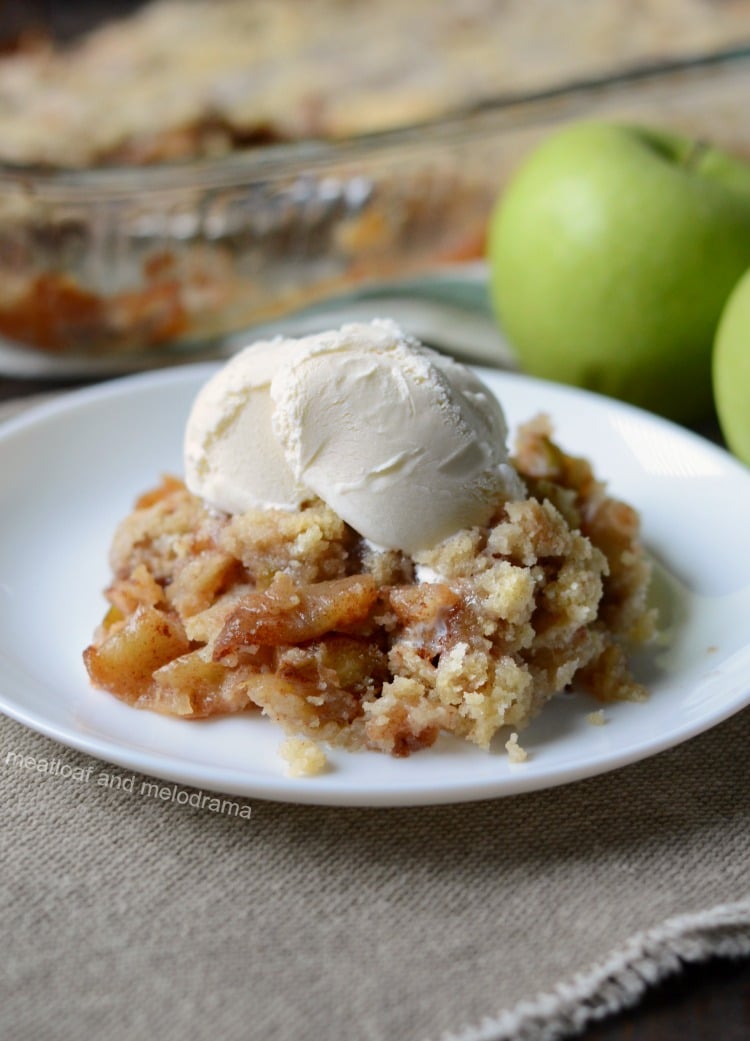 If you want, you could even top it with caramel syrup for a more decadent dessert. But we like it just as it is.
Recipe for easy Cinnamon Apple Crisp
Cinnamon Apple Crisp
Cinnamon apple crisp is an easy apple crisp recipe made without oats. This simple, old fashioned fall dessert is the best apple crisp ever!
Ingredients
for the filling
7

large Granny Smith apples, washed, peeled, cored and sliced

2

teaspoons

white sugar

1

tablespoon

brown sugar

1

tablespoon

butter

lemon juice from 1 lemon

2

teaspoons

cinnamon
for the topping
1

cup

flour

1

cup

sugar

½

tsp

cinnamon

½

cup

softened butter
Instructions
Preheat oven to 350.

Lightly grease a 9 X 13 baking dish.

Wash apples, then peel, core and slice them up.

Arrange apples so that they cover the bottom of the pan and sprinkle with lemon juice to prevent them from turning brown.

Sprinkle with sugar, brown sugar and cinnamon, and mix well.

Cut the butter and arrange over the apple mixture.
for the topping
Combine the flour, sugar and cinnamon in a medium-sized bowl.

Cut the butter into thin slices, and cut into the flour mixture until it resembles coarse crumbs.

Cover the apples with the topping, and pat down lightly.

Bake for 50 minutes or until the crust is golden brown and apples are soft.
Notes
You can use 7 large apples or about 10 small ones. There should be enough apples to cover the bottom of the baking dish. 
Nutrition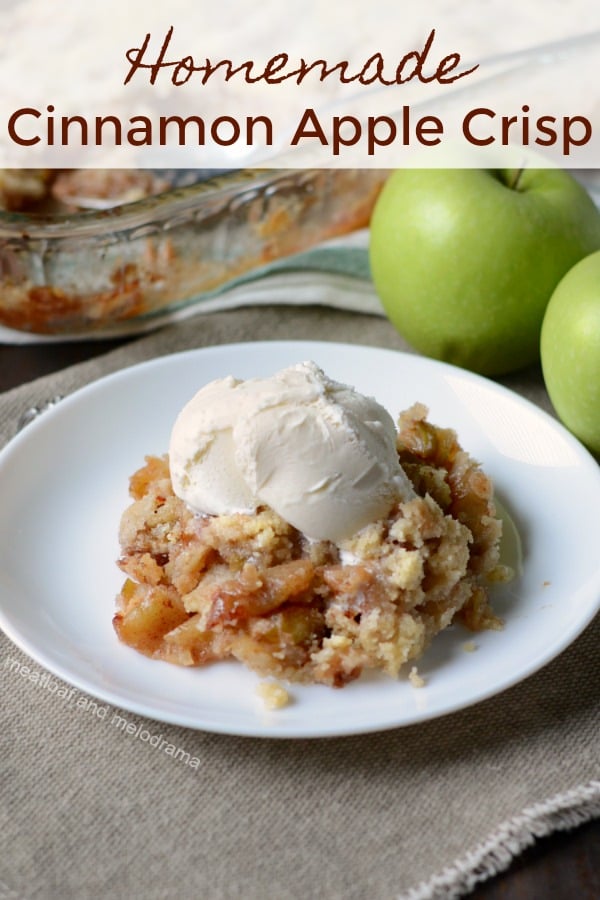 We had this tasty cinnamon apple crisp for dessert last night, and today, there is just a tiny corner piece left! Goodies just don't last very long around here, but that's a good thing, right?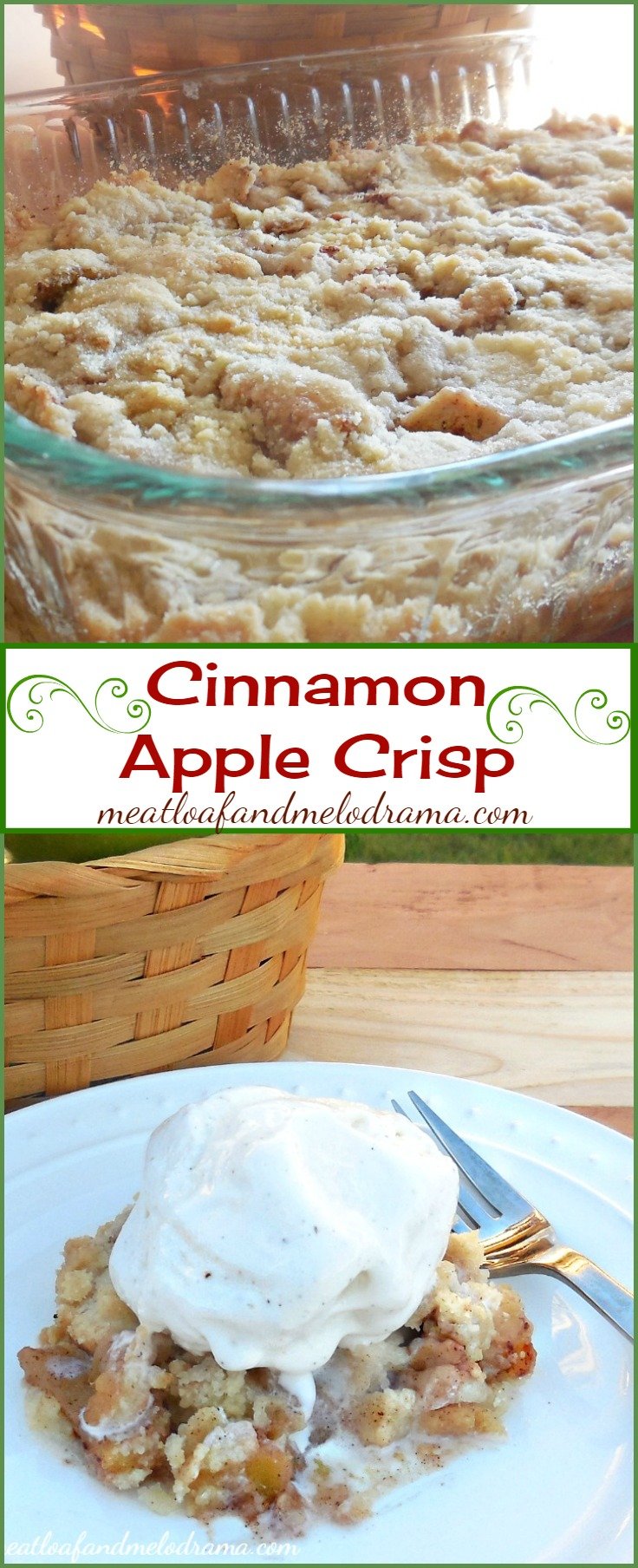 Thanks a bunch for stopping by -- I hope you enjoy this easy cinnamon apple crisp recipe as much as we do!