Hey there! My kids are super excited for the new Minions movie to come out, and they can't wait to see it. Even I think those little creatures are just adorable, and right now, we're seeing them everywhere. So when the kids asked if we could make our own edible Minions, I was completely on board with the idea, and I eagerly offered to help. So, we all pitched in and made a bunch of these little Cookie Minions. Aren't they the cutest!?




One thing that my kids and I truly enjoy doing together is decorating cookies and creating special treats. Even the teens will look up from their phones long enough to participate! Since we always have so much fun with this at Christmas, we started making treats for other holidays and sometimes, just for the fun of it.

To make the Minions, we decided to use store bought cookies and decorate them with candy coating and other items. That way, we didn't have to turn the oven on, which is always a plus in the summer.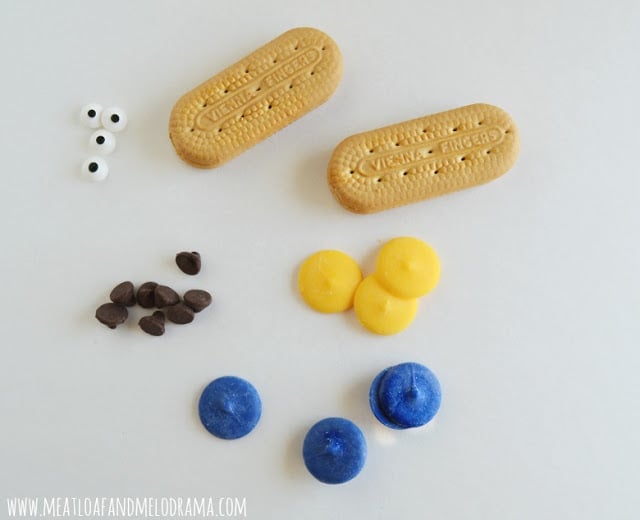 Ingredients for Cookie Minions
Vienna Finger cookies

1 10-oz bag yellow candy melts

1 10-oz bag blue candy melts

edible candy eyes

½ cup semi sweet chocolate chips


Directions
Melt the candy coating and chocolate according to the directions on the package.
Dip the tops of the cookies in the yellow candy coating, and let dry on wax paper.
Dip the bottoms of the cookies in the blue candy coating, and return to the wax paper to dry.
Use a little melted candy coating to stick the eyes on the minions.
Melt the chocolate chips and use to make the glasses, hair and mouths.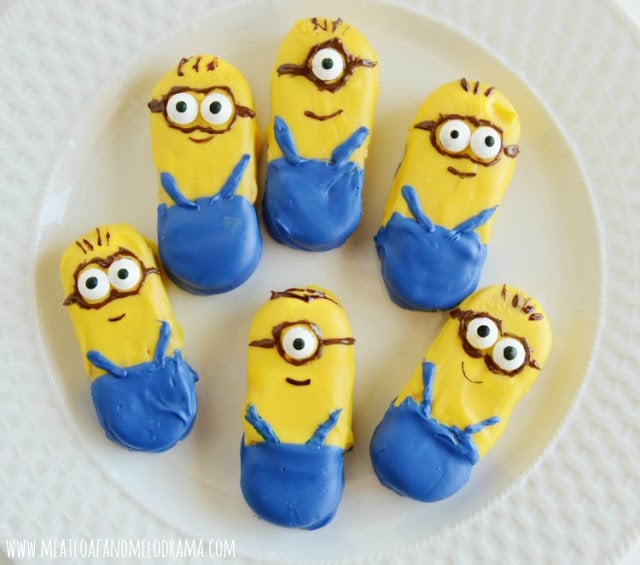 I originally bought edible markers to use for drawing the details, but for some reason, they would not work on the cookies. I don't know if it was the texture of the candy coating or what.
That's when we moved on to plan B and used melted chocolate instead. It was a little messier and not as accurate, but still, I think the little cookie Minions turned out fine. We're not pros here, and these are going to be eaten anyway. I think these cookies would be perfect to serve at a Minion-themed party too!
Since we couldn't get the edible markers to write on the cookies, my daughters used them to make DIY body art on their wrists. Whatever floats your boat!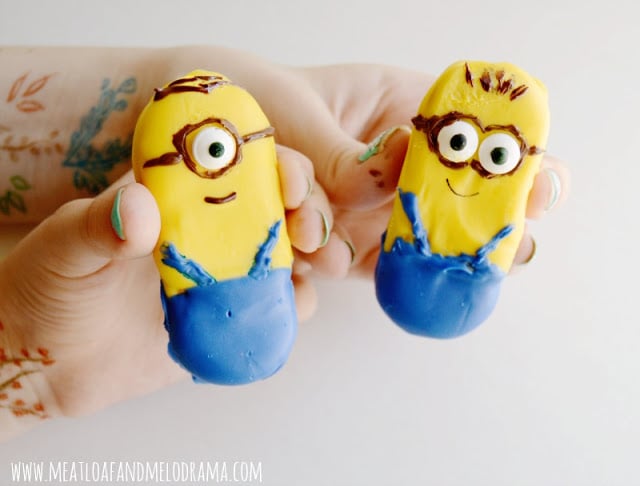 So if you've got a Minion lover in your home or you're planning a Minion party, you can easily make a few little cookie Minions of your own.

You May Also Like