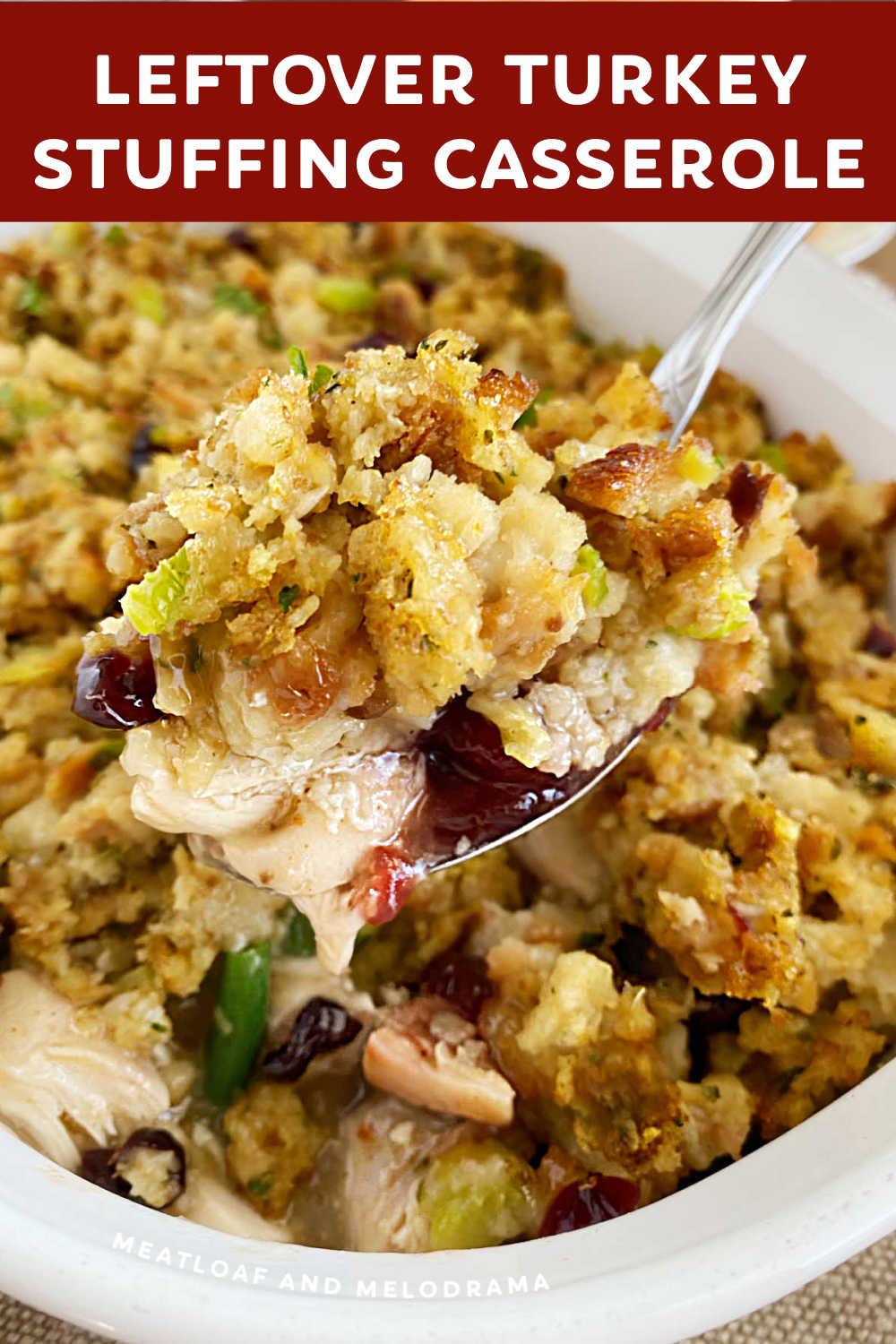 Leftover turkey stuffing casserole is an easy recipe made from Thanksgiving leftovers and a great way to enjoy Thanksgiving dinner again. Your whole family will love this delicious, easy meal!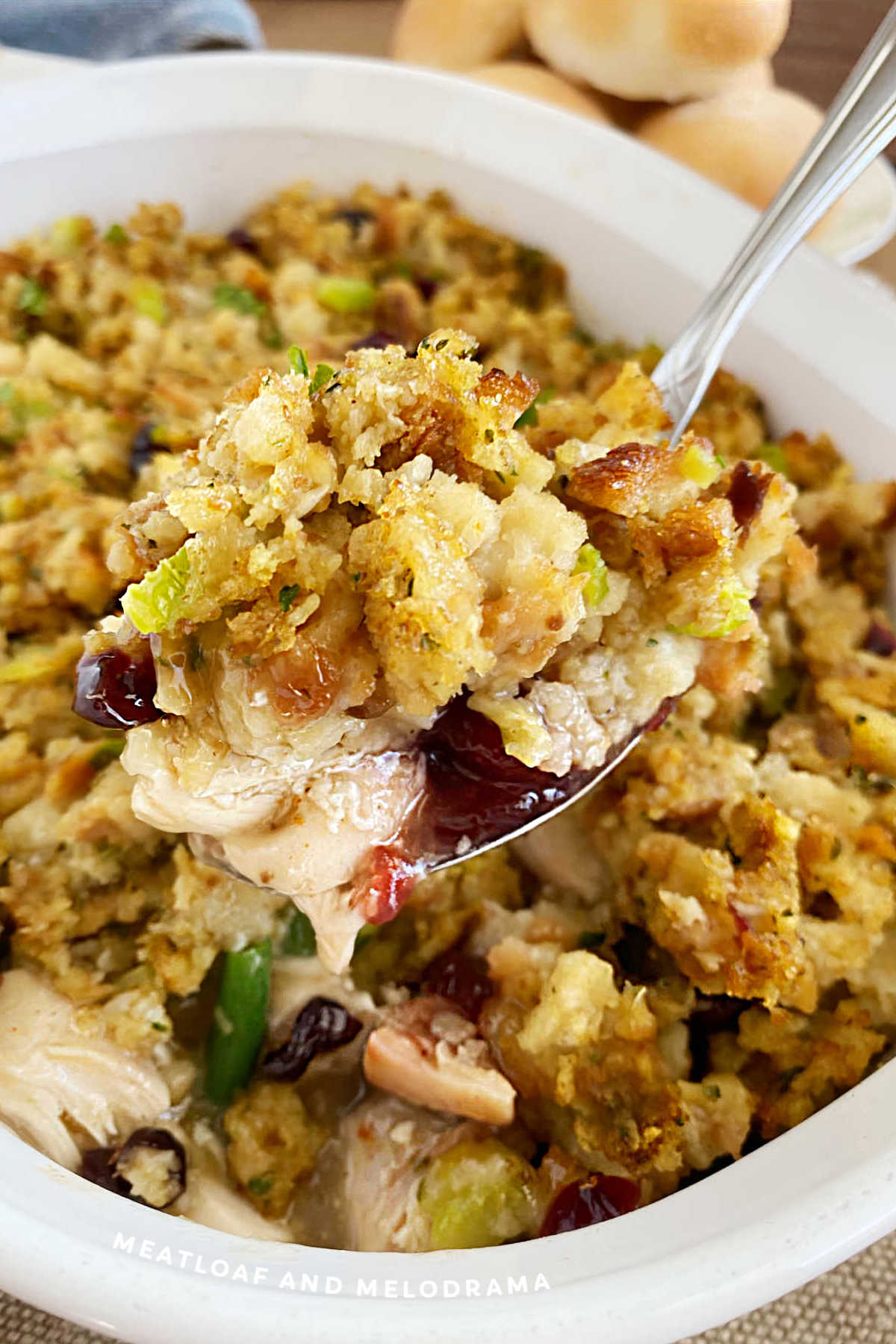 Jump to:
We always have a ton of leftovers from Thanksgiving. Personally, I think leftover turkey is so much better the next day!
I love leftover turkey sandwiches, turkey stock, turkey soup, turkey noodle casserole and Instant Pot turkey soup.
And for dinner the day after Thanksgiving, I always make an easy Thanksgiving leftover casserole.
You can never have to many leftover turkey recipes, right?!
This is the ultimate leftover Thanksgiving dish! Loaded with tender turkey and all of the fixings.
You basically combine your holiday leftovers, like leftover stuffing, leftover veggies and of course, your turkey leftovers into a casserole.
Bake it, and enjoy this amazing turkey dinner! That's it!
Ingredients
You only need a few simple ingredients for this stuffing casserole recipe. Use what you have at home or buy a few things from the grocery store if you are out!
Leftover turkey -- about 3 to 4 cups cooked turkey, chopped or shredded
Gravy -- leftover gravy or store bought
Cranberry sauce -- whole berry cranberry sauce or jellied cranberry sauce
Leftover green beans -- or whatever veggies you have
leftover stuffing -- or box stuffing mix if you are out of leftovers
Butter or melted butter
Salt and black pepper, to taste
Cooking spray, butter or olive oil for greasing the casserole dish
How to Make Leftover Turkey Stuffing Casserole
First, spray a casserole dish with non stick cooking spray or grease with butter or olive oil. I use a dish that's slightly smaller than a 9 x 13 baking dish.
You can use a smaller baking dish if you don't have as many leftovers to work with. Or a larger baking dish if you have a lot of leftovers to work with.
Then, add your chopped turkey to the bottom of the prepared baking dish. This is about 3 cups of turkey here. I used a mix of dark meat and white meat in this recipe.
But you can use whatever meat you have to work with.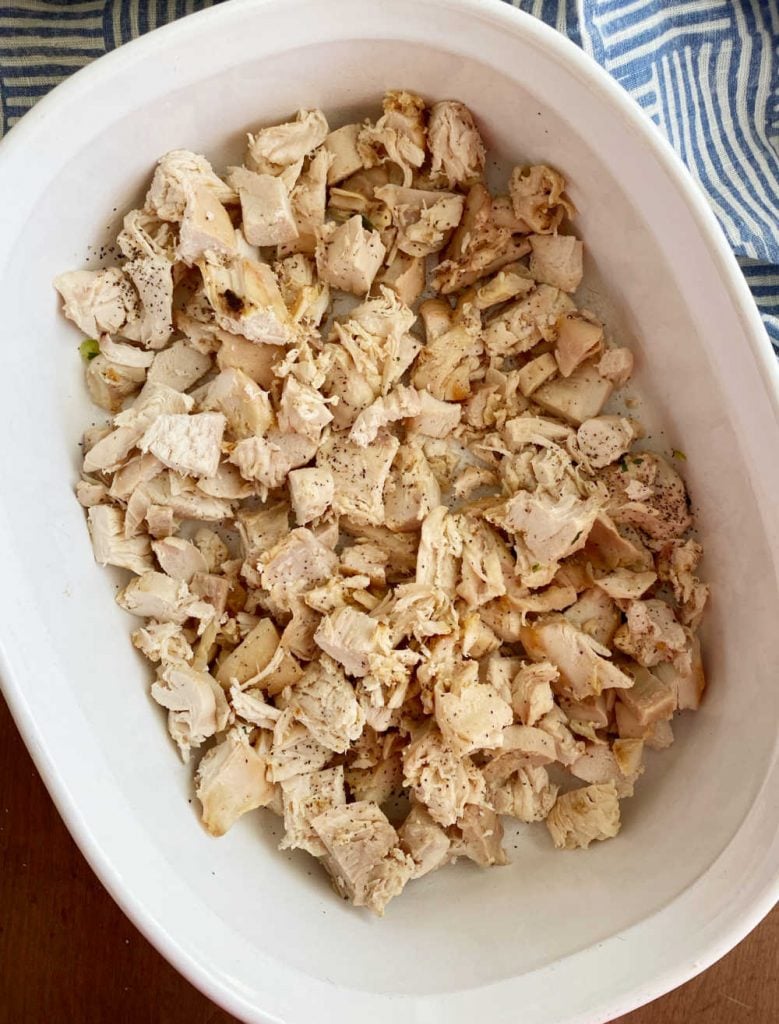 Season the turkey with a little bit of salt and pepper. If you want more flavor, add garlic powder or onion powder. You can also add dried thyme, sage or herbes de Provence!
This is one of the few casserole recipes that I don't add a lot of seasonings to -- we're going with the classic Thanksgiving flavors here.
But again, feel free to add your favorite spices if you're not a purist when it comes to turkey recipes!
Now, pour the leftover turkey gravy over the turkey. Then, use a spoon or spatula to smooth the gravy so that the turkey is completely covered with delicious gravy.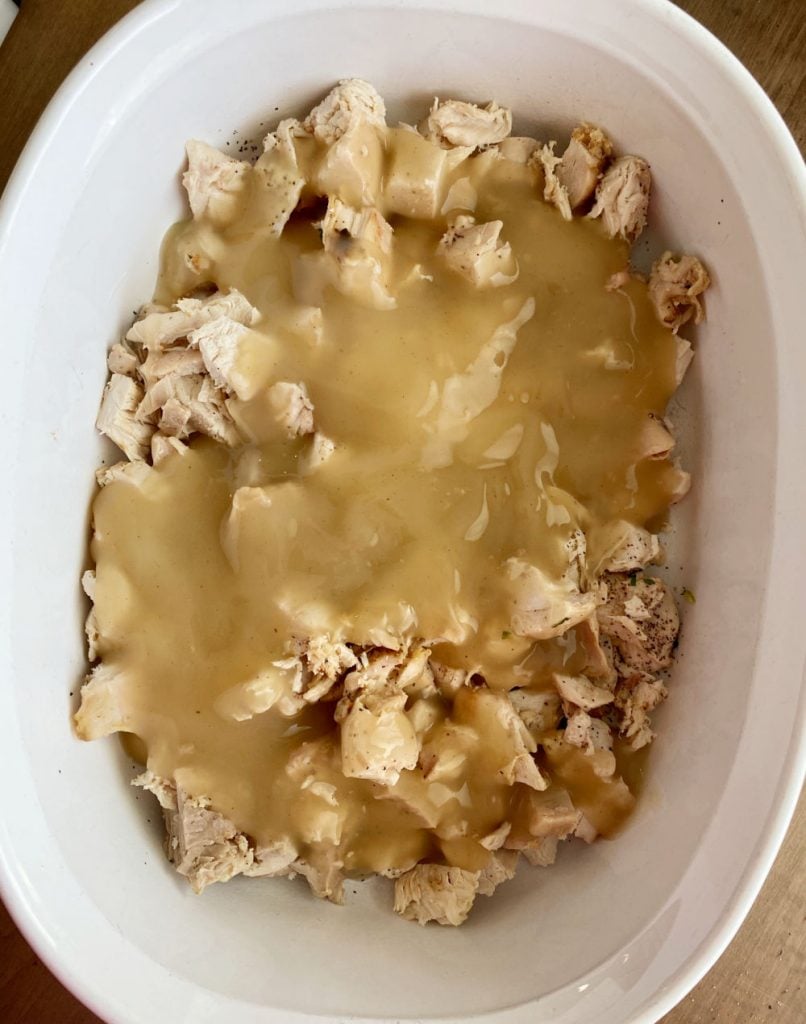 Now, add your leftover veggies. We always have fresh green beans at Thanksgiving, so I used some leftover green beans in the casserole.
You can use frozen green beans or frozen mixed veggies if you want. If you have leftover corn, that would be perfect in this casserole.
We usually have jellied cranberry sauce at Thanksgiving dinner -- my kids love this stuff! So, that's what I add to the casserole.
You can use whole berry sauce or skip it entirely if you are not a fan of cranberry sauce. If you happen to have leftover homemade cranberry sauce, by all means, use that!
Now, add your leftover stuffing on top of the other ingredients in the casserole. We make homemade cranberry sausage stuffing, and it has dried cranberries for extra flavor.
If you don't have enough leftover stuffing, you can use Stovetop Stuffing or your favorite dry stuffing mix.
You can make stuffing according to the directions on the package, and then add the prepared stuffing to the casserole.
Or, you can mix dry stuffing mix with a cup chicken broth, and place the stuffing cubes into the casserole. This will give you a different texture from leftover stuffing, but it will still taste delicious!
Finally, dot the stuffing with butter, or use melted butter, and cover with aluminum foil. Then, place the casserole into a preheated oven.
Cooking Time
Bake the turkey casserole for 20 minutes, covered. Then, remove the aluminum foil, and bake the casserole for an additional 10 to 15 minutes uncovered.
All ovens are different, and the total cook time also depends upon the size of the casserole you are making.
Since, you're just reheating previously cooked food, this easy leftover turkey casserole is done when the food is steaming hot and the stuffing is golden brown.
Variations
There are many ways to customize this delicious dinner to your tastes. If you don't want to use gravy, use cream of mushroom soup, cream of chicken soup or cream of celery soup instead.
Thin the cans of soup out with a little bit of milk, broth or water before using. Then, use the soup mixture in place of the gravy.
Mix leftover mashed potatoes with the stuffing, or top the casserole with mashed potatoes only.
The best part of this stuffing casserole recipe is that it'll work with more than a turkey mixture.
Instead of shredded turkey meat, use leftover chicken, rotisserie chicken or leftover pork chops to adapt this Thanksgiving leftover casserole into a year-round favorite. It truly is a flexible recipe!
How to Store
Store any remaining turkey stuffing casserole in an airtight container or covered container in the fridge or freezer.
For a quick next day meal, reheat individual portions in the microwave, or bake in the oven for an easy meal.
You probably won't have many, if at all, leftovers from this delicious casserole!.My family usually finishes it in just one sitting!
Recipe
Leftover Turkey Stuffing Casserole
Leftover turkey stuffing casserole is an easy recipe made from Thanksgiving leftovers and a great way to enjoy Thanksgiving dinner again. Your whole family will love this delicious, easy meal!
Ingredients
3

cups

cooked turkey

roughly chopped into bite sized pieces

1

cup

gravy

1

cup

cranberry sauce

2

cups

cooked green beans

4

cups

cooked stuffing

salt and pepper, to taste

2

tablespoons

butter
Instructions
Preheat oven to 350° and grease a casserole dish with non stick cooking spray

Place turkey in the bottom of the casserole dish, and sprinkle with salt and pepper

Pour gravy over turkey, and spread to cover evenly

Add cranberry sauce and green beans evenly over the turkey mixture

Add stuffing, and spread evenly over other ingredients. Dot with butter, and cover with aluminum foil

Place in preheated oven, and bake for 20 minutes covered, and 10 to 15 minutes uncovered or until steaming hot and stuffing is golden brown
Notes
Use whatever leftovers you have. If you don't have stuffing, you can use a box of stuffing mix or use mashed potatoes if you have that.
Cook time and nutritional values vary with ingredients used.
Nutrition information is estimated. Please do your own calculation to fit special diets.
Nutrition
Calories:
328
kcal
Carbohydrates:
39
g
Protein:
12
g
Fat:
14
g
Saturated Fat:
4
g
Polyunsaturated Fat:
3
g
Monounsaturated Fat:
5
g
Trans Fat:
1
g
Cholesterol:
37
mg
Sodium:
693
mg
Potassium:
225
mg
Fiber:
4
g
Sugar:
17
g
Vitamin A:
626
IU
Vitamin C:
4
mg
Calcium:
49
mg
Iron:
2
mg
I hope you enjoy this Turkey Day leftovers casserole as much as we do! My family absolutely loves this easy turkey casserole, and it is honestly one of our favorite casserole recipes.
For more easy casseroles, side dish recipes and seasonal favorite dishes, be sure to subscribe to the weekly newsletter!
Don't forget to follow along on your choice of social media and pin this recipe to your Thanksgiving or dinner recipe Pinterest boards. If you like this turkey recipe, be sure to share and shout it from the rooftops or on your favorite social media sites! I would so appreciate it!