No Bake Chocolate Pudding Pie is an easy no bake dessert made with Jello instant pudding, milk and Cool Whip in a chocolate cookie crust. This delicious dessert is cool, creamy and perfect for summer!
Jump to:
If you're looking for an easy dessert made with chocolate pudding and Cool Whip or whipped cream, this easy chocolate pudding pie is for you!
Our easy chocolate pie is similar to Chocolate Delight, except it's completely no bake. It's a lot dirt pie, except there are no gummy worms.
This no bake chocolate dessert is ideal for summer or whenever you don't have the time or space to bake.
I love serving no bake desserts at holidays and family gatherings. Like my popular No Bake Eggnog Pie, this no bake pie is a family favorite!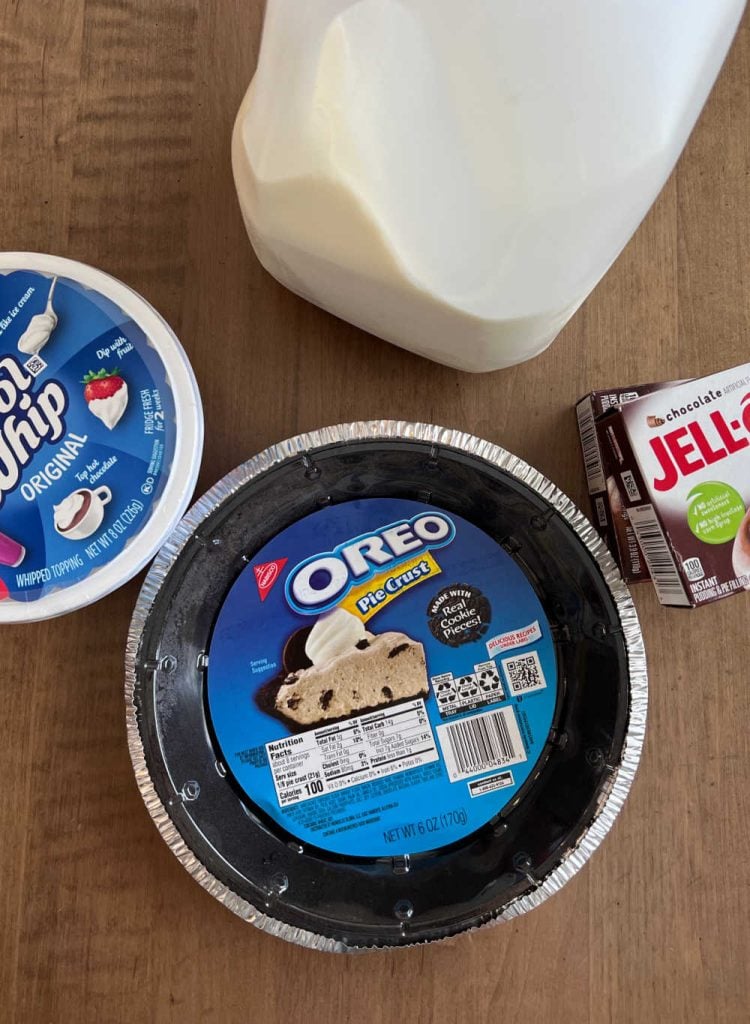 Ingredients
You only need a few ingredients to make this no bake chocolate pudding pie recipe. You can find them online or in your local grocery store.
2 boxes Jell-O instant chocolate pudding mix -- 4.5 cup serving size.
Milk -- 2 percent or whole milk
Cool Whip or any whipped topping, thawed
Chocolate cookie pie crust
Chocolate bar -- optional for decoration only
Pro tip - It's important to follow the directions on the recipe card and not on the back of the Jell-o chocolate pudding box. This recipe calls for less milk than the boxes do so the pie filling isn't runny.
How to Make No Bake Chocolate Pie
First, add the pudding mix to a large bowl. Then, pour in the milk, and whisk until the pudding is completely blended and thick.
The pudding will be very thick, and this is how it should be.
Next, spoon half of the dark chocolate pudding into the pie shell. Smooth the pudding with a spatula so it covers the crust evenly.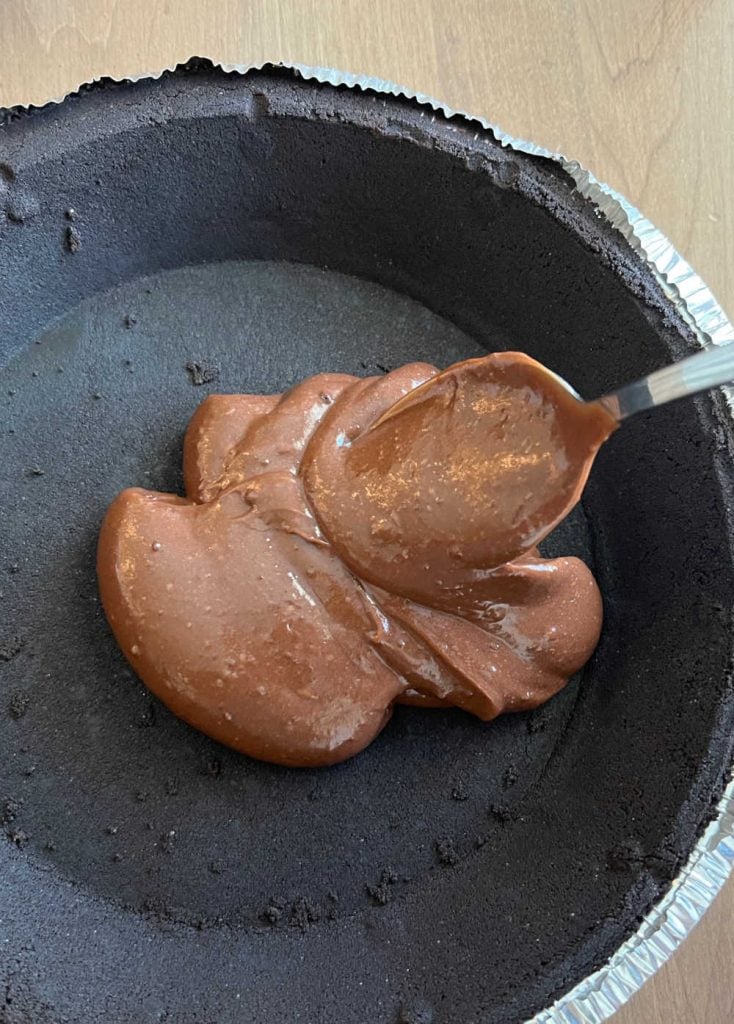 Next, spoon half of the Cool Whip into the remaining pudding. Mix until well combined.
The pudding mixture should be light chocolate and fluffy.
Spoon the pudding mixture over the dark chocolate layer. Spread this layer evenly with a spatula so it completely covers the first layer.
Now, spread the remaining whipped topping over the second layer.
You can spread it all the way to the edge of the pie crust or allow a little chocolate filling to show.
Finally, use a box grater or vegetable peeler to shave a chocolate bar over the top of the Cool Whip.
This is optional, but it makes the pie look even better! I used a Hershey Bar, but you can use any chocolate bar here.
How to Store
Store the chocolate pie in the refrigerator. Ideally, refrigerate for at least 2 hours before serving. It needs to be firm enough to cut.
But, if you can't wait, you can enjoy this chocolate treat sooner. The layers just won't be that neat, but if that's not a problem, dive in! Store leftover pie covered in the refrigerator for up to 2 days, if it lasts that long!
This chocolate pie can be made ahead of time, up to 2 days before serving. You may want to add the whipped cream layer right before serving, though.
Variations
There are a couple ways to customize this no bake chocolate cream pie recipe to your tastes.
Instead of chocolate pudding filling, use whatever instant pudding flavor you want. Dark chocolate pudding, chocolate fudge pudding, and vanilla pudding are all great options here.
If you don't want an Oreo cookie crust, graham cracker pie crusts will work just as well. Homemade crust is fine too!
I like this pudding pie's distinct layers, but they aren't a necessity. Leave out the Cool Whip and pudding mixture layer and have the whole pie be plain pudding. Or, leave out the pudding base layer and have the whole pie be the Cool Whip mixture.
You can make your own whipped cream with heavy whipping cream. I would recommend using homemade cream on top of the pie only, and not as part of the whipped cream pudding mixture, because it won't work as well.
Top this delicious chocolate pudding pie with chocolate curls, crushed Oreo cookies, chocolate sprinkles, or mini chocolate chips.
Recipe
No Bake Chocolate Pudding Pie
No Bake Chocolate Pudding Pie is an easy no bake dessert made with Jello instant pudding, milk and Cool Whip in a chocolate cookie crust. This delicious dessert is cool, creamy and perfect for summer!
Ingredients
2

3.9 oz

Jell-O Instant Chocolate Pudding boxes

4.5 cup serving size

2½

cups

cold milk

2 percent or whole

8

oz tub

Cool Whip

1

6 oz

chocolate cookie pie crust

chocolate bar

optional for decoration
Instructions
In a large mixing bowl, add the instant pudding and milk. Whisk together until well combined and thick

Spoon half of the prepared pudding into the bottom of the pie shell, and spread evenly

Add half of the whipped topping to the remaining pudding. Stir until well combined and fluffy

Spoon pudding mixture over the dark pudding layer and spread evenly with a spatula

Spoon remaining whipped topping evenly over the second layer. Shave part of the chocolate bar over the top of the pie for decoration, if desired

Store in refrigerator until ready to serve
Notes
Use the amount of milk called for in the recipe. Do not add more even though you are using 2 boxes of pudding.
For best results refrigerate pie for 2 hours before slicing to set.
Store leftover pie in refrigerator. Pie can be made up to 2 days ahead of time, but you may want to add whipped topping or whipped cream before serving.
Nutrition information is estimated. Please do your own calculation to fit special diets.
Nutrition
Calories:
81
kcal
Carbohydrates:
11
g
Protein:
3
g
Fat:
3
g
Saturated Fat:
2
g
Polyunsaturated Fat:
0.1
g
Monounsaturated Fat:
1
g
Trans Fat:
0.1
g
Cholesterol:
10
mg
Sodium:
59
mg
Potassium:
135
mg
Fiber:
0.1
g
Sugar:
8
g
Vitamin A:
125
IU
Vitamin C:
0.1
mg
Calcium:
119
mg
Iron:
0.03
mg
This easy chocolate cream pie is the perfect dessert for true chocolate addicts, and it's one of my favorite desserts to make with Jello-O chocolate pudding!
I hope you enjoy this no bake chocolate pie recipe as much as we do! Be sure to add a star rating and comment if you do!
You can find more no bake desserts by browsing my easy dessert recipes. For more easy recipe ideas, chocolate desserts, and no bake recipe ideas, subscribe to the newsletter and follow me on social media!