You can make your own scented pine cones to decorate your home using this quick and easy method. It's perfect for fall and the holidays!


Do you have a favorite home fragrance? I don't like heavy scents in the house, but during the holiday season, I want the house to smell as warm and cozy as possible. Most commercial air fresheners and scents bother me, so I decided to make scented pine cones, using essential oils. Not only do these cinnamon pine cones smell heavenly, but they also look nice in the room.
I just adore cinnamon. I love how it smells and how it tastes, and if you've seen some of my recipes, you know I add this spice to almost everything! So, I would definitely sat that this is one of my favorite home fragrances.

I also love decorating with pine cones, and I keep some in bowls throughout the year. Whenever we go up north, the kids and I collect pine cones whenever we find some. And you know those bags of cinnamon pine cones you can buy? Those are waaaay too strong for me!

So when I made my own, I went easy on the cinnamon scent, and these smell much better than the ones from the store. I also added a few drops of orange essential oil, and now the room smells like Christmas!


Supplies for Scented Pine Cones
Pine cones

Large zipper freezer bag

Cinnamon and orange essential oils or your favorite scents

Distilled water

Spray bottle
Now, here's where it gets tricky. Just kidding -- this is one of the easiest crafts ever!

Add a little bit of distilled water to a spray bottle, and then add a few drops of your favorite essential oils or fragrance oils.

I didn't really measure the amounts, but you can see the bottle isn't even half full. I added about 8 to 10 drops of essential oils until I was happy with the scent. Then, I shook the bottle and sprayed the pine cones liberally with the mixture. You can spray directly in the bag or do this on a different surface and then add them to the bag.

Close the bag and then leave the pine cones sit for about a day or two, or until the scent is strong enough for you.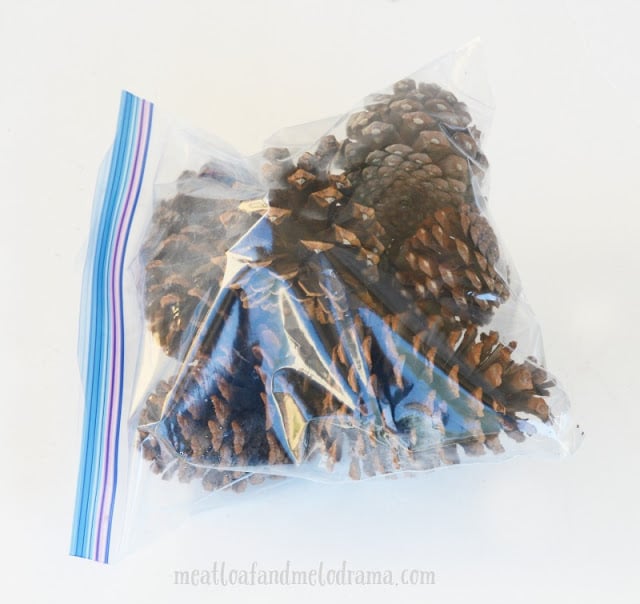 I opened the bag after just one day, and the pine cones were definitely done. They really do smell wonderful!

I dumped them all into a large silver bowl, and they look so elegant, especially when the sun hits in the late afternoon. I also added a few cinnamon sticks just because I like the way they look, and they help with the scent too.



And that's all it takes to make your own scented pine cones. Isn't it easy?! This method is also a lot cheaper than buying a bag from the store, and there are no harsh chemicals to worry about.

Thanks so much for stopping by!