This easy Fresh Peach Crisp recipe is made from scratch with a light topping that doesn't contain oats. It's a delicious way to celebrate peach season!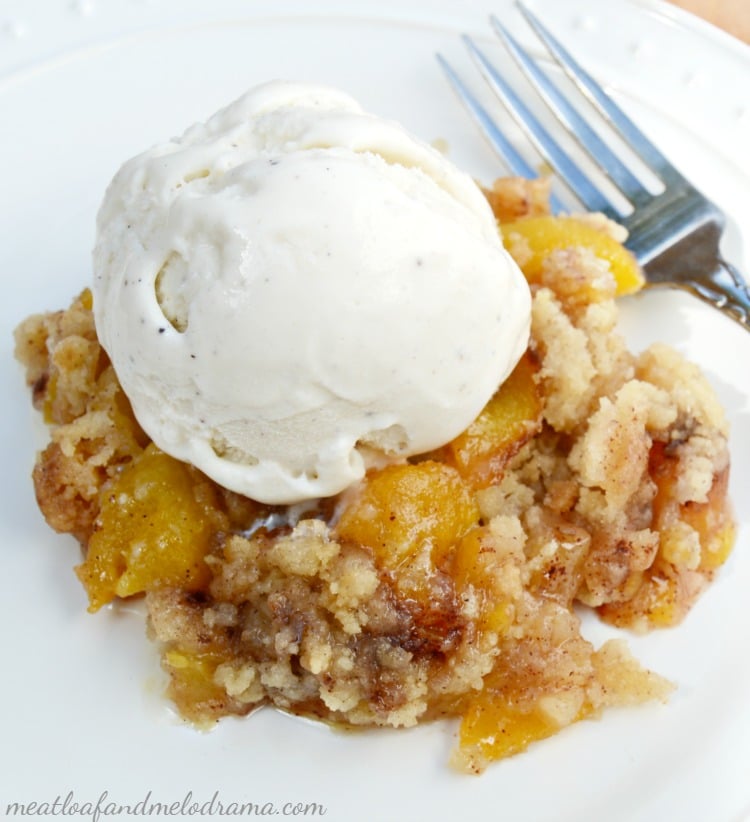 How many of you like peaches? I absolutely, positively love them, and I'm always so happy when peach season rolls around. Last year, I shared a recipe for a super easy peach dump cake made with canned peaches, which is one of my family's favorite desserts. So this year, I thought I'd share this sweet and juicy Fresh Peach Crisp made with fresh peaches, which is another wonderful way to enjoy the taste of this versatile fruit!
A few years ago, Hubs and I took the kids peach picking at an organic farm not too far from here. It was in the middle of July, and it was incredibly hot out, and there were ants the size of elephants roaming around the orchard. But, but we came home with loads of tender, juicy fresh peaches, and I made a very tasty peach crisp for dessert that night.
The family absolutely refuses to go back to that orchard, no matter how hard I try to convince them, so I've been buying peaches at a local farmers market. They're still good, and they work very well for baking, but really, nothing compares to picking peaches straight off the tree. So if you have the chance, definitely go for it!
If you're hungry for more peach dessert recipes, check these out:
Hubby's mom used to make peach crisps without oats, and I followed his directions for the basic ingredients. Of course, I tweaked it a little!
Fresh peach crisp is best served warm, almost right out of the oven. Around here, some people don't even use plates!
You can eat it just like this, or you can make it even better by topping the whole thing off with a very generous spoonful of vanilla ice cream. Give it a minute, and the ice cream will slowly trickle down over the crisp, crunchy topping and slide down into the juicy peach filling. You can then enjoy it by the fork full or spoon full, whichever you prefer.
Certain people in our home, who shall remain nameless, kept on sneaking tastes of the peach crisp, and now all that's left of this wonderful dessert fits into a very, very small bowl. And, I'm positively sure that it will be completely gone by the end of the day! It's that good. Really!
How to Make Fresh Peach Crisp
Fresh Peach Crisp
An easy recipe for homemade fresh peach crisp made without oats
Ingredients
For the Topping
1

cup

all purpose flour

1

cup

sugar

½

teaspoon

cinnamon

½

cup

butter
For the Filling
8

to 10 fresh peaches

2

tablespoons

brown sugar

1

tablespoon

granulated sugar

2

teaspoons

cinnamon

¼

teaspoon

sea salt

1

tablespoon

butter
Instructions
For the Topping
In a medium bowl, combine the flour, sugar and cinnamon, and cut in the butter, with a knife, until crumbly. Set aside.
For the Filling
Preheat oven to 350 degrees

Wash and peel the peaches, and slice thin.

Arrange peaches in a 13 x 9-inch greased baking dish.

Sprinkle brown sugar, sugar, cinnamon and salt over the peaches, and mix until well coated.

Dot the butter all over the filling, and add the topping mixture.

Bake at 350 degrees for about 50 minutes, or until crust is slightly brown and filling mixture is bubbling.

Enjoy!
Nutrition information is estimated. Please do your own calculation to fit special diets.
Nutrition
Calories:
230
kcal
Carbohydrates:
37
g
Protein:
2
g
Fat:
8
g
Saturated Fat:
5
g
Cholesterol:
22
mg
Sodium:
125
mg
Potassium:
201
mg
Fiber:
2
g
Sugar:
28
g
Vitamin A:
590
IU
Vitamin C:
6.6
mg
Calcium:
15
mg
Iron:
0.8
mg
Thanks a bunch for stopping by. Have a super day!