This Baked Breaded Pork Chops recipe uses seasoned panko bread crumbs for crispy oven fried pork chops in less than 30 minutes! An easy dinner recipe the whole family will love!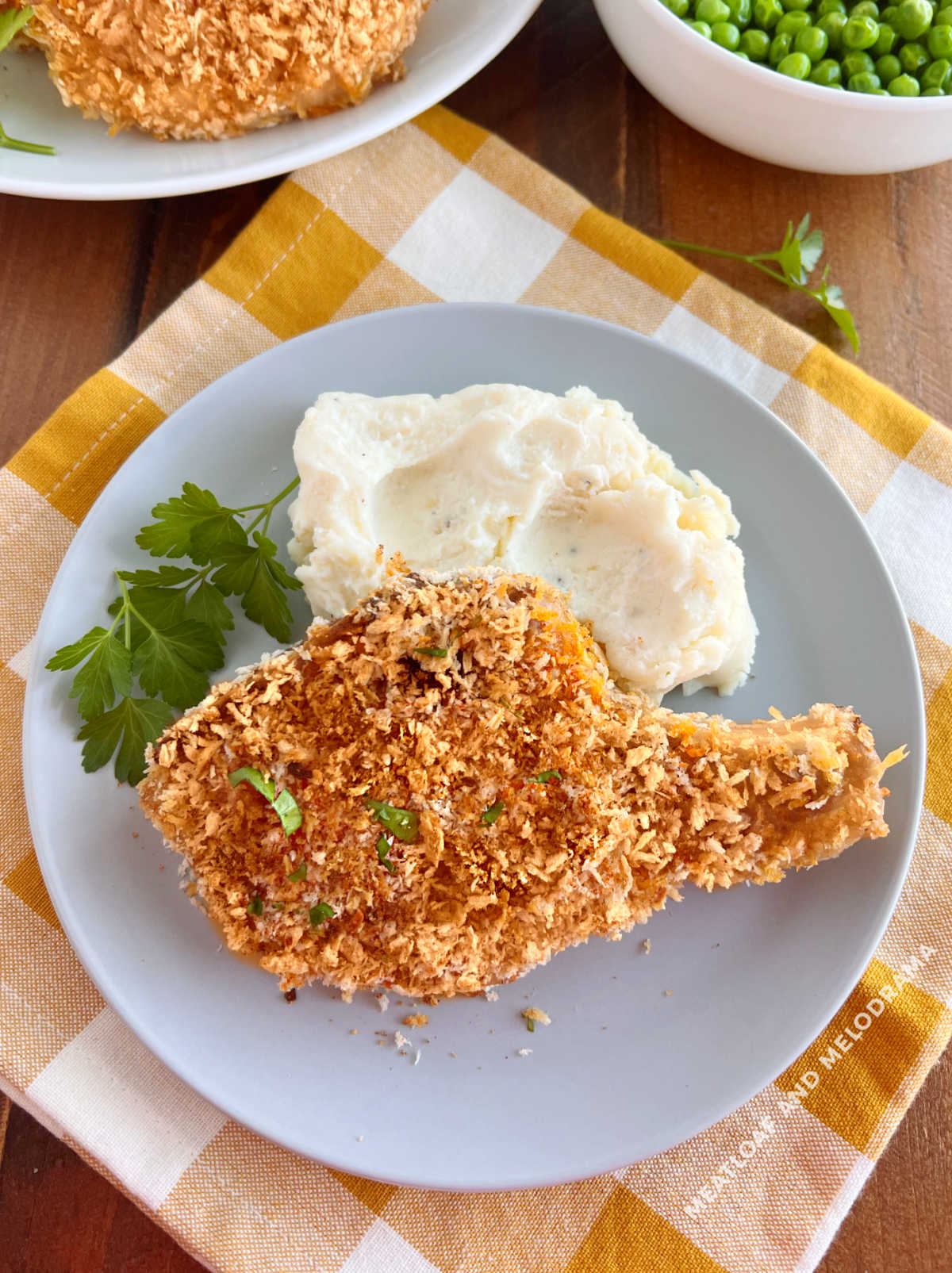 Jump to:
These panko breaded pork chops are tender and juicy on the inside and crispy on the outside. If you're looking for an easy pork chop recipe, you need to try these delicious baked pork chops!
I have a few pork chop recipes on my blog, but this one is hands down my family's favorite. It's a take on my mom's baked breaded pork chops that were made with Shake and Bake or Oven Fry back in the day. Anyone remember those?
Nothing against Shake and Bake pork chops, but when you use your own breading mix, you know exactly what's in it. And, you can mix up your own seasoning blend to create different flavors whenever you want.
Best of all, these oven baked bone-in pork chops are super easy to make. Just season the chops, coat them with breadcrumbs, and bake. Dinner is ready in about 25 to 30 minutes, and it's kid approved!
Love easy pork chop recipes? Try my Polish Breaded Pork Chops, Mom's Pork Chops and Rice,Baked Pork Chops and Potatoes, Grilled Pork Chops or Juicy Air Fryer Pork Chops!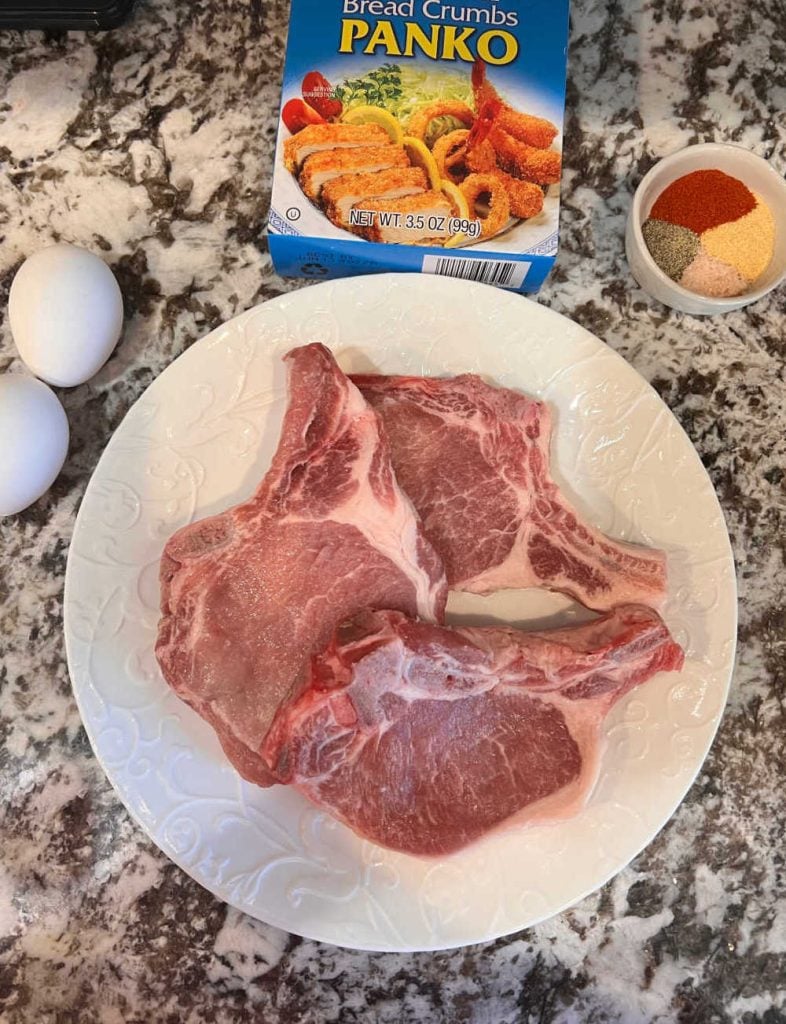 Ingredients
You only need a few simple ingredients for this baked pork chops recipe. You can get them in your local grocery stores or online:
Bone-in pork chops about ½ inch thick
Large eggs
Panko bread crumbs
Dried minced onions
Garlic powder
Black pepper
Smoked paprika
Sea salt
Olive oil
I like to use bone-in pork chops when I make breaded pork chops. They don't dry out as much as boneless pork chops do. And, you get extra flavor from the bone.
So, What's the difference between panko and regular bread crumbs? Panko breadcrumbs are Asian-style breadcrumbs made without using the crusts.
They're lighter and crispier than regular bread crumbs and perfect when you want crunchy pork chops, as my kids call them, because they have a crunchy crust!
How to make Baked Breaded Pork Chops
To make the whole process easier, prepare your baking sheet, place your ingredients in separate shallow bowls or pie plates, and place them in an assembly line on your counter.
You can season the bread crumbs in the bowl.
Then begin breading your pork chops. First, pat each pork chop dry using paper towels.
Then, dip pork chops into the beaten egg mixture.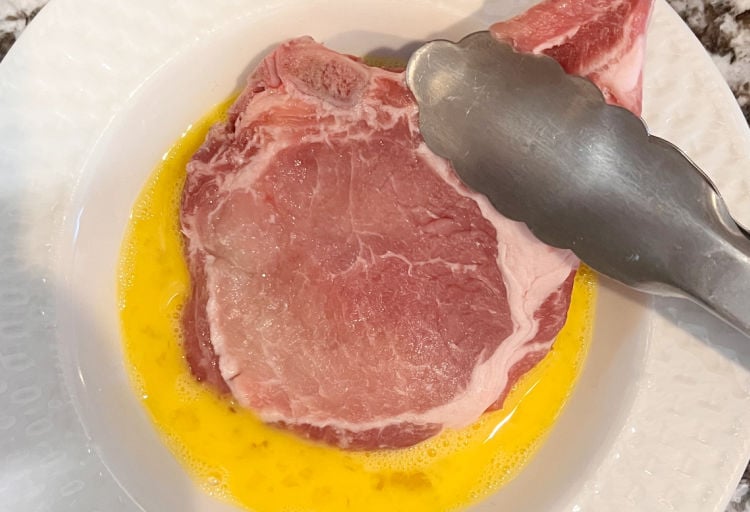 Shake off excess beaten egg from the pork chop. Then, dip it into the seasoned bread crumbs mixture.
So, how do you get breading to stick to pork chops? The egg wash helps the breading to stick to the pork chops.
I also like to press the breadcrumbs into the pork. This helps it stick better.
Just don't be tempted to pile too much breading onto the chops. The breading on top will brown, but the breading closer to the chops will be a little soggy.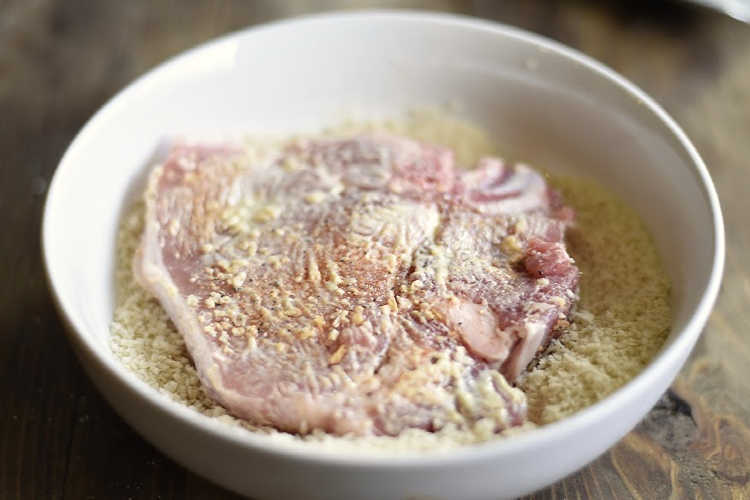 I like to line the baking sheets with foil or parchment paper. But that's optional. I'm just all about easy clean-up!
Spread about 1 teaspoon of olive oil or vegetable oil over the baking sheet. You just need enough oil to lightly cover the baking sheet. Or, spray it with non stick cooking spray.
This will help prevent the crumbs from sticking. If you apply a very light layer, the crumbs won't get soggy!
Next, lightly spray the tops of the pork chops with cooking spray or olive oil spray. This helps the breadcrumbs turn golden brown as they bake. You can also drizzle melted butter over the chops if you want.
Now, place the breaded chops on a single layer on the baking sheet. Then, place them into a preheated 375 degree f oven.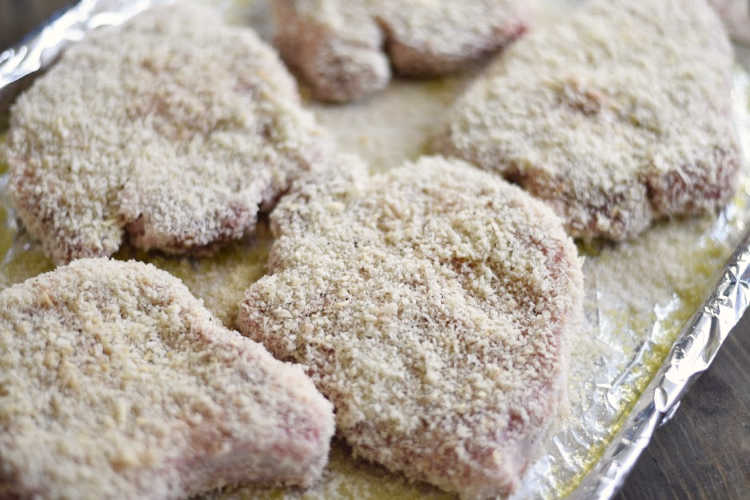 Cooking Time
How long to cook pork chops in the oven at 375?
Thicker cut pork chops take 25 to 30 minutes to bake at 375. If you have thinner pork chops, they take about 20 minutes.
I originally baked pork chops at 400, but I started baking them at 375 degrees since the panko crumbs tended to get a little too dark. Choose wisely.
How long to bake bone in pork chops at 400?
Medium bone-in pork chops take about 15 to 20 minutes in a 400-degree oven. Bake extra thick chops (over 1 inch) for about 25 to 30 minutes.
If you want to bake your panko chops at 425, they'll take about 15 minutes if they're not too thick.
What temperature should pork chops be cooked to?
Pork chops are done when they reach an internal temperature of 145 degrees. Use an instant read thermometer for best results.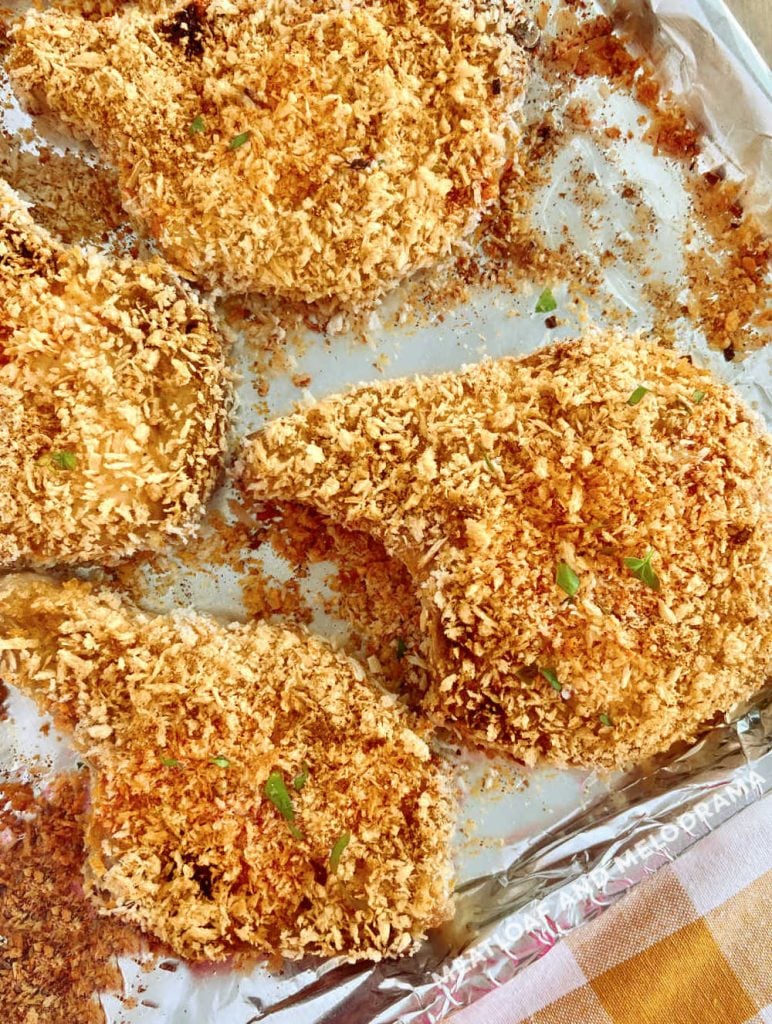 Remove the pork chops from the oven, and allow to rest at room temperature on your dinner table for about 5 minutes before serving. This will give you flavorful, juicy pork chops!
Variations and Substitutions
There are a couple easy ways to customize these tasty pork chops to your liking!
Instead of breading the pork chops with egg, use 1 tablespoon mayonnaise and 1 tablespoon Dijon mustard.
You can vary what seasonings you use as well. Coat the pork chops in regular bread crumbs instead of panko bread crumbs. Use onion powder instead of minced onions. Add some Italian seasoning for a little extra flavor, or even some brown sugar for a bit of sweetness!
Cheese lovers can sprinkle some parmesan cheese on top of their chops. Fresh herbs, especially fresh parsley, also give an amazing extra flavor.
It's optional, but sometimes I'll broil the chops for about 5 minutes at end to give them a little extra color and crunch.
This recipe can also be made in the Air Fryer! If you have an oven style Air Fryer, bake the pork chops for about 18-20 minutes. For basket style Air Fryers, you'll have to flip the chops.
How to Store and Reheat
Store any leftover pork chops in an airtight container in the refrigerator, where they'll last for 4 to 5 days.
You can reheat individual pork chops in the microwave. Though, the best way to reheat these juicy chops in my opinion is to keep them in the oven at 350 degrees F until warm.
Of course, you can also reheat these flavorful pork chops in the Air Fryer!
What to Serve with
So, what to serve with pork chops? We love rice or mashed potatoes and pease or green beans and applesauce! Check out even more delicious side dishes!
Recipe card may contain affiliate links. See disclosure for more information.
Recipe
Baked Breaded Pork Chops
This Baked Breaded Pork Chops recipe uses seasoned panko bread crumbs for crispy oven fried pork chops in less than 30 minutes! An easy dinner recipe using bone-in pork chops the whole family will love!
Ingredients
6

bone-in pork chops

about ½ inch thick

2

large

eggs

1.5

cups

panko bread crumbs

2

teaspoons

dried minced onions

1

teaspoon

garlic powder

½

teaspoon

black pepper

½

teaspoon

smoked paprika

1

teaspoon

sea salt

1

teaspoon

olive oil
Instructions
Add the eggs to a shallow bowl, and beat with fork

Add the panko bread crumbs, dried onions, sea salt, garlic powder, pepper and paprika to another shallow bowl or large zip top bag

add olive oil or cooking spray to a large rimmed baking sheet, and set aside.

Dip pork chops into eggs, and let excess egg drip back into the bowl

Dip pork chops into seasoned breadcrumbs on both sides, then place on prepared baking sheet. Lightly spray tops with olive oil spray

Bake uncovered for 25 minutes or until internal temperature reaches 145 degrees. Optional -- broil chops after baking for about 5 minutes for a darker color

Remove from oven, and let rest for about 5 minutes before serving
Notes
To make breaded pork chops without eggs, use 1 tablespoon of mayonnaise and 1 tablespoon of Dijon mustard, and brush a thin layer on each chop before breading.
Total cook time depends on how thick your pork chops are. Pork chops are done when they reach 145 degrees, according to a meat thermometer. If you prefer more well done chops, you can cook them longer.
Nutrition information is estimated. Please do your own calculation to fit special diets.
Nutrition
Calories:
385
kcal
Carbohydrates:
13
g
Protein:
39
g
Fat:
18
g
Saturated Fat:
6
g
Polyunsaturated Fat:
3
g
Monounsaturated Fat:
7
g
Trans Fat:
1
g
Cholesterol:
179
mg
Sodium:
615
mg
Potassium:
673
mg
Fiber:
1
g
Sugar:
2
g
Vitamin A:
183
IU
Vitamin C:
1
mg
Calcium:
75
mg
Iron:
2
mg
Recipe published in 2019 and updated in 2022.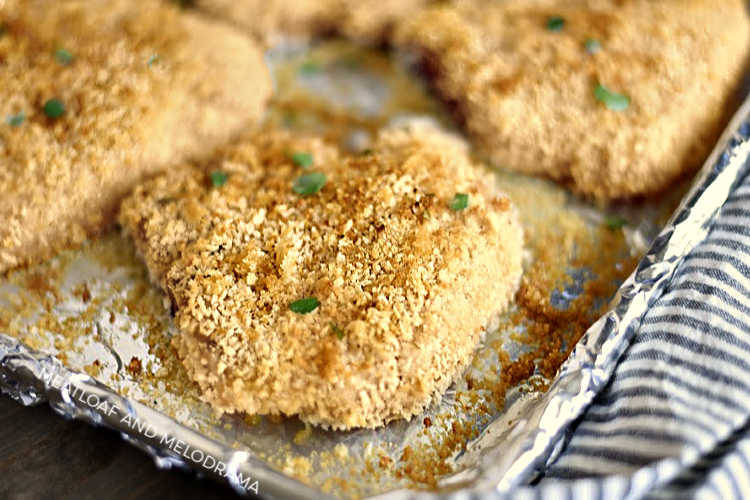 I hope you enjoy this easy baked breaded pork chops recipe as much as we do! These are seriously some of the best pork chops I've made recently--a great recipe that always results in juicy, crispy pork chops!
Be sure to comment and leave a star rating if you have made these amazing pork chops or my other baked breaded pork chops recipes!
For more easy recipe ideas, comfort food meals, and delicious dinner ideas perfect for every night of the week, be sure to subscribe to the newsletter and follow me on social media!