Hello, hello! We were having perfect spring weather for a little while, but now it's feeling more like winter -- for us desert dwellers, anyway. But that's fine, really, since I'm so not ready for summer. And, the cooler weather gives me a chance to prepare soup again, which I absolutely love! So for Sunday dinner, I made a nice big pot of spicy taco soup, and it definitely warmed us all up! Plus, we'll be having plenty of leftovers during the week, which makes getting everyone fed a lot easier for me!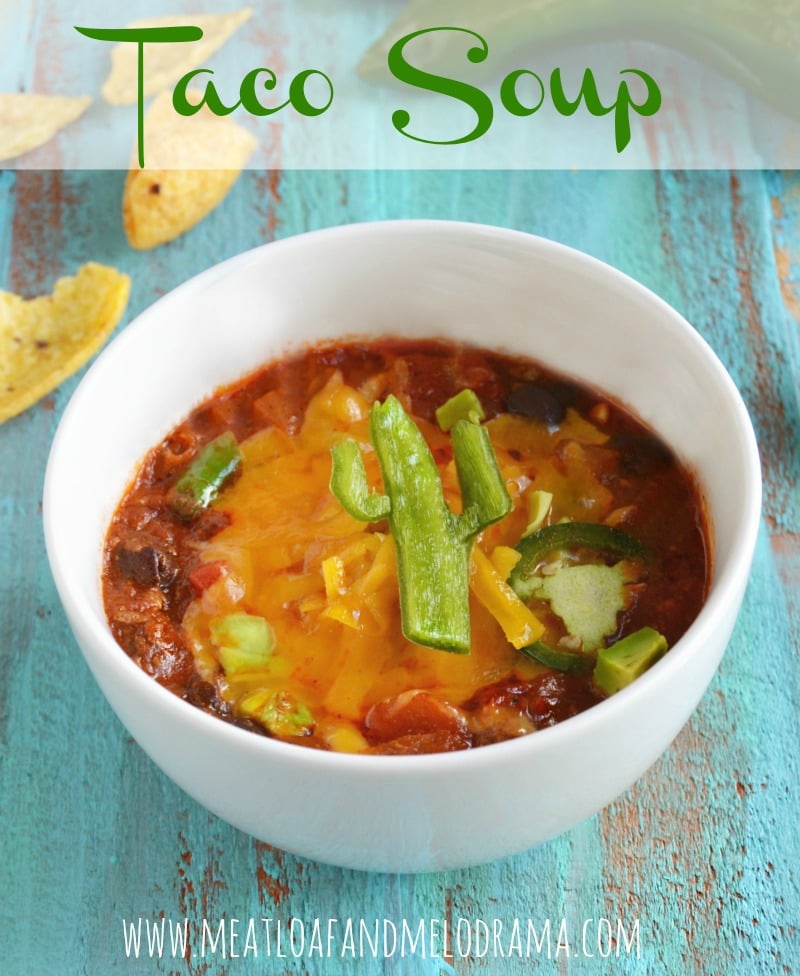 I really enjoy making soup. Not only is it comforting to eat, but I find that it's comforting to make, as well. And taco soup is maybe the only soup that everyone in the family really likes. They'll eat other kinds of soup, but even the picky eaters in the bunch actually like this one. It's also very versatile. You can make it spicy or keep it mild -- whatever works best for you. I make our taco soup thick, but it can be thinned out by adding a little more water, and the flavor doesn't change.

Oh, I also add cinnamon! Since this recipe is so close to chili, and I make our chili with cinnamon, it goes in the soup too.


Ingredients
2 pounds ground beef

1 28-oz can crushed tomatoes

1 28-oz can diced tomatoes

1 small can of black beans, rinsed and drained

1 red bell pepper, diced

1 yellow bell pepper, diced

1 Anaheim pepper, diced

1 jalapeno pepper, diced

1 large yellow onion, chopped

3 gloves garlic, chopped

1 tablespoon chili powder

1 tablespoon cinnamon

pinch of red pepper flakes

2 tablespoons of your favorite salsa

Salt and pepper, to taste

Avocado and cheese for garnish


Directions
In a large pot, brown ground beef and onion over medium heat, and drain excess fat.
Add garlic and the peppers, and saute until just soft.
Add the spices, pepper flakes, and then add the tomatoes. I usually fill up one of the empty tomato cans with water and add it to the soup at this point. You can also add more if you like.
Add the black beans and salsa, and stir well.
Cover and cook until the soup is heated through, and enjoy!
I usually serve taco soup with chips, Fritos, grated cheese, sour cream, avocados and extra salsa. Then, I let our everyone just pile on the toppings. I think this one reason the kiddos like this soup so much, especially the little guy. His soup always ends up looking like creamy orange goo, but he eats every last drop without complaining! What more can a mom ask for, right?
Do you ever make taco soup? What are some of your family's favorite toppings? Inquiring minds what to know.
Thanks for stopping by -- stay warm!