Hi friends! My family absolutely loves pancakes, and it's become sort of a weekend tradition to have them for breakfast. I change up the toppings with the seasons, and on holidays, we like to jazz them up a little more. So for the Fourth of July, I go with a red, white and blueberry theme, and I serve these light and fluffy Buttermilk Pancakes with Blueberries and Strawberries.



When my oldest was little, I started making a simple, but special breakfast for every holiday. Summer holiday breakfasts are fun because of the abundance of colorful fruit available for topping pancakes, waffles and French toast.

And because the fruit is sweet enough on it's own, you really don't need any syrup, other than the juice from the ripe fruit. At least, that's what I keep telling the kids!

These buttermilk pancakes are especially light and not heavy at all, so they're perfect for summer. The original recipe comes from one of my mom's old cookbooks, but of course, I've changed it a little over the years. And instead of using butter or vegetable oil, I use coconut oil, which I love!




Ingredients for Buttermilk Pancakes
1 cup all-purpose flour

1 teaspoon baking powder

½ teaspoon baking soda

1 tablespoon sugar

Pinch of salt

1 large egg

1 ½ to 2 cups buttermilk

2 tablespoons coconut oil


Directions
In a large mixing bowl, whisk the egg until frothy.
Add the buttermilk and coconut oil, then the rest of the ingredients and mix until smooth. If the batter seems thick, add a little more milk or water.
Grease skillet, and cook pancakes on medium heat. It's hot enough when water drops can bounce off.
When pancakes bubble and edges are set, flip and cook until both sides are brown.
Makes approximately 18 small pancakes.

While I'm making the pancakes, I usually enlist one of the kids to wash and prepare the strawberries and blueberries. Even the younger ones can help rinse the berries, and the older ones can slice the strawberries.

It's a great way to get the kiddos involved in the kitchen, and it's a fantastic time saver for me! Then, we let the fruit sit and blend together until it's time to eat.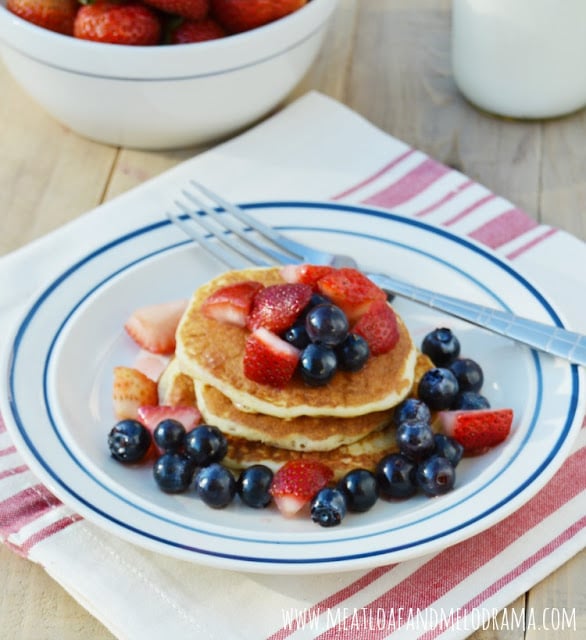 To make these buttermilk pancakes with blueberries and strawberries even tastier, you can top off the stacks with whipped cream for a fun red, white and blueberry breakfast. When my kids do this, you can hardly see the pancakes underneath, but hey -- it's a holiday!

Thanks a bunch for visiting!
You May Also Like These Red, White and Blue ideas