Chocolate truffles have an inner core of velvety smooth ganache surrounded by even more chocolate on the outside. They're easy to make and even easier to eat, so you can skip the pricey boxed chocolates and whip these up instead!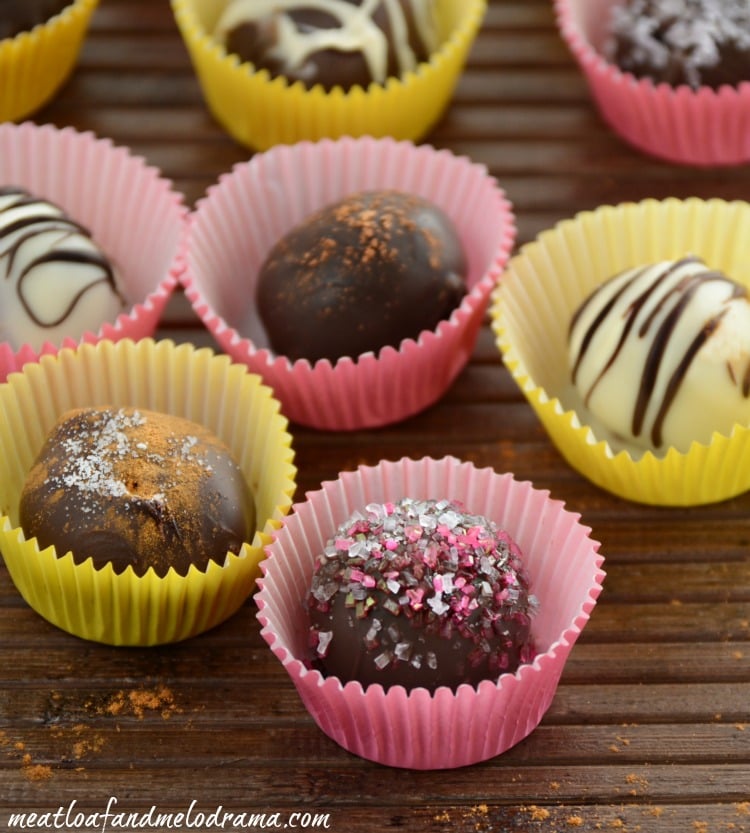 Have I mentioned before that I seriously love chocolate? I must have because it's the one food that is almost impossible for me to resist. You could put the most amazing yellow cake with vanilla frosting in front of me, and I would be tempted, but I would be able to walk away. But put a chocolate cake with chocolaty fudge frosting on the table, and that's a whole 'nother story!
My chocolate obsession has made it pretty easy for the Hubs when it's time for gift giving. He knows a box of chocolates will always do the trick, but prices have gone up in the hundred or so years that we've been married. And, I have a few younglings in the house that love chocolate as much as I do, so the box never lasts long at all.
So, I decided to try making homemade chocolate truffles. They really aren't hard to make, but there are several steps involved. Still, the result is totally worth it!
First, you make the inner layer, or ganache. This is basically melted chocolate with butter and cream -- in other words, good stuff! You can also flavor this part with liqueurs or extracts, but I went with plain old chocolate this time.
I also melted the chocolate in the microwave. I know some people would frown at this, but the key is to melt the chocolate slowly, in short bursts and stir in between. I usually start out at 30 seconds, then 15 seconds, and when the chocolate is glossy and almost fully melted, I take it out of the microwave and stir until the melting is complete.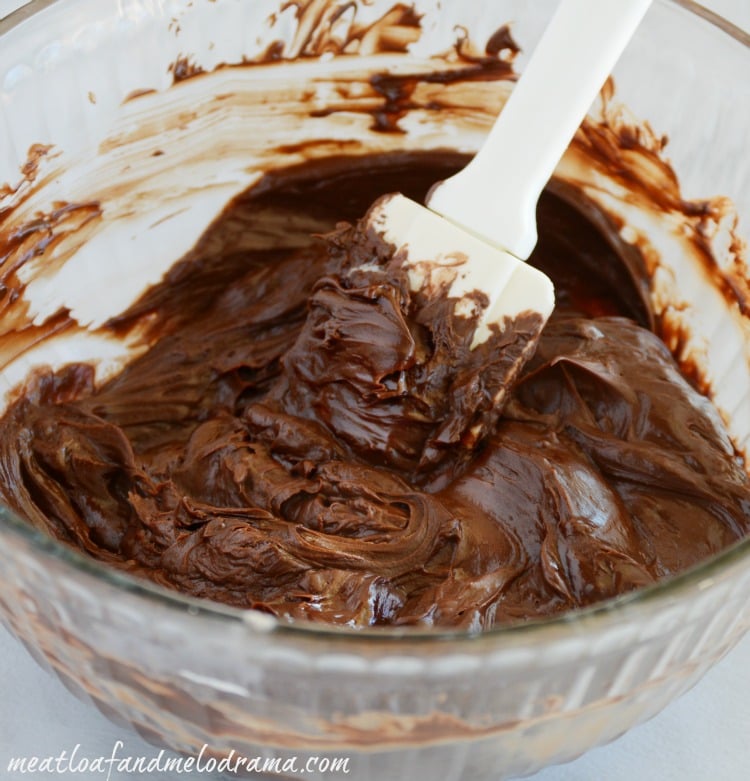 Then, you let the ganache solidify so that it's easy to work with, and you scoop out small portions and form them into little chocolate balls of goodness.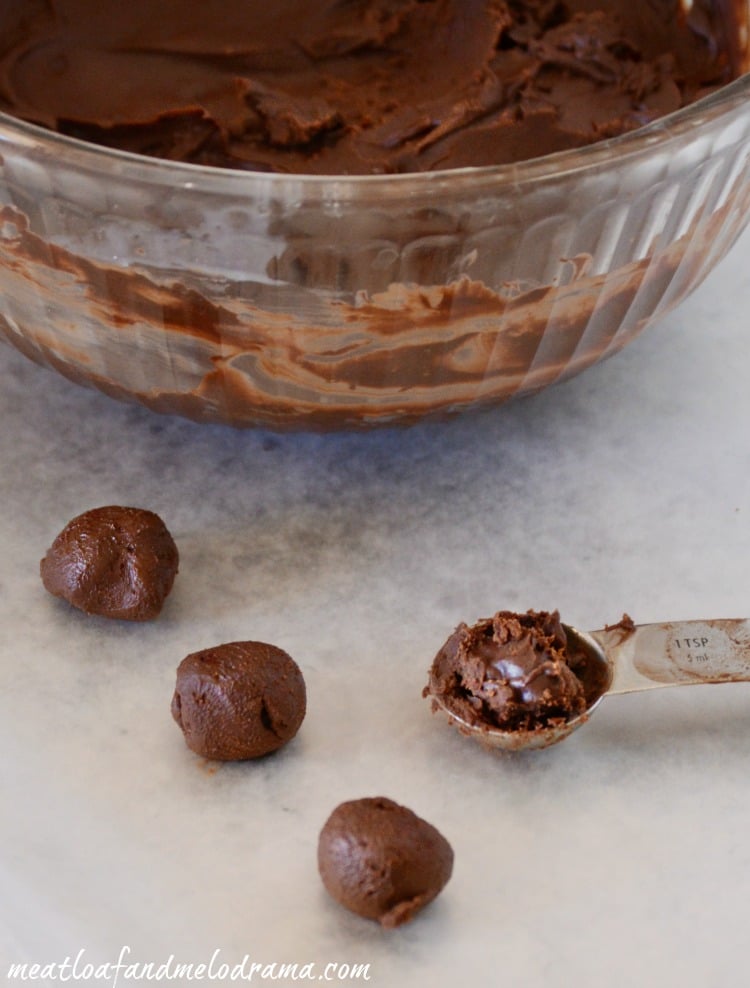 It was warm in the kitchen, so I put the balls into the freezer for a few minutes so that they would firm up again before being dipped in choclate. If your kitchen is cool enough, you may be able to skip this step.
The kids were helping me, and they suggested dipping some in semi sweet chocolate and some in white chocolate. My little guy even suggested dipping a few in white chocolate first and giving them a final coat of semi sweet.
When it comes to decorating, there are no rules here -- fun! We drizzled white and dark chocolate over some, added sprinkles to others, and I even dusted some truffles with cocoa powder, cinnamon and sugar.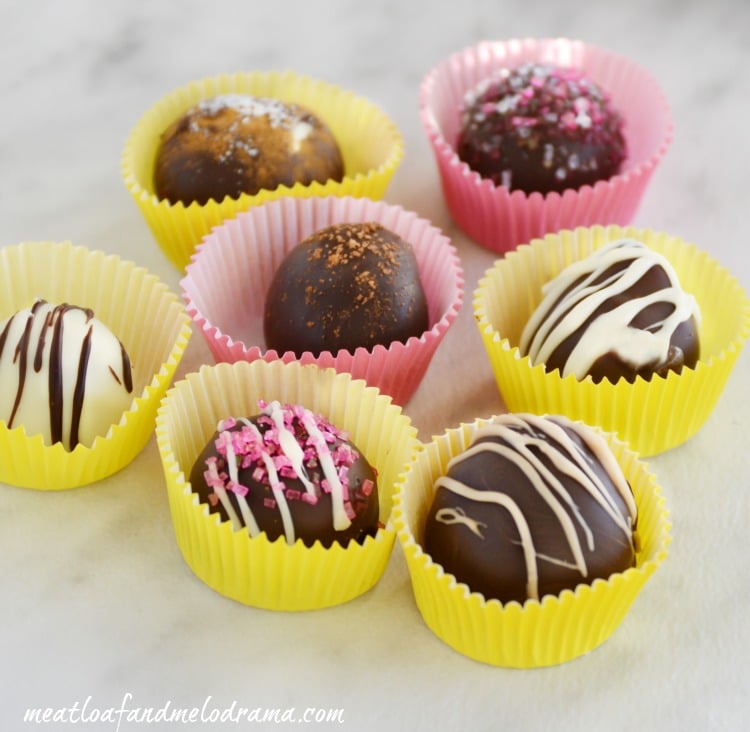 How to Make Homemade Chocolate Truffles
Recipe
Chocolate Truffles
Homemade semi sweet chocolate candy truffles
Ingredients
For the Ganache

12

ounces

of semi sweet chocolate

½

cup

heavy cream

¼

cup

softened butter

For the Coating

6

ounces

white chocolate

6

ounces

semi sweet chocolate

Candy sprinkles

Cinnamon

optional

Sugar

optional

Cocoa Powder

optional
Instructions
In a large microwaveable bowl, slowly melt the semi sweet chocolate, starting at 30 seconds, then in 15-second increments, stirring frequently

When chocolate is melted, stir in softened butter

Stir in the heavy cream until well combined and thick

Refrigerate mixture until firm

Scoop out mixture with teaspoon or melon baller and form into balls

Place on lined cookie sheet, and refrigerate or freeze until firm

Melt semi sweet chocolate and white chocolate, and dip ganache into chocolate until well coated

Top with drizzled chocolate, sprinkles, cinnamon, sugar or cocoa powder, if desired
Nutrition information is estimated. Please do your own calculation to fit special diets.
Nutrition
Calories:
66
kcal
Carbohydrates:
5
g
Fat:
4
g
Saturated Fat:
2
g
Cholesterol:
5
mg
Sodium:
6
mg
Potassium:
44
mg
Sugar:
4
g
Vitamin A:
55
IU
Calcium:
15
mg
Iron:
0.3
mg
We put the little chocolate truffles into small paper baking cups, and stored them in a covered container. I think they look legit -- borrowing my teen's favorite phrase here! And, they taste absolutely amazing!
I love the truffles with the white and semi sweet chocolate coating, or triple chocolate as my little guy calls them. When you cut them open, you can see all three layers.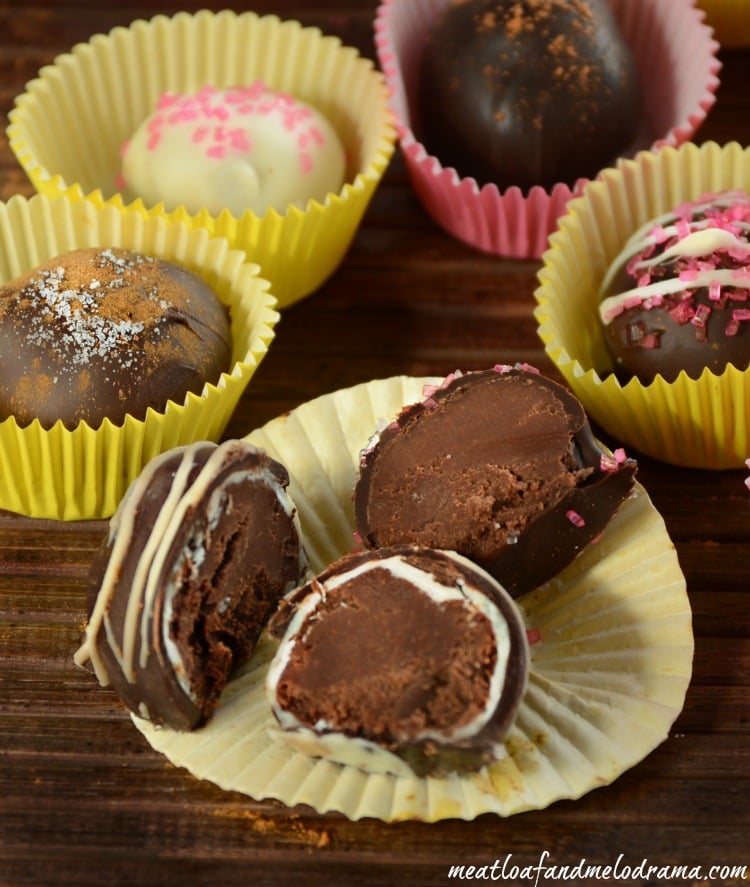 You can make your own chocolate truffles and give them as gifts for birthdays, anniversaries,Valentine's Day, Mother's Day or really, any holiday. Or, you can make them and eat them just because!
Have an awesome day!

Sharing At