You can whip up this easy Grilled Peanut Butter Banana Sandwich in just a few minutes, and even your pickiest eaters will approve!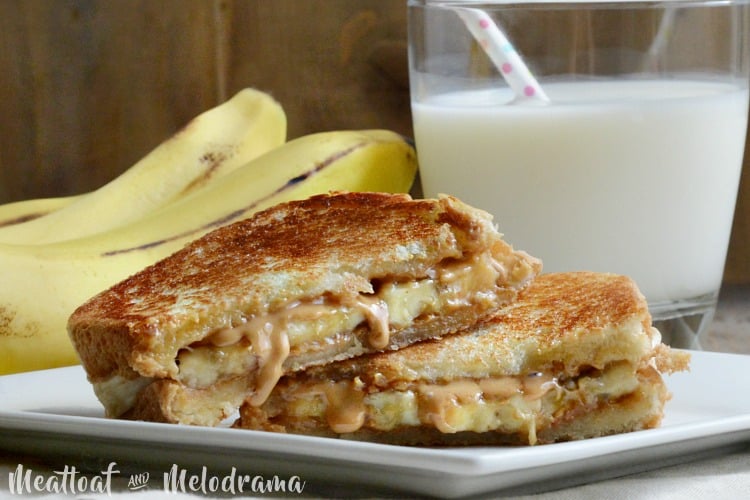 First of all, I should start by saying that I hope this sandwich doesn't seem too bizarre. I mean, grilled peanut butter and bananas isn't that exotic, is it? Other people have made them, and we know Elvis liked them, right?
Anyway, I wanted to post this sandwich recipe here because it's super easy to make, and since this blog is all about quick and easy meals, it should fit right in!
It's also one of my middle child's favorite sandwiches. She doesn't like grilled cheese, but she loves peanut butter. So whenever I make grilled cheese sandwiches for the rest of the crew, she asks for a grilled PB & B -- except when I make Parmesan crusted pizza grilled cheese. She actually likes those!
Normally, I won't take custom orders when I'm making lunch or dinners -- no way! But, since it's super easy to make a grilled peanut butter and banana sandwich, I don't mind. Actually, it's even easier than making your normal everyday grilled cheese.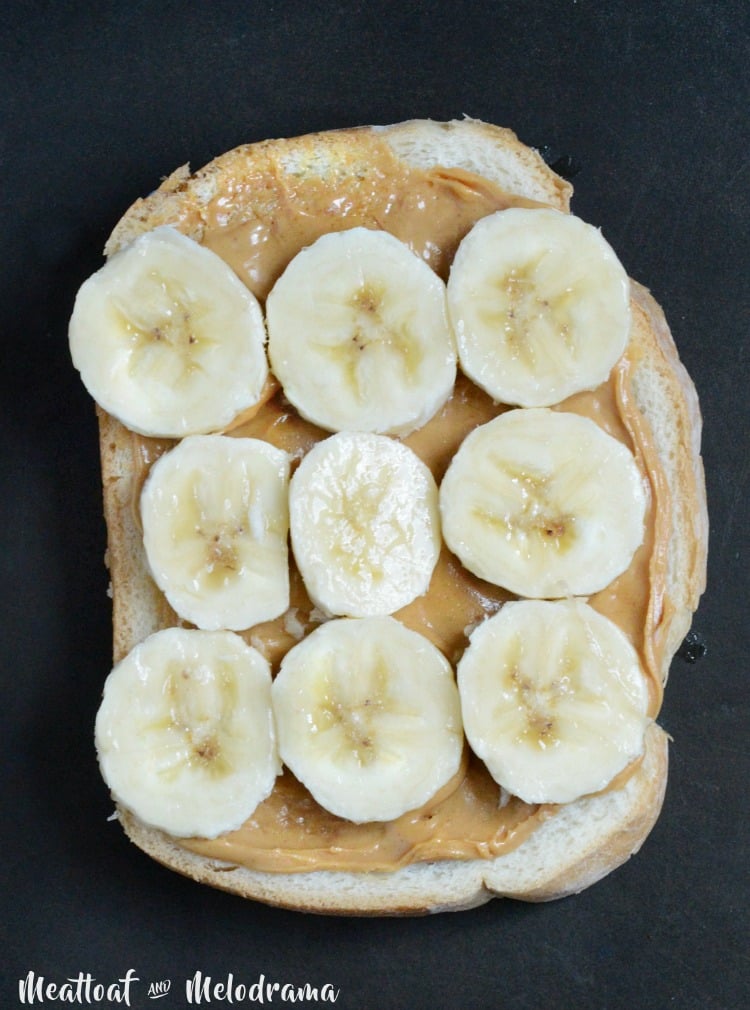 I use mayonnaise instead of butter when I make grilled cheese, so I do the same thing when I make grilled peanut butter. You just add a thin coat of mayo to the outsides of the bread, and you cover the insides with peanut butter and banana slices. Grill it up, and that's it. Easy peasy, right?!
It cooks faster than grilled cheese because you're basically just toasting the bread. There's no waiting for the cheese to melt, so once the bread is a gorgeous golden brown color, you're done.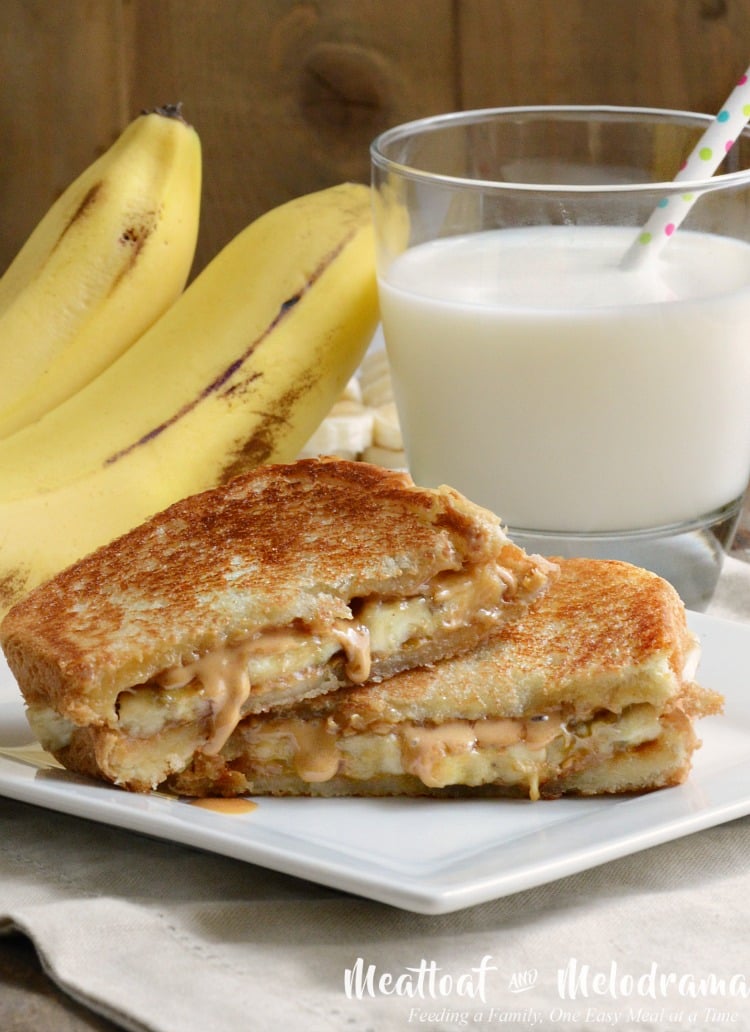 My daughter likes these peanut butter sandwiches just like this, but you could easily add a little honey, chocolate or even Nutella. It would definitely be more of a dessert sandwich, but there's nothing wrong with that!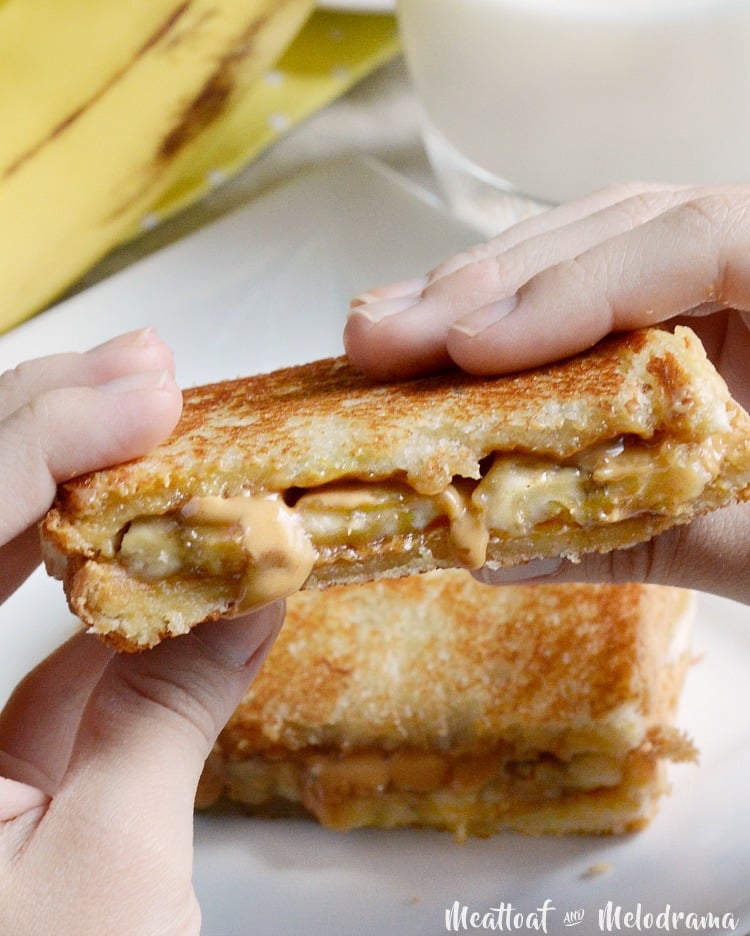 How to Make a Grilled Peanut Butter Banana Sandwich
Recipe
Grilled Peanut Butter Banana Sandwich
Quick and easy sandwich stuffed with peanut butter and banana slices and grilled until warm and golden brown
Ingredients
4

slices

thick white bread

2

tablespoons

mayonnaise

4

tablespoons

smooth peanut butter

1

banana, cut into thin slices
Instructions
Smooth thin layer of mayo on one side of each slice of bread

Spread peanut butter on insides of bread

Add banana slices over peanut butter

Place 2 slices of bread, mayo sides down and peanut butter sides up, on griddle and top with remaining 2 slices of bread, peanut butter sides down

Cook over medium high heat for about 2 minutes, or golden brown, then flip and cook for additional 2 minutes per side, or until both sides are golden brown and peanut butter is warm
Nutrition information is estimated. Please do your own calculation to fit special diets.
Nutrition
Calories:
467
kcal
Carbohydrates:
50
g
Protein:
14
g
Fat:
24
g
Saturated Fat:
4
g
Cholesterol:
5
mg
Sodium:
529
mg
Potassium:
509
mg
Fiber:
4
g
Sugar:
13
g
Vitamin A:
40
IU
Vitamin C:
5.1
mg
Calcium:
143
mg
Iron:
2.6
mg
My daughter let me have a little taste of her sandwich, and it was really good. So the next time you're craving a quick and easy lunch or dinner, try a grilled peanut butter banana sandwich. I think you'll like it!
Happy Cooking,

Sharing at Weekend Potluck