This Parmesan Crusted Pepperoni Pizza Grilled Cheese sandwich is loaded with melted provolone, marinara and pepperoni and topped with crispy Parmesan crust.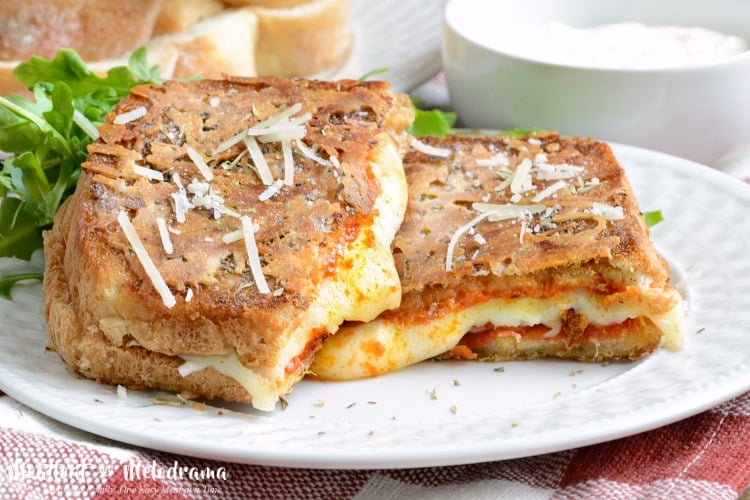 Before I start describing how incredible this pizza grilled cheese is, I should say that I've never really liked grilled cheese sandwiches. Seriously. It's not that I hated them or anything. It's more like I never really felt satisfied after eating one.
Maybe it's because when I was growing up, we always had them made with thin slices of white bread and processed American cheese. Don't get me wrong -- they tasted good, but personally, I would much rather have a good burger! The Hubs, on the other hand, absolutely loves grilled cheese, and he would probably eat them every day if it were possible.
To keep the peace, we started making custom sandwiches for the whole family. I usually had spicy jalapeno cheddar grilled cheese, and the kids would have colby jack. The Hubs would have the all American, and our picky eater would settle for peanut butter, since she hates cheese. Strange, but we love her anyway!
So when I started seeing recipes for pizza grilled cheese, I knew I had to try this version. My family loves pizza, so I was pretty sure they would all love it in sandwich form. And it would make life so much easier if I could stop taking custom sandwich orders -- Mama definitely doesn't have time for that!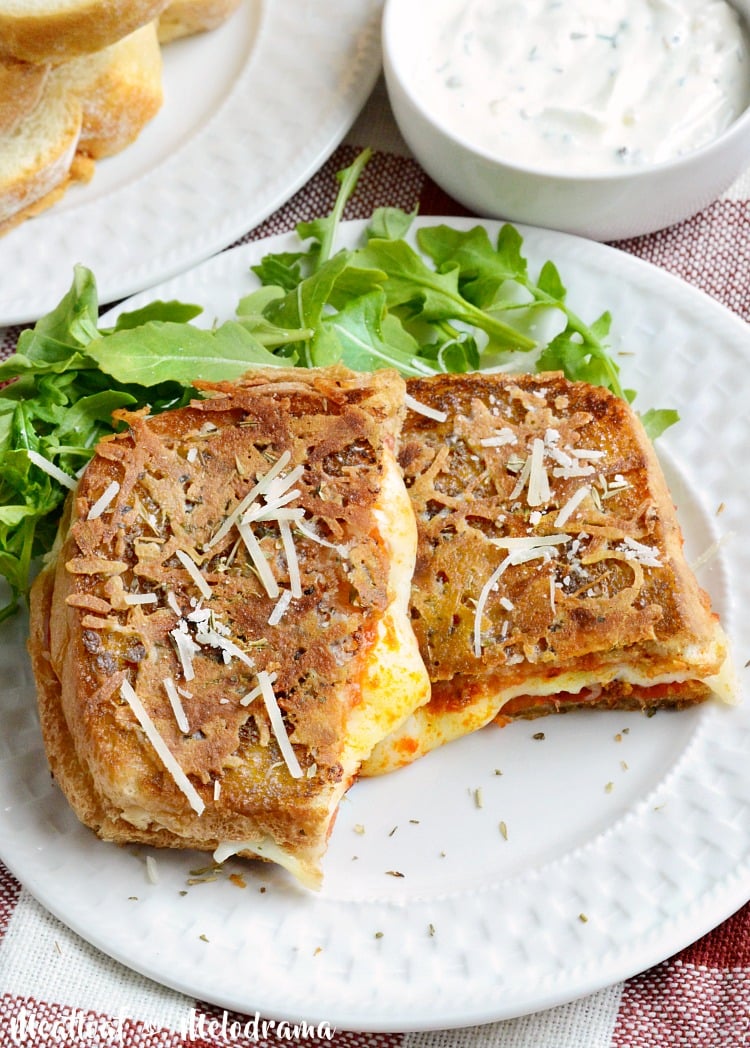 What surprised me the most was that even the Hubs was on board with this. When I announced that we were having pepperoni pizza grilled cheese for dinner, I thought for sure that he would opt out of it!
These sandwiches are so easy to make, and they really do taste like pizza. If you don't want to make your own pizza, this is the next best thing and a lot cheaper than takeout! I love pepperoni, so I used plenty in these sandwiches. But you can make yours plain cheese if that's what you prefer. My picky cheese hater chose this option and actually like it!
I started making grilled cheese sandwiches with mayonnaise instead of butter a year or so ago, and this method is so much better than using butter. Trust me. Mayo is easier to spread, and it gives the bread a nice golden crust.
I also added some grated Parmesan cheese to the bread to make it extra crispy. If there's one thing I really hate, it's a grilled cheese sandwich with soggy bread -- ugh! And Parm is perfect for grilled cheese!
Here's the thing -- You can really add whatever amounts you want to these sandwiches. So, the ingredients and amounts I listed here are really just a guide. Add more cheese or more pepperoni or no pepperoni to to make an amazingly delicious, cheesy sandwich that you would be proud to eat!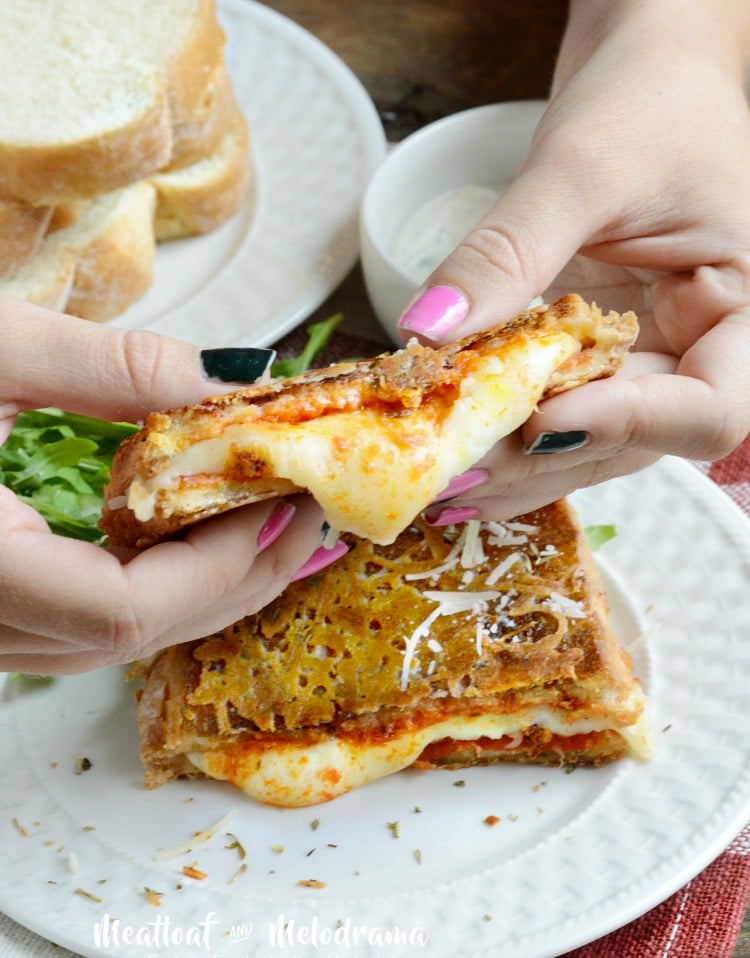 How to Make a Parmesan Crusted Pepperoni Pizza Grilled Cheese Sandwich
Recipe
Parmesan Crusted Pepperoni Pizza Grilled Cheese
A jazzed up grilled cheese sandwich with topped with a crispy Parmesan crust and filled with melted provolone and pepperoni slices.
Ingredients
4

slices

thick-cut white bread

2

tablespoons

mayonnaise

¼

cup

marinara sauce

2

slices

provolone cheese

1

cup

shredded mozzarella cheese

10

slices

pepperoni

½

cup

shredded Parmesan cheese

2

teaspoon

dried Italian seasoning
Instructions
Spread thin layer of mayonnaise on one side of each slice of bread

Spread thin layer marinara sauce on inner side of each slice of bread

Place 2 slices of bread, mayo side down in skillet over medium-high heat

Add the provolone cheese and top with mozzarella and 5 slices of pepperoni on each sandwich, then spread a thin layer of marinara on second slice of bread, and place on top, mayo slice up

Cook for about 2 minutes or until bread is golden brown, then flip and cook for additional 2 minutes, and add a little bit of Parm and Italian seasoning

Lower heat to medium, flip again, top with more Parm and seasoning, and cook for about 30 seconds

Flip one more time, and cook for about 30 seconds or until Parm is golden brown and crisp. and cheese inside is melted. Serve, and enjoy!
Notes
To ensure that cheese is melted, loosely cover sandwiches with plate or foil right before removing from griddle and serving
Nutrition information is estimated. Please do your own calculation to fit special diets.
Nutrition
Serving:
1
g
Calories:
521
kcal
Carbohydrates:
5
g
Protein:
31
g
Fat:
41
g
Saturated Fat:
19
g
Cholesterol:
96
mg
Sodium:
1422
mg
Potassium:
258
mg
Fiber:
1
g
Sugar:
2
g
Vitamin A:
985
IU
Vitamin C:
2.1
mg
Calcium:
822
mg
Iron:
1.8
mg
If you're looking for a super quick and easy cheesy dinner, you can't go wrong with these Parmesan crusted pepperoni pizza grilled cheese sandwiches. My family absolutely loved them -- even the picky eater!
Enjoy!