Hi friends! Every summer, I let the kids pick out their favorite frozen treats when we go shopping. Their selection varies each time, but Drumsticks seem to hop into the cart more often than any of the other ice cream novelties available. I admit that I have a soft spot for these tasty chocolate covered cones too, so this weekend we decided to try making our own. Although the process was a little tricky, our Homemade Drumsticks were pretty amazing!



The kids and I tried making our own Drumsticks a couple of years ago, but they didn't quite turn out like we expected, although we ate them anyway! The problem was the chocolate topping was way too thick, and it was almost impossible to get to the ice cream. I think I ended up cutting part of the topping off so that the kids could eat them without breaking any teeth.

The kiddos were bugging me to try the DIY Drumsticks again, so I finally gave in. But this time, we used chocolate candy melts instead of regular chocolate, and this method was so much better! The coating was a lot thinner, and I didn't have to worry about teeth trouble.


Ingredients
Ice cream ( We used vanilla and mint chocolate chip)

1 8-oz bag of Wilton's Cocoa Candy Melts

12 sugar cones

1 cup of semi-sweet chocolate chips

Candy sprinkles


Directions
Melt the chocolate chips, and pour some chocolate into the very bottom of each cone. You can also spread some around the entire inside of the cone.
Place cones in freezer until chocolate is solid.
Fill cones with ice cream, and carefully push the ice cream to the bottom of each cone.
Top cones with more ice cream, then return to freezer until frozen hard.
Melt candy coating according to package directions, and quickly dip each cone into the coating so that ice cream is covered.
Top with candy sprinkles, and freeze until firm.
Enjoy!

I found that it was easier to get the chocolate to the very bottom of the cones by using a knife. Then, I just spread some chocolate around the inside of the cones for a little extra chocolate flavor.



I used a plastic rounded Popsicle mold to hold the cones in place. This made it so easy to transport the cones in and out of the freezer.

Some of the kids like mint chocolate chip, so we made some Drumsticks with this flavor, and we used vanilla for the rest. Things got a little messy, but c'est la vie!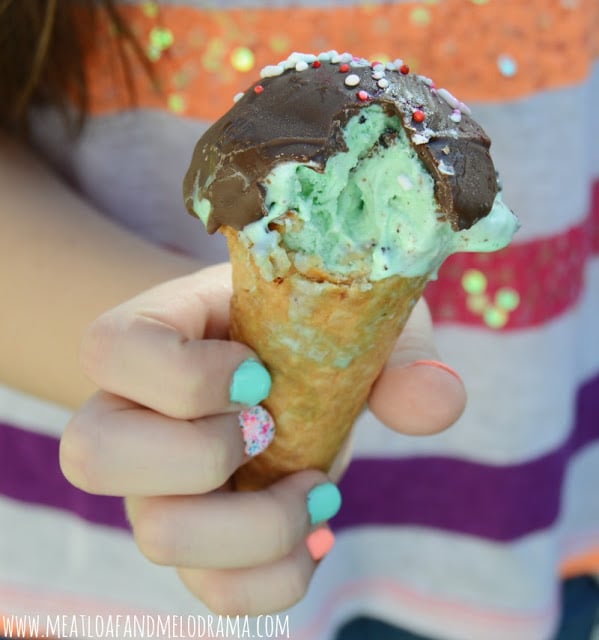 So why are Drumsticks so much fun? Well, I think everyone loves to get to the ice cream underneath that sweet first layer of chocolate. Then, you get more chocolate around the inside of the cone.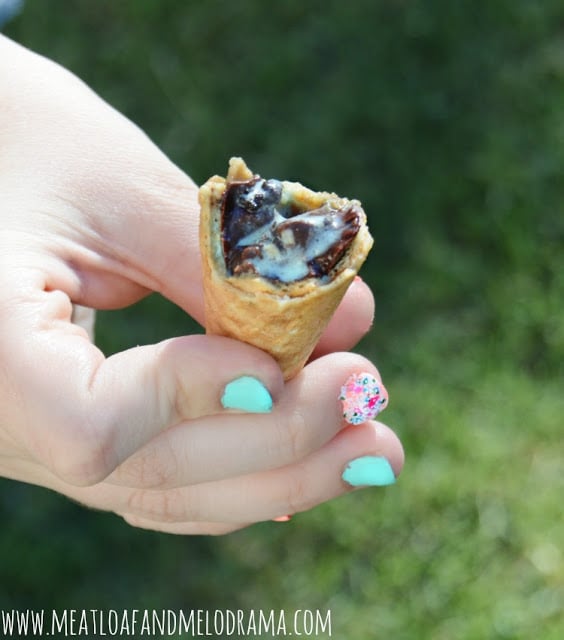 Finally, you get to that amazing nugget of solid chocolate at the very bottom, and it's like all your efforts are rewarded. Sweet!

So, if you decide to make your own Drumsticks, there are a lot of trips to the freezer, and several steps to follow, but oh, is it ever worth it! The kids and I had so much fun making our own frozen treats, and they were even better than the ones from the store. Really!

Thanks a bunch for visiting!
You May Also Like