Instant Pot Beer Ribs are made with beer in the pressure cooker, slathered with homemade orange BBQ sauce and grilled to perfection. These fall-off-the-bone ribs are perfect for cookouts, tailgating and summer cookouts!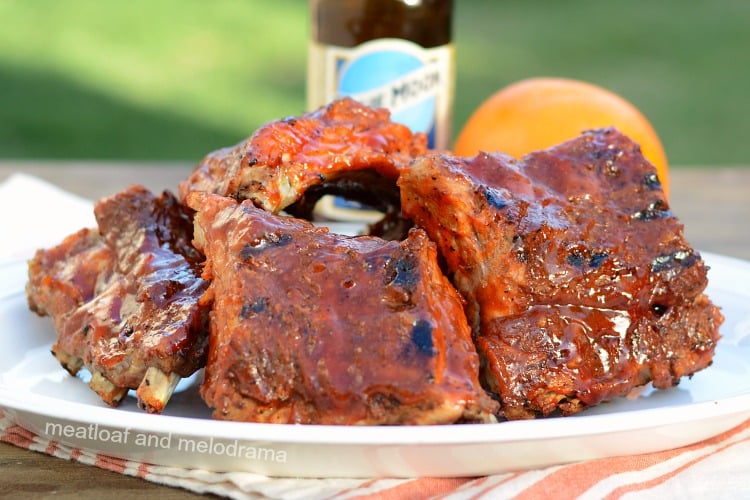 Let me say one thing -- Yes, you can cook with beer in the Instant Pot! Use it in place of vinegar or apple juice for some of the best Instant Pot ribs ever!
So, I usually use apple cider vinegar for cooking liquid when I make ribs in the Instant Pot. You can't taste it in the ribs, but you can definitely smell it while they're cooking. And that's the only part of my usual Instant Pot ribs recipe that I don't like.
But the other day, we were completely out of apple cider vinegar -- bad planning on my part! I had everything I needed to make ribs, which is one of our favorite Instant Pot recipes, by the way, except the vinegar. So instead of using plain water, I found some beer and used that instead!
You can use any beer in the pressure cooker, but we had some Blue Moon left over from a party, so I used that. It gave the ribs a slight citrus flavor that was downright delicious -- no weird smell, either! And to complement the flavor of the ribs, I whipped up a quick orange-flavored barbecue sauce. Double yum!
How to cook ribs with beer in the Instant Pot
There isn't anything different about making Instant Pot baby back beer ribs instead of the usual baby back ribs. Just add the trivet to the pot, and then, pour in the beer.
I have to add that the ribs don't sit in the beer, so need to worry if you're nervous about cooking with alcohol. One bottle of the Blue Moon is just about 2 cups of liquid, which is perfect for the 8-quart Instant Pot. If you're using the 6-quart, you'll have some extra beer to work with, and you can drink it or not!
Give your ribs a nice seasoning massage, and add them to the pot. I use my favorite spice blend, but you can use your own or try mine!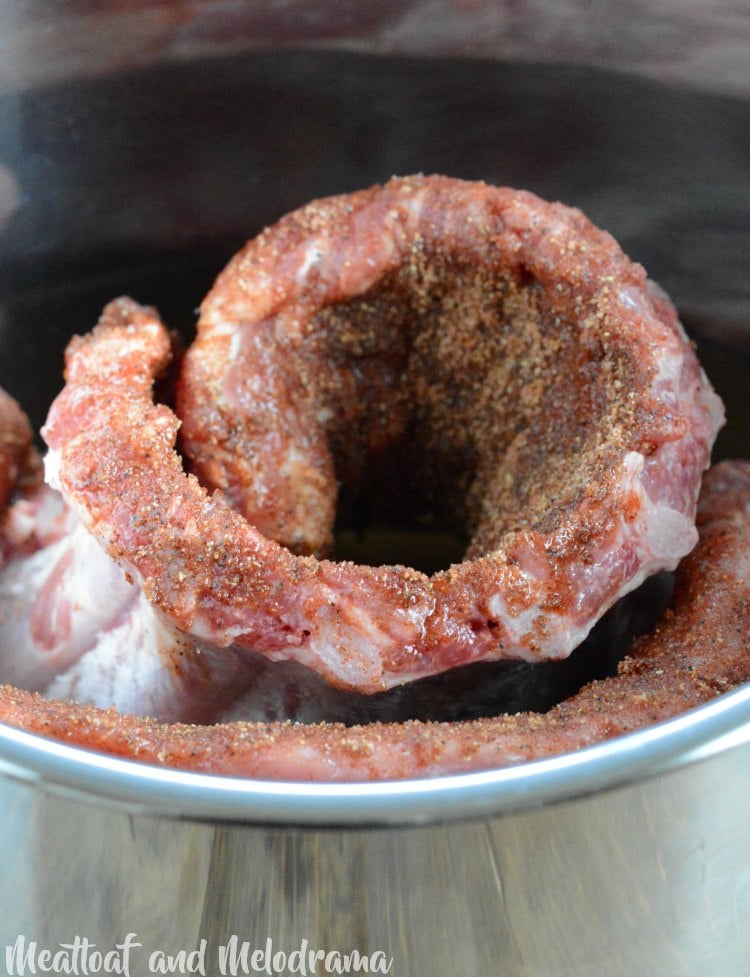 When the ribs are done, you want to slather some of that amazing orange BBQ sauce over them. You can also use your favorite bottled sauce if you want.
Next, get these babies on the grill! You can also pop the ribs under the broiler, but if the weather is good, definitely throw them on the grill for few minutes. Trust me, you guys -- you'll love them!
And that's all there is to it. The Instant Pot does most of the work, and the grill just adds some extra flavor and crisp texture.
You have amazing, perfect fall-off-the-bone ribs in less than an hour. These Instant Pot beer ribs are perfect for cookouts, tailgating and parties. And don't forget about Father's Day!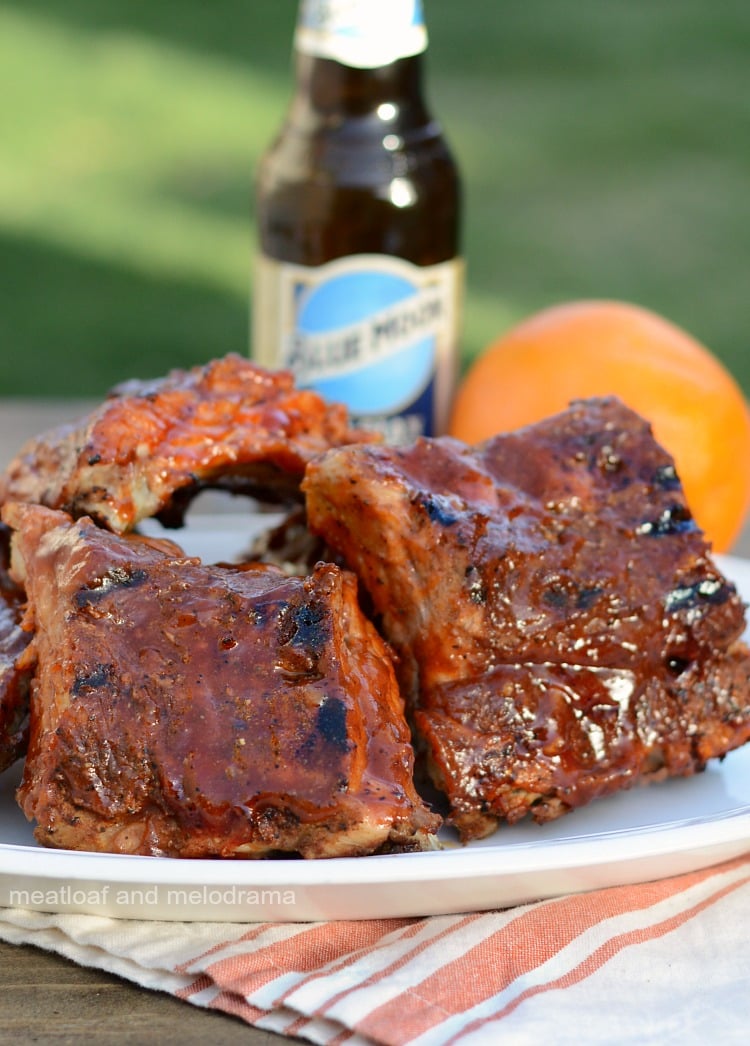 How long do you cook ribs in the Instant Pot?
It depends on how you like your ribs. If you like ribs that fall off the bone, you 'll want to cook them for 20 to 25 minutes in the pressure cooker. For ribs that are chewier, cook them for 16 minutes.
What do you serve with Instant Pot beer ribs?
You can serve your favorite side dishes. Or, try these easy Instant Pot side dishes:
Recipe for Instant Pot Beer Ribs
Recipe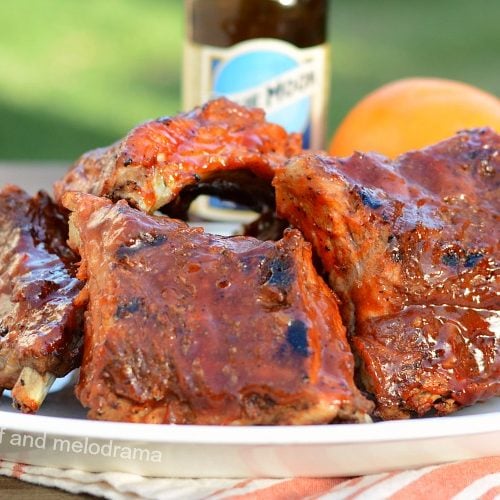 Instant Pot Beer Ribs
Instant Pot beer ribs are cooked in the pressure cooker with beer for liquid, then slathered with orange barbecue sauce and grilled to perfection for extra flavor and fall-off-the-bone tenderness
Ingredients
4

pounds

baby back pork ribs

membrane removed

3

tablespoons

brown sugar

3

teaspoons

sea salt

2

teaspoons

garlic powder

2

teaspoons

smoked paprika

1

teaspoon

ground black pepper

12

ounces

beer
For the BBQ Sauce
1

cup

ketchup

½

cup

orange juice

¼

cup

brown sugar

¼

cup

orange marmalade

1

tablespoon

Dijon mustard

1

teaspoon

sea salt

½

teaspoon

ground pepper

½

teaspoon

garlic powder

½

teaspoon

smoked paprika
Instructions
Add the the brown sugar, sea salt, garlic powder, smoked paprika and pepper to a small bowl, and stir to combine

Remove membrane from back of ribs, and rub seasoning mix over ribs

Pour beer into Instant Pot, and place trivet on bottom of pot

Place seasoned ribs on trivet, cover, move valve to sealing position, and hit Pressure Cook for 20 minutes

Allow to naturally release for 10 minutes, then move valve to quick release until pin drops.

Open lid, remove ribs to foil lined baking sheet, and brush barbecue sauce over ribs

Grill ribs over medium heat until skin is crisp, adding more barbecue sauce as necessary
For the BBQ sauce
Add all ingredients for BBQ sauce to a medium saucepan, and cook over medium heat until sauce starts to boil, stirring frequently

Reduce heat, and let simmer for 10 minutes, then remove from heat, and brush over ribs
Notes
Recipe was made in 8-quart Instant Pot electric pressure cooker, using 1 12-ounce bottle of Blue Moon Orange Valencia beer as a liquid. Can use any beer, but flavor may not be the same
Nutrition information is estimated. Please do your own calculation to fit special diets.
Nutrition
I hope you enjoy these easy Instant Pot beer ribs as much as we do!
Happy Grilling,