This easy Instant Pot Swiss Steak recipe is made in the pressure cooker with round steak in a peppery tomato beef sauce. Enjoy this updated vintage recipe!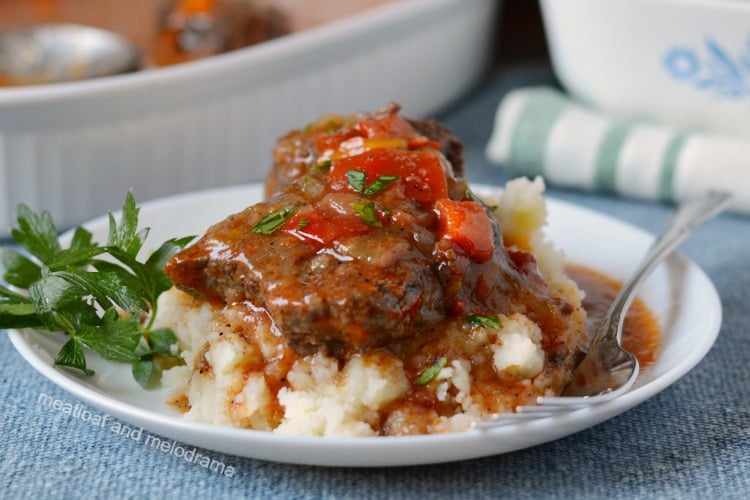 This pressure cooker Swiss steak recipe is a delicious way to turn a tough, inexpensive cut of meat into an amazingly delicious dinner. In fact, the Hubs says this is probably the best Swiss steak recipe ever!
It's not one of those Instant Pot recipes where you can dump everything into the pressure cooker and walk away. Swiss steak takes a little more effort, but the results are so worth it. Just think of it as an easy Instant Pot recipe that takes a little more prep work!
Growing up, my mom made Swiss steak in the electric skillet, and it was so good. I recreated her recipe, but I made it on the stove, instead. It was an awesome dinner, but it took about 2 hours to cook.
But, when you make Swiss steak in the Instant Pot, you can have it on the table in about an hour. Not only is it a huge time saver, but it's also easier since you don't have to tenderize the meat or stir it during the cooking process.
How to make Swiss Steak in the Instant Pot
What is a Swiss steak cut of meat?
I used bottom round for Swiss steak since that's what my mom always used. You can also use cube steak or any inexpensive, aka cheap, cut of beef here.
Just trim the extra fat off of the steak, then season both sides. Next, dredge the meat with a little corn starch or flour. I use cornstarch, but traditionally, you would use flour.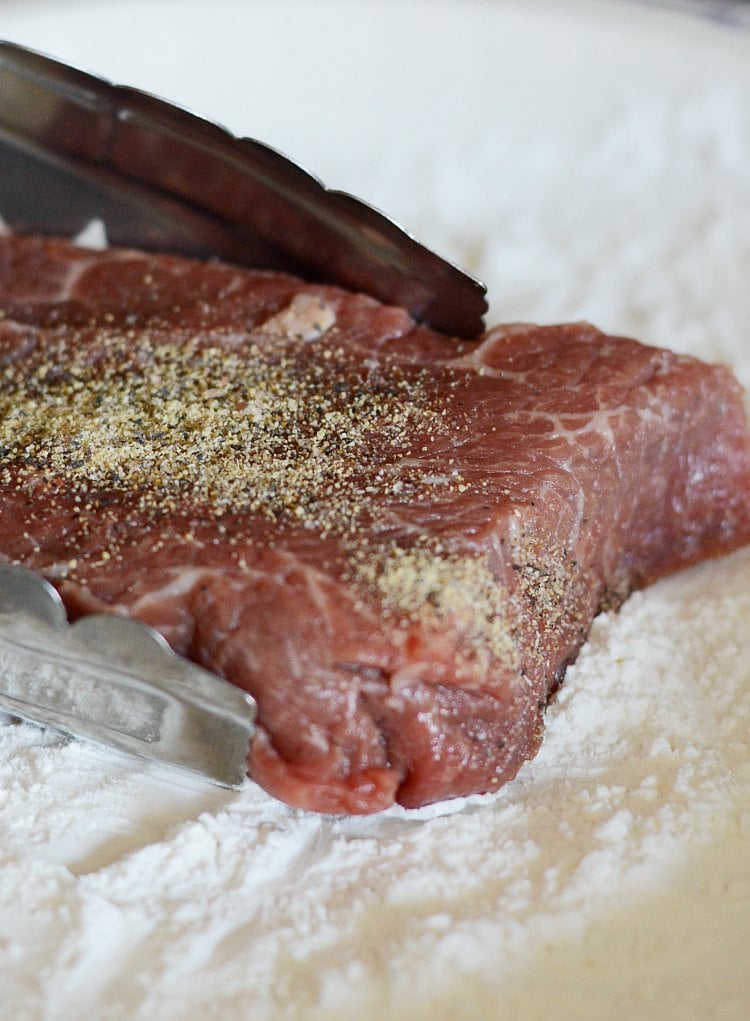 You have to brown the meat in the Instant Pot using the Saute setting. It's easier to brown meat when it's not crowded, so you'll have to brown 2 or 3 pieces at a time.
After you brown a couple of steaks on both sides, put them on a plate and cover with foil, until you finish browning the remaining meat.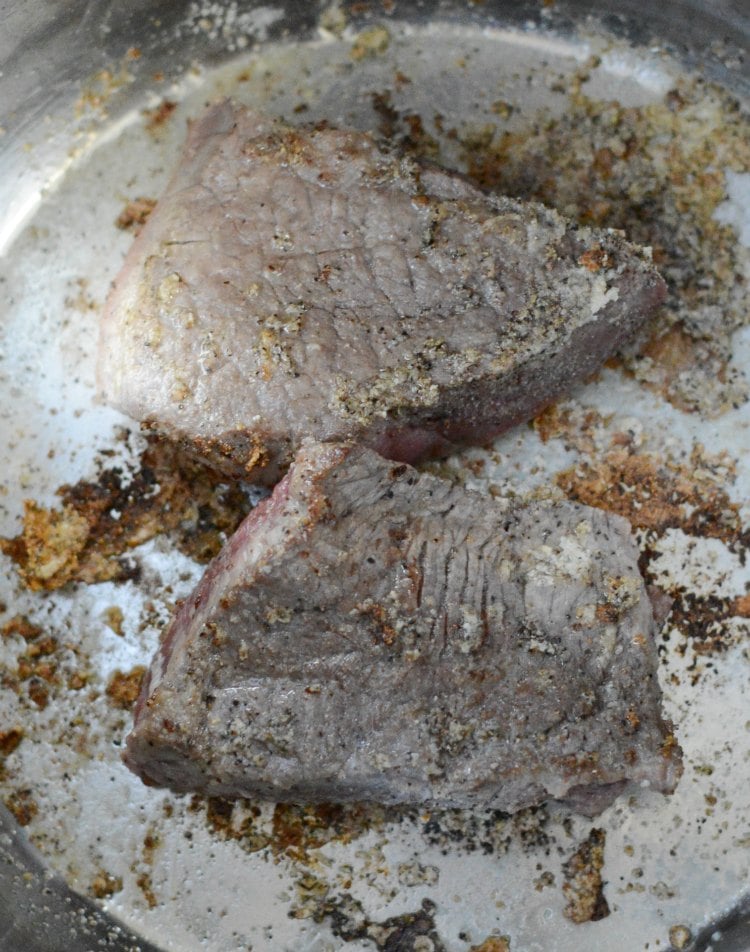 Next, add the onions and peppers, and cook until they're slightly soft. Stir them to make sure they cook evenly.
There will probably be some browned bits stuck to the bottom of the Instant Pot, so you'll have to deglaze the pot with a little beef broth. Just pour the broth in, and use a spatula or wooden spoon to scrape those lovely bits flavor off of the pot!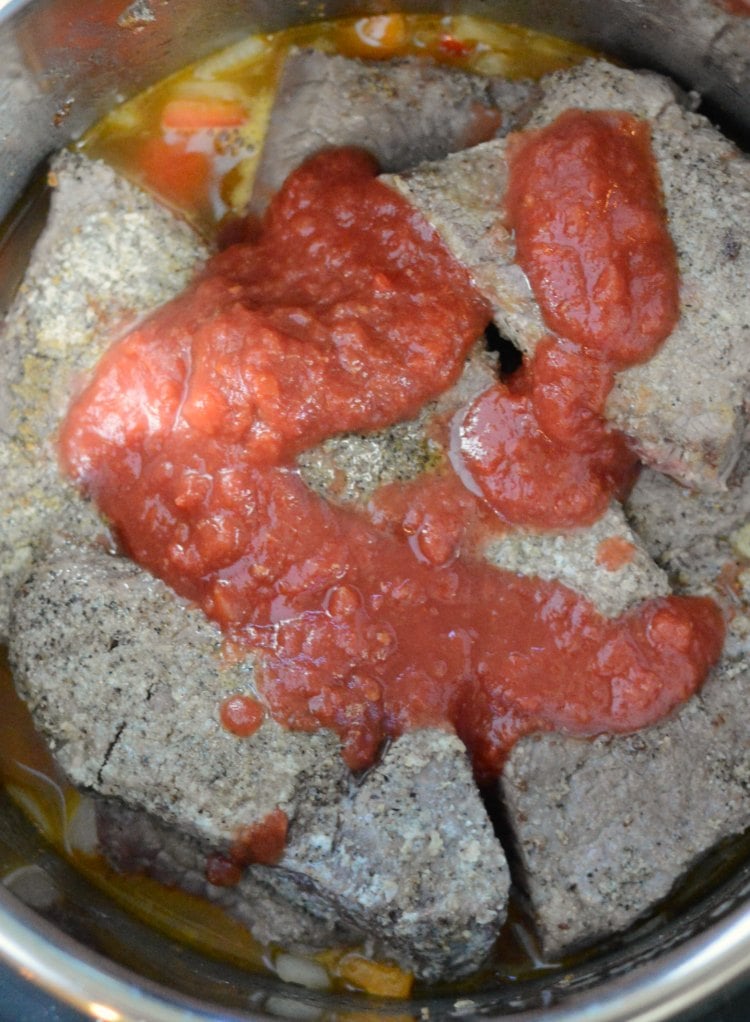 Next, add the meat back into the pressure cooker. Then, pour in the remaining broth and top with some crushed tomato puree.
Pressure cook it, and in about 30 minutes, the steak is done! You can use the sauce as is, or you can saute to reduce and thicken the sauce. For even thicker sauce, you can add a cornstarch slurry.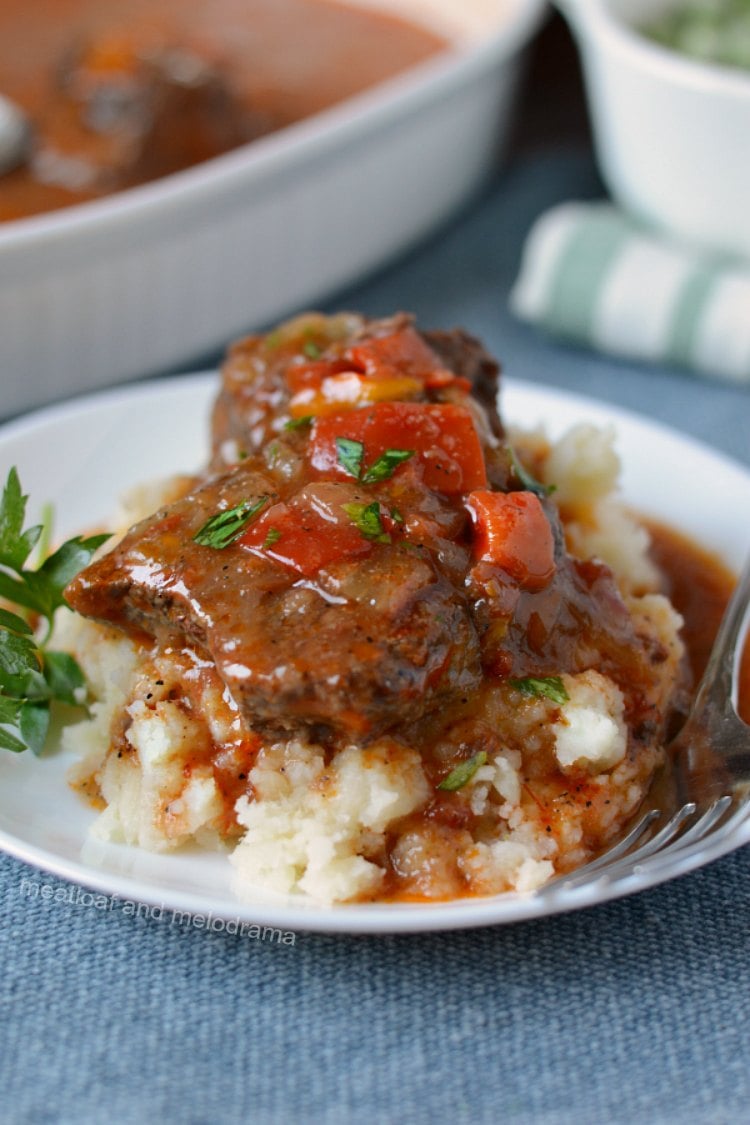 I like to serve Instant Pot Swiss steak over mashed potatoes or egg noodles. But, you can serve it over rice or even eat it just as it is.
If you want to make steak in the Instant Pot, this is the recipe to use! It's tender, filled with flavor and so good!
Can you cook Swiss steak on the stove?
Definitely! I have an easy Swiss steak recipe for the stove right here. You can also use an electric skillet if you have one.
Recipe for Instant Pot Swiss Steak
Recipe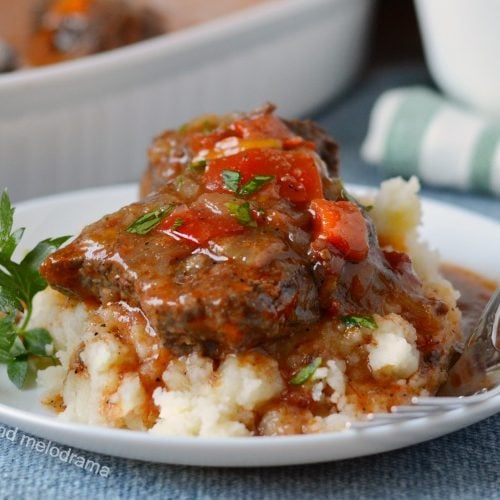 Instant Pot Swiss Steak
This easy Instant Pot Swiss Steak recipe is made in the pressure cooker with sliced round steak dredged in corn starch and cooked in a peppery tomato beef sauce. Enjoy this updated vintage Swiss steak recipe!
Ingredients
2

pounds

bottom round steak, trimmed and sliced into large squares

2

teaspoons

garlic powder

1

teaspoon

sea salt

1

teaspoon

ground black pepper

2

tablespoons

corn starch

2

tablespoons

vegetable oil

1

medium

white or yellow onion, peeled and diced

2

bell peppers, seeded and diced

1

cup

low sodium beef broth

½

cup

crushed tomatoes
Instructions
Season the sliced round steak on both sides with garlic powder, sea salt and black pepper

Lightly dredge the meat on both sides with the corn starch

Press SAUTE on the Instant Pot, and when it reads Hot, add the oil. Working in batches, brown the round steak on both sides, then place on a plate, and cover with foil until all of the steak in browned

Add the diced onions and peppers to the pot, and cook until slightly soft, stirring frequently

Add some of the beef broth, and stir with spatula or wooden spoon to deglaze the pot and release any browned bits on the bottom of the pot

Hit CANCEL, then add the round steak back to the pot. Pour remaining beef broth over and around steak, and top with the crushed tomatoes. Don't stir!

Place lid on pot, turn valve to Sealing position, and hit PRESSURE COOK for 30 minutes. After 30 minute cook time, allow a 10 minute natural release, then hit CANCEL and turn valve to Venting position to release remaining pressure

When pin drops, open lid, and remove steak to a large casserole dish or platter. For thicker gravy, hit SAUTE and boil to reduce sauce. Or, mix 1 tablespoon corn starch with 1 tablespoon cold water until smooth, then stir boiling sauce to thicken even more

Pour sauce over steak, and serve
Notes
Recipe was made in a 6-quart Instant Pot electric pressure cooker 
Nutrition information is estimated. Please do your own calculation to fit special diets.
Nutrition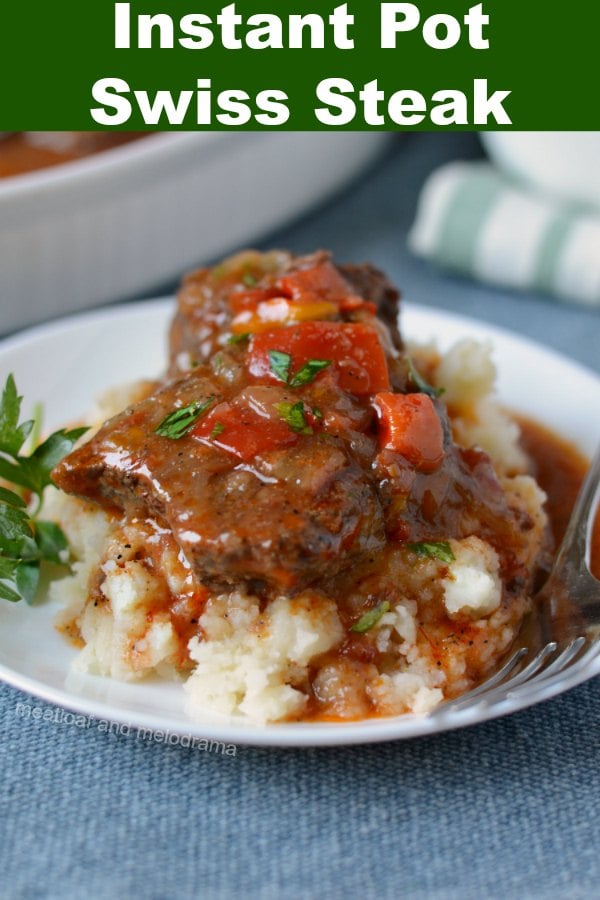 I hope you enjoy this easy Instant Pot Swiss Steak recipe as much as we do!