This Easy Swiss Steak Recipe features thin cuts of round steak simmered in a peppery tomato beef sauce until tender. Your family will love this classic dinner!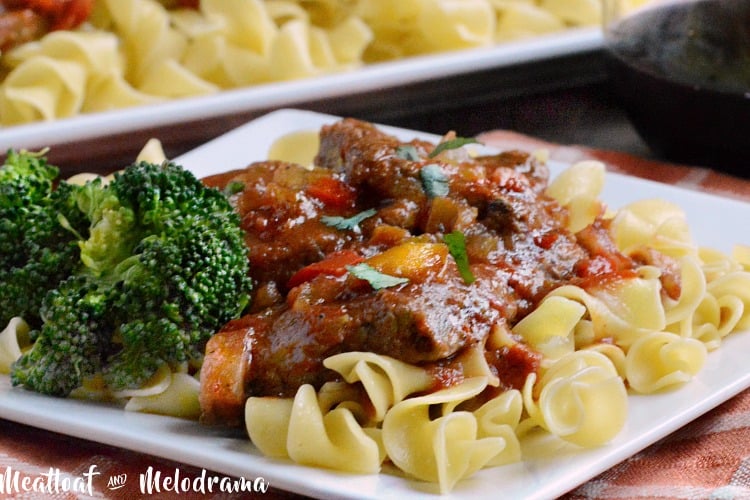 So, I was going through the mountain of old family recipes that my parents sent over, and I came across my mom's vintage recipe for Swiss Steak. Have you ever had it? We ate this a couple of time a month when I was growing up, but for some reason, I never made it for my own family.
Except for the occasional chuck roast, I mostly use ground beef because we pretty much mostly live off of quick and easy dinners. But with round steak, you have to let it cook low and slow. My mom used to make Swiss Steak in the electric skillet and let it simmer for a couple of hours. The result was delicious!
I like the idea of making some retro recipes for my kids so that they can experience the same dinners I grew up on -- total food nerd moment here. So, I made Swiss Steak twice in the last week.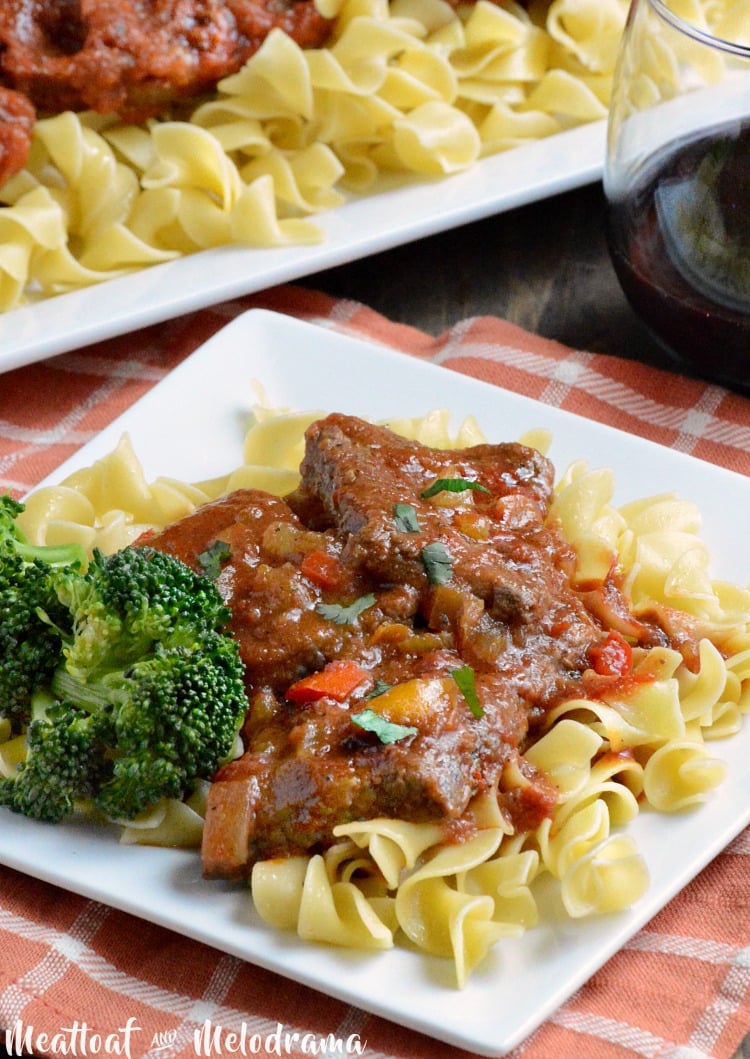 The first time, I followed my mom's recipe closely, but not quite exactly. I dredged the meat in corn starch instead of flour, and I used red and yellow peppers instead of green. I also adjusted the spices to add some garlic. My family enjoyed it, but I wanted to tweak the recipe a little.
The next time I made Swiss Steak, I mixed in some beef broth with the crushed tomatoes. And, I also let the steak simmer for almost 3 hours instead of almost two. And this, friends, made a huge difference!
The sauce from the second recipe was more like a gravy instead of tomato sauce, although both versions are definitely good. And, letting the Swiss Steak simmer longer made the meat tender enough to cut with a fork. So if you have time, you want to let the meat hang out as long as you possibly can.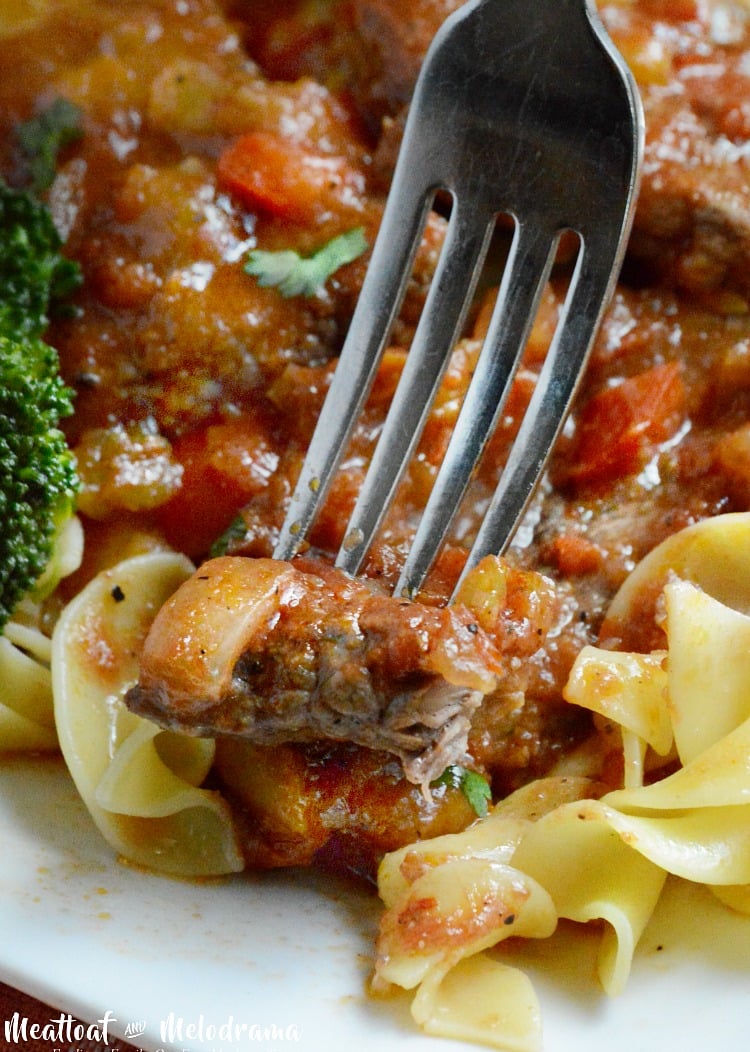 New! You can make Swiss steak in the Instant Pot!
If you don't want to make Swiss steak on the stove or electric skillet, try Instant Pot Swiss Steak!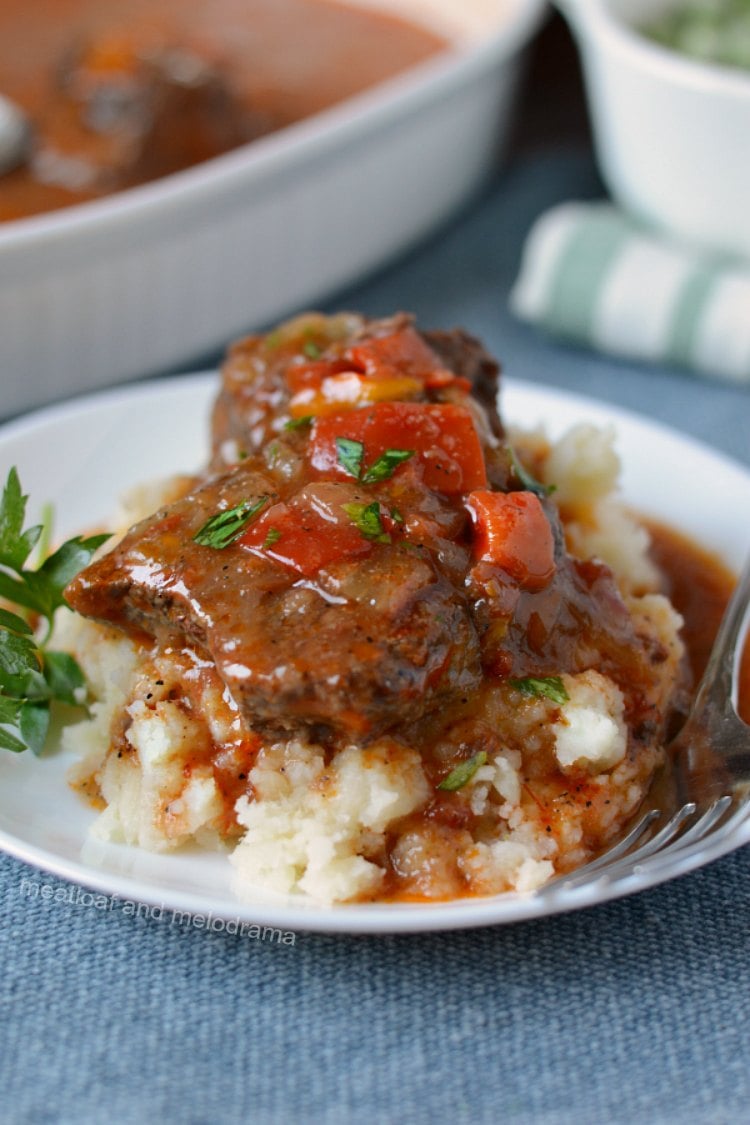 How to Make this Easy Swiss Steak Recipe
Recipe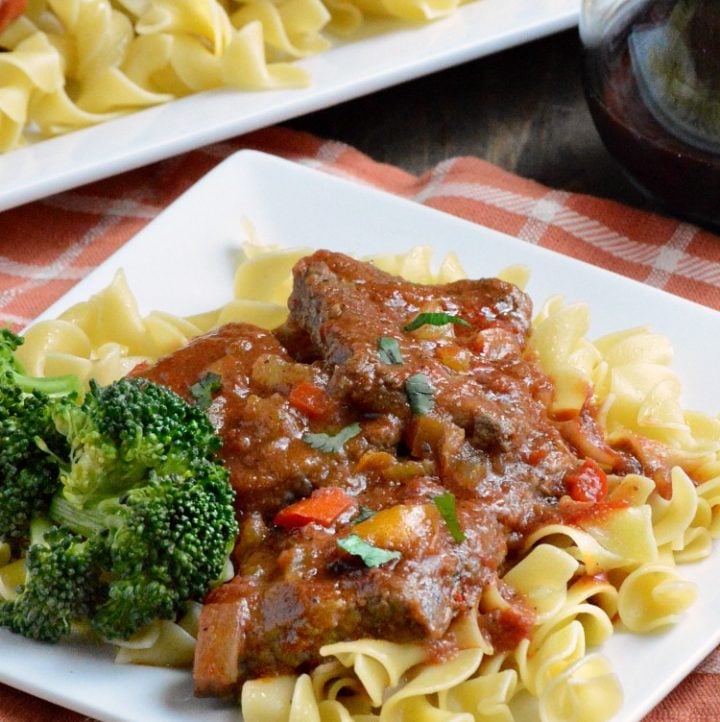 Easy Swiss Steak Recipe
Thin slices of round steak dredged in corn starch and simmered in a peppery tomato beef sauce until tender. This hearty dinner recipe is gluten free as is, if you use gluten-free corn starch. It's also relatively low carb. But you can serve it over egg noodles, rice or mashed potatoes or with a side of vegetables.
Ingredients
2

pounds

bottom round steak, trimmed and cut into large squares

1

teaspoon

sea salt

1

teaspoon

ground black pepper

1

teaspoon

garlic powder

2

tablespoons

corn starch

1

tablespoon

olive oil

½

cup

celery, finely chopped

½

cup

red and yellow bell peppers, diced

½

cup

yellow onion, diced

1

cup

crushed tomato puree

1

cup

organic low sodium beef stock
Instructions
Season the meat with salt, pepper and garlic powder, and lightly dust with cornstarch on both sides

Add olive oil to Dutch oven or large skillet, and brown meat on both sides over medium high heat

Stir in peppers, onions and celery

Pour crushed tomatoes and beef broth over meat, stir, cover, and let simmer on medium low heat for at least 2 hours, stirring occasionally

Serve over cooked rice, mashed potatoes or egg noodles, or with side of vegetables
Notes
You can use flour instead of corn starch
You can also reduce black pepper to ½ teaspoon for a milder flavor
If you don't have beef stock, use 1 cup of water, instead
Nutrition information is estimated. Please do your own calculation to fit special diets.
Nutrition

This easy Swiss Steak recipe does require some extra prep time, but you can make things easier by chopping your peppers, onions and celery in advance. I always try to keep a stash in the freezer to make weeknight meals as easy as possible. Once you have the round steak simmering on the stove, you just let it go until you're ready to eat.
My family loved this Swiss Steak! I wasn't sure if they would, since it's a little bit different, but they ate it all up. My little guy even asked for seconds!
If you try it, let me know how it goes.
Happy Cooking,