Hey There,

How is everything in your world today? As usual, things are crazy busy at our home, but my little American Girl Doll lover and I managed to put together another no-sew doll outfit from a sock. This time, we also added some fun accessories, including a headband, necklace and bracelets made from Rainbow Loom bands. What do you think?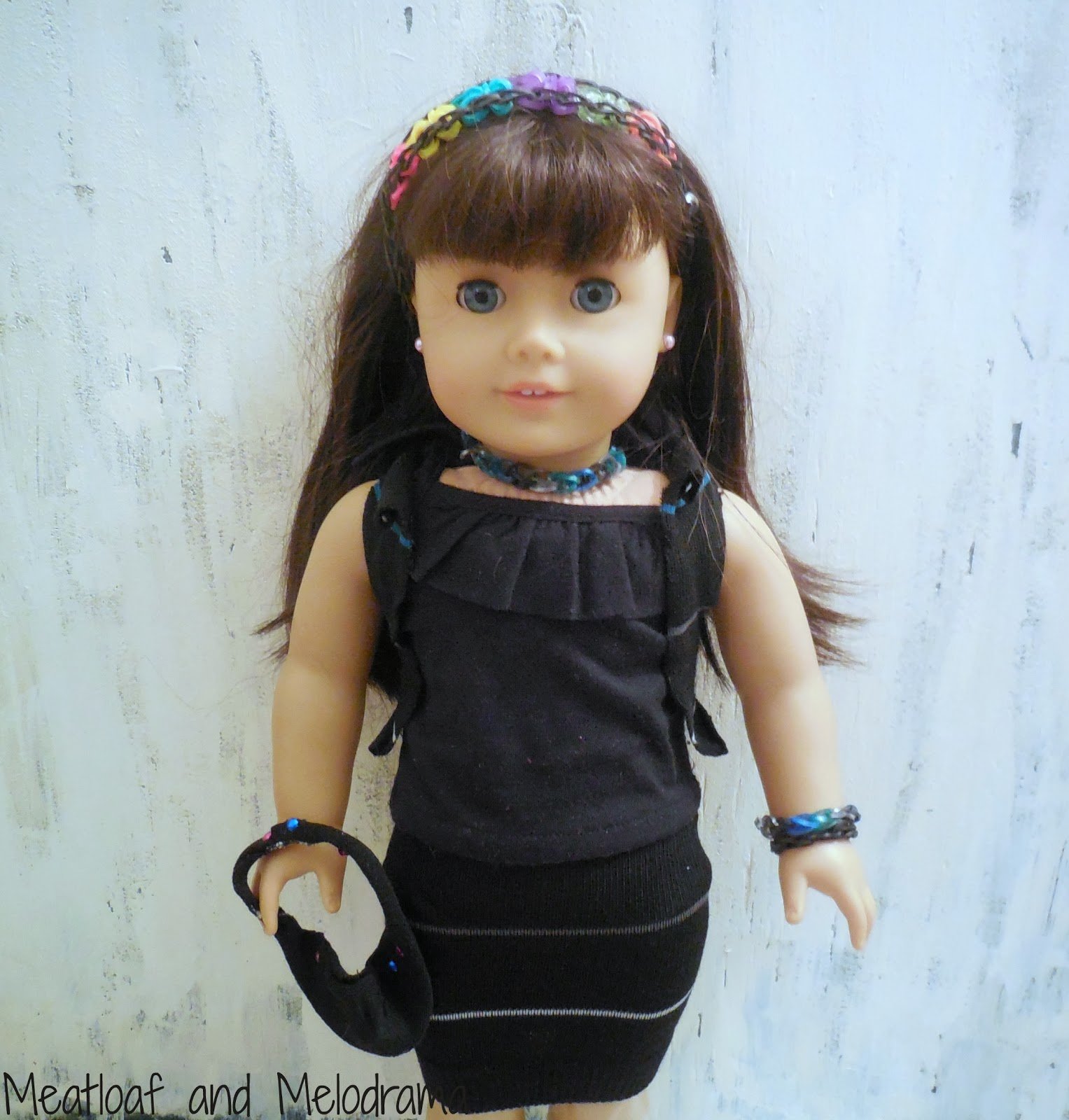 We're thinking ahead to warmer weather, so Miss Megan is wearing a black tank top with the skirt, but since you can see the seams around her arms and neck, she needed some accessories to cover them up.
If you've been following the blog for a little while, you may remember how we made the Christmas outfit and the Valentine's Day outfit by cutting up socks. You can find more detailed information on making the outfits in those posts. For this outfit, we started out with an adult-sized striped dress sock.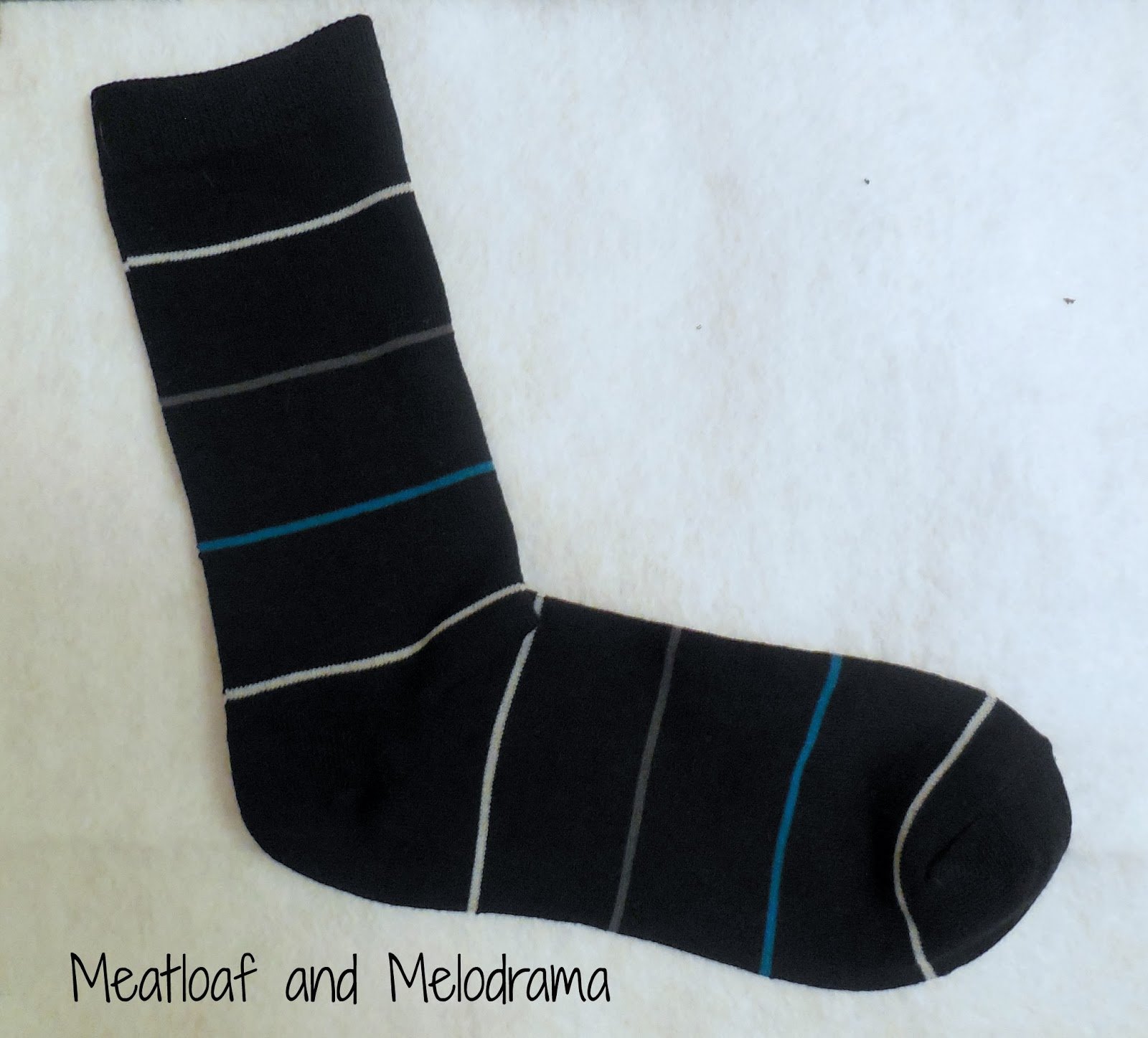 My daughter cut the leg portion to make the skirt, and she decided to make a purse from the material around the heel area. Part of the fabric forms a natural strap, and the bottom part is nice and wide. Because it was a little too open, we took some tiny colored brads and pushed them through the material to form a closure. Remember, this is a totally no-sew outfit!

From the foot area, we made a short sleeved bolero, or shrug. We just made a cut down the middle of one side, and then we made two smaller cuts for the armholes.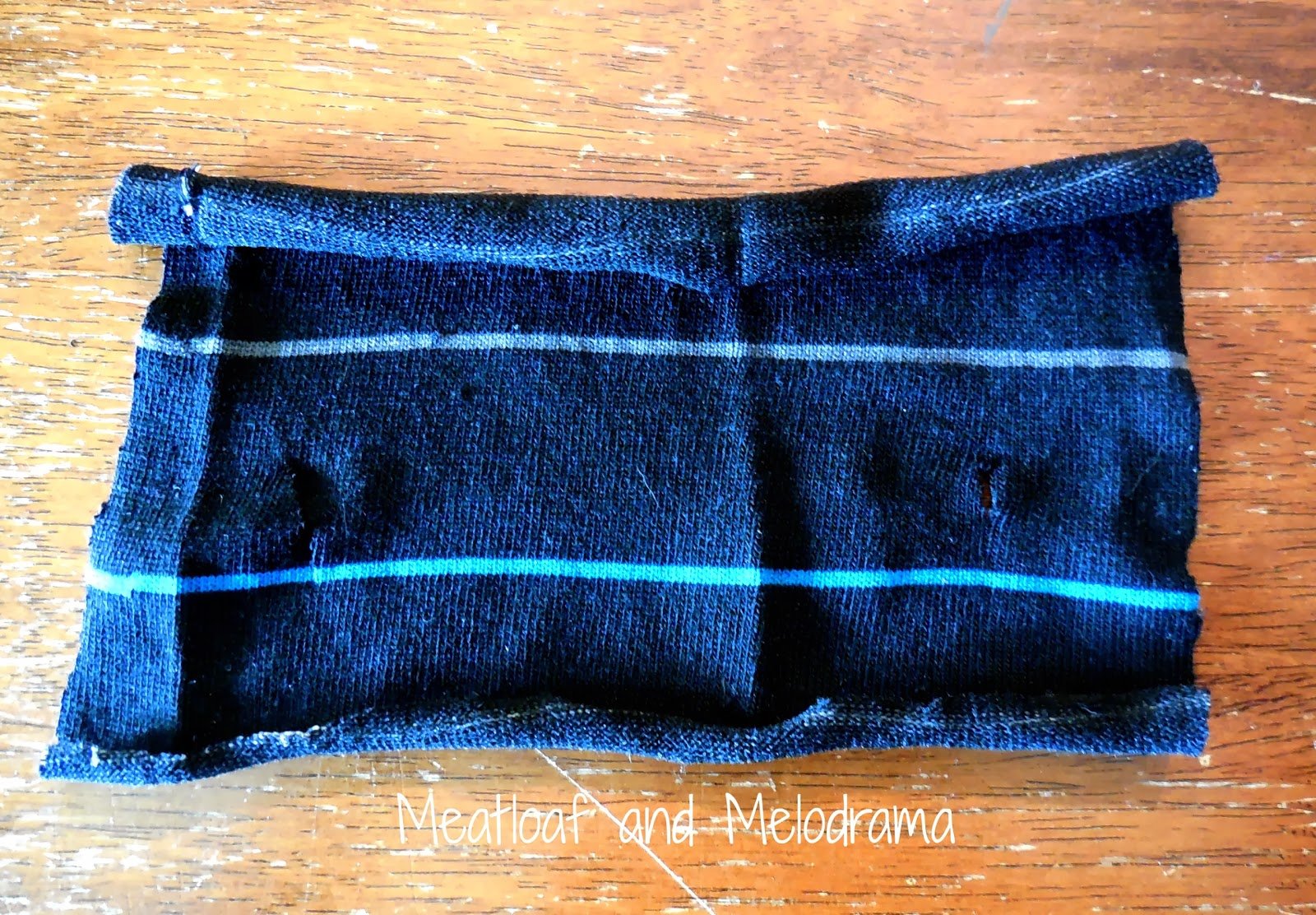 This is the view from the back. On a side note, I wish I find this shade of hair color!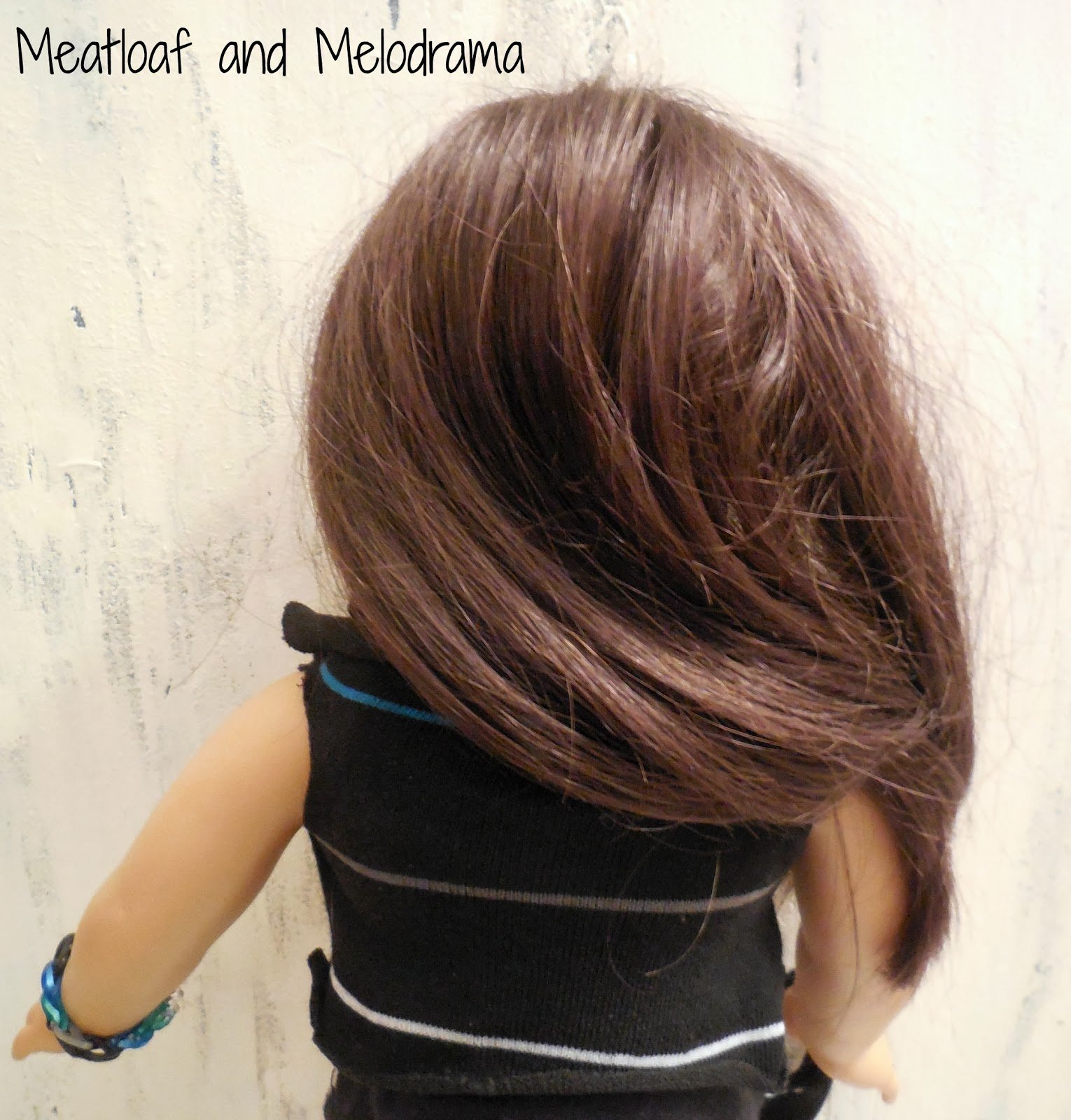 The material curls over a little bit, so you can't see any frayed edges, and it covers her shoulder area nicely. The headband is a starburst pattern, according to the Little Diva, and she used colors that complemented the stripes in the outfit. The bracelets and necklace are made from single patterns.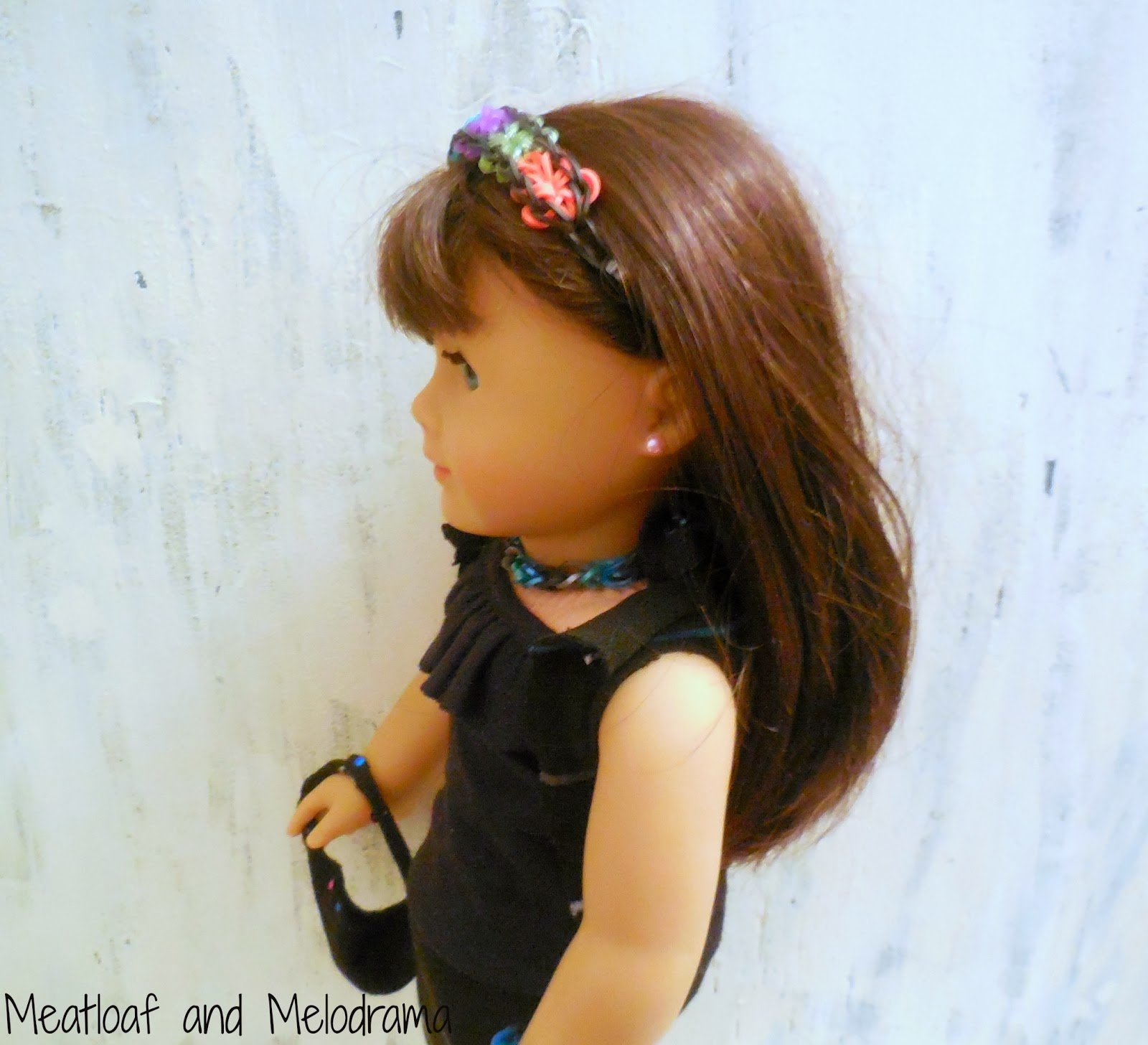 You can also see her little earrings. These are pearl stickers, so they are removable and cheaper than paying to have her ears pierced!

The Diva also made a little cap from the toe of the sock and added some brads to the edge.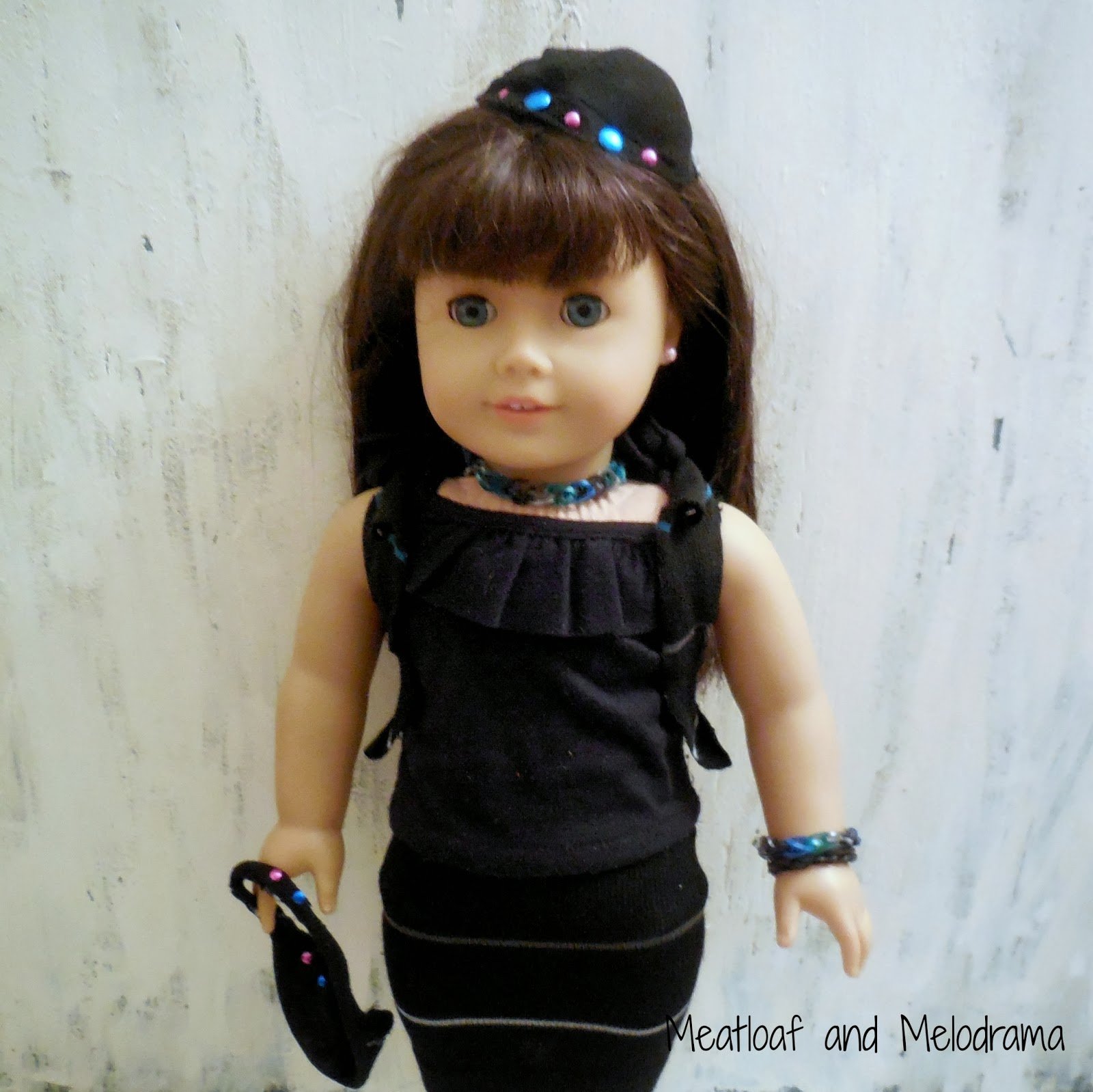 I love making these clothes with my daughter because they're inexpensive, and my daughter is learning the value of DIY and saving money. She wants to start learning to sew, and I'm contemplating learning with her--but just for little projects. I'm still not sure how much patience I have, and my early attempts haven't turned out so well!
In the meantime, we can easily make these no-sew American Girl doll clothes!
These clothes also fit any 18-inch doll.

Thanks so much for visiting and reading about our latest sock outfit. Have a wonderful day!

Dee 🙂