You can enjoy this Sweet Black Pepper Bacon Sandwich from Dunkin' Donuts all day long!
Thank you to Dunkin' Donuts for sponsoring this post. Although I was compensated for my review, all opinions and pictures are my own.
My oldest got a part-time job working retail for the holiday season -- How incredibly brave is that?! Life is crazy busy during the holiday season anyway, and her hours are all over the place. Sometimes she works through lunch, and sometimes she works past dinner.
Of course, being the mama bear that I am, I like to make sure she has something decent to eat before she goes to work. I try to make something at home if I can, but if I'm out running errands, it's just easier to pick something up on the way.
So when Dunkin' Donuts asked me to review their Sweet Black Pepper Bacon Sandwich, I was more than happy to try it!
I'm not a big breakfast person, and neither is my daughter. But, this sandwich isn't just for breakfast, and you can easily enjoy it all day long.
It's loaded with peppery bacon, a fried egg and a slice of American cheese, all on a sweet croissant roll. It's definitely substantial enough for lunch or an early dinner.
Actually, my daughter loves when I make her a fried egg sandwich for lunch -- It's one of her favorites. So grabbing a breakfast sandwich and a cup of coffee from Dunkin' Donuts before work is the next best thing! And to make life even easier, there just happens to be a Dunkin' Donuts on the way to her work!
'
The peppery bacon really does stand out, but in a good way. It's actually the perfect complement to the slightly sweet croissant.
My daughter thinks this sandwich tastes almost like a deviled egg, and I guess it does, in a way. So even if you're not the biggest fan of eggs, I think you'll like this sandwich. Especially when you pair it with your favorite flavored coffee!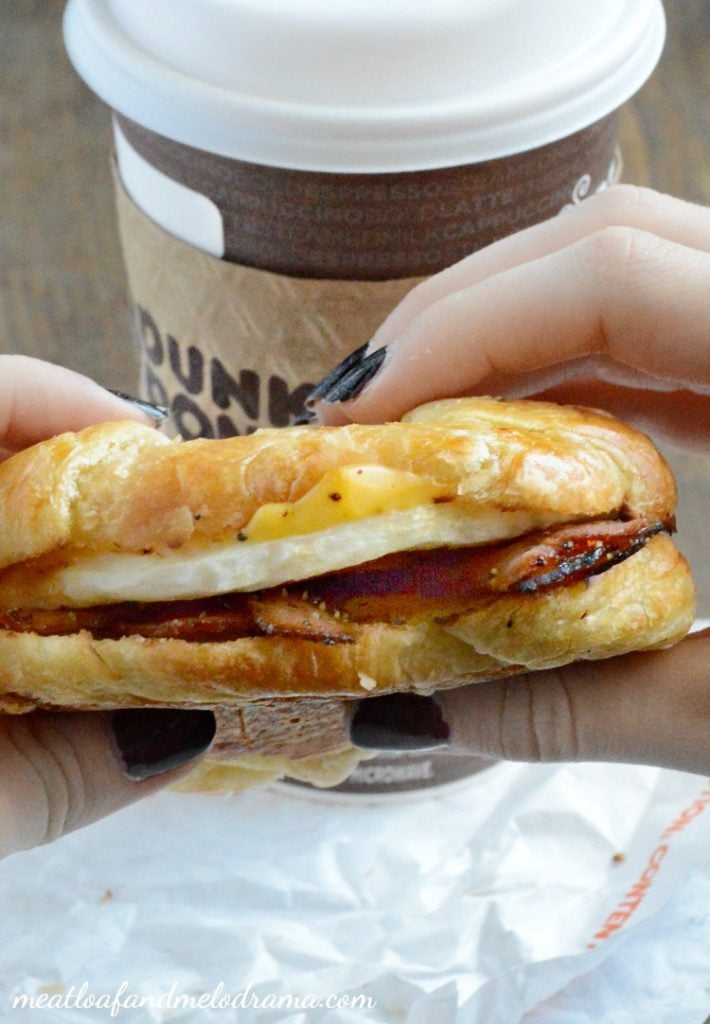 Of course, we can't forget about the donuts! I happened to notice this sign when we were leaving, and it's a good thing that I saw it then and not before we ordered.
A candy cane donut? Sign me up! I'm definitely getting one or two the next time we stop by Dunkin' Donuts!
So the next time you happen to be near a Dunkin' Donuts, try the Sweet Black Pepper Bacon Sandwich. It's not just for breakfast!
Let me know what you think. We really like it, so I'd love to know if you feel the same way!
Happy Eating,