You can cook ramen noodles in the microwave in a matter of minutes with this easy recipe for microwave ramen. Perfect for meal prep or an instant meal!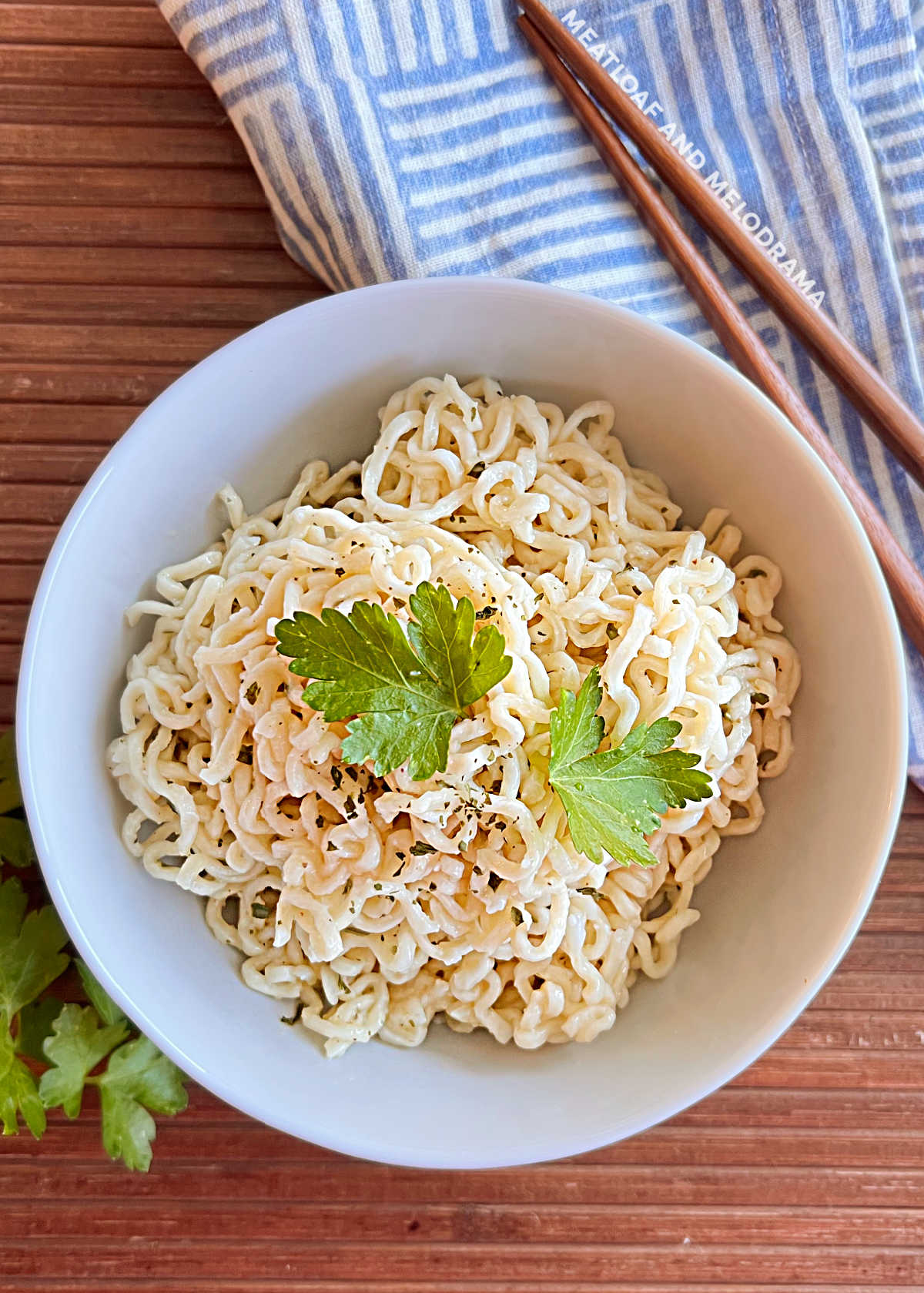 If you're a ramen lover like we are, you'll love this easy microwave ramen noodles recipe. Sure, it's easy to make ramen noodles on the stove, but cooking ramen noodles in the microwave is perfect for an instant meal, a quick snack or meal prep.
Ramen is cheap, so it's perfect when you're on a budget. You can easily make a meal by adding your favorite protein and veggies or fruit. We also love using it in ramen chicken salad.
My daughter loves packing ramen noodles in her school lunches. I usually cook plain ramen noodles the night before and add different seasonings.
We always toss the seasoning packets that come with the ramen! They've got too many additives and tons of sodium. It's so easy to create your own flavors, so definitely ditch the flavor packet!
Ingredients
You only need 2 basic ingredients for microwave ramen, aside from your trusty microwave oven, of course. You can find them in just about any grocery store or online:
Instant ramen noodles
Water
Use any brand of ramen or ramen noodle soup. We usually buy Maruchan or Top Ramen, but any instant noodles are fine.
Instead of water, you can also use chicken broth, beef broth or vegetable broth. I like to use broth whenever I make ramen stir fry or soup.
You will need a microwaveable bowl to cook the ramen. I also recommend hot mitts, oven mitts or pot holders to protect your hands since the bowl gets hot!
How Long to Microwave Ramen
First, add 2 cups of water to a microwave-safe bowl. Then place the dried ramen noodles in the water.
You don't need to submerge the noodles in the water. As the water heats up, the steam will cook the noodles.
If you have the instant noodles that come in a styrofoam cup, then you don't need to transfer the ramen to another bowl, but you can if you'd like. Though, if you want a ramen soup, it might difficult to fit enough water in the cup for a more soupy consistency.
Place a cover on top of the bowl. You can use a cover specifically made for microwave cooking.
Or, use a microwave-safe plate or plastic wrap. If you use plastic wrap, make sure to leave a small opening for venting.
Cooking Time
So, how long to microwave ramen? Cook ramen noodles on high power for 2 minutes. Then, remove the lid, and stir or flip the noodles over.
Cook the ramen for 30 seconds longer or until noodles are done to your liking.
We like ramen noodles a little firmer. But you can add another minute if you like softer ramen noodles.
Drain most of the cooking liquid out if you only want to use the noodles. You want to leave a little bit of liquid when you flavor the ramen.
As the noodles cool down, they will absorb the extra liquid.
Of course, if you want ramen soup, leave the hot water or broth.
Variations
Again, the best way to upgrade instant ramen is to ditch the seasoning packet and use your own favorite flavors.
We like to add a little bit of olive oil and butter to the noodles. We also add a little garlic powder, salt, pepper and Italian seasoning.
If you want Asian flavors, add a little soy sauce, garlic powder, sesame oil, ginger, onion powder, and rice vinegar to the noodles. You can also add chopped green onion and sesame seeds for extra umami flavor.
But you can really add whatever you want: hot sauce, hoisin sauce, Sriracha, Spam, bean sprouts, a soft boiled egg--anything goes!
You may have seen Kylie Jenner's social media famous ramen recipe, where she adds a beaten raw egg into the small saucepan she cooks her ramen in. This won't work in the microwave, because the egg won't cook properly.
But, if you want to do this, feel free to cook the egg on the side and add it to the top of your microwave noodles!
How to Store and Reheat
Store any leftover microwave cup noodles--or ramen that you're making ahead of time for meal planning--in the refrigerator in an airtight container. It'll keep for 3 to 4 days.
Reheat the ramen in the microwave. If you're planning on taking the noodles for a lunch, make sure that you stored it in a microwave-safe container.
Or, you can enjoy it cold! That may seem a bit odd, but my kids love taking cold ramen to school for lunch!
Recipe
How to Cook Ramen Noodles in the Microwave
You can cook ramen noodles in the microwave in a matter of minutes with this easy recipe for microwave ramen. Perfect for meal prep or an instant meal!
Ingredients
1

packet

ramen noodles

or ramen noodle soup

2

cups

water
Instructions
Pour 2 cups water into a microwaveable bowl

Place ramen packet into the water. Discard flavor packet

Cover bowl, and microwave ramen noodles for 2 minutes. Stir, then cook for an additional 30 seconds to 1 minute or until noodles are done to your liking

Drain most of the liquid if using noodles only, and add desired seasonings
Notes
See post for ways to flavor the ramen.
If you want ramen noodle soup, use your favorite broth and don't drain the liquid.
Nutrition information is estimated. Please do your own calculation to fit special diets.
Nutrition
Calories:
185
kcal
Carbohydrates:
27
g
Protein:
4
g
Fat:
7
g
Saturated Fat:
3
g
Polyunsaturated Fat:
1
g
Monounsaturated Fat:
3
g
Sodium:
877
mg
Potassium:
76
mg
Fiber:
1
g
Sugar:
1
g
Vitamin A:
5
IU
Vitamin C:
1
mg
Calcium:
19
mg
Iron:
2
mg
Ditching the stove top in favor of microwaving ramen noodles is a good idea for stressed-out college students, busy moms, or anyone looking for easy ways to save any second of time they can!
I hope you enjoy these perfect ramen noodles as much as we do! If you do, don't forget to leave a 5 star rating and a review!
For more helpful tips for your favorite dishes, make sure to subscribe to the newsletter!
Be sure to follow me on your favorite social media platforms for the latest recipes!