Easy Soy Sauce Ramen Noodles is a quick and easy meal made with with instant ramen noodles in a delicious homemade soy garlic sauce. Ready in 15 minutes and perfect for lunch or a quick dinner on busy weeknights!
Jump to:
If you're looking for a super quick and easy side dish or main dish lunch or dinner, this simple soy sauce ramen recipe is for you! You only need 1 pan and a few pantry staples to make it!
I grew up on those cup-of-ramen soups and loved them! These days, I buy the little packages, toss out the seasoning packets, and turn the dry noodles into easy ramen recipes like Ramen Chicken Salad, Microwave Ramen, easy soups and stir fries. My kids love them!
This instant ramen noodle recipe is very versatile, and you make it as a side dish or vegetarian main dish. You can also add meat or other protein to make it a heartier meal.
Ingredients
You only need a few simple ingredients to make this soy sauce ramen recipe in a skillet. And, you probably have most of them in your pantry, fridge or freezer:
Chicken broth -- or any clear broth, I use low sodium
Soy sauce -- Low sodium
Ramen noodles -- Toss the seasoning packet
Frozen veggies -- optional
Garlic powder, dried minced onions, ground ginger
Sesame oil -- gives added flavor
You can use whatever instant noodles are your favorite. You should be able to find multiple types of cup ramen at any grocery store or local Asian market store.
How to Make Soy Sauce Ramen Noodles
First bring the chicken broth and soy sauce to a low boil. Cup ramen is usually made with boiling water, but the broth and soy sauce take the flavor to the next level.
I use a big old non-stick wok, but you can use a skillet if that's what you have. If you know that you want a ramen noodle soup dish, then you can use a larger pot, as you'll want to use and keep more liquid.
Next, add your ramen noodles and frozen veggies. I usually use about a cup of mixed veggies here.
There really are no rules, though. You can use what you have on hand.
You don't need to break up the dry noodle chunks, because they will start to disintegrate quickly. If you're using the type of instant noodles that come in a cup, you can dump those in the hot broth just the same.
You'll probably want to add more veggies than come in the cup, too.
Add the seasoning along with the ramen. Again, I really do recommend ditching the spice packet most instant ramen comes with.
It isn't exactly the healthiest option, and you really can get so much flavor from ingredients you probably already have in your pantry!
Then, gently start to break the ramen noodles up with kitchen tongs or a spoon.
This meal comes together fast! The ramen cooks in about 5 minutes or less over medium heat, so you do have to keep an eye on it.
The dry noodles will continue to absorb the broth, so don't worry about it being ramen soup!
Of course, if you want a noodle soup, you can always add more broth. And if there is more liquid than you'd like, just drain it from the wok.
When the noodles are done, sprinkle a little sesame oil over the ramen to finish it off.
If you can't find that or even sesame seeds, don't worry. But, it does add great flavor.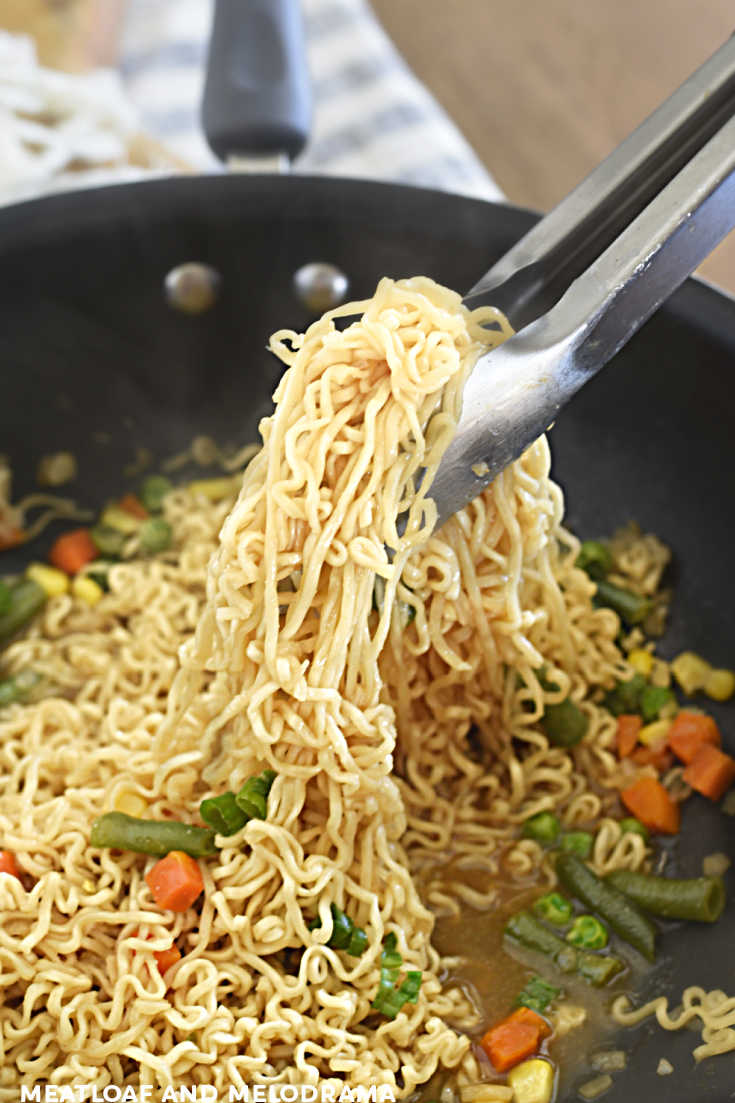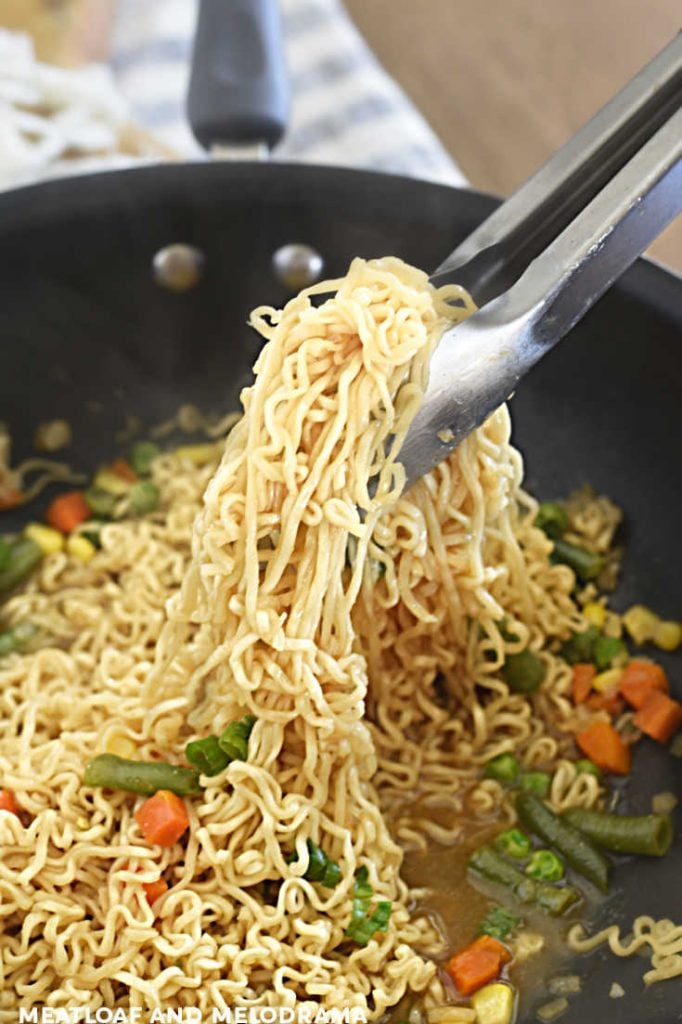 That's all, folks! You're ready to eat! Finally, a dish you can feel a bit better about eating when that ramen craving hits!
I like to garnish the ramen noodles with some chopped green onions if I have them. But, it's not necessary.
My kids just love slurping up the noodles for a quick lunch.
We even use the noodles as a quick side for some of our favorite Asian-inspired dishes, such as Orange Chicken, Bourbon Chicken and Honey Garlic Chicken.
Serving Suggestions
Add your favorite protein to make a bigger meal with instant ramen:
Leftover rotisserie chicken, chicken thighs, or roast chicken
Cooked shrimp or canned tuna
Fish cakes
Your favorite chopped fresh vegetables
Tofu, if you're making a vegetarian or vegan meal
If you want to cook some chicken with the ramen for a delicious soy garlic chicken ramen meal, brown some cut-up chicken first. Then, remove it and add it back when the ramen is done.
Consider leaving more broth with your noodles and adding a soft boiled egg, to make a tasty, healthy ramen egg soup. Hard boiled eggs will work as well.
There are many veggies that go well with ramen noodles. Napa cabbage, bok choy, bean sprouts, corn, carrots, and fresh ginger are some of my favorites.
If you can find them and know how to prepare them, bamboo shoots are a phenomenal addition to any ramen dish!
Variations and Substitutions
To me, the best part of making a good bowl of ramen noodle soup is throwing out the flavor packet and adding whatever spices and veggies I'm craving! There really is an endless variety of possibilities when you have fresh ramen noodles!
If you're making a vegetarian ramen dish, cook noodles in vegetable broth instead of chicken broth or bone broth.
For a thicker sauce, add some cornstarch slurry to the broth mix.
Instead of soy sauce, go for some tasty sesame garlic ramen noodles by using sesame oil or seeds. Just heat sesame oil with the broth as describes in the full recipe. Or, you can sprinkle sesame seeds on top of your cooked noodles.
If you like spicy food, add red pepper flakes, chili garlic sauce, Sriracha sauce, black pepper, and a bit of wasabi to your ramen.
For a sweeter ramen dish, add some brown sugar--about a teaspoon-- to the broth and soy sauce while you're cooking. Honey will also work to sweeten things up a bit.
This soy sauce ramen recipe is not for traditional, authentic ramen bowls, of course. But, if you are ever in need of inspiration for what veggies and such to add, take a look at a shoyu ramen recipe. "Shoyu" is "soy sauce" in Japanese, so the things served with shoyu ramen at your favorite ramen shop will probably pair well with this soy sauce based meal.
But if you are wanting a bit of authenticity, fish sauce can give your instant noodles more of a traditional Japanese ramen, as can fish cakes or a fish base broth. If you have miso paste, add some of that for a miso ramen.
You really can almost whatever you want to this simple ramen meal, though. Really-- don't knock bagel seasoning on ramen until you've tried it!
How to Store and Reheat
Store any leftover soy sauce ramen noodles in an airtight container in the refrigerator, where it'll last for 3 to 4 days. Ramen is best served fresh or from the fridge, but you could freeze it if you want longer storage.
This recipe makes 4 servings, so it's great for a quick dish for the family, but it can also be great for a single person's--perhaps a time-strapped college student's--meal prep as well.
Most instant noodles are incredibly affordable, so losing the flavor packet and adding a few veggies is much healthier, but still low-cost!
Reheat the ramen noodles in the microwave. Or, enjoy it cold! My kids love taking cold ramen stir fry for school lunch!
If you're on the go, bring along some leftover restaurant sauce packets to add to your noodles--that's why we all save so many of them, right?
May contain affiliate links. See disclosure for more information
Recipe
Soy Sauce Ramen Noodles
Easy Soy Sauce Ramen Noodles is a quick and easy meal made with with instant ramen noodles in a delicious homemade soy garlic sauce. Ready in 15 minutes and perfect for lunch or a quick dinner on busy weeknights!
Ingredients
2

cups

low sodium chicken broth

2

tablespoons

low sodium soy sauce

2

packages

instant ramen noodles

toss the seasoning packet

1

cup

frozen mixed vegetables

1

tablespoon

dried minced onions

1

teaspoon

garlic powder

¼

teaspoon

ground ginger

½

teaspoon

sesame oil
Instructions
Heat chicken broth and soy sauce in a large skillet over high heat

Add ramen noodles, frozen vegetables, minced onions, garlic powder and ground ginger

Cook ramen until soft, breaking up with tongs or fork and stirring frequently. Add sesame oil, and turn heat to low. Noodles will continue to absorb broth.
Notes
Noodles will continue to absorb the broth as they cool. Add salt and pepper, to taste, if desired.
Nutrition information is estimated. Please do your own calculation to fit special diets.
Nutrition
Calories:
254
kcal
Carbohydrates:
10
g
Protein:
5
g
Fat:
1
g
Saturated Fat:
1
g
Sodium:
324
mg
Potassium:
243
mg
Fiber:
2
g
Sugar:
1
g
Vitamin A:
2311
IU
Vitamin C:
6
mg
Calcium:
21
mg
Iron:
1
mg
Recipe first published in 2021 and updated with more information ins 2022.
I hope you enjoy these super simple soy sauce ramen noodles as much as my family does!
It always blows my mind that such a delicious recipe is possible with just some common ingredients and top ramen! Those little spice packets really have nothing on fresh ingredients.
For more easy recipes, lunch recipes, and pro tips for elevating everyday meals, be sure to subscribe to the newsletter! Also, be sure to follow me on your favorite social media platforms!
If you did enjoy this recipe, please consider giving a 5 star rating and leaving a review!