Easy Ramen Stir Fry is a quick and easy recipe with noodles and vegetables in a delicious homemade sauce. Ready in 15 minutes!
If you're looking for a super quick and easy side dish or main dish lunch or dinner, this simple ramen noodle stir fry recipe is for you! You only need 1 pan and a few pantry staples to make it!
I grew up on those cup-of-ramen soups and loved them! These days, I buy the little packages, toss out the seasoning packets, and turn the dry noodles into Ramen Chicken Salad, easy soups and stir frys. My kids love them!
This instant ramen noodle recipe is very versatile, and you make it as a side dish or vegetarian main dish. You can also add meat or other protein to make it a heartier meal.
Ingredients for Ramen Skillet
You only need a few ingredients to make ramen in a skillet. And, you probably have most of them in your pantry, fridge or freezer:
Chicken broth -- I use low sodium
Soy sauce -- Low sodium
Ramen noodles -- Toss the seasoning packet
Frozen veggies
Garlic powder, dried minced onions, ground ginger
Sesame oil -- gives added flavor
How to Make Instant Ramen Noodle Stir Fry
First bring the chicken broth and soy sauce to a low boil. I use a big old non-stick wok, but you can use a skillet if that's what you have.
Next, add your ramen noodles and frozen veggies. I usually use about a cup of mixed veggies here.
There really are no rules, though. You can use what you have on hand.
Add the seasoning along with the ramen. Then, gently start to break the ramen noodles up with kitchen tongs or a spoon.
This meal comes together fast! The ramen cooks in about 5 minutes or less, so you do have to keep an eye on it.
The dry noodles will continue to absorb the broth, so don't worry about it being ramen soup! OF course, if you want soup, you can always add more broth.
When the noodles are done, sprinkle a little sesame oil over the ramen to finish it off. If you can't find it, don't worry. But, it does add great flavor.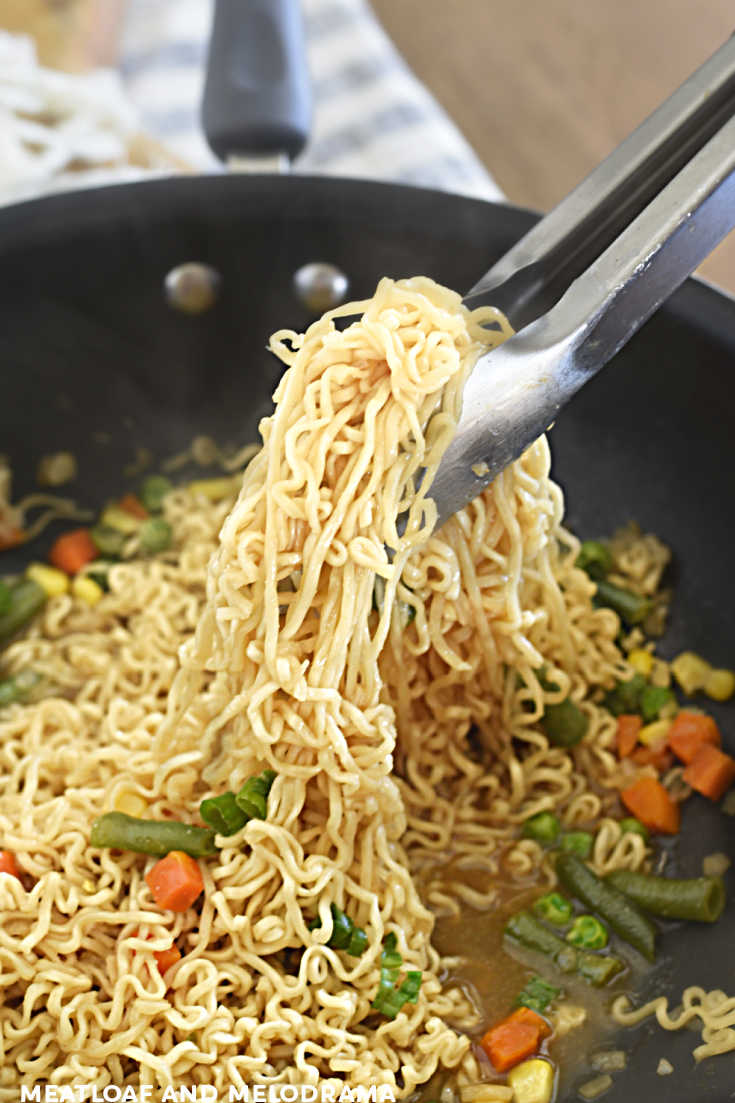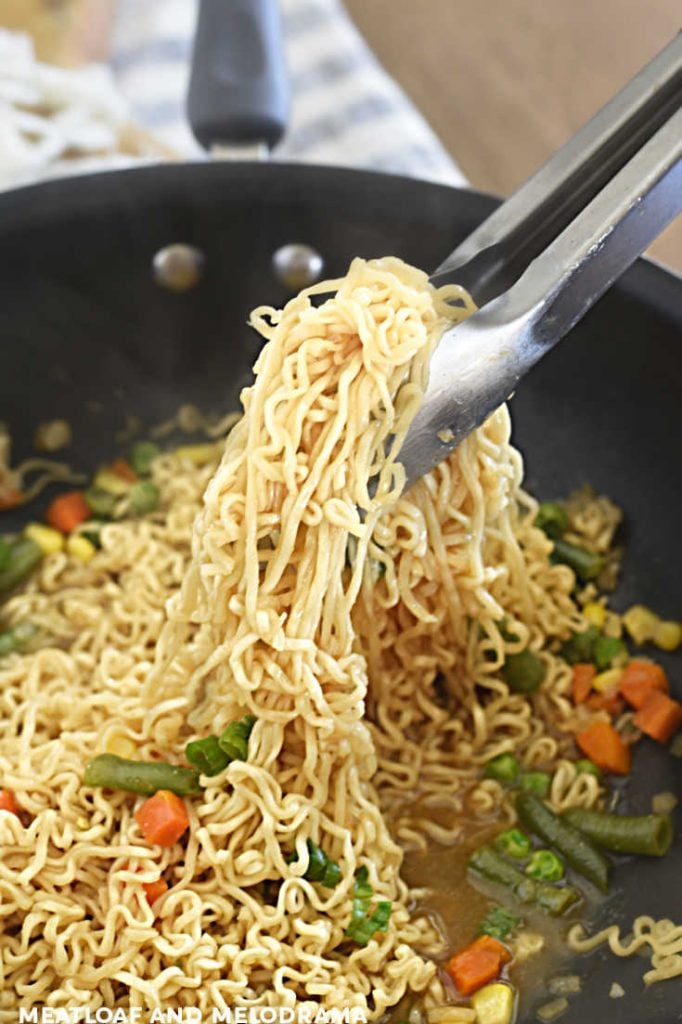 That's all, folks! You're ready to eat! I like to garnish the ramen noodles with some chopped green onions if I have them. But, it's not necessary.
My kids just love slurping up the noodles for a quick lunch. We even use the noodles as a quick side for Orange Chicken, Bourbon Chicken and Honey Garlic Chicken.
Make it a Meal
Add your favorite protein to make a bigger meal with instant ramen:
Note -- If you want to cook some chicken with the ramen, brown some cut-up chicken first. Then, remove it and add it back when the ramen is done.
Easy Ramen Stir Fry
Easy Ramen Stir Fry is a quick and easy recipe with noodles and vegetables in a delicious homemade sauce. Ready in 15 minutes!
Ingredients
2

cups

low sodium chicken broth

2

tablespoons

low sodium soy sauce

2

packages

instant ramen noodles

toss the seasoning packet

1

cup

frozen mixed vegetables

1

tablespoon

dried minced onions

1

teaspoon

garlic powder

¼

teaspoon

ground ginger

½

teaspoon

sesame oil
Instructions
Heat chicken broth and soy sauce in a large skillet over high heat

Add ramen noodles, frozen vegetables, minced onions, garlic powder and ground ginger

Cook ramen until soft, breaking up with tongs or fork and stirring frequently. Add sesame oil, and turn heat to low. Noodles will continue to absorb broth.
Notes
Noodles will continue to absorb the broth as they cool. Add salt and pepper, to taste, if desired.
Nutrition
Calories:
64
kcal
Carbohydrates:
10
g
Protein:
5
g
Fat:
1
g
Saturated Fat:
1
g
Sodium:
324
mg
Potassium:
243
mg
Fiber:
2
g
Sugar:
1
g
Vitamin A:
2311
IU
Vitamin C:
6
mg
Calcium:
21
mg
Iron:
1
mg
If you like this recipe as much as we do, leave a comment or give me a shout-out on social media! Sign up to receive weekly recipes by email!