These Easy Eggnog Pancakes are light, fluffy and so delicious that they deserve a spot on your holiday breakfast or brunch menu!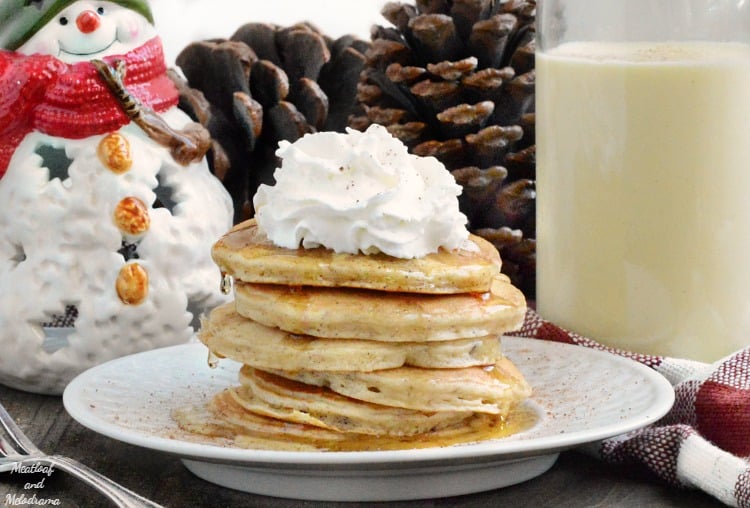 I hope you don't mind another eggnog recipe. I know I just shared a recipe for glazed eggnog cookies, but I did tell you how much my family absolutely loves eggnog. The kids would have it everyday if possible. The Hubs even asked if I would make eggnog Alfredo -- seriously!
And, he was only half joking.
I haven't decided what to do about that one. I'm not sure that I want to waste a perfectly good bottle of eggnog in a dish that may or may not taste that great, so we'll see.
Anyway, after we made the cookies, we decided to make pancakes with the leftover eggnog -- nothing strange about that!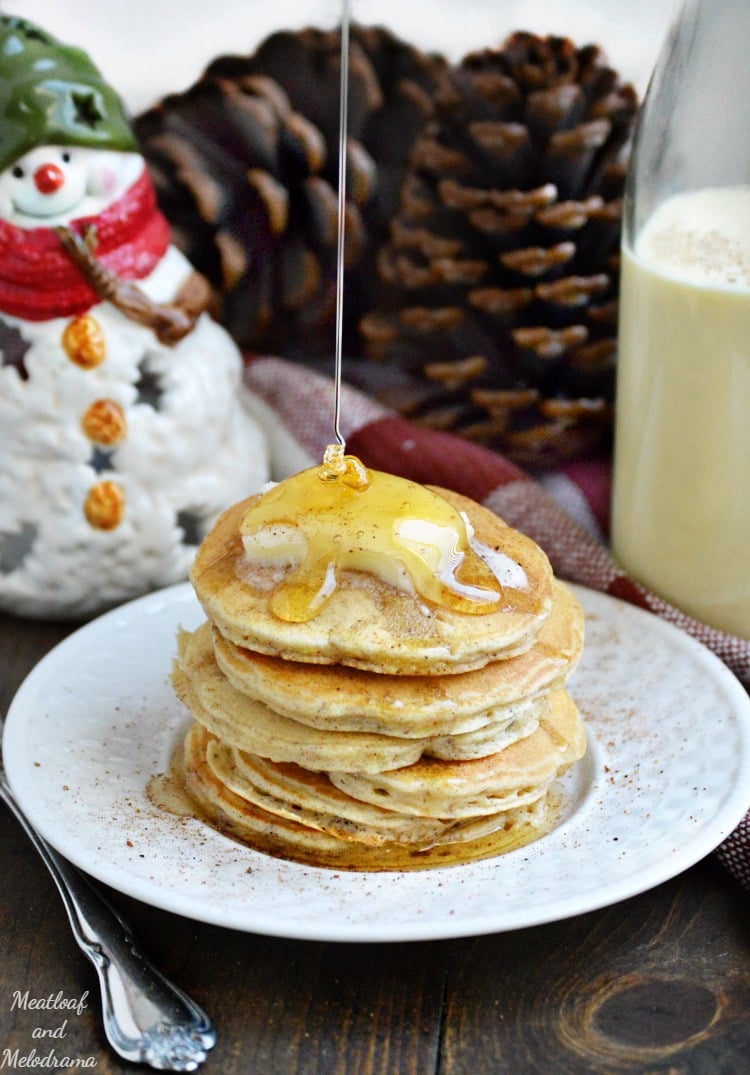 These pancakes are super easy to make! Basically, you just make a few changes to your favorite pancake recipe and use eggnog instead of milk.
Actually, because eggnog is so much thicker than milk, I used more liquid than I normally would. You could probably even add more, but I like pancakes to be just slightly on the thick side. And these have plenty of of that awesome eggnog flavor!
You can top the pancakes off with syrup, or even better, butter and honey -- yum!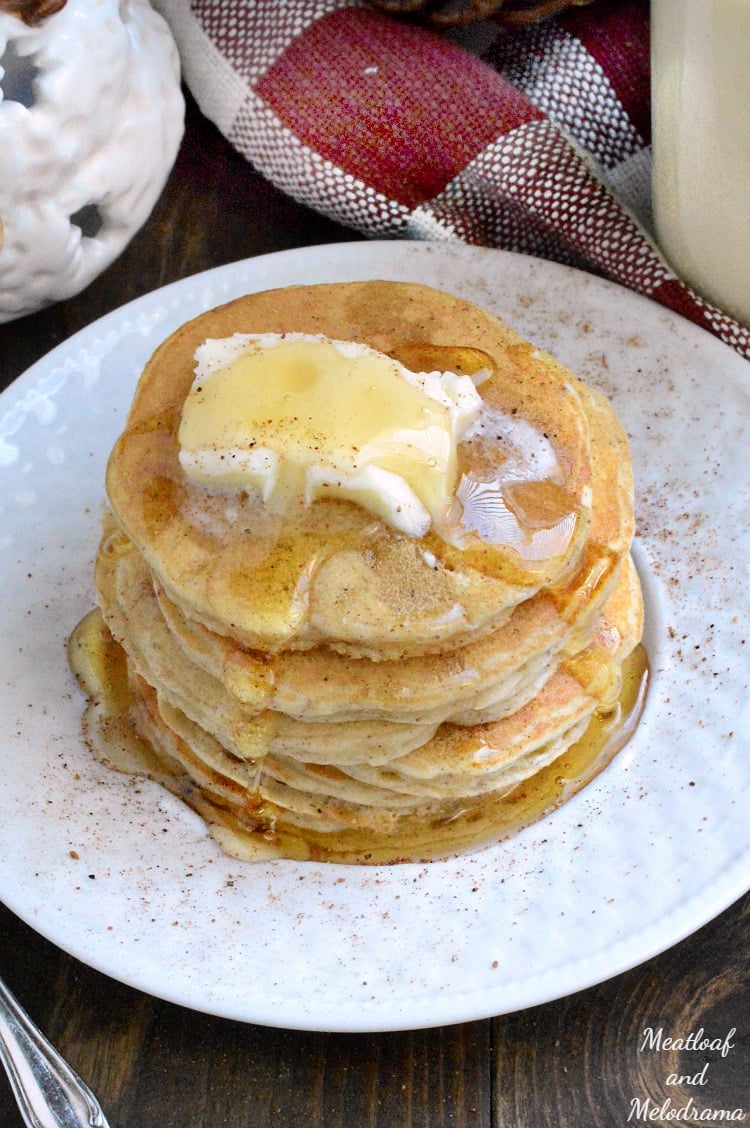 And for and extra special finish, add a generous helping of whipped cream and a sprinkle of nutmeg on top!
This recipe makes about 10 large pancakes or 24 smaller ones. Personally, I like the smaller ones better -- they're fun to stack.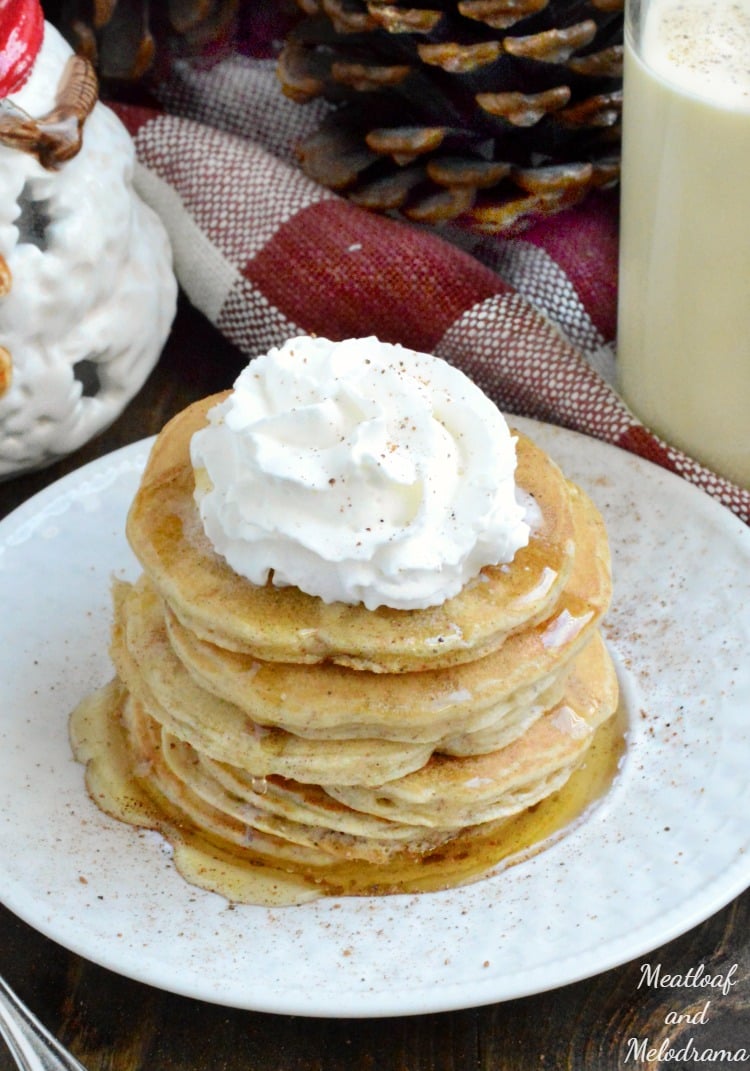 How to Make Easy Eggnog Pancakes
Recipe
Easy Eggnog Pancakes
Light and fluffy pancakes made with eggnog and perfect for holiday breakfast or brunch
Ingredients
1

egg

1

cup

all purpose flour

1

tablespoon

light brown sugar

3

teaspoons

baking powder

½

teaspoon

nutmeg

½

teaspoon

ground cinnamon

½

teaspoon

sea salt

2

tablespoons

melted butter

or oil

1 ¼

cup

eggnog
Instructions
In a large mixing bowl, beat egg until slightly fluffy

Add the flour, brown sugar, baking powder, sea salt, nutmeg and cinnamon, butter and mix well

Stir in the eggnog, and mix until combined

Grease and heat a griddle, and drop batter in small amounts to form roughly 2-inch circles

Cook pancakes on one side until bubbles form and begin to pop, flip over, and cook on other side until light brown
Notes
You can add more eggnog to thin out the batter if you want.
You can sub vegetable oil for the butter.
Nutrition information is estimated. Please do your own calculation to fit special diets.
Nutrition

These easy eggnog pancakes were a big hit with my family, and they would be perfect for Christmas breakfast or brunch. But don't wait until then! Make a batch this weekend -- your family will definitely thank you!
Happy Holidays!