Frosted Banana Bread Cookies are super soft, chewy and topped with a delicious brown sugar frosting. This easy cookie recipe tastes just like banana bread!
You can make these old fashioned banana cookies with only 2 bananas. So, if you're tired of banana bread, this easy recipe is for you!
I inherited over two bags filled with just about every recipe that my grandmother had ever collected or created. And she collected tons — some went back to the 1950's and earlier.
For almost an entire weekend, I just sat and sifted through just about every scrap of paper in the collection over and over again. I was definitely in my happy place!
If you're a recipe collector, or you love old family recipes, you'll understand.
And somewhere in that gigantic pile, along with The BEST Chocolate Chip Oatmeal Cookies, Meringue Chocolate Chip Cookies and No Bake Chocolate Oatmeal Cookies, I found the recipe for these incredibly delicious frosted banana bread cookies.
The original name for them was just written as banana cookies, but they really do taste exactly like banana bread. So, that's what I'm calling them.
How to Make Banana Cookies with Brown Sugar Frosting
The thing about so many old family recipes is that the instructions aren't always that clear. Know what I mean?
Luckily, this cookie recipe was pretty clear, and I only changed a couple of things. I used butter instead of shortening, and I added cinnamon.
It's an easy recipe. You start out by creaming butter and brown sugar, and you gradually add the remaining ingredients.
The cookie dough is sticky and a little bit messy. You can either use a spoon to drop the dough onto the cookie sheets, or you can pipe the dough using a piping bag or zip top plastic bag.
A reader shared this tip with me, so I'm passing it on.
You'll want to line your cookie sheets with foil, parchment paper or baking mats for easier clean up.
The cookies are done when the edges are slightly brown and firm. They take about 8 to 10 minutes to bake, depending on your oven.
And after they cool, it's time to frost them!
The boiled brown sugar frosting is super easy to make, and it's seriously good. It's just butter, brown sugar, vanilla and cream mixed with powdered sugar.
The original recipe didn't even specify how much powdered sugar to add. It just said to add enough to make the frosting spreadable. So I added about a half of a cup, and this worked perfectly!
If you want thinner or thicker frosting, you can just adjust the amount of powdered sugar.
Note — the frosting is thin but thickens as it cools. Allow a few minutes for the frosting to cool down, and then spoon it onto the cookies.
Actually, the cookies are perfectly delicious without the frosting, so you could even skip that part. But, I really hope you don't, because the cookies are AhMAYzing with it!
This recipe make about 50 of these little banana bread cookies, which seems like a lot. But trust me, it's not. These babies go fast!
May contain affiliate links. See disclosure for more information.
Originally published in 2017 and updated June 2020 with new pictures and tips.
Frosted Banana Bread Cookies Recipe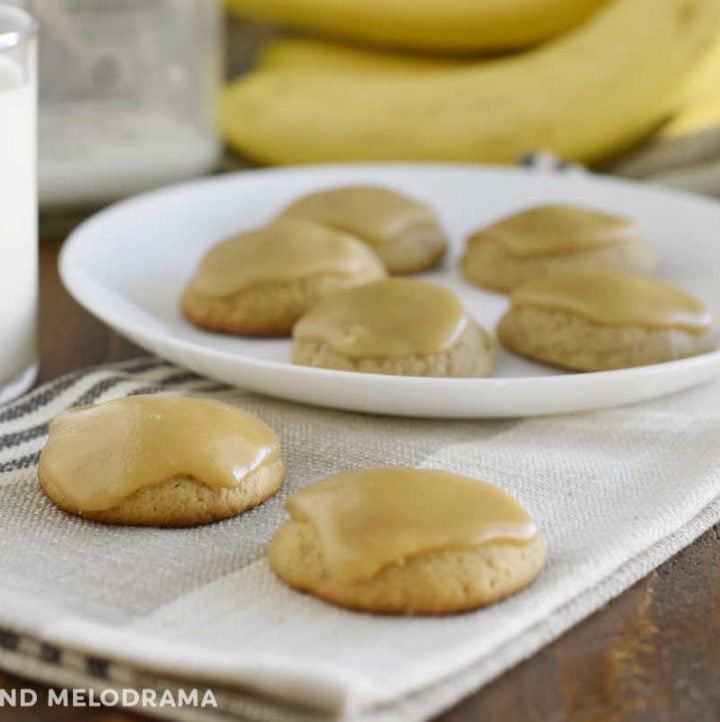 Frosted Banana Bread Cookies
Frosted Banana Bread Cookies are super soft, chewy and topped with a delicious brown sugar frosting. This easy cookie recipe tastes just like banana bread!
Ingredients
For the Cookies
3/4

cup

butter

3/4

cup

dark brown sugar

1

teaspoon

vanilla extract

1

egg

2

medium

mashed bananas

1/4

teaspoon

sea salt

1

teaspoon

ground cinnamon

1

teaspoon

baking soda

2

cups

all purpose flour
For the Frosting
6

tablespoons

dark brown sugar

4

tablespoons

butter

4

tablespoons

heavy cream

1/2

teaspoon

vanilla extract

1/2

cup

powdered sugar
Instructions
For the Cookies
Preheat oven to 350 degrees

In a large mixing bowl, cream the butter and brown sugar

Add the bananas, egg and vanilla extract, and beat with an electric mixer until combined

Add the baking soda, cinnamon and sea salt, and gradually mix in the flour. Dough is sticky, but this is normal

Drop by rounded teaspoonfuls or use piping bag to pipe dough onto greased or parchment lined cookie sheets, and bake for 8 to 10 minutes or until edges are slightly golden brown and firm

Remove from oven, and allow to cool completely
For the Frosting
In a medium saucepan, heat the butter, heavy cream and brown sugar until boiling

Remove from heat, add the vanilla, and gradually stir in the powdered sugar until frosting thickens. Allow frosting to cool and thicken more for a few minutes until it reaches spreading consistency

Use a spoon to drop frosting onto cookies and gently spread over cookies. Frosting will set more as it cools. Store in refrigerator or a cool place
Notes
Dough is sticky like banana bread batter. You can use a spoon to drop batter onto cookie sheets or use a piping bag or zip top plastic baggie to pipe batter onto cookie sheets.
Allow frosting to cool down slightly for a few minutes before using. It's thin, but thickens and firms up as it cools.
Nutrition
Calories:
79
kcal
Carbohydrates:
9
g
Fat:
4
g
Saturated Fat:
2
g
Cholesterol:
14
mg
Sodium:
68
mg
Potassium:
14
mg
Sugar:
5
g
Vitamin A:
135
IU
Calcium:
7
mg
Iron:
0.3
mg
This is probably the tastiest way ever to use up ripe bananas, so if you have any, you've got the perfect excuse to make these. I hope you enjoy them as much as we did!
If you like this recipe as much as we do, leave a comment or give me a shout-out on social media! Sign up to receive weekly recipes by email!