The Best Chocolate Chip Cookie Bars ever are soft, chewy, easy and loaded with chocolate. You only need one bowl and 30 minutes for this easy recipe!
I am so excited to post this easy dessert recipe! I made these awesome chewy chocolate chip cookie bars for the first time yesterday, and today, they are practically gone. This is one time I can't blame it on the kids. These tasty treats were calling to me all day–one of the hazards of working from home!
Probably the reason I am so excited about these easy cookie bars is the recipe turned out to be absolutely perfect, and I rarely get that when I do anything for the first time. For this version, I tweaked a basic cookie bar recipe until I thought it would suit our tastes, and we definitely have a new favorite!
The wonderful thing about making bar cookies is they are so much faster to make than regular cookies. As much as we love our favorite chocolate chip cookies and oatmeal chocolate chip cookies, chocolate chip cookie bars are easier.
You can make the dough in one bowl, cook it in one pan, and you've got the best chocolate chip cookie bars ever in about 30 minutes. This recipe was originally published when I first started blogging, but has now been updated!
How to make the best chewy chocolate chip cookie bars
Start out by melting one half cup of butter. I prefer salted, no matter what the experts say. The other neat thing about this recipe is you can make the entire batch in one large microwavable bowl–my kind of cooking!
Just melt the butter in the microwave, and then add a combination of light brown sugar and granulated sugar, and stir until it looks like this.

Then, add two eggs, one at a time, and beat well after you add each egg. Add some vanilla extract, and then add 2 cups of white flour, salt and two teaspoons of baking powder. The dough is stiff, but this is normal.
At this point I added 2 teaspoons of cinnamon–I just love this stuff! I used slightly more than one cup of semi-sweet chocolate chips and stirred them into the dough.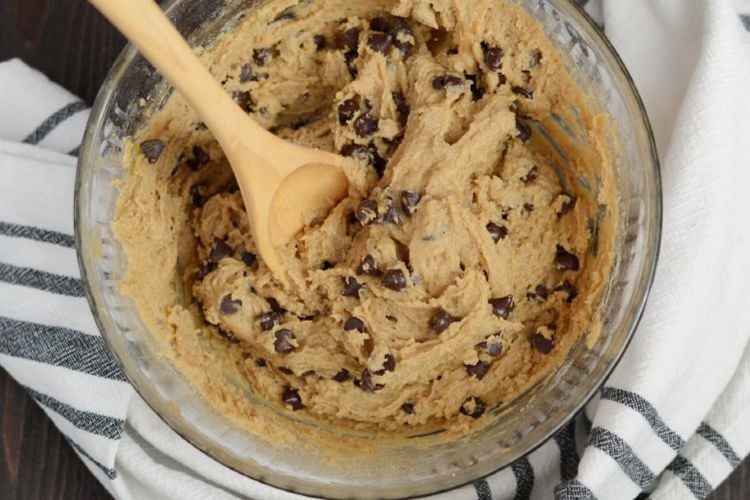 It looks like a lot of chocolate chips, but trust me, it's not. Can you ever really have too many chocolate chips? Press the mixture into a 9×13 metal baking pan lined with parchment paper, and pop it into the oven.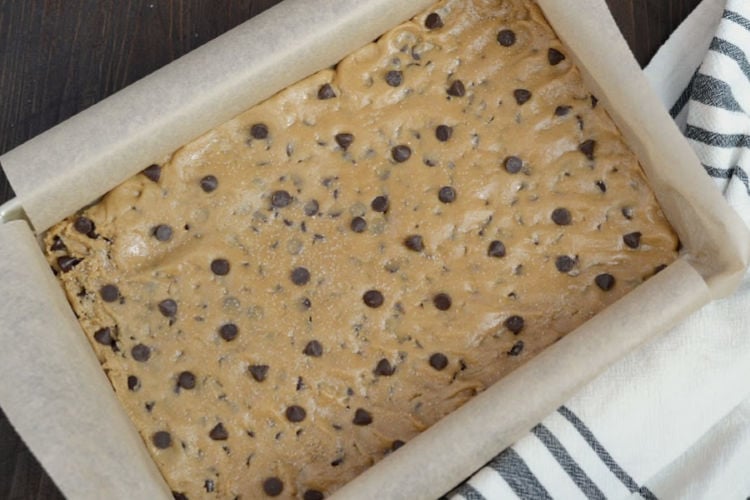 Bake at 350 degrees for 20 to 25 minutes. The bars will be soft, so use a toothpick to test if they are done. The center is supposed to be nice and gooey. For extra sparkle, you can add a sprinkle of sugar crystals.
They're warm, soft, gooey and very chocolatey. You may think it can't get any better, but the next day, they are even more amazing–trust me. Unlike regular chocolate chip cookies, the bar cookies stay very soft and chewy in the inside.
They are also super quick to make, so if you're short on time, this is the bar cookie for you! We only had the patience to let them cool slightly. We couldn't wait anymore.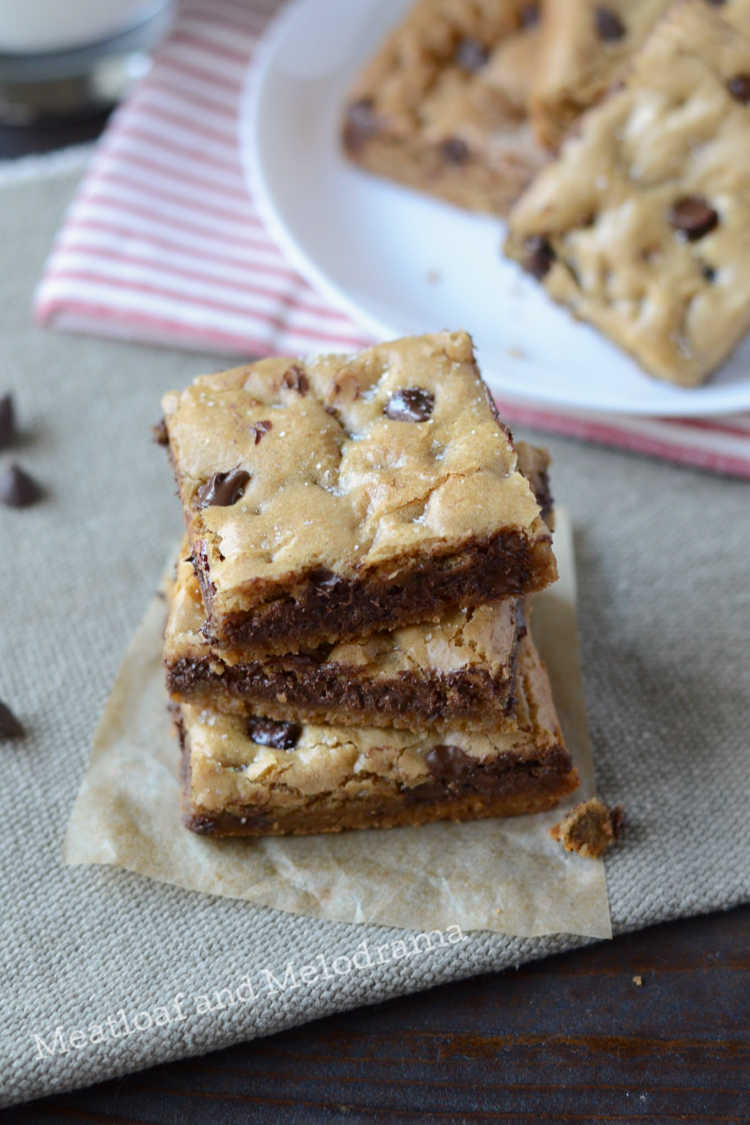 Can you bake cookie bars in a glass pan?
Yes, but you'll want to lower the oven temperature to 325 for even baking since the sides tend to cook faster than the center. I've baked with both metal and glass pans, and the metal pans work much better.
Can you turn any cookie recipe into a bar cookie?
You can generally convert most drop cookie recipes into cookie bar recipes. You just have to increase the baking time to about 25 minutes to 30 minutes.
And for the holidays, top the bars with seasonal candies. These are perfect for easy holiday desserts or cookie exchanges.
The best easy chocolate chip cookie bars recipe
The Best Chocolate Chip Cookie Bars Ever
The Best Chocolate Chip Cookie Bars ever are soft, chewy, easy to make and loaded with chocolate. You only need one bowl and 30 minutes for this easy bar cookies recipe!
Ingredients
1/2

cup

butter

1 1/2

cups

brown sugar

1/2

cup

white sugar

2

teaspoons

cinnamon

2

teaspoons

vanilla extract

2

cups

all-purpose flour

2

eggs

2

teaspoons

baking powder

1

teaspoon

sea salt

1

cup

semi sweet chocolate chips
Instructions
Add the butter to a large mixing bowl, and melt in microwave.

Add the brown sugar and white sugar, and mix until well combined.

Add the eggs, one at a time, beating well after each egg is added. Mix in the cinnamon and vanilla.,

Gradually add flour, one cup at a time, and mix well. Add sea salt and baking powder, and mix until well combined

Stir in chocolate chips, and press mixture evenly into a parchment paper-lined 9 X 13 metal baking pan. Top with additional chocolate chips, if desired

Bake for 25 minutes or until cookie bars are light golden brown, center is set and toothpick inserted into center is fairly clean. Bars will be slightly soft, so don't overbake

remove from oven, allow to cool for 5 minutes, then lift parchment paper up, and cool completely on counter or metal rack

Slice into squares, and store in an airtight container
Nutrition
Serving:
16
ounce
Calories:
219
kcal
Carbohydrates:
38
g
Protein:
2
g
Fat:
6
g
Saturated Fat:
3
g
Cholesterol:
35
mg
Sodium:
137
mg
Potassium:
102
mg
Sugar:
26
g
Vitamin A:
205
IU
Calcium:
48
mg
Iron:
1
mg
Loved this recipe?
Leave a comment or share on social media
I hope you enjoy these amazing best chocolate chip cookie bars as much as we do!