Meringue Chocolate Chip Cookies are light, airy and filled with a rich chocolate surprise inside. These little treats are perfect for the holidays!
Melt-in-your-mouth meringue chocolate chip cookies are lighter than air, crisp and have a sweet surprise inside. If you're looking for a special treat to make for Christmas or any special occasion, this is the dessert for you!
Let me start out by saying that these cookies are different from the usual easy recipes I share. Actually, they're still easy to make, but you do have to take certain steps to make sure they turn out like they're supposed to. And, the baking process can take some time.
But, you guys, I have to share this cookie recipe with you -- easy or not! See, this is my grandma's recipe for chocolate chip meringue cookies. She made them every Christmas, and it was like a sacred tradition with us because that was the only time we got to eat them.
And let me tell you, these meringue cookies were definitely worth the wait! So when I found this recipe, it was a happy day. Seriously. Because family recipes are meant to be handed down and shared, even if they're not the easiest recipes on the planet!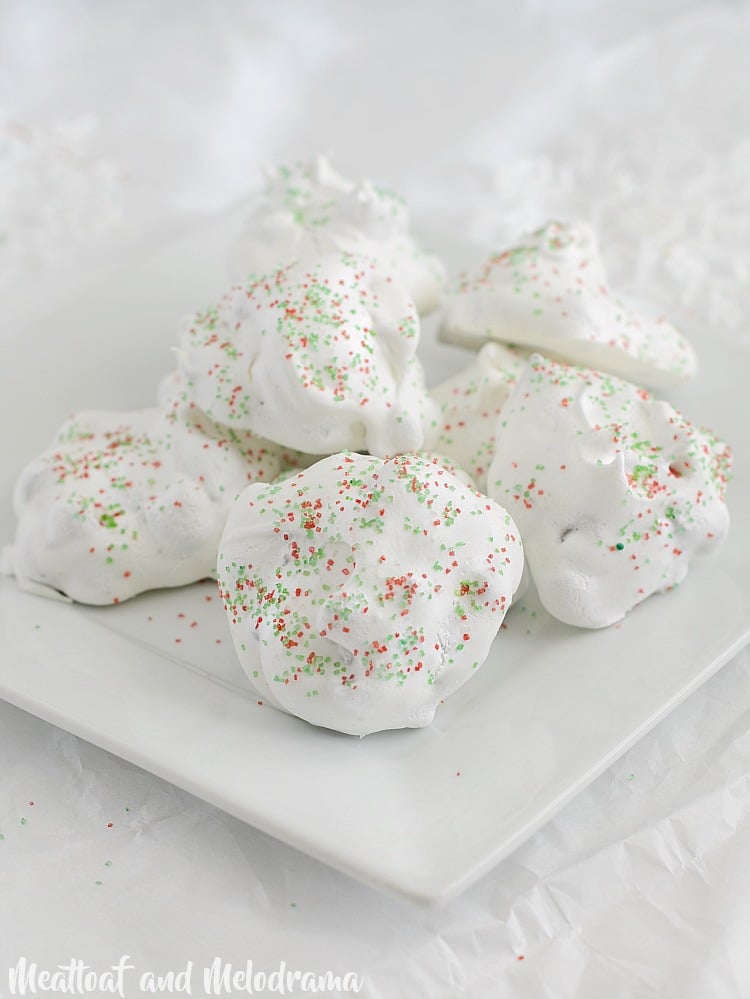 Other than your classic chocolate chip cookies, these meringue chocolate chip cookies are my favorite. And, that definitely says something! These cookies literally melt in your mouth, but they also have chocolate chips inside.
So, it's like nice surprise, which is what my grandma always called them -- Surprises, or surprise cookies. They're also slightly addicting, because once you taste one, you want to keep on nibbling and not stop!
These cookies are also made without flour, so they're gluten free, and they're also very low in calories. But still, you probably should stop nibbling at some point -- Know what I mean?
Like I said, working with meringue can be tricky, but don't let that stop you from making these little bites. Before the kiddos came along, I used to bake a lot, but I hadn't made meringue in a gazillion years.
I was slightly intimidated at first, but I was determined to have my kids try these. I just went with it, and the cookies were delicious! Actually, some of them were a little on the flat side, but they were still delicious.
And with more practice, these meringue cookies would be perfect. But with more practice, I would have to go up a clothing size or work out a lot more. Just saying!
Tips for Making Meringue Cookies
Make sure bowl and beaters are completely clean and dry
Carefully separate egg whites from yolks to make sure no yolks mix in with the whites
Make sure to add sugar in small amounts, and mix well in between
Meringue should be very stiff and form small "peaks" before folding in the chocolate chips
Looking for More Holiday Cookie Recipes
How to Make Meringue Chocolate Chip Cookies
Recipe
Meringue Chocolate Chip Cookies
Meringue chocolate chip cookies are light and airy cookies made with egg whites and filled with chocolate chips inside. Perfect for the holidays or special occasions!
Ingredients
3

egg whites

⅛

teaspoon

cream of tartar

⅛

teaspoon

sea salt

1

cup

granulated sugar

1

12-ounce package

semi-sweet chocolate morsels

sugar sprinkles for decoration (optional)
Instructions
Preheat oven to 200 degrees

Add the egg whites, cream of tartar and sea salt to a large mixing bowl, and beat with a mixer until foamy and thick

Gradually add the sugar, and beat until very stiff. Stiff peaks should form when you dip the beaters in and out of the mixture, and they should stay stiff

Slowly fold the chocolate chips into the meringue, using a spatula

Use a tablespoon to drop mixture onto parchment paper-lined baking sheets

Bake for 45 minutes to 1 hour, or until cookies are firm to the touch and dry and lift easily off the cookie sheets

Turn oven off and allow cookies to cool gradually in oven for 30 minutes

Store in an airtight container
Nutrition information is estimated. Please do your own calculation to fit special diets.
Nutrition
Calories:
22
kcal
Carbohydrates:
5
g
Sodium:
12
mg
Potassium:
5
mg
Sugar:
5
g
These meringue chocolate chip cookies were a huge, huge hit with my family. Seriously, they're almost gone! I hope you enjoy them as much as we do. This recipe is shared at the Weekend Potluck.
Happy Baking,