Honey chipotle lime chicken wings are perfect for family gatherings, game days or any time you want the taste of classic American barbecue with a Latin twist.


This shop has been compensated by Collective Bias, Inc. and its advertiser. All opinions are mine alone.
Hi friends! My family just loves chicken wings. Some of us like them spicy, some of us like them sweet, and some of us enjoy a little of both. We used to only have wings as a side with pizza, but I found that it was much cheaper to make my own, especially since no one could agree on one flavor. When I made these Grilled Honey Chipotle Lime Chicken Wings, the family gobbled them up so fast that I knew at once this recipe was a keeper!
I think I've mentioned before how much I love Mexican food, and really, the spicier the better. You can probably guess that my vote is always for spicy wings! So when I set out to make some sweet and spicy chicken wings that the entire family would enjoy, I wanted to add a Latin twist to the recipe.

One of the nice things about living in Arizona is that you can always find great Mexican food and the authentic ingredients for making your own at home. In fact, I was able to find everything I needed for this dish at our local Walmart.

I found La Morena chipotle peppers and pickled jalapeno peppers in the Hispanic aisle, and then I picked up a few other ingredients before heading home.


I usually make my own barbecue sauce, and it's actually very easy to incorporate Latin flavors into our favorite traditional sauce.

I took out one chipotle pepper from the can and chopped it up as fine as I could.


I added the chopped chipotle pepper and some of the adobo sauce to the other ingredients and let them all simmer together on the stove.



While the sauce was cooking, I started the wings. I like them crispy, and I think one of the best ways to get them crisp without frying is to bake them for a little bit, baste them with some of the sauce and then put them on the grill. So that's what I did.

Oh, first you want to brush the grill with some olive oil so that the wings don't stick. You definitely don't want all that good sauce to stay on the grill! Brush on some more of the sauce while the wings are grilling.

This only takes a few minutes because the meat is basically done. As a bonus, you don't have to stay out in the heat too long!

Wings need a good ranch for dipping, so I made my favorite homemade buttermilk ranch dressing. It's basically mayo, sour cream and buttermilk with a few spices thrown in. But this time, I chopped up one of the pickled jalapeno peppers and two tablespoons of chopped cilantro.

If you like more heat, you could also add a chopped jalapeno pepper to the barbecue sauce.



The wings are slightly spicy, somewhat sweet, super sticky and just plain awesome! I like to serve them with additional chipotle sauce as well as the jalapeno ranch sauce for dipping.


Grilled Honey Chipotle Lime Chicken Wings

Don't they look wonderful? And let me tell you, they taste even better!



But please don't take my word for it — go make a batch for yourself!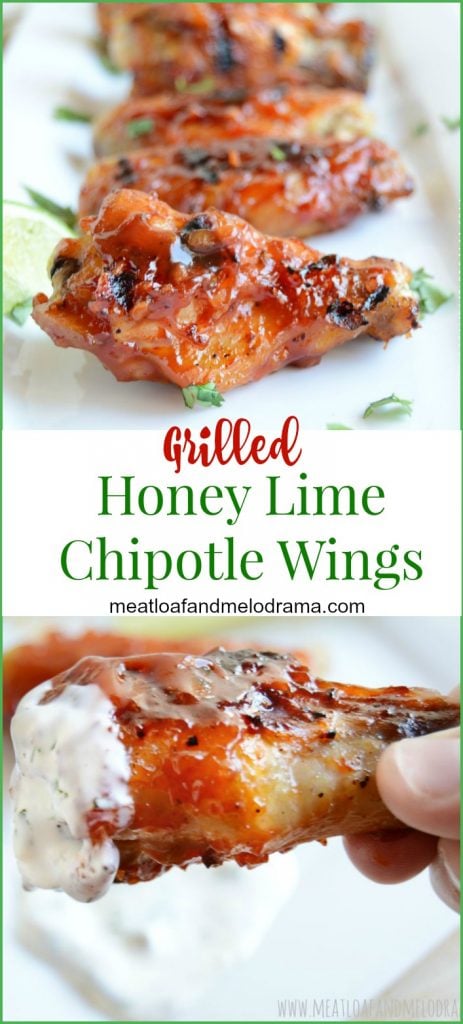 So, what kind of wings do you like best?

Thanks for visiting!