Guacamole Deviled Eggs are made with mashed avocados instead of the usual mayo and are topped with smoky chipotle pepper powder for an added kick. If you have any leftover hard boiled eggs, you can whip these up in no time!
We always make a ton of hard boiled eggs at Easter, and I use them in potato salad, egg salad and to make deviled eggs. My kids aren't that fond of the salads, but they all love stuffed eggs. Even the ones who normally wouldn't touch an egg without drowning it in ketchup will happily scarf down some deviled eggs without complaining. Last year, I added some fresh basil and Parmesan cheese to the mashed egg yolks, and it was a nice change from the usual version.
So this year, I decided to try something completely new, and I made a batch of guacamole deviled eggs. My family absolutely loves guacamole, and whenever I make a bowl of it, it disappears almost instantly. The Hubs would keep the guac all to himself if he could! And these eggs were gone just as fast!
The nice thing about this recipe is that you use avocado instead of the traditional mayonnaise, which lightens them up. And as much as I love mayo, I love avocados even more. So basically, I took my go-to recipe for guacamole, made a couple of changes, and used that to stuff the hard boiled eggs. Easy peasy. 
I boiled a bunch of eggs, but I used 6 in this recipe. When they were cool,  I sliced them in half and scooped the yolks into a mixing bowl. Then, I added the avocado and some lime juice.
My little guy helped mash the avocados and the egg yolks. This is a fun way to get kids involved in the kitchen because they always love to mash things up — at least, mine do.
Then, I added a few other ingredients, and the eggs were ready to be stuffed. I keep things easy around here, so I just used a small spoon, but you can get fancy and pipe them in if you want! I topped the eggs with some chipotle pepper and some chopped cilantro, and they were done!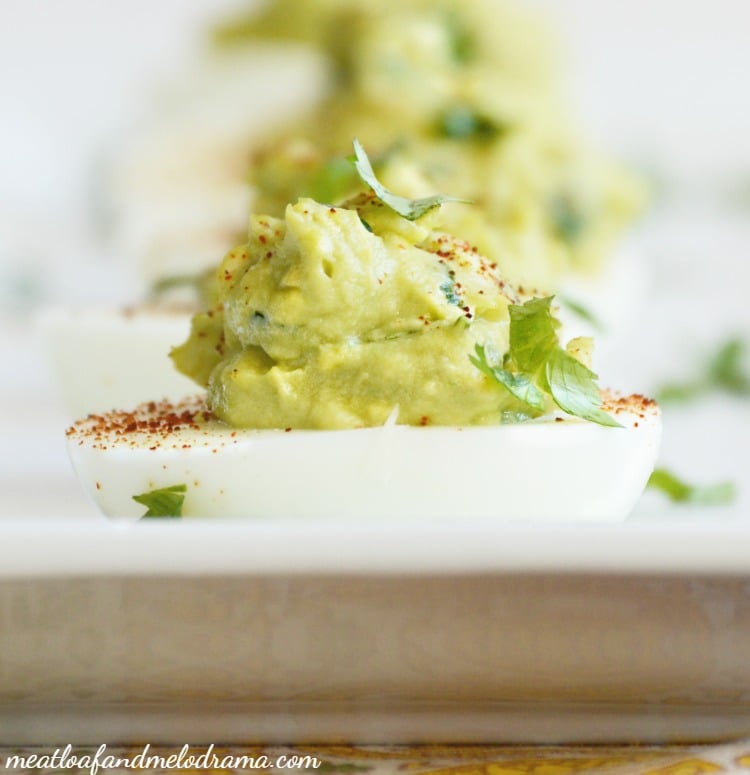 How to Make Guacamole Deviled Eggs
Guacamole Deviled Eggs
Hard boiled eggs stuffed with guacamole are perfect for Easter or anytime!
Ingredients
6

in

hard boiled eggs

cooled and sliced half

2

extra large avocados or about 4 small avocados

Juice of 1 lime

1/4

teaspoon

sea salt

1/8

teaspoon

chipotle pepper powder

1

teaspoon

finely chopped jalapeno peppers

seeded

1

tablespoon

chopped cilantro
Instructions
Scoop out the egg yolks, place in a mixing bowl, and set the whites aside

Scoop out the avocados, add to the bowl and add the lime juice

Mash until the mixture is fairly smooth

Add the remaining ingredients, and mix well

Fill the egg whites with the avocado mixture

Top with additional chipotle powder and cilantro, if desired

Refrigerate until ready to serve
If you want to cut down on the spice, just leave out the jalapeno peppers. There's just a trace of chipotle powder in here, and it adds a nice smoky flavor to the eggs. But you could definitely substitute paprika here if you want.
These guacamole deviled eggs were a big hit with the family, so they're definitely going on our Easter menu. In fact, I think I'll serve these for appetizers on other occasions, as well.
Have you ever used avocados in your deviled eggs?
Happy Munching!

Sharing At
Met Monday, The Scoop, Wow Us Wednesday, Weekend Potluck, TT&J