Easy Homemade Baked French Fries are seasoned with rosemary and garlic and baked in the oven until crispy and delicious!
So, my oldest daughter is home from college, and she shared this this homemade fries recipe with the family last week. You guys, these crispy oven fries are the best! And they're relatively healthy, too!
My daughter made these oven baked fries a few times on her own and raved about them, so of course, I had to try them, too. Fries are one of my guilty pleasures -- once I start nibbling, it's hard to stop! But since these oven fries are made without a ton of oil, I don't feel so guilty!
How to make Homemade Baked French Fries
This recipe for homemade fries is easy, but it does take a little time and effort. What takes time is cutting up the potatoes and then soaking them to remove extra starch and help them get crispy in the oven.
We actually like fries with the skins on, so we didn't peel the potatoes. If you don't like potato skins on your French fries, you can definitely peel them first.
How do you cut potatoes into fries?
First, you cut the potatoes in half at the center. Then, you cut each half in quarters lengthwise and then in strips that are approximately ¼ to ½-inches thick. This gives you fries that are semi thick -- but not too thick. They're not too stringy either.
How long do you soak potatoes in water?
We soaked the potatoes in water for about 20 minutes. This helps get rid of excess starch and water, and it helps prevent them from turning brown before cooking.
After the potatoes soak, rinse them, pat them dry, and mix them with a little olive oil and seasonings. We added dried rosemary Italian seasoning for extra flavor, but really, you can add any flavors here.
Next, place the cut potatoes on parchment-lined baking sheets. You don't even need extra oil or cooking spray!
Bake the fries for about 30 minutes or until they're light brown and crispy. You can add extra salt and other seasonings when the fries are done.
Serve them with your favorite dipping sauce, and these homemade baked French fries go so well with burgers, hot dogs, sandwiches or really, almost anything!
Recipe for Homemade Baked French Fries
Recipe
Homemade Baked French Fries
Homemade Baked French Fries seasoned with garlic and rosemary are baked in the oven until crispy and delicious. An easy side dish recipe that's perfect for burgers, hot dogs and sandwiches!
Ingredients
4

large

russet potatoes, washed with skins on

2

tablespoons

olive oil

1

tablespoon

Italian seasoning mix

1

teaspoon

sea salt

½

teaspoon

dried rosemary

¼

teaspoon

garlic powder

dash of

pepper

Additional salt and rosemary, if desired
Instructions
Preheat oven to 425 degrees

Wash potatoes, and cut in half width wise, then cut each half into quarters, and cut strips that are about ¼ to ½ inches thick

Place cut potatoes into a large bowl, and fill with water until potatoes are completely covered. Allow to soak for 15 to 20 minutes

Drain the water, then pat potatoes dry. Add oil and Italian seasoning, salt, rosemary, garlic powder and pepper, and mix well

Place potatoes evenly on parchment-lined baking sheets -- do not crowd together. Bake for about 30 minutes or until brown and crispy, stirring occasionally so fries brown evenly

Remove from oven, season with additional salt and rosemary, if desired, and serve immediately
Nutrition information is estimated. Please do your own calculation to fit special diets.
Nutrition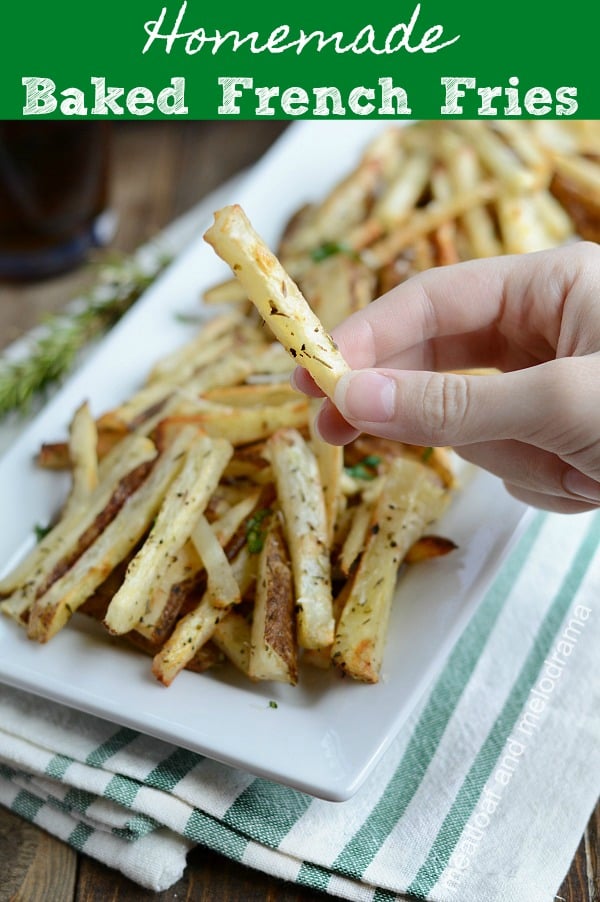 My family gobbled these easy homemade baked French Fries right up! I hope you enjoy them as much as we do.