This Easy Instant Pot Cheesecake recipe makes creamy cheesecake with a graham cracker crust. A delicious dessert everyone will love and the perfect cheesecake for any occasion!
Jump to:
If you're looking for an easy cheesecake recipe to make in your Instant Pot, this plain cheesecake is for you! Even if you're just getting started with Instant Pot recipes or you've never attempted making dessert in a pressure cooker, you can do this!
I have several cheesecake recipes on the blog -- Lemon Blueberry Cheesecake, Godiva Dark Chocolate Cheesecake, Peppermint Cheesecake, Eggnog Cheesecake and Pumpkin Cheesecake, so I'm kind of going backwards here.
But when a reader asked me for a plain cheesecake recipe, I knew I had to make one. This vanilla cheesecake is definitely now a favorite!
Ingredients
You only need a few basic ingredients for this Instant Pot cheesecake recipe. You should be able to find them in the grocery store or online if you don't have them at home.
Crushed graham crackers
Granulated sugar
Butter
Cherry pie filling
Water
Cream cheese, softened
Vanilla extract
Eggs
Springform pan or push pan
Instant Pot Trivet for elevating the pan in the pressure cooker
Measuring cups, mixing bowls, spatula
Electric mixer or stand mixer
Food processor or rolling pin and zip top bag for crushing the graham crackers
Foil to make a sling to lift your cheesecake out if your pan does not have a handle
Cooking thermometer (not necessary, but it's one way to tell if your cheesecake is done
How to Make Cheesecake in the Instant Pot
First, allow the cream cheese and eggs to come to room temperature or near room temperature. This makes them easier to mix and helps the filling stay nice and smooth.
Next, you'll have to crush up graham crackers for the crust. I just crush them up in a zip top freezer bag using a rolling pin, but you can do this in a food processor.
To make the crust, mix the graham cracker crumbs with sugar and butter. Then, press it gently into a springform pan or push pan. Next, pop it into the freezer while you make the filling.
What's the best pan for cheesecake? You can use any spring form pan or push pan as long as it fits in your pressure cooker. I use a 7-inch cheesecake pan in my 6-quart IP, but you can fit an 8-inch pan in your 8 quart.
Beat the softened cream cheese with an electric mixer until it's creamy. Add the sugar and mix until it's nice and smooth. Then, mix in the vanilla extract.
I like to crack the eggs into a small bowl. Then, beat them lightly before adding to the cream cheese mixture.
This helps prevent over beating the eggs, which could result in a cheesecake that's way too fluffy. You want the top to be nice and smooth.
Add the eggs, and gently mix them into the cream cheese mixture. You can use a spoon or your mixer, but keep it on low speed.
Don't over mix. When the mixture is blended, it's fine.
Pour the cream cheese mixture into the springform pan, over the crust. It should be on the thick side. Then, smooth the mixture, using a spatula.
Place the trivet into your Instant Pot, and add the water. Then, gently lower the springform pan into the pot so it sits on top of the trivet.
My pan has a handle, which makes it easy to lift out of the pot. You can also make a foil sling by flattening a large piece of aluminum foil and keeping it under the cheesecake pan.
You don't need to cover the pan with foil. That just makes it take longer to cook.
You'll probably see some water on top of the cheesecake after pressure cooking, but just use a clean paper towel to dab up the moisture.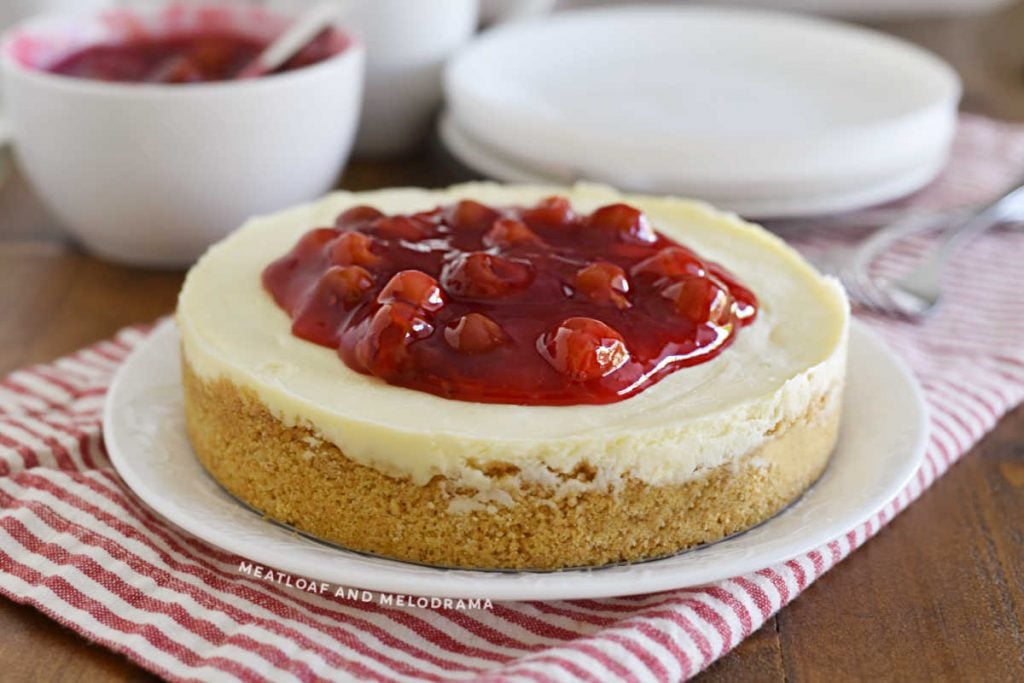 Cooking Time
Cook the cheesecake for 35 minutes on high pressure. Then, allow a 15 minute natural release.
How to Tell when the Cheesecake is Done
The cheesecake is done when it's mostly firm and doesn't jiggle in the pan too much. You might see a small area in the center that moves a little, but that's it.
I highly recommend using a food thermometer. Just insert it into the center of the cheesecake, and if it reads 150 degrees, it's done!
Let it rest on the counter, then pop it into the fridge to cool down. Refrigerate the cheesecake for 4 to 6 hours or overnight for best consistency.
Variations
There are a few ways to customize this best Instant Pot cheesecake recipe to your liking.
Cherry pie filling is a classic topping for your Instant Pot cheesecake or any vanilla cheesecake. But blueberries, strawberries, or your favorite fresh fruit will also go great on top of the cake!
If you want, go ahead and leave it as a plain regular cheesecake!
Top your cheesecake with lemon zest, caramel drizzle with a pinch of sea salt, or chocolate syrup. The final result of your cheesecake is really up to you!
How to Store
Keep your homemade cheesecake in the refrigerator. It can go uncovered on the day you make it.
Store any leftover pressure cooker cheesecake in an airtight container in the refrigerator, where it'll last for 2 to 3 days.
Recipe
Easy Instant Pot Cheesecake Recipe
This Easy Instant Pot Cheesecake recipe makes creamy cheesecake with a graham cracker crust. A delicious dessert everyone will love and the perfect cheesecake for any occasion!
Ingredients
For the Crust
1

cup

crushed graham crackers

about 7 rectangle sheets

1

tablespoon

granulated sugar

2

tablespoons

butter
For the Filling
16

ounces

cream cheese

2 8-ounce blocks, softened

½

cup

granulated sugar

1

teaspoon

vanilla extract

2

large

eggs
Cherry Topping (optional)
1

cup

cherry pie filling

or more
Instructions
The Crust:
Finely crush the cookies using a food processor, or place in large zip top bag, close up, and crush with rolling pin

Melt the butter and pour over the crushed cookies. Add sugar, and mix until combined and the consistency of wet sand.

Press the crust into the bottom of a greased 7-inch cheesecake pan, ensuring it is evenly distributed on the bottom and sides of the pan.

Place the crust in the freezer until the filling is ready.
The Filling:
Beat the room temperature cream cheese and sugar until just creamy.

Mix in the vanilla extract

Add the eggs, one at a time, mixing in between until just combined on low speed. Do not over mix. I like to crack the eggs into a separate bowl, lightly beat, and then add to the filling, but you can use either method

Pour the cheesecake filling onto the crust, smoothing out with a spatula if necessary.

Pour 1 cup of water into the inner pot of the Instant Pot (6 qt). Place a trivet in the bottom.

If your pan does not have a handle, create a foil sling, place the pan in the sling, then place the sling in the pot. Skip this step if your pan has a handle.

Close the lid and place the valve in the SEALING position. Hit PRESSURE COOK for 35 minutes, then do a 15 minute natural release.

Do a quick release to release the remaining pressure. When pin drops, remove lid, and using oven mitts, carefully remove the cheesecake from the pot by lifting handles .

The cheesecake is done when only the center jiggles slightly when you shake the pan back and forth and when its internal temperature is 150 degrees Fahrenheit. If it is not done yet, let it cook for another 5 minutes.

Take the corner of a paper towel and soak up any water on the top of the cheesecake.

Allow the cheesecake to cool slightly before covering. (about 30 minutes) Store covered in the fridge for at least 6 hours to overnight (recommended) before serving.
Cherry Topping (optional)
Spoon cherry pie filling over cheesecake before serving
Notes
Recipe was made in a 6 quart Instant Pot. To make in an 8 quart, increase water in the pot to 2 cups. You can use an 8-inch pan.
For best results, be sure to use room temperature cream cheese and eggs, add eggs last, and don't over mix the ingredients.
Refrigerate cheesecake for 6 hours or overnight for best texture.
Nutrition information is estimated. Please do your own calculation to fit special diets.
Nutrition
Calories:
374
kcal
Carbohydrates:
33
g
Protein:
6
g
Fat:
25
g
Saturated Fat:
13
g
Cholesterol:
116
mg
Sodium:
306
mg
Potassium:
146
mg
Fiber:
1
g
Sugar:
18
g
Vitamin A:
977
IU
Vitamin C:
1
mg
Calcium:
75
mg
Iron:
1
mg
Recipe published in 2020 and updated in 2022.
Cheesecake is one of my absolute favorite desserts, and this super quick recipe gets you some of the best cheesecake a pressure cooker can make!
For more easy recipe ideas and delicious desserts, be sure to subscribe to the newsletter and follow me on social media!