This Instant Pot Chocolate Cheesecake is incredibly rich, creamy and the ultimate dessert for chocolate lovers. Super easy to make in the pressure cooker!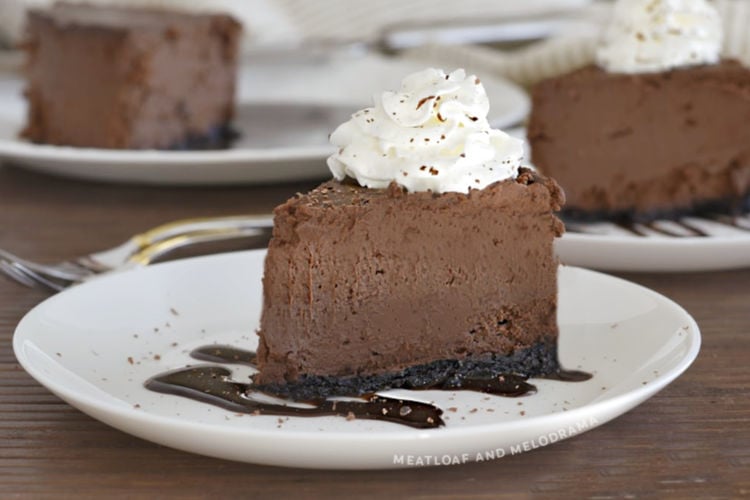 If you're looking for the absolute BEST chocolate cheesecake recipe on the planet, today is your lucky day. This insanely rich and creamy Instant Pot chocolate cheesecake is guaranteed to satisfy your chocolate cravings, and it's the perfect Instant Pot dessert for holidays or any other special occasion!
Ever since I made my first cheesecake in the Instant Pot, I knew I would have to attempt my absolute favorite dessert — The Cheesecake Factory Godiva Chocolate Cheesecake. If you've ever had a slice, you know how incredibly delicious it is!
So, this is basically a Cheesecake Factory copy cat recipe. I just adapted it to work as an Instant Pot recipe.
Instant Pot Cheesecake Tips
You can use any brand of dark chocolate here. Just make sure it's 72% cacao, or it won't taste the same.
If you don't have Oreo cookies, any chocolate wafer cookies will do.
Make sure your eggs and cream cheese are at room temperature for best results. Set them out ahead of time.
Don't overmix your cheesecake batter. Just mix until ingredients are blended.
Be sure to add the eggs last.
Have all ingredients prepped and ready to go before beginning
What Size Springform Pan Fits in the Instant Pot
Use a 7-inch pan for the 6-quart Instant Pot electric pressure cooker. An 8-inch springform pan or push pan will fit inside the 8-quart pressure cooker.
How to Make Chocolate Cheesecake in the Instant Pot
First, make your chocolate crust. Just crush up the Oreo cookies, mix with butter and sugar, and pat the mixture into the cheesecake pan.
Then, put it into the freezer to firm up while you work on the batter. No need to cover the crust!
Next, beat your cream cheese and sugar until nice and creamy. Then, slowly pour in the melted chocolate and the coffee mixture and the vanilla.
Add your eggs last. The batter will be nice and thick, which is fine.
Spoon the chocolate cheesecake batter over the crust. Use a spatula to smooth the top so that it's nice and even.
You don't have to cover the pan with foil. After pressure cooking, the cheesecake may have some water on the top, but you can use the corner of a clean paper towel to absorb the liquid.
How to Tell if the Cheesecake is Done
The cheesecake is cooked when the temperature is 150 degrees, according to a thermometer.
It's slightly firm around the edges and starts to pull away from the pan.
The middle is slightly jiggly, but will firm up as it cools.
Other Instant Pot Cheesecake Flavors
Pin Image to Save the Recipe
May contain affiliate links. See disclosure for more information.
Instant Pot Chocolate Cheesecake Recipe
Instant Pot Chocolate Cheesecake
This Instant Pot Chocolate Cheesecake is incredibly rich, creamy and the ultimate dessert for chocolate lovers. Super easy to make in the pressure cooker!
Ingredients
The Crust
1

cup

Oreo cookies, crushed

2

tablespoons

butter, melted

1

tablespoon

granulated sugar
Chocolate Filling
1/4

cup

hot coffee

1/4

cup

hot water

3 1/2

3.5-ounce

dark chocolate bars 72% cacao

chopped and melted (14 ounces)

16

ounces

cream cheese, softened

2 8-ounce packages

1

cup

granulated sugar

2

teaspoons

vanilla extract

2

eggs
Topping
1/2

chocolate bar

finely grated
Instructions
The Crust:
Finely crush the cookies using a food processor, or place in large zip top bag, close up, and crush with rolling pin

Melt the butter and pour over the crushed cookies. Add sugar, and mix until combined and the consistency of wet sand.

Press the crust into the bottom of a greased 7 inch cheesecake pan, ensuring it is evenly distributed on the bottom and sides of the pan.

Place the crust in the freezer until the filling is ready.
The Filling:
Take 1/4 cup hot coffee, mix with 1/4 cup hot water, and set aside

Chop chocolate bars with serrated knife, place in microwaveable bowl, and melt on defrost or low power for 30 seconds, then stir. Melt in 15-second increments, stirring frequently in between until chocolate is melted and mostly smooth. Set aside

Beat the room temperature cream cheese and sugar until just creamy.

Add the coffee mixture, vanilla extract and melted chocolate, and beat until just combined.

Add the eggs, one at a time, mixing in between until just combined on low speed. Do not over mix.

Pour the cheesecake filling onto the crust, smoothing out with a spatula if necessary.

Pour 1 cup of water into the inner pot of the Instant Pot (6 qt). Place a trivet in the bottom.

If your pan does not have a handle, create a foil sling, place the pan in the sling, then place the sling in the pot. Skip this step if your pan has a handle.

Close the lid and place the valve in the SEALING position. Hit PRESSURE COOK for 35 minutes, then do a 15 minute natural release.

Do a quick release to release the remaining pressure. When pin drops, remove lid, and using oven mitts, carefully remove the cheesecake from the pot by lifting handles .

The cheesecake is done when only the center jiggles slightly when you shake the pan back and forth and when its internal temperature is 150 degrees Fahrenheit. If it is not done yet, let it cook for another 5 minutes.

Take the corner of a paper towel and soak up any water on the top of the cheesecake.

Allow the cheesecake to cool slightly before covering. (about 30 minutes) Store covered in the fridge for at least 6 hours to overnight (recommended) before serving.

Serving suggestion: Finely grate remaining chocolate over top of cheesecake, and serve with fresh whipped cream
Notes
Recipe was made in 6-quart Instant Pot electric pressure cooker.
Use any dark chocolate (72% cacao) bars for the recipe, as long as you have 14 ounces melted chocolate plus more for topping. It was easier to find Ghirardelli brand in the size called for. Using milk chocolate, semi sweet or unsweetened chocolate will not produce same results.
Have all ingredients prepped and ready to go — It makes the recipe easier.
Nutrition
Calories:
250
kcal
Carbohydrates:
37
g
Protein:
9
g
Fat:
7
g
Saturated Fat:
3
g
Cholesterol:
44
mg
Sodium:
425
mg
Potassium:
183
mg
Fiber:
1
g
Sugar:
31
g
Vitamin A:
142
IU
Calcium:
169
mg
Iron:
2
mg
If you like this recipe as much as we do, leave a comment or give me a shout-out on social media! Sign up to receive weekly recipes by email!