Pollo Fundido Cups are made with wonton wrappers filled with shredded chicken and topped with melted cheese. This is an easy and much lighter version of a popular dish served at some of our favorite Mexican restaurants, and we absolutely love it!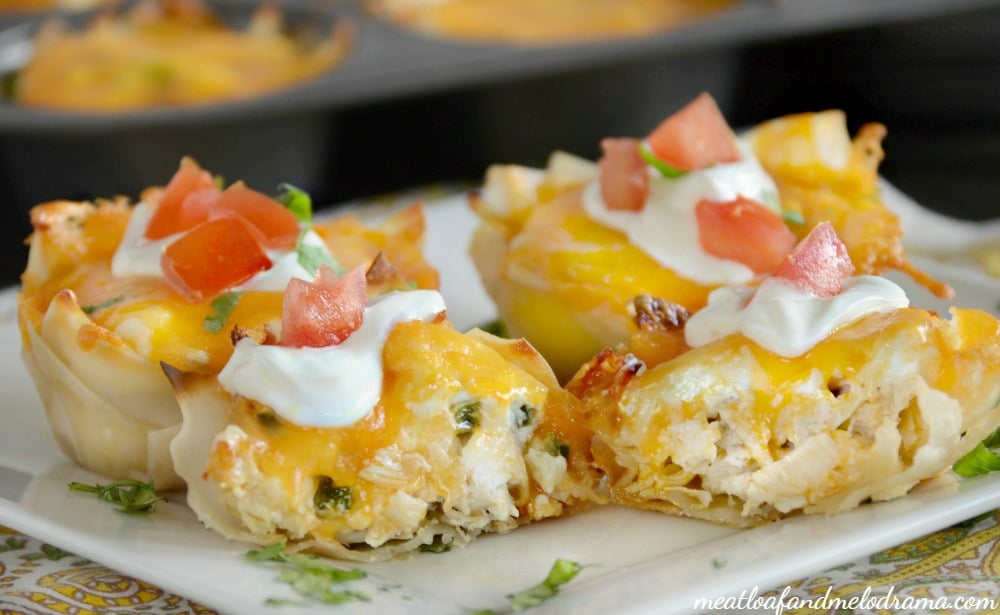 As an Arizona native, I've been to tons of Mexican restaurants. When I was growing up, we ate out at least once a week, and I was always thrilled when my parents chose Mexican food, although Italian food was definitely another favorite!
I used to love chimichangas - shredded beef or chicken wrapped up in flour tortillas and deep fried until golden brown. These were topped with sour cream and guacamole, and oh, they were amazing!
They also probably had a billion calories, but still, they were good.
My favorite type of chimichanga was the pollo fundido, which is basically a chicken chimi on steroids! You see, on top of the chicken layer is a layer of cream cheese spiked with jalapeno peppers. And on top of the whole thing is a layer of melted cheddar cheese and usually, some extra sour cream -- yum!
And don't even try to count calories on this!
Every local Mexican restaurant seems to have a unique version of the pollo fundido. Some include a creamy sauce over the whole thing, and some don't. Since I've become slightly addicted to making easy muffin tin recipes, I thought it would be fun to make a lighter version of this classic dish.
I layer wonton wrappers in muffin tins, and then I add some cooked, shredded chicken that I've seasoned with salt and pepper. I don' t use a lot of seasonings here because the restaurant versions I've had are not heavily spiced.
I usually use chicken that I've cooked in the Crock-Pot, along with some onions and garlic. You could also buy rotisserie chicken and add garlic powder, salt, pepper and minced onions for flavor.
I add some cream cheese and chopped jalapeno peppers to the chicken, and then I top it off with plenty of shredded cheddar cheese.
I usually add a heaping mound of shredded cheddar so that it melts into a nice, thick cheesy layer over the cream cheese.
How to Make Pollo Fundido Cups
Recipe
Pollo Fundido Cups
Pollo Fundido are made with wonton wrappers filled with shredded chicken, cream cheese and cheddar cheese then baked in a muffin tin for an easy version of a popular restaurant dish
Ingredients
2

cups

cooked shredded chicken

24

wonton wrappers

8

oz

cream cheese

softened - not whipped

1-2

tablespoons

finely chopped jalapeno peppers

2

cups

shredded cheddar cheese

1

teaspoon

sea salt

1

teaspoon

ground pepper
Instructions
lightly grease a 12-cup muffin tin

Fit 2 wonton wrappers into each cup

Season chicken with salt and pepper

Add about 1 tablespoon of chicken in the wonton wrappers

Mix jalapenos with cream cheese

Spread about 1 tablespoon of cream cheese over chicken in each cup

Top with mounds of shredded cheese

Bake at 400 degrees for about 10 minutes, or until wrappers are crispy and cheese is melted
Nutrition information is estimated. Please do your own calculation to fit special diets.
Nutrition
Calories:
223
kcal
Carbohydrates:
9
g
Protein:
13
g
Fat:
14
g
Saturated Fat:
8
g
Cholesterol:
59
mg
Sodium:
474
mg
Potassium:
110
mg
Vitamin A:
450
IU
Calcium:
164
mg
Iron:
1
mg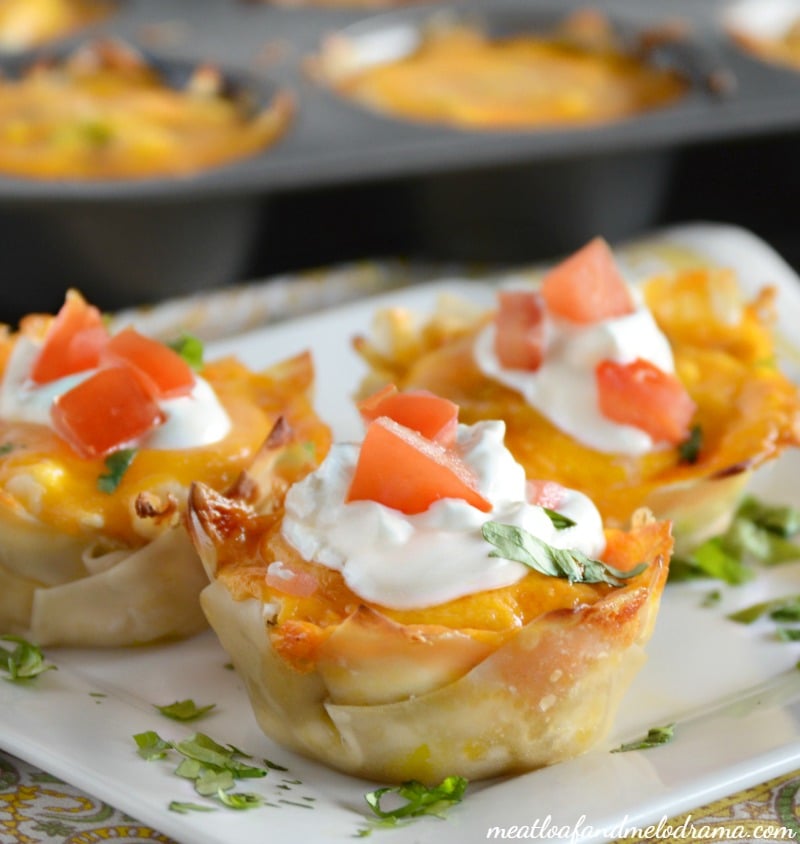 The wonton wrappers get crisp in the oven and really taste like they've been deep fried. And the cheese melts into two perfect layers. So, you're basically getting a much lighter version of the amazing pollo fundido -- Mmmm, this is truly delicious!
I like to top these little pollo fundido cups with sour cream, cilantro and tomatoes, and then it's time to dig right in!
I hope you enjoy these tasty little morsels as much as we do.
Have a super day!