Hello all! One of the best things about spring is that it's strawberry season again! I've always loved strawberries, and growing up, strawberry shortcake was always on the dessert menu at Easter. As much as I loved this dessert, I used to gobble up everything but the cake -- strawberries, ice cream and whipped cream were enough for me. All that was left in the bowl was the rather soggy spongecake, which looked sad. So I thought I would tweak the shortcake idea and make a dessert would completely disappear. And when I made this Strawberry Ice Cream Pie, it was gone in a flash!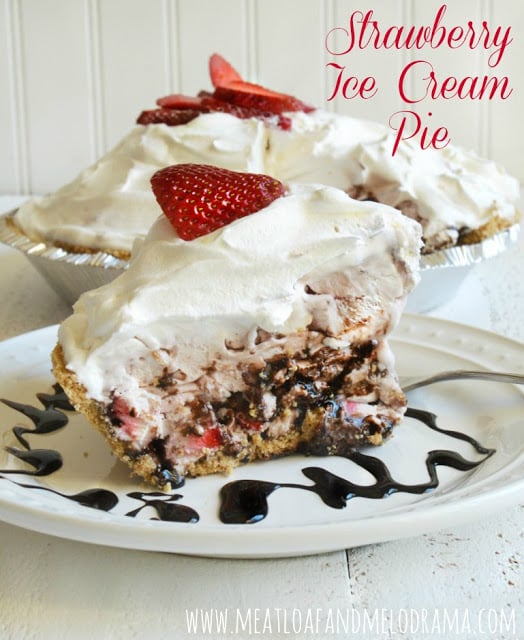 My family loves ice cream pies, and we make different kinds throughout the year. In fact, the kids have started requesting ice cream pies on their birthdays instead of the traditional cake. They're also ridiculously easy to make, and that's another reason why we love them.


Ingredients for Strawberry Ice Cream Pie
1 1.5-quart tub of strawberry ice cream ( We used Breyers.)

1 graham cracker pie crust

Chocolate syrup

Fresh strawberries

1 8-oz tub of frozen whipped topping


Directions
Pour a layer of your favorite chocolate syrup over the bottom of the pie crust, and place in freezer until firm.
Add a layer of ice cream over the syrup, and add a layer of thinly sliced strawberries over the the ice cream.
Add the remaining ice cream over the strawberries, and slather on the whipped topping. You can add fresh strawberries for garnish. And, you can always substitute whipped cream in place of the Cool Whip!



I added extra chocolate syrup because I just have to add chocolate to anything I can. And nobody complained.



We usually make ice cream pies the day before and freeze them until just before it's time for dessert. This way, it doesn't melt right away. Then, I add the whipped topping right before serving the pie.

I think the strawberry ice cream pie will be a hit at our Easter dinner, and I'll probably make two of them so that we have enough to go around.

What are your favorite holiday desserts?

Thanks so much for visiting!
You May Also Like