The best chocolate chip cookies are soft, chewy and loaded with chocolate morsels and a hint of cinnamon. Makes perfect chocolate chip cookies every time!
So the other day I made -- according to the kiddos -- the Best Chocolate Chip Cookies ever! Of course, that's our opinion, but honestly, these soft chocolate chip cookies were pretty darn good!
If you had to pick a favorite cookie, what would it be? I love homemade cookies like Oatmeal Chocolate Chip Cookies, Meringue Chocolate Chip Cookies and Eggnog Cookies, especially around the holidays, but if I had to choose just one flavor, it would definitely -- without a doubt -- be chocolate chip.
I've been making these easy chocolate chip cookies forever. My grandma made the absolute best homemade chocolate chip cookies every Christmas, and when I was old enough, I began making them on my own. My kids are making them now!
What's the best chocolate chip cookie recipe?
We started out using the recipe on a bag of chocolate chips, but over the years it just evolved into something a little bit different. I think just about everyone has a favorite chocolate chip cookie recipe. Some like nuts, some don't, and some like crispy cookies, while others like them soft and chewy.
And really, there's no right or wrong way to make these wonderful treats. But personally, I like mine slightly crispy around the edges and soft in the middle, with loads of chocolate chips. And no nuts -- no way. But with cinnamon and extra brown sugar -- yes!
How do you make the best chocolate chip cookies?
As much as I love one-bowl recipes, you do need two bowls for this cookie recipe. Mix your dry ingredients in one bowl, and cream butter and the sugars in another bowl. I use a little more brown sugar than white, which helps keep these chocolate chip cookies soft and chewy.
I also recommend mixing the dough by hand -- It's a pain, I know. But, it prevents overworking the dough, which can make the cookies spread out too much in the oven.
Gradually mix the dry ingredients in with the wet, and then stir in the chocolate chips. Not to be a chocolate snob or anything, but I prefer Ghirardelli or Guittard semi sweet chocolate morsels.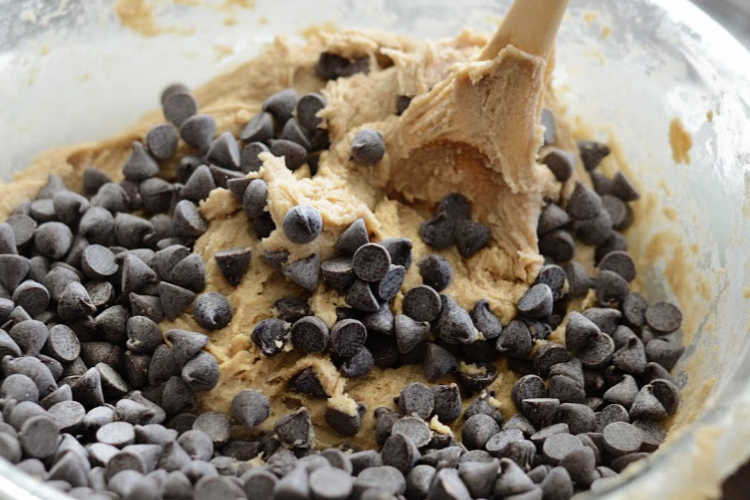 I also like to chill the dough before baking -- just for 15 minutes or so. And, I make sure the cookie sheets aren't warm-- pop them into the fridge if you're reusing them. This helps prevent the dough from spreading too much.
I use a tablespoon to scoop a generous amount of cookie dough and drop it onto silicone baking sheets or parchment paper. Press the dough slightly, but don't flatten it.
See, I'm super picky about making the best chocolate chip cookie, and I honestly think the conditions have to be just right in order for them to turn out the way I like them. The butter can't be too soft, and the batter has to be stiff, and the cookie sheets should be nice and cold.
Bake them until the edges are just lightly browned and firm. The center will be soft but will firm up as the cookies cool. You do not want to over bake these cookies!
And in the end, you get a soft, chewy, very chocolaty, warm, gooey chocolate chip cookie. They're soft in the middle and slightly crispy around the edges. These are amazing when dipped in a tall glass of cold milk or a hot mug of cocoa or even coffee. Yum!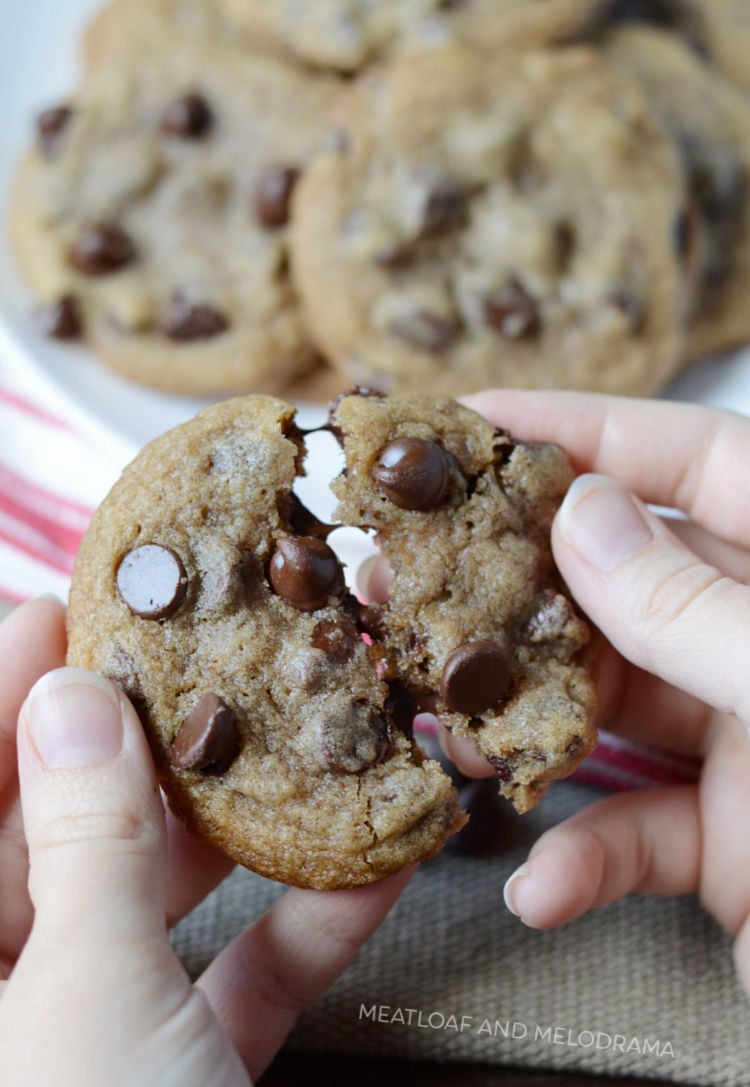 How do you make soft gooey cookies?
Use more brown sugar than white
Chill dough before baking
Bake on cold ungreased cookie sheets
Do not over bake the cookies
The Best Chocolate Chip Cookies Recipe
Recipe
Best Chocolate Chip Cookies
The best chocolate chip cookies are crisp around the edges, soft and chewy in the center and filled with lots of chocolate chips! The perfect chocolate chip cookie recipe is a family favorite!
Ingredients
2 ¼

cups

flour

½

teaspoon

sea salt

1

teaspoon

baking soda

1

tablespoon

cinnamon

1

cup

brown sugar, firmly packed

½

cup

white sugar

1

cup

butter

slightly softened

2

teaspoons

vanilla extract

2

large eggs

2

cups

semi sweet chocolate chips

Sugar crystals or sprinkles for decorating (optional)
Instructions
In medium mixing bowl, stir together flour, salt, cinnamon and baking soda, and set aside.

In large bowl, cream the butter, sugars and vanilla extract together until soft.

Add the eggs, one at a time, beating well after each egg is added, then gradually add the flour mixture, and mix until completely blended.

Stir in the chocolate chips, and refrigerate dough for 15 to 30 minutes. Drop tablespoon-sized balls onto ungreased baking sheets, leaving about an inch between the dough balls.

Press down slightly for more even baking, and bake at 350 degrees for 10 to 12 minutes (depending on your oven), or until edges are just slightly brown. Do not over bake

Remove from oven, allow to cool slightly, then transfer to cool surface or baking rack to cool completely
Notes
If you don't like a lot of cinnamon, omit or reduce amount to 1 teaspoon.
Use silicone baking mats or parchment paper for best results.
If dough is firm and your kitchen is cool, you can skip refrigerating the dough.
Nutrition information is estimated. Please do your own calculation to fit special diets.
Nutrition
Calories:
170
kcal
Carbohydrates:
20
g
Protein:
1
g
Fat:
9
g
Saturated Fat:
5
g
Cholesterol:
23
mg
Sodium:
118
mg
Potassium:
78
mg
Fiber:
1
g
Sugar:
12
g
Vitamin A:
175
IU
Calcium:
18
mg
Iron:
1.1
mg