This easy recipe for Baked Acorn Squash with maple syrup and brown sugar makes a delicious fall side dish that's special enough for Thanksgiving.
Candied acorn squash filled with maple syrup, butter and brown sugar is one of our favorite baked acorn squash recipes. As much as I love savory stuffed acorn squash, this sweet roasted acorn squash is a favorite Thanksgiving side dish, along with easy mashed sweet potatoes, Instant Pot Corn Casserole and Instant Pot mashed potatoes.
I love how acorn squash looks. I love the shape and the color, so I buy some early in the season, put them in a large wooden bowl and use this as my kitchen table centerpiece until I'm ready to cook the squash.
It makes a natural, beautiful arrangement, but I just have to remember to cook it! So right before Thanksgiving, when I'm planning my Christmas decorations, I'll take the centerpiece apart and serve it for dinner -- fun, huh?!
Acorn squash is super easy to prepare, and really, the hardest part is cutting it in half. So I sometimes cheat and have the Hubs cut it for me, and then I do the rest.
How to make Acorn Squash with Brown Sugar and Maple Syrup
First, cut the squash in half. Then, scoop out the seeds with a spoon or fork. If you've ever scooped out pumpkin seeds, this part is a breeze!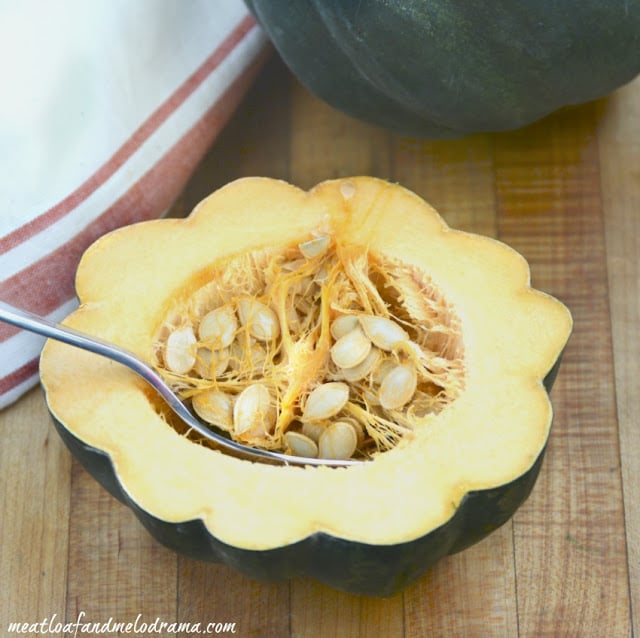 A lot of recipes recommend baking the squash with the cut side down first. This softens up the inside before you add anything to it. But, I found an even easier, quicker way to cook acorn squash!
Cook Acorn Squash in the Microwave
I cook the acorn squash in the microwave for a few minutes -- just until it's slightly soft inside. Then, I fill the cavity with a little butter, maple syrup, brown sugar and cinnamon.
How Long to Bake Acorn Squash
It takes about 30 minutes to bake acorn squash in the oven at 375 degrees. The insides are soft, and the tops get a nice golden brown color without being overdone.
When the squash is done, it's filled with a sweet, caramel-like filling that makes it taste like dessert. Yum.
How to Cook Acorn Squash in the Air Fryer
I tried baking the squash in the air fryer, and it was even quicker and easier than the oven!
Follow the above steps to prepare the squash., and add the filling. No need to precook the squash before filling it! Then, preheat to 360 degrees, and cook for 10 minutes or until tender and golden brown on top.
I have an oven-type air fryer (Instant Pot Vortex). Cook times may vary among different brands or models.
I usually cut the squash in half, which makes the sauce spill out, but I scoop it up again and drizzle the sauce over the cut squash, and everyone's happy, especially the kiddos since this is about the only way they eat squash!
Baked Acorn Squash Recipe
Recipe
Baked Acorn Squash
This easy recipe for Baked Acorn Squash with maple syrup and brown sugar takes ordinary squash to an entirely different level and makes it special enough for a Thanksgiving side dish!

Ingredients
3

acorn squash

cut in half

pinch of salt

6

tablespoons

brown sugar

12

tablespoons

maple syrup

1

teaspoon

cinnamon

1

tablespoon

butter
Instructions
Scoop the seeds out from the center with a large spoon.

Microwave the squash for 3 minutes or until slightly soft.

Sprinkle the insides with salt, and add 1 tablespoon of brown sugar and 2 tablespoons of maple syrup to each squash half.

Add some of the cinnamon to each half.

Rub the top of each half with butter, and bake at 375 degrees for 30 minutes, or until insides of squash are soft.

Optional -- Air fry squash at 360 degrees for 10 minutes or until tender using oven-style air fryer
Notes
Tip -- slice a small piece off the skin of the rounded back of the squash so that it doesn't wobble in the baking dish
Nutrition information is estimated. Please do your own calculation to fit special diets.
Nutrition
Calories:
257.35
kcal
Carbohydrates:
61.45
g
Protein:
1.77
g
Fat:
2.11
g
Saturated Fat:
1.25
g
Cholesterol:
5.02
mg
Sodium:
30.12
mg
Potassium:
853.75
mg
Fiber:
3.41
g
Sugar:
35.62
g
Vitamin A:
849.2
IU
Vitamin C:
23.7
mg
Calcium:
128.01
mg
Iron:
1.64
mg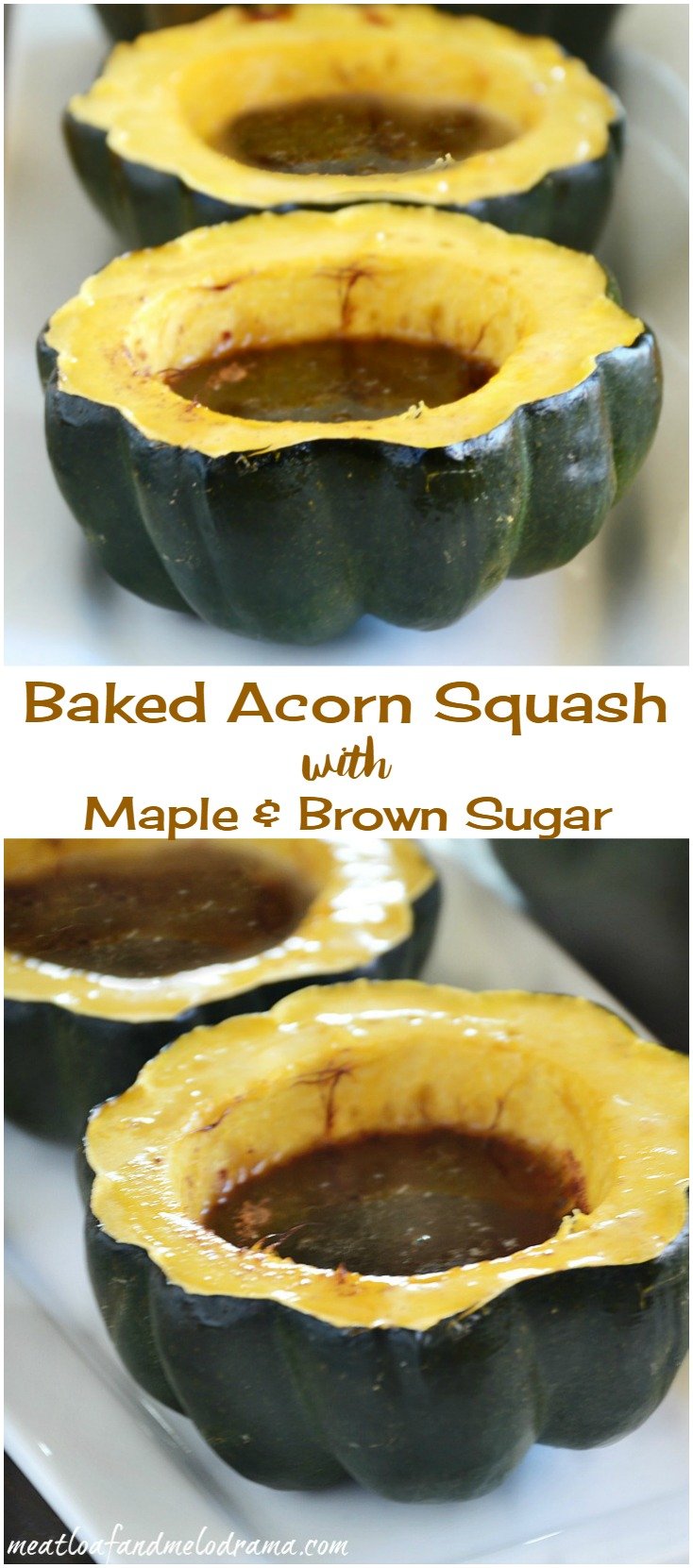 Recipe has been updated as of October 29, 2019