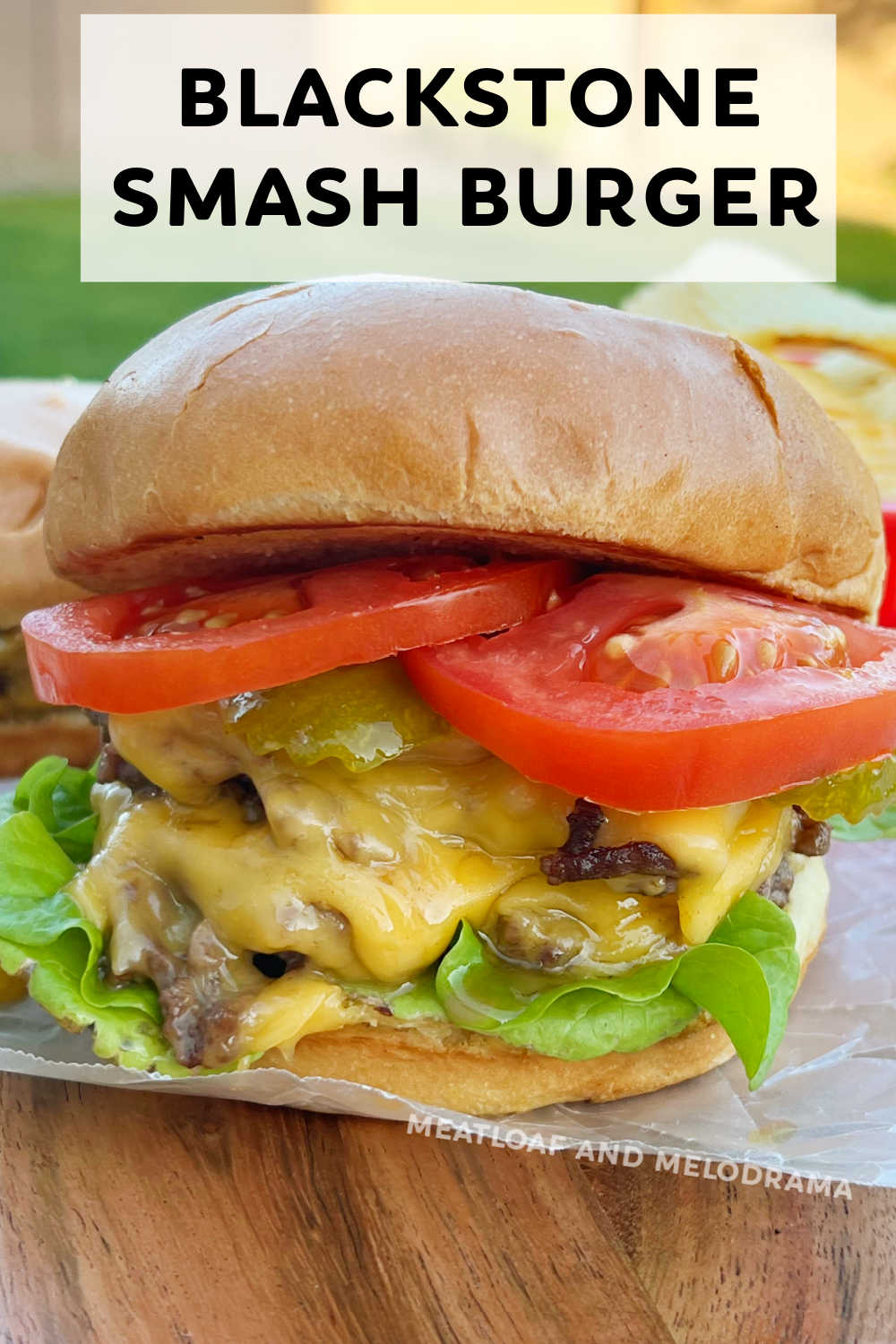 This Blackstone Smash Burger recipe lets you make homemade smash burgers on the Blackstone griddle or any flat top grill. Better than takeout and a new family favorite!
You can make the BEST smash burgers on the Blackstone griddle! We have been making smash burgers, Blackstone cheesesteaks and more on our new Blackstone griddle almost every week.
It's cheaper than eating out, and homemade smashburgers taste better! Even though we love Onion Soup Mix Burgers and Air Fryer Hamburgers, my kids say a thin crispy crust hamburger patty makes the best burger ever!
If you don't have a flat top grill, you can make smash burgers at home in a cast iron skillet or the Ninja Foodi Grill Griddle.
Ingredients
You only need a few simple ingredients for this juicy smash burger recipe. What you don't already have at home should be easy to find online or at your local grocery store:
Ground chuck -- 80/20 blend works best
Sea salt
Black pepper
Garlic powder -- optional
Onion powder -- optional
Avocado oil or butter
Cheese, burger buns and toppings of your choice
You will also need parchment paper or wax paper ( to keep meat from sticking ) or a burger press, a small measuring cup and large metal spatula.
How to Make Smash Burgers on Blackstone Griddle
Unlike a traditional burger, you don't mix the ground meat and form it into a ball. You want a loosely packed burger ball here so it's easier to smash down.
The best way to form loose balls is to scoop hamburger meat into a small measuring cup. We like a ⅓ cup or ¼ cup for these burgers.
Don't pack the ground beef tightly into the measuring cup.
Next, place the burger balls on a platter or plate. You can season them now or as you are cooking them.
Heat the griddle to medium high heat. You can grease the Blackstone grill with butter or avocado oil or a little bit of both.
Pro tip -- Add the butter to the hot griddle right before you add your burgers so the butter doesn't burn.
When the griddle surface temperature is hot enough, place the balls of ground beef onto the griddle surface.
Once all burger patties are on the griddle, place a piece of parchment paper or wax paper over the meat, and use a large spatula to smash the meat into thin patties.
If you have a hamburger press or a bacon press, by all means use that! If you don't have wax paper or parchment paper, non stick cooking spray also works!
Cook Time
After smashing the burgers, remove the wax paper.
Cook burgers for 3 to 5 minutes, or until the bottom side of the burger is cooked and crisp. Then, flip burgers and cook for an additional 3 minutes, or until the burgers are cooked through.
These burgers have a thin patty and get golden brown fairly quickly. For safety, make sure that each smashed burger has an internal temperature of 165 degrees F.
During the last minute of cooking, add a slice of cheese to the top of the burger. You don't have to add cheese while the burgers are still on the griddle, but I just love how the cheese melts this way!
You can also toast buns on the griddle. It's not necessary to toast buns, but it's just a good idea since burgers always taste better on a toasted bun!
Just add a little butter or oil to the side of the griddle you're not using, and place buns on the surface, cut sides down.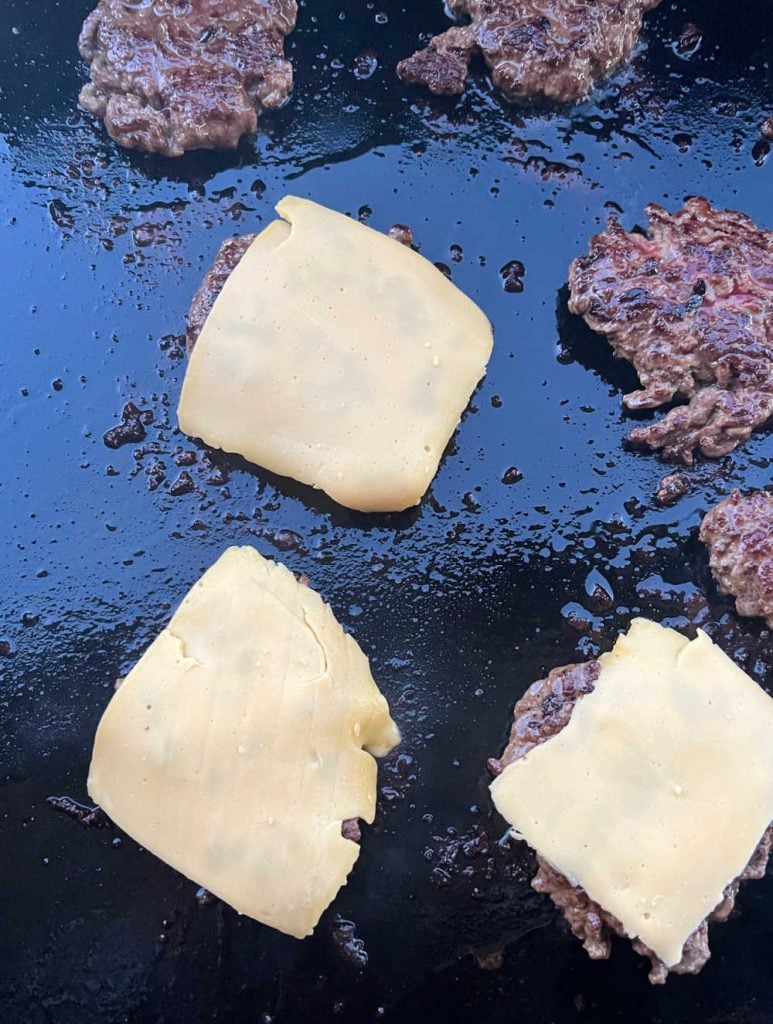 And that's all you need for delicious smashed burgers!
You can assemble single smash burgers, or double smash burgers by making a double stack of patties.
The men in the family prefer the doubles, while the girls and I love singles!
Add extra cheese, lettuce, tomatoes, onions, or whatever you need for your perfect smash burgers!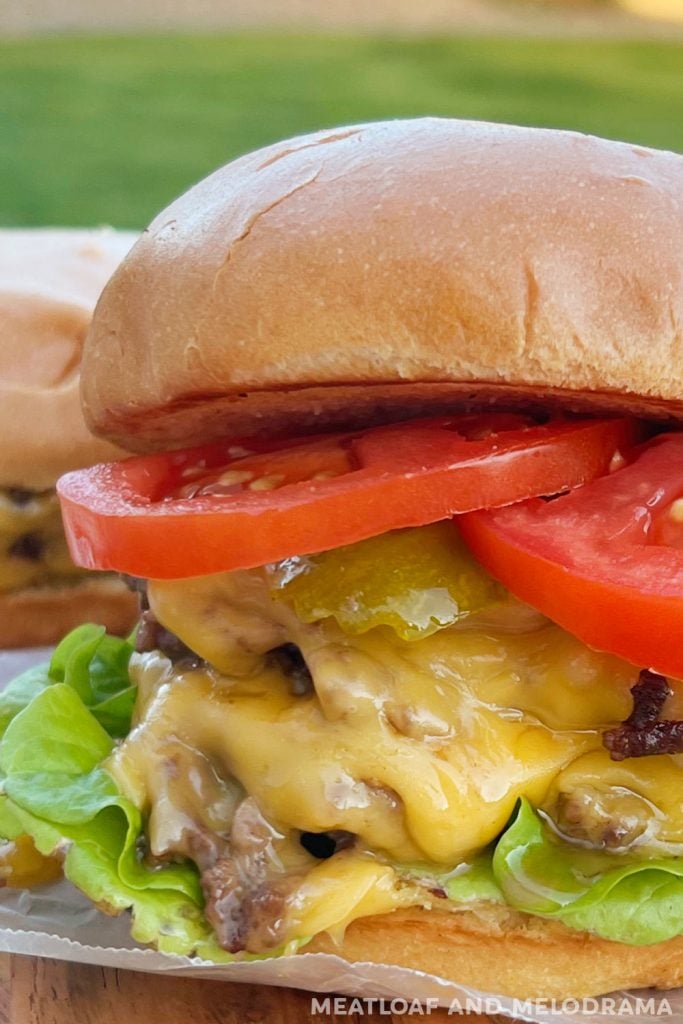 How to Store and Reheat
Store any leftover smash patties in an airtight container in the refrigerator, where they'll last 4 to 5 days.
You can also freeze your burgers in a freezer safe container. Or, freeze your pre-portioned burger balls, defrost them, and smash them on the griddle when you're ready.
Reheat burgers in the microwave until hot. Or, reheat them on the stove.
Variations
There are a couple easy ways to customize this Blackstone smash burgers recipe.
Of course, you can make these burgers with or without cheese. We usually use American cheese, but colby jack cheese, pepper jack cheese, and sharp cheddar cheese all make delicious cheeseburgers!
In addition to the smash burgers, you can also cook bacon, toasted buns, and onions on the Blackstone griddle. Just keep an eye on everything cooking at different temperatures!
Use whatever type of hamburger buns you like best. We usually use brioche buns, but these perfect burgers taste great with a sesame seed bun, regular white bun, and potato bun too!
Use your favorite seasoning blend, and enjoy your smash burgers with ketchup, mustard, BBQ sauce, your favorite burger sauce, and your favorite toppings.
May contain affiliate links. See disclosure for more information.
Recipe
Blackstone Griddle Smash Burger Recipe
This Blackstone Smash Burger recipe lets you make homemade smash burgers on the Blackstone griddle or any flat top grill. Better than takeout and a new family favorite!
Ingredients
2

pounds

ground chuck

80/20 blend

1½

teaspoon

sea salt

1

teaspoon

black pepper

1

teaspoon

garlic powder

optional

1

teaspoon

onion powder

optional

1

tablespoon

avocado oil

or butter
Instructions
Scoop ⅓ cup ground beef at a time and form into loose balls

Season with salt, pepper, garlic powder and onion powder

Heat Blackstone griddle to medium high heat. Brush butter or avocado oil on cooking surface

Drop burger balls onto griddle, place wax paper over balls, and smash with large metal spatula

Remove wax paper, and cook for about 3 to 5 minutes or until bottom is cooked and crisp

Flip burgers over and cook for an additional 3 minutes or until burgers are cooked through

Add cheese slices and toast buns during the last minute of cooking if desired.
Notes
Nutritional values are approximate.
Actual cooking time depends upon how hot the griddle is and the size of the burger.
You can make double smash burgers by using 2 burgers per bun.
For safety, burgers should be cooked until the internal temperature is 165 degrees.
Nutrition information is estimated. Please do your own calculation to fit special diets.
Nutrition
Calories:
306
kcal
Carbohydrates:
1
g
Protein:
20
g
Fat:
24
g
Saturated Fat:
9
g
Polyunsaturated Fat:
1
g
Monounsaturated Fat:
11
g
Trans Fat:
1
g
Cholesterol:
81
mg
Sodium:
512
mg
Potassium:
317
mg
Fiber:
1
g
Sugar:
1
g
Vitamin A:
1
IU
Vitamin C:
1
mg
Calcium:
23
mg
Iron:
2
mg
These best homemade smash burgers have been my family's favorite things ever since we got a flat top griddle!
We've cooked up a batch of these amazingly delicious homemade smash burgers at least once a week!
Loved this recipe? Be sure to leave a 5 star rating and comment!
For more Blackstone recipes, easy recipe ideas, delicious hamburger recipes, and quick dinners, be sure to subscribe to the newsletter and follow me on social media!