Make Juicy Air Fryer Hamburgers or cheeseburgers in just 15 minutes with this easy air fryer burger recipe. Enjoy burgers anytime in any weather!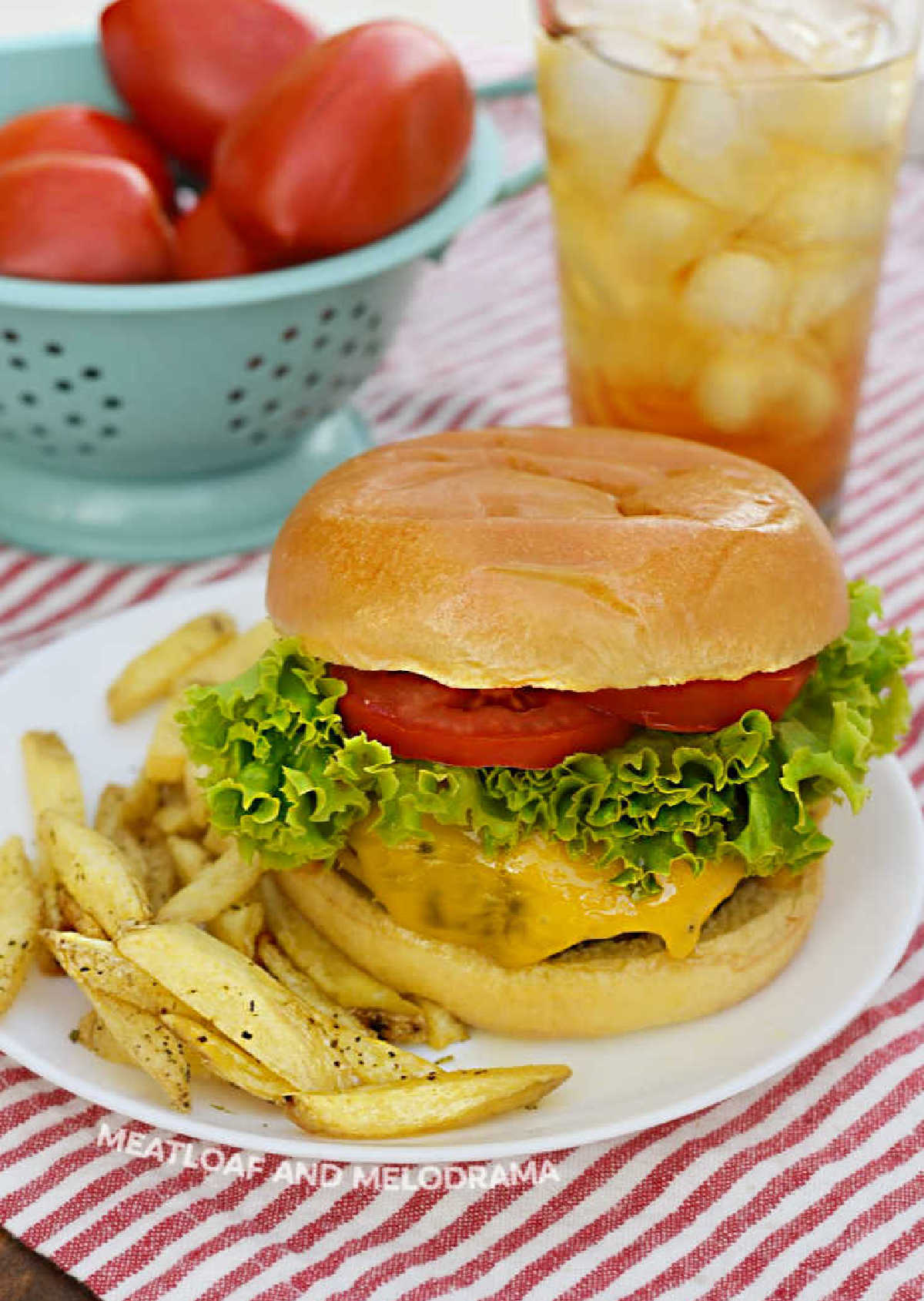 Jump to:
If it's too hot to grill or you don't have a BBQ, these air fryer burgers are the way to go! This is definitely one of our favorite air fryer recipes, and it's perfect when you want a quick and easy meal!
There's nothing better than a thick, juicy burger fresh off the grill, right? As much as I love making smash burgers or burgers on the grill, grilling isn't always an option.
You can always make Instant Pot Hamburgers, but it's even easier to make burgers in the air fryer. I use my Instant Vortex Plus or my Ninja Foodi, and they're perfect every time.
Ingredients
You only need a few ingredients for this air fryer burger recipe. You can find them in your local grocery store if you don't have them at home:
Ground beef -- I recommend 80/20 mix
Dried minced onions
Sea salt
Garlic powder
Ground black pepper
Water
Sliced cheese -- optional
How to Cook Burgers in the Air Fryer
We keep the seasoning pretty simple to let the beef flavor shine here. I also add a secret ingredient to make these burgers extra juicy -- water. Try it -- works every time!
First, you season the ground beef and add the water. Then, form the beef into patties, about ½ inch thick.
Next, press your thumb into the center of each patty to make a small indentation. This will keep the patties from shrinking up too much. Keep patties in a single layer for best results.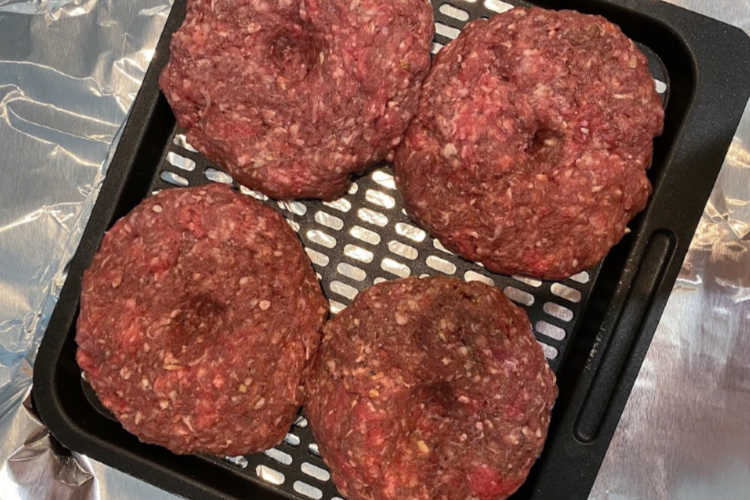 Cook Time
Preheat your air fryer to 400 degrees f. When it's hot enough, place the tray into your air fryer.
Set the time for 15 minutes. Flip the burgers over about halfway through the cooking time so that they cook and brown evenly.
For safety, I cook hamburgers until the internal temperature reaches 160 degrees on a meat thermometer. 15 minutes is all it takes here.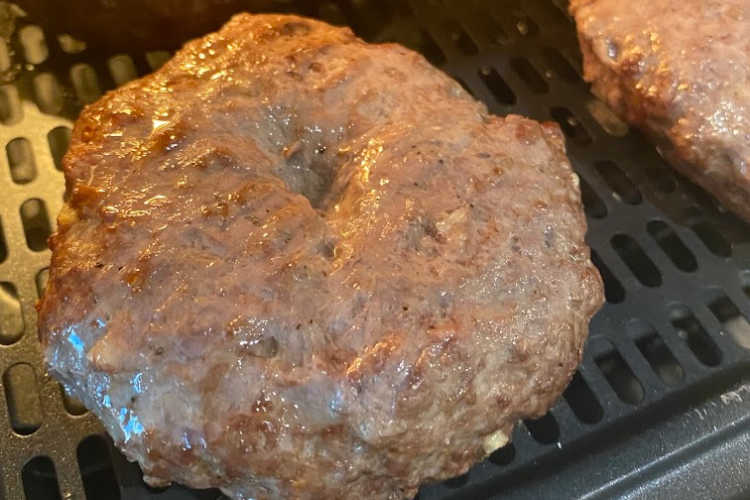 If you want to make cheeseburgers in your air fryer, add the cheese during the last few seconds. It melts super fast!
I recommend using your favorite sliced cheese here. We use sliced American cheese-- a classic!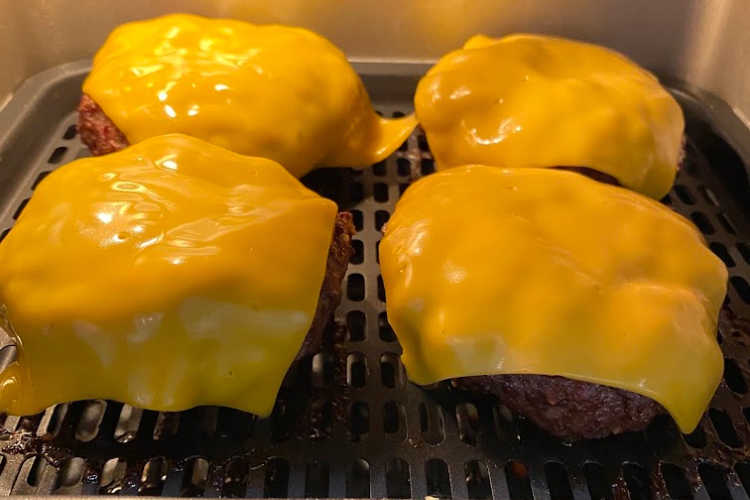 The burgers are thick, juicy and so delicious! Top them with lettuce, tomatoes, bacon and whatever you want!
Serve with air fryer french fries or grilled corn on the cob and pickles and your favorite potato chips on the side.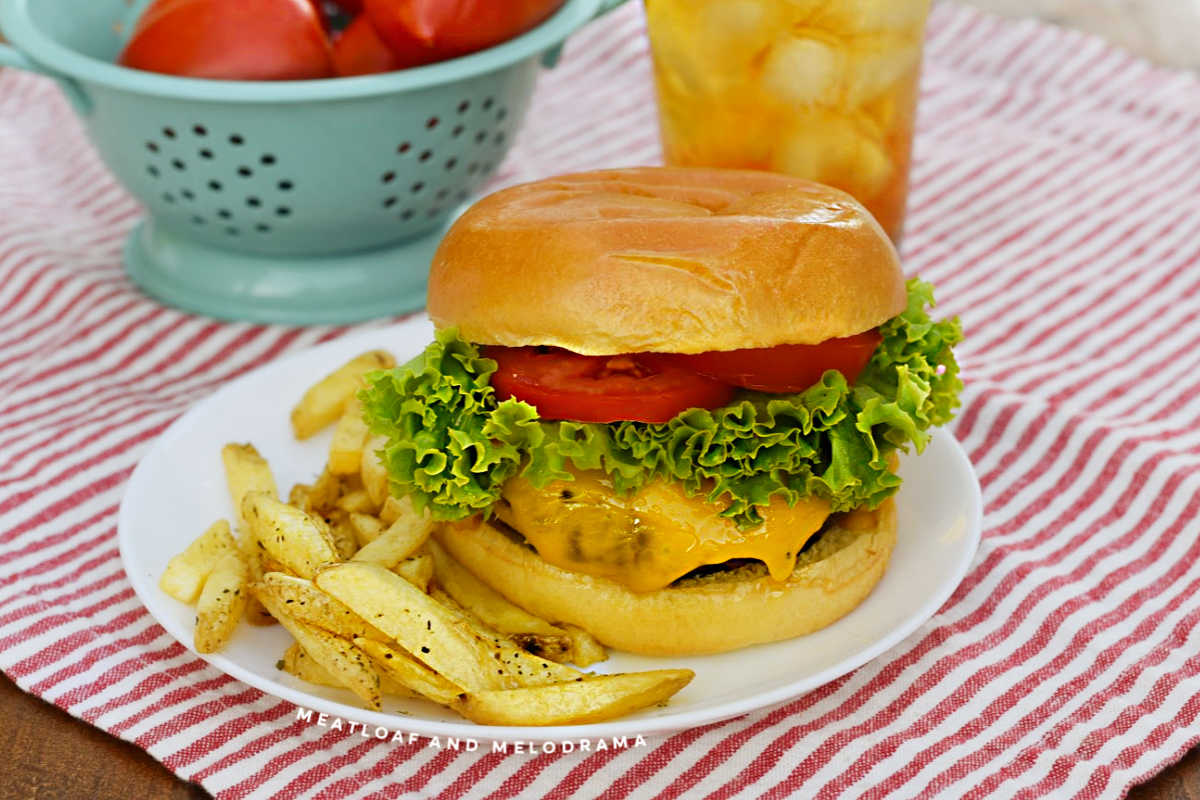 Variations
There are a few ways to customize air fryer cheeseburgers to your liking.
Season burgers however you like. I sometimes throw on some onion powder or paprika or smoked paprika. Making onion soup burgers with a packet of onion soup mix and Worcestershire sauce is a great choice!
Some folks like to add liquid smoke, as well.
Top your tasty burger with a slice of cheese of your choice. Instead of American cheese, try Colby Jack cheese, Monterey Jack cheese, cheddar cheese, or pepper jack cheese. Shredded cheese might get messy, but it works just as well!
Add your favorite toppings! Keep it simple with cheese slices, lettuce, tomatoes, and ketchup. Or, add bacon, BBQ sauce, onions, or whatever your heart desires.
You can also make air fryer turkey burgers with ground turkey, or air fryer veggie burgers. I'm telling you, this air fryer hamburger recipe is a real game changer!
Remember, there's no one way to make a good burger!
How to Store and Reheat
Store any leftover hamburger patties in an airtight container or covered with plastic. They'll last 4 to 5 days in the refrigerator.
For longer storage, you can freeze the burgers, as long as they don't have any cheese or toppings on them.
Reheat burgers in the air fryer or microwave.
Recipe
Juicy Air Fryer Hamburgers
Make Juicy Air Fryer Hamburgers or cheeseburgers in just 15 minutes with this easy air fryer burger recipe. Enjoy burgers anytime in any weather!
Ingredients
1.5

pounds

ground beef

2

teaspoons

dried minced onions

1

teaspoon

sea salt

1

teaspoon

garlic powder

½

teaspoon

ground black pepper

1

tablespoon

water

sliced cheese

optional
Instructions
Mix the dried onions, sea salt, garlic powder, pepper and water into the ground beef, and form into 4 patties, approximately ½ inches thick

Place patties onto air fryer tray, and make an indentation in the middle with your finger or thumb

Preheat air fryer to 400 degrees, and cook for 15 minutes, turning patties over about halfway through cook time.

Add cheese slices during the last few seconds of cooking
Notes
Check for doneness before adding cheese. Ground beef burgers are done when internal temperature reaches 160 degrees, according to a meat thermometer.
Thinner burgers require less cooking time, and more time may be needed for thicker burgers.
Nutrition information is estimated. Please do your own calculation to fit special diets.
Nutrition
Calories:
444
kcal
Carbohydrates:
3
g
Protein:
30
g
Fat:
34
g
Saturated Fat:
13
g
Cholesterol:
121
mg
Sodium:
697
mg
Potassium:
508
mg
Fiber:
1
g
Sugar:
1
g
Vitamin C:
2
mg
Calcium:
37
mg
Iron:
3
mg
The air fryer has become my favorite way to get super juicy hamburgers in just a couple of minutes! I hope you enjoy the best air fryer burgers as much as my whole family does!
For more great burger recipes, easy recipe ideas, and quick meal inspirations, subscribe to the newsletter and follow me on social media!

Recipe published in 2020 and updated in 2022.