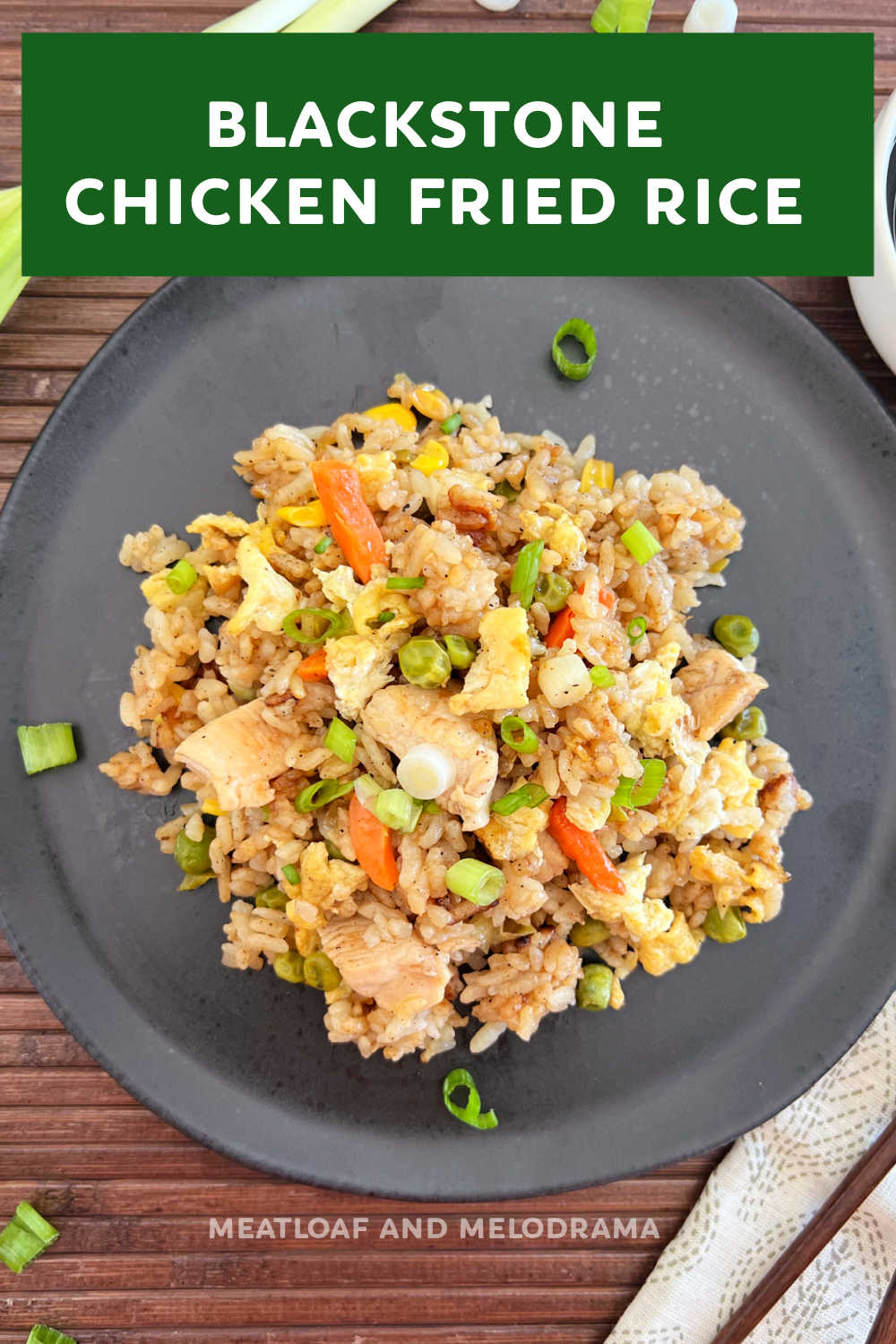 Learn how to cook chicken fried rice on the Blackstone griddle with this easy Blackstone Chicken Fried Rice recipe. A complete meal in minutes the whole family will love!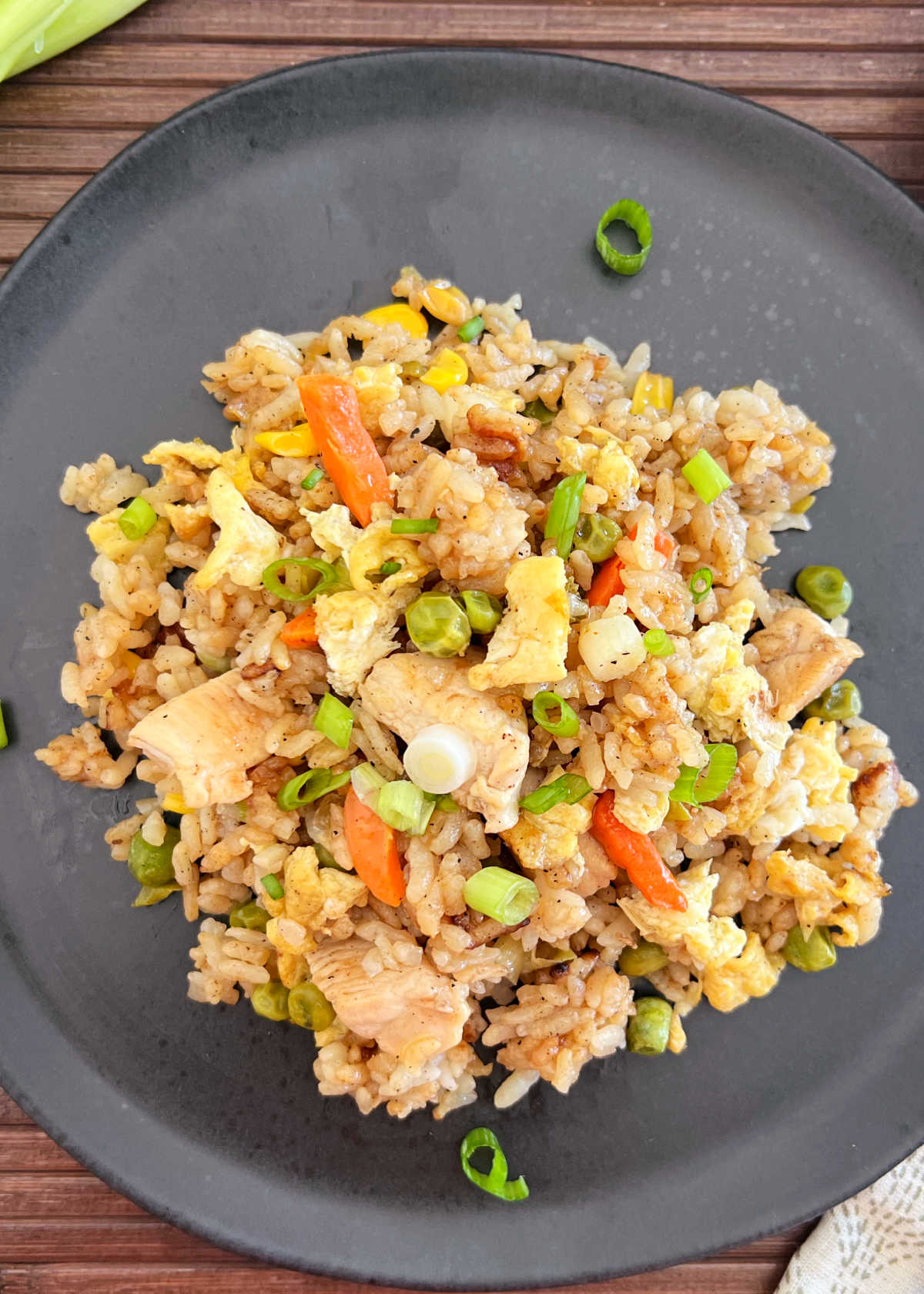 Jump to:
This Blackstone chicken fried rice recipe is a family favorite! My kids love it because it tastes like hibachi chicken fried rice from their favorite hibachi restaurant.
Tender flavorful chicken, crispy seasoned rice and veggies all blended together for the perfect chicken fried rice!
I love this easy recipe because it comes together quickly and takes minutes to make. One of my favorite things about cooking on the Blackstone griddle is we can make enough food to feed our large family in minutes!
Plus, we save money by making restaurant favorites at home. Some of our favorite Blackstone recipes include Blackstone Smash Burgers, Blackstone Cheesesteaks, Sonoran hot dogs and more!
Ingredients
You only need a few simple ingredients for this Blackstone fried rice recipe. If you don't have these pantry staples at home, you can find them in grocery stores or online.
Avocado oil -- You can use vegetable oil or any oil with a high smoke point
Chicken breasts -- cubed. Cooks faster than whole chicken breasts
Sea salt
Garlic powder
Ground ginger
Ground black pepper
Jasmine rice -- I make jasmine rice in the Instant Pot and use leftovers the next day. 2 cups of uncooked white rice is about 6 cups cooked rice.
Frozen mixed vegetables
Low sodium soy sauce
Eggs -- lightly beaten. You can skip if you don't like them
Green onions
Toasted sesame oil -- for extra flavor at the end of cooking
Butter -- optional, but adds flavor to the fried rice
Pro tip -- mix the salt, garlic powder, ginger and pepper together to make it easier to season the food as you are cooking.
You will also need a Blackstone griddle or flat top grill. Hibachi spatulas will make this chicken fried rice griddle recipe easier, but any large spatulas for grilling will do.
How to Make Chicken Fried Rice on Blackstone
First, have all of your ingredients prepped and ready to go. Hibachi chicken is a fast meal that cooks very quickly on the Blackstone grill, so preparation is key to successful outdoor griddle cooking.
Then, heat the griddle to medium heat or medium high heat. When you're ready to cook, add the avocado oil to the griddle.
Add the cut up chicken, and season it with some of the seasoning mixture. Turn the chicken with the spatula so that it cooks evenly.
When the chicken is cooked, move it over to the cooler side of the griddle.
Then, add a little more oil or butter if you're using it, to the griddle. Then, add your cooked rice and frozen vegetables.
Season the rice and veggies with more of the seasoning mix and some of the soy sauce.
Keep turning the rice with the spatula so it browns evenly. When the rice starts to get golden and crispy, push it aside.
Then, pour the beaten eggs on the center of the griddle. Start scrambling them as soon as they bubble up. They cook fast!
Finally, push the chicken, rice, veggies and eggs together. Add the green onions, remaining seasoning and soy sauce while mixing the ingredients.
You can add more green onions to the top of the chicken fried rice right before serving for extra color and crunch.
I like to sprinkle drops of toasted sesame oil over the rice at the end of cooking. It adds tons of nutty flavor to this dish!
Cook Time
The cooking time for this chicken fried rice griddle recipe is about 15 minutes. Total cook time will depend on how much food you are making and your individual griddle.
Also, the more you cook on the Blackstone, the faster the cooking process gets.
Cooking Tips
Start with cold rice for best result. Use leftover rice or day-old rice made the day before or early in the day and refrigerate until you are ready to cook dinner.
Prep all of your ingredients before cooking to make the cooking process smoother. You can place the prepped ingredients in individual bowls or on plates and use a sheet pan to carry them outside.
Taste the food as you go. You may want to add more spices or soy sauce depending on your own tastes.
Large aluminum foil pans are perfect for carrying the cooked food back inside.
What to Serve with Chicken Fried Rice
Chicken fried rice is pretty much a complete meal. But, we like to cook frozen egg rolls in the air fryer to go along with the main dish.
Simple fresh fruit salad is a great choice, also. And, fortune cookies are perfect for dessert!
How to Store and Reheat
Store leftover fried rice in an airtight container in the refrigerator, where it'll last for 3 to 4 days.
Reheat leftovers in the microwave.
Variations
There are a couple ways to customize this best chicken fried rice recipe to your tastes.
Use any long grain rice or brown rice.
Chose your favorite protein for the meal. Shrimp, pork, beef, and even pre-cooked chicken tenders are all great options.
Make this recipe meatless by just cooking the rice, veggies, and eggs, or vegan by leaving out the eggs too.
I like to use a blend of frozen peas, corn, carrots, and green beans, or just peas and carrots, but you can use whatever you like. Incorporate fresh vegetables too, if you want. Try yellow onion, bell pepper, fresh ginger and broccoli.
As a soy sauce alternative, use coconut aminos. You can add fish sauce for more flavor and top with sesame seeds.
Recipe
Blackstone Chicken Fried Rice
Learn how to cook chicken fried rice on the Blackstone griddle with this easy Blackstone Chicken Fried Rice recipe. A complete meal in minutes the whole family will love!
Ingredients
3

tablespoons

avocado oil

more if needed

2

pounds

chicken breasts

cubed

1½

teaspoons

sea salt

1

teaspoon

garlic powder

½

teaspoon

ground ginger

⅓

teaspoon

ground black pepper

2

tablespoon

butter

optional

6

cups

jasmine rice

cooked

2

cups

frozen mixed vegetables

¼

cup

low sodium soy sauce

3

large

eggs

lightly beaten

5

green onions

chopped

toasted sesame oil
Instructions
Heat the Blackstone griddle to medium heat

Add some of the avocado oil to the griddle, and spread evenly with spatula

Add the chicken to the griddle, season with part of the spice mixture, and cook until cooked completely and light golden brown, turning often with spatulas. Push to cooler side of griddle

Add more oil to the griddle (and butter, if using). Add the rice and vegetables, and season with more of the spice mixture and some of the soy sauce. Cook until veggies are heated through and rice is starting to brown. Push aside

Add the scrambled eggs to the griddle, and scramble with spatula when they start to bubble

Add the onions and remaining spices, and mix the chicken, eggs, rice and veggies together. Add remaining soy sauce and mix once more. Taste, and add more soy sauce if necessary. Finish with drops of toasted sesame oil and additional chopped onions before serving, if desired
Notes
3 cups of uncooked dry rice is about 6 cups cooked rice. Butter is optional but adds flavor to the rice.
I recommend stirring the spices together before using to make seasoning the food easier.
Use your favorite blend of mixed vegetables.
If using regular soy sauce you may need to use less or use less salt for the chicken.
Toasted sesame oil is used as a finishing oil at the end of cooking.
Nutrition information is estimated. Please do your own calculation to fit special diets.
Nutrition
Calories:
515
kcal
Carbohydrates:
79
g
Protein:
26
g
Fat:
9
g
Saturated Fat:
3
g
Polyunsaturated Fat:
1
g
Monounsaturated Fat:
4
g
Trans Fat:
0.1
g
Cholesterol:
100
mg
Sodium:
622
mg
Potassium:
506
mg
Fiber:
3
g
Sugar:
0.3
g
Vitamin A:
1739
IU
Vitamin C:
5
mg
Calcium:
51
mg
Iron:
2
mg
This easy fried rice recipe is the best way to get the taste of your favorite Chinese restaurant at home with just a little bit of effort. I hope you enjoy this outdoor, fun recipe as much as we do!
For more Blackstone griddle recipes, simple recipes ideas, and recipes for making basic ingredients go a long way, subscribe to the newsletter and follow me on social media!