Hey there! Fall is just around the corner, and that means it's time for comfort food again! I love almost any type of pasta, but I think baked pasta is just extra special and very comforting, especially after a long day. And this particular pasta dish is perfect for busy weeknights. Loaded with seasoned ground beef, flavorful marinara sauce and tons of ooey-gooey cheese, this Cheesy Baked Penne Pasta is one of our family's favorite meals, and I hope you'll enjoy it as much as we do!



I know I've told you how busy our weeknights are, but I know just about everyone is just as rushed as we are. The great thing about this meal is that you can serve it straight from the stove the first time around and then serve it baked for leftovers.

I do this a lot, and it's such a great timesaver! Or, if it's the weekend or for some reason I have some extra time during the week. I'll do the baked version the first time around.

Either way, the flavor is just outstanding, and I never have any complaints when I serve this for dinner. And that's always a big plus with me!




Ingredients for Cheesy Baked Penne Pasta
2 pounds lean ground beef

1 white or yellow onion, chopped

2 cloves of garlic, chopped

2 pounds mini penne pasta, cooked

2 tablespoons Italian seasoning

1 tablespoon dried basil

Salt and pepper, to taste

1 28-oz can crushed tomatoes

1 28-oz can diced tomatoes

1 tablespoon granulated sugar

2 cups shredded mozzarella

1 cup shredded Parmesan cheese

1 tablespoon olive oil


Directions
In a large pot, saute the onion in the olive oil until soft.
Add the beef and cook until brown.
Pour off any excess fat, and add the garlic, salt and pepper.
Stir in the canned tomatoes, sugar, basil and Italian Seasoning, and simmer until pasta is ready.
Drain pasta, and add to the beef and sauce mixture.
Pour into a large pan, and top with cheese.
Bake at 375 degrees until cheese is melted and pasta is bubbly.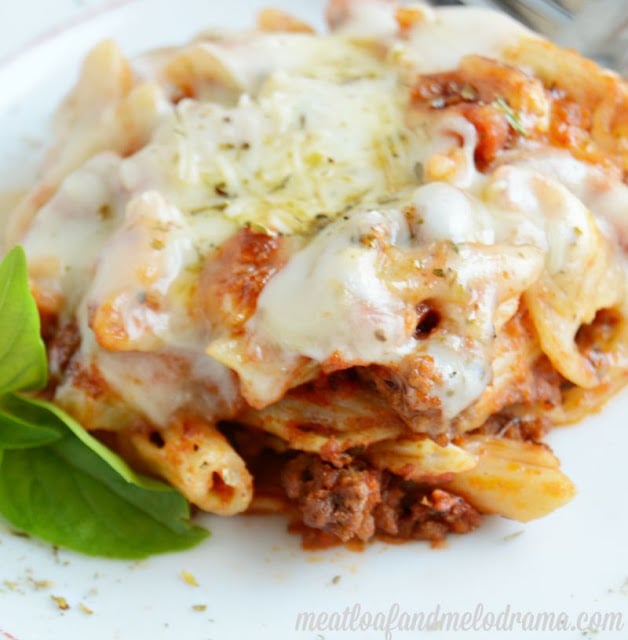 As you can see, this makes a huge amount of baked penne pasta, but it works so very well for leftovers -- even with our large family. You could also make some sanity-saving freezer meals from this. Seriously, being able to heat up food for a quick and easy dinner makes life so much easier!

If you don't want to make this much, you can easily cut the beef and pasta in half and use a jar of pasta sauce. Whatever works for you.

Thanks so much for visiting!



You Might Also Like