This easy Crock-Pot Peach Cobbler recipe uses just three ingredients, and it's made entirely in the slow cooker -- just fix it and forget it!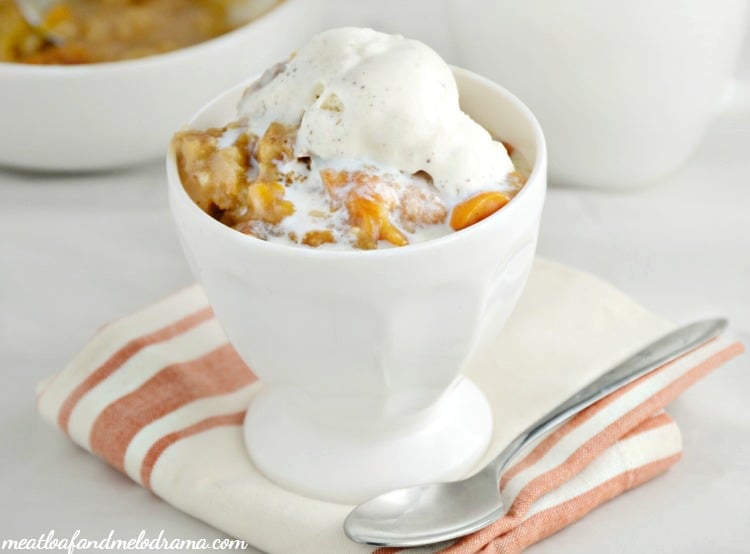 I love peaches in just about any way, shape or form. Fresh, ripe, juicy peaches are pure heaven, but as I said, I really like them all. In fact, one of the most popular recipes on the blog just happens to be a very easy peach cake, or peach dump cake, as some people call it. Personally, I'm not a huge fan of using the word dump to describe a cake, but it does describe the way you make it.
Basically, you dump canned peaches into a pan, dump cake mix over the fruit, add s come butter, and in about an hour, you've got an out-of-this world cake, or cobbler or crisp -- whatever you want to call it.
My family loves this dessert, but I usually only make it about once a year since it really heats up the house. But recently, I found out that you can make the same dessert in the slow cooker, which means you can enjoy the peachy goodness any time you want. Shirley, from Intelligent Domestications, made apple dumplings in her Crock-Pot, and it sounded so good that I just had to try making a peach cobbler the same way.
First, I buttered the bottom and lower sides of the Crock-Pot, and then, I added the canned peaches, cake mix and butter. Actually, my daughter helped with this. It's so easy, kids can do it!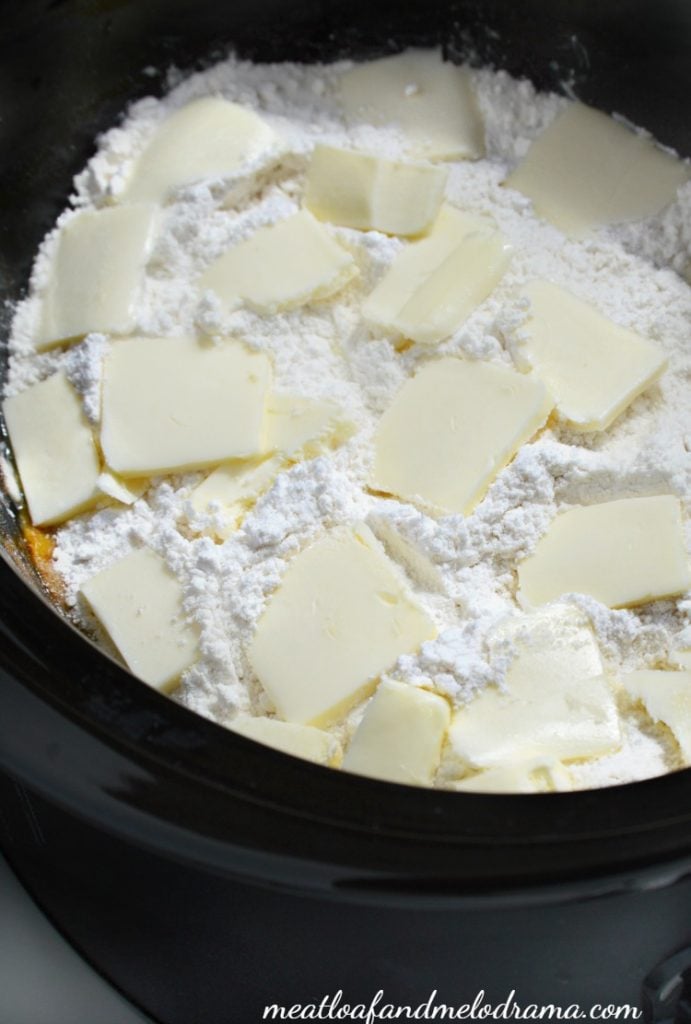 I cranked the Crock-Pot up to high, and after about 2 ½ hours, the edges were crisp, and the cobbler was all golden, brown and bubbly. I have to admit that I had my doubts about it. I mean, how does a cobbler crust get crisp in a slow cooker? But in the end, the result was awesome!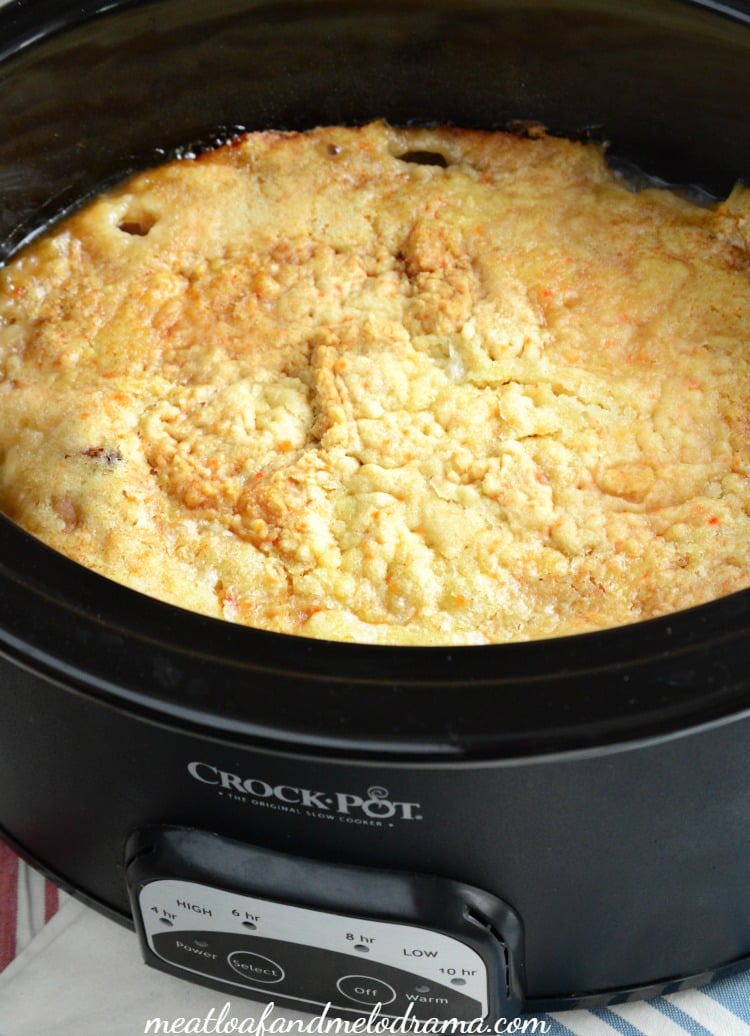 How To Make Crock-Pot Peach Cobbler
Crock-Pot Peach Cobbler
Crock-Pot Peach Cobbler is an easy peach dessert cooked in your slow cooker
Ingredients
3 15-

oz

cans of peaches

1

box yellow cake mix

8

tablespoons

cut into small pieces

1 stick butter

1

tablespoon

ground cinnamon
Instructions
Lightly grease the bottom and sides of Crock-Pot, and add undrained peaches and cinnamon

Pour the cake mix over the peaches, and spread until the mix is even

Top the mix with pats of butter

Cover, and cook on high for 2 ½ to 3 hours

Serve warm, topped with ice cream, if desired
Nutrition information is estimated. Please do your own calculation to fit special diets.
Nutrition
Calories:
292
kcal
Carbohydrates:
48
g
Protein:
2
g
Fat:
10
g
Saturated Fat:
6
g
Cholesterol:
24
mg
Sodium:
456
mg
Potassium:
121
mg
Fiber:
1
g
Sugar:
26
g
Vitamin A:
445
IU
Vitamin C:
3.4
mg
Calcium:
123
mg
Iron:
1.3
mg
This Crock-Pot peach cobbler is super juicy, but we love it that way. If you want a cobbler without a lot of juice, you could drain one or two of the cans, and it would probably be fine.
Or, just use a slotted spoon to serve it. Whatever works for you.
The cinnamon is optional too. This is basically a 3 ingredient dessert, so technically adding cinnamon makes it 4 ingredients, but it really adds extra flavor. If you don't like it, just leave it out.
But definitely serve it warm, with a large scoop of ice cream, if you can. It's amazing this way!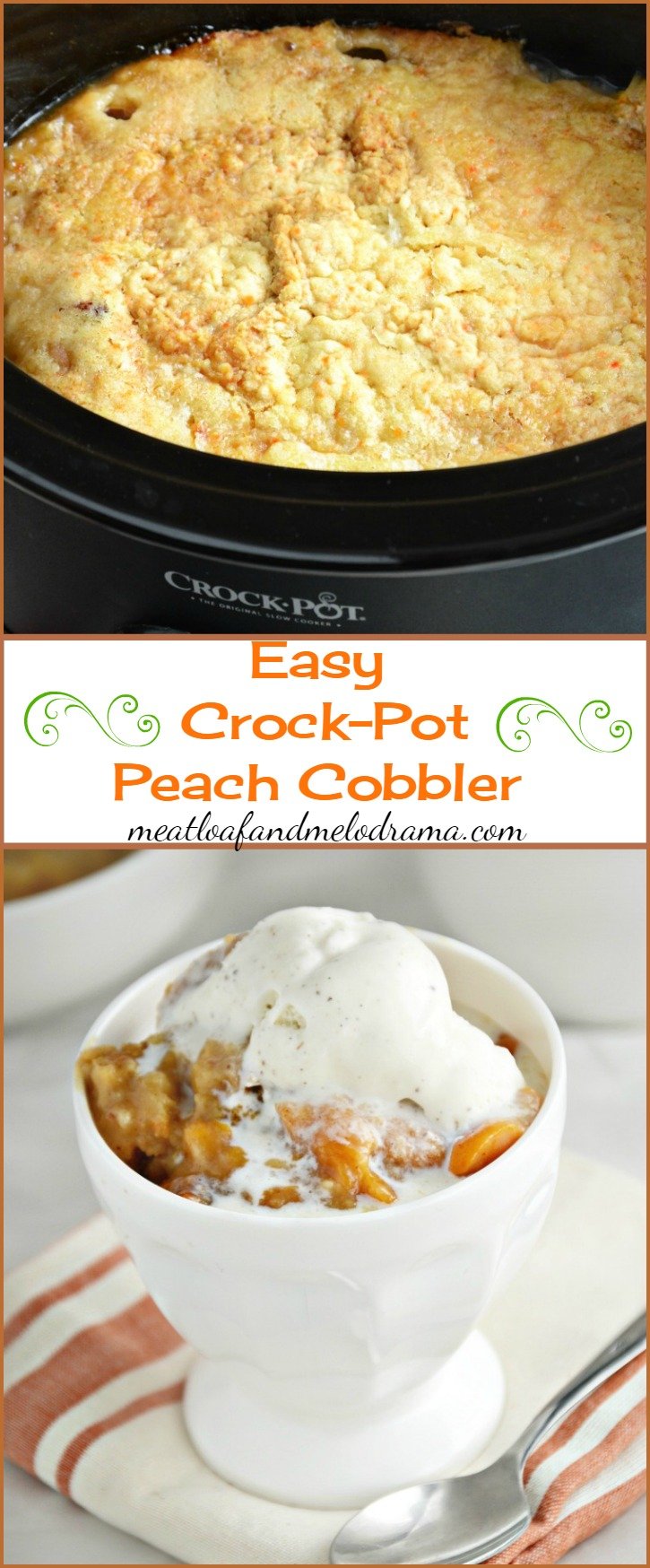 I've never used my Crock-Pot to make dessert before, but now that I know how to make a peach cobbler in the Crock-Pot, I can't wait to try other desserts. I know my family is definitely excited about the idea!
Have you ever made a cobbler or any dessert in the slow cooker?
Have a yummy day!

Sharing at
Met Monday, Wow Us Wednesday, Delicious Dishes, Weekend Potluck