Cool Whip Easter Eggs made with food coloring and whipped topping are a quick and easy way to dye hard boiled eggs for Easter.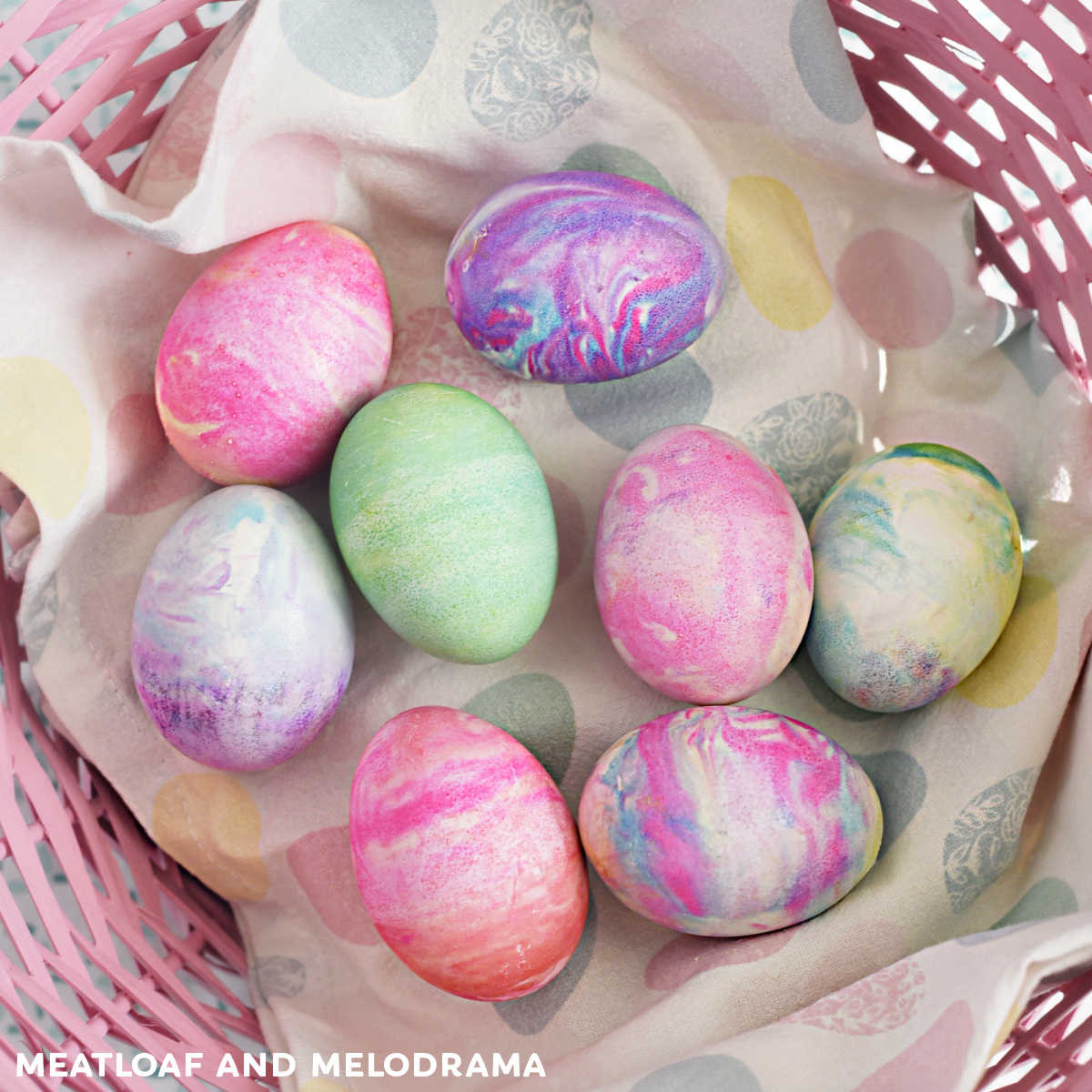 Looking for a fun and easy way to dye Easter eggs? You can make the prettiest marbled eggs with just Cool Whip and food coloring. No measuring, no spilling, no mess!
My kids love using Cool Whip to color eggs for Easter! We have been using this method for a few years now, and I finally got around to posting this. We usually make hard boiled eggs in the Instant Pot and dye eggs the Saturday before Easter. But this year, we planned ahead!
Not only do you get gorgeous, vibrant colors with this method, but it's much easier than using the traditional food dye, vinegar and water method. No spills or messes either, other than purple fingers!
Here are the Supplies You Need:
Hard cooked or hard boiled eggs
Cool Whip or any brand of whipped topping
Food coloring -- either gel or regular
Baking dish or casserole
Paper towels
How to Dye Eggs with Cool Whip
First, spoon the whipped topping into a baking dish. Spread the whipped topping evenly in the dish.
I use a 9 x 13 baking pan, but any deep dish will work. It just has to be deep enough to cover the eggs.
Next, add a few drops of food coloring in one corner of the baking pan. We usually use 3 different colors at a time and add 3 or 4 drops of each color.
You can use only 2 colors and use more of each if you want.For this egg, we used green, yellow and blue food coloring.
Then, take a toothpick, and gently swirl the colors together. You don't want to mix them completely in one big blob, though. Otherwise, you won't get that gorgeous marbled effect.
Next, take your egg, and gently roll it in the whipped topping. Make sure it's completely covered in whipped topping and dye.
When it's completely covered, let it sit there while you finish the remaining eggs. You can add all of the food coloring first, or you can add it as go.
We got 8 eggs in one pan. Actually, we probably could have fit one more in! If you want, you can do a second batch using the same pan.
Or, you can use a second pan. You can really do as many eggs as you want with this method. There really are no rules here!
Leave the eggs sit for about 15 minutes to give the dye a chance to set. After that, wipe each egg off gently with a dry paper towel.
The result a batch of beautiful Easter eggs! They're marbled, swirled and absolutely gorgeous! Almost too pretty to eat!
If you're going to eat the Easter eggs, I recommend using them for Guacamole Deviled Eggs, Basil Parmesan Deviled eggs or as a garnish for Instant Pot Potato Salad.
Cool Whip Easter Eggs
Cool Whip Easter Eggs made with food coloring and whipped topping are a quick and easy way to dye hard boiled eggs for Easter.
Equipment
9 X 13 baking pan or deep casserole dish
Ingredients
12

hard boiled eggs

8

ounces

Cool Whip

or any whipped topping

1

package

food coloring

in various colors

1

toothpick

paper towels
Instructions
Spread the Cool Whip evenly in a baking dish

Add drops of food coloring to 1 corner. Use 3 or 4 drops of 1 color and use 2 or 3 colors for best results

swirl food coloring together with toothpick

Roll egg in whipped topping and dye until completely covered. Allow to sit, and repeat until all eggs are dyed. Allow to sit 15 minutes

Wipe egg off using a paper towel. Refrigerate until ready to eat
Notes
You can use the same pan a second time or use more materials to make as many eggs as you need.