Creamy One-Pot Shells and Beef is an easy ground beef and pasta dinner that is cooked in a tomato cream sauce and is ready in just 30 minutes. It's easy to make, easy to clean and kid approved!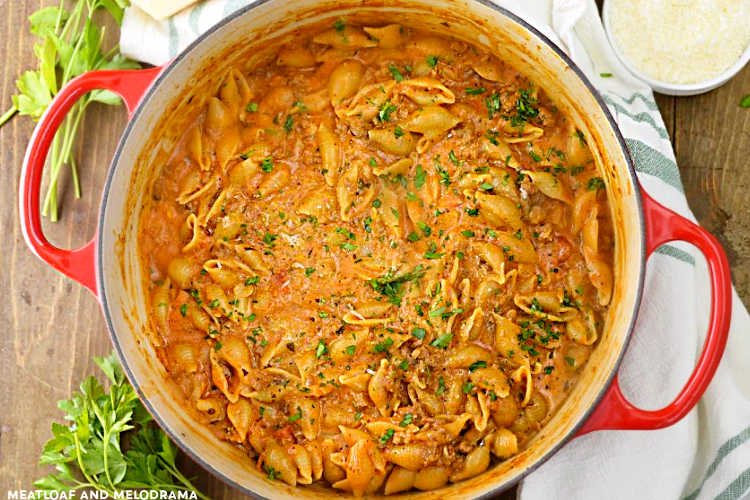 This creamy beef and shells is a reader favorite, and it's a personal favorite, too! I've updated the original post with newer photos and cooking tips to make this easy dinner even easier!
Yes, it's me again with another easy 30 minute one-pot dinner for ya. I seem to be on roll with easy ground beef dinners lately, but the end of the school year is always super busy, and these quick and easy meals are pretty much necessary for our survival.
And today, I was out all day chaperoning a gaggle of giggling girls-- my own included -- on a school field trip. Actually, as field trips go, it wasn't bad at all -- I've seen a lot worse.
But by the end of the day, my energy level was practically down to zero, and cooking dinner was the last thing on my mind. I even forgot that I had asked the Hubs to pick up some fresh ground beef on his way home.
That's what's so great about one dish meals. You don't need to put a lot of time or effort into dinner, but everyone is fed and happy, and you feel like Super Mom, even when you're exhausted.
How to Make Creamy Beef and Shells in One Pot
My family loves pasta, but I wanted to try something a little bit different this time. So, I made a creamy tomato sauce instead of the usual red sauce.
Basically, I cooked the ground beef and an onion in my red Dutch oven. If you have a lot of grease and need to drain it, do that first, and then season the beef.
Use Lean Ground Beef
I recommend using lean ground beef so that there's no need to drain it. So, add your seasonings to the meat, and cook until no longer pink.
Next, add your pasta shells, marinara sauce and water. I used medium shells this time, but you could use mini penne, bow ties or pretty much whatever you have on hand.
When you add the water, it will be very soupy. But, as the pasta cooks, it will absorb all of that liquid, so don't panic!
Cover the pot, until it comes to a boil, then remove the lid, stir and keep an eye on it. You'll need to stir every so often so that the pasta doesn't stick.
When the liquid starts to reduce, and the pasta shells are almost done, stir in your heavy cream. Then, stir in the Parmesan cheese.
This delicious creamy shells and beef will continue to thicken as it cools, so if it seems a little thin, don't worry.
Believe me, I've been making creamy beef and shells for 4 years now, and it turns out perfect every time!
You can see how rich and creamy the pasta is. The shells hold that creamy tomato sauce and ground beef so that every bite is filled with amazing flavor!
As soon as the pasta shells are al dente, you're ready to eat! You can top it with more Parmesan and fresh parsley for extra flavor.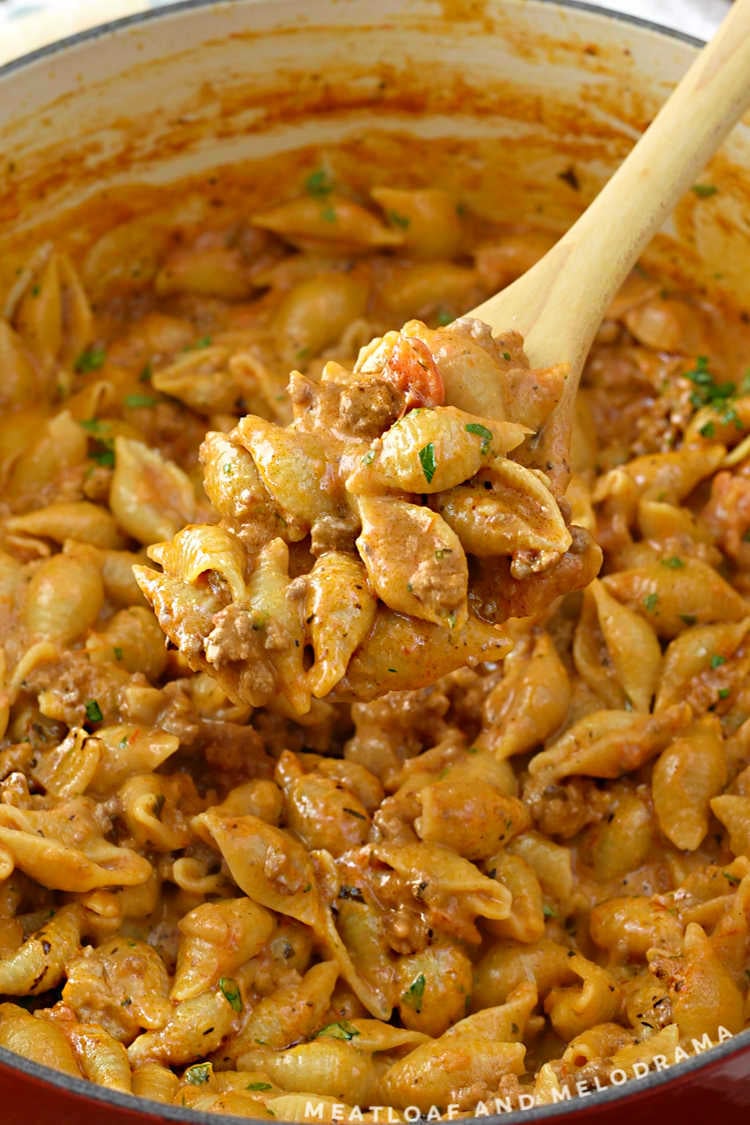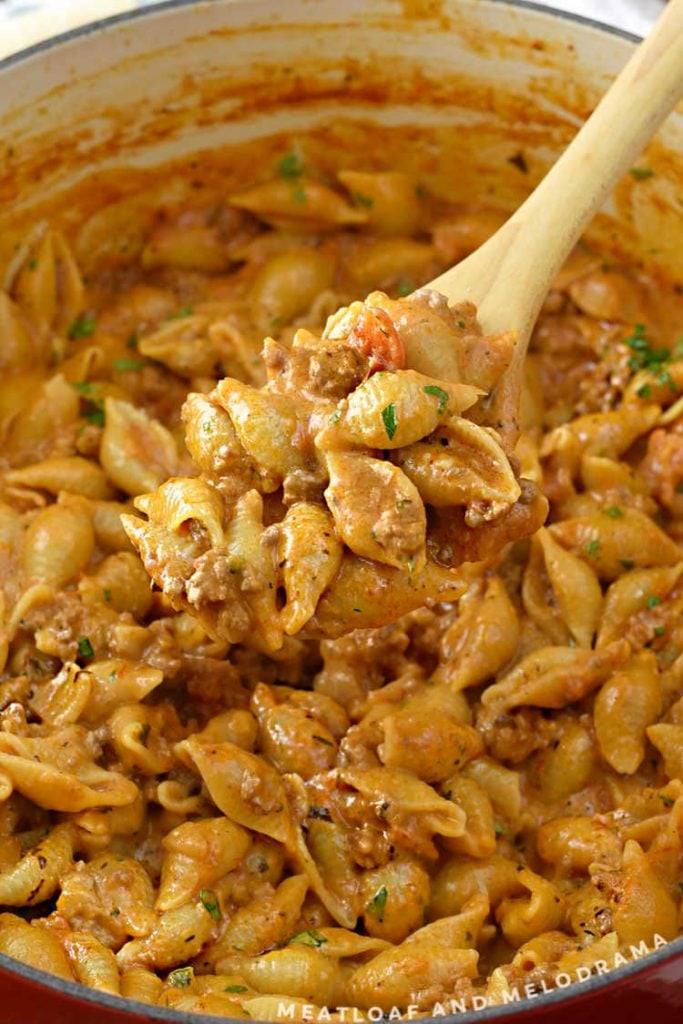 Make this One Pot Dinner even Easier
You could make this even easier by using dried onions or garlic powder -- it's up to you. If I'm really in a rush, I'll do this, but I usually enjoy the chopping process.
It actually relaxes me. Or sometimes, I'll just ask the Hubs or one of my older kids to help!
What really saves time is having chopped onions waiting in the freezer. If I cut a whole onion, I'll try to freeze half for later, and eventually, I'll have a nice stash of onions when I need them!
If you want to make creamy shells and beef in the Instant Pot, here's the recipe. It's even easier!
More Easy One Pot Pasta Recipes
Creamy One-Pot Shells and Beef Recipe
Creamy One-Pot Shells and Beef
Creamy One-Pot Shells and Beef is an easy ground beef and pasta dinner that is cooked in a tomato cream sauce and is ready in just 30 minutes.
Ingredients
1 ½

pounds

fresh extra lean ground beef

1

tablespoon

olive oil

½

cup

yellow or white onion

chopped

2

tablespoons

garlic

chopped

1

teaspoon

sea salt

½

teaspoon

ground black pepper

2

cups

marinara sauce, pasta sauce, tomato sauce or crushed tomatoes

2

cups

water

2

cups

medium shells

uncooked (about ½ of a 1 pound box)

2

tablespoons

Italian seasoning mix

1

cup

heavy cream or half and half

½

cup

shredded Parmesan cheese

optional
Instructions
In a large pot or skillet, saute the onions in olive oil until soft

Add ground beef, and cook until brown

Add the garlic, salt and pepper

Stir in the tomato sauce, pasta and water

Cover and bring to a boil, then remove lid, and cook for about 10 minutes or until pasta starts to soften

Add the Italian seasoning, reduce heat to medium low, and stir in the cream

Cook on low heat until sauce begins to thicken

Add the Parmesan cheese, and serve
Notes
To cook 1 pound of pasta, use 3 cups water and a large jar of marinara sauce or pasta sauce. You can add a 15-ounce can of diced tomatoes if you want more tomato flavor.
Nutrition information is estimated. Please do your own calculation to fit special diets.
Nutrition
Calories:
546
kcal
Carbohydrates:
33
g
Protein:
32
g
Fat:
31
g
Saturated Fat:
16
g
Cholesterol:
135
mg
Sodium:
1040
mg
Potassium:
779
mg
Fiber:
3
g
Sugar:
5
g
Vitamin A:
1009
IU
Vitamin C:
8
mg
Calcium:
160
mg
Iron:
4
mg
Recipe was originally published in May 2016 and updated for pictures and cooking tips in Feb 2020.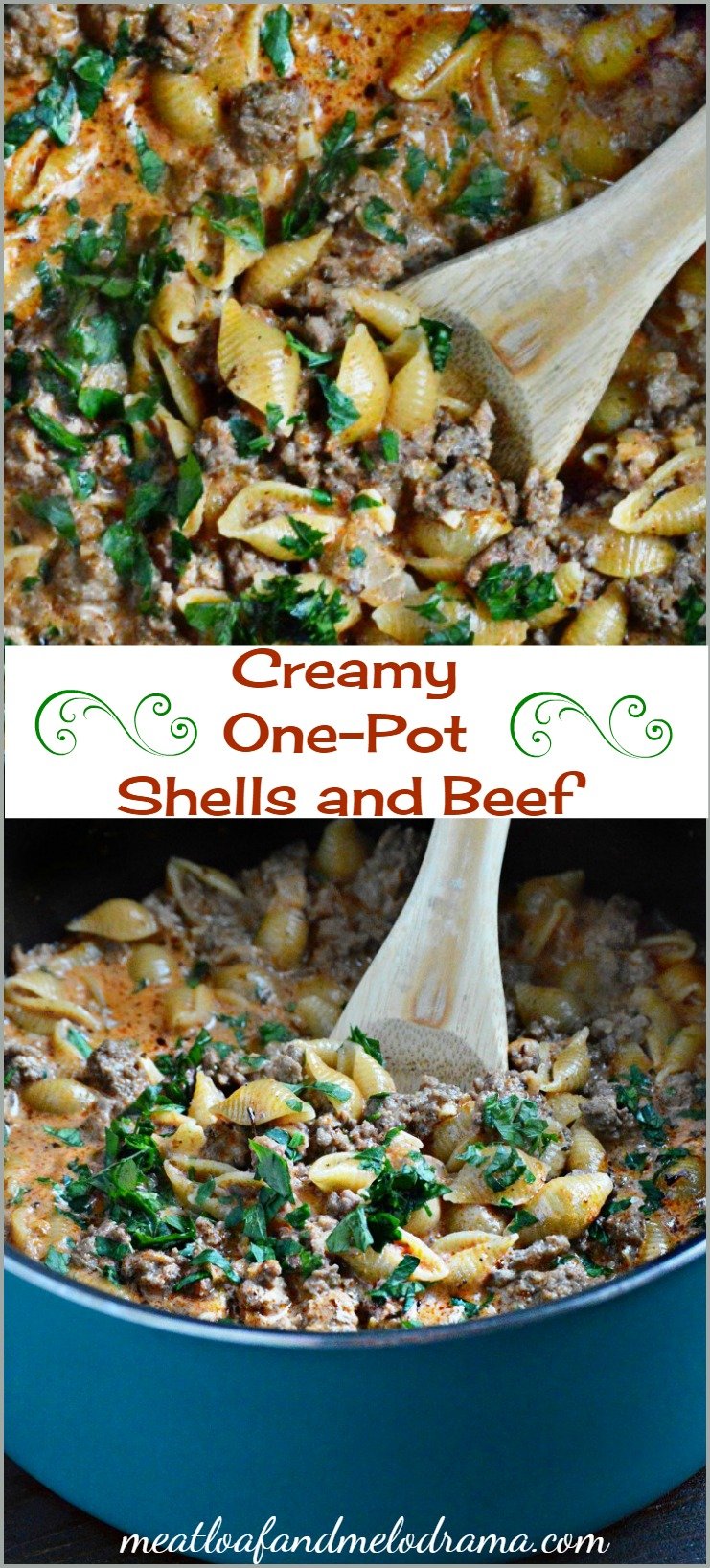 I'm happy to report that the whole family loved this creamy one-pot shells and beef. I served a simple salad on the side, which was just enough to make dinner complete.
And after dinner was over, I went and put my feet up for the rest of the evening!