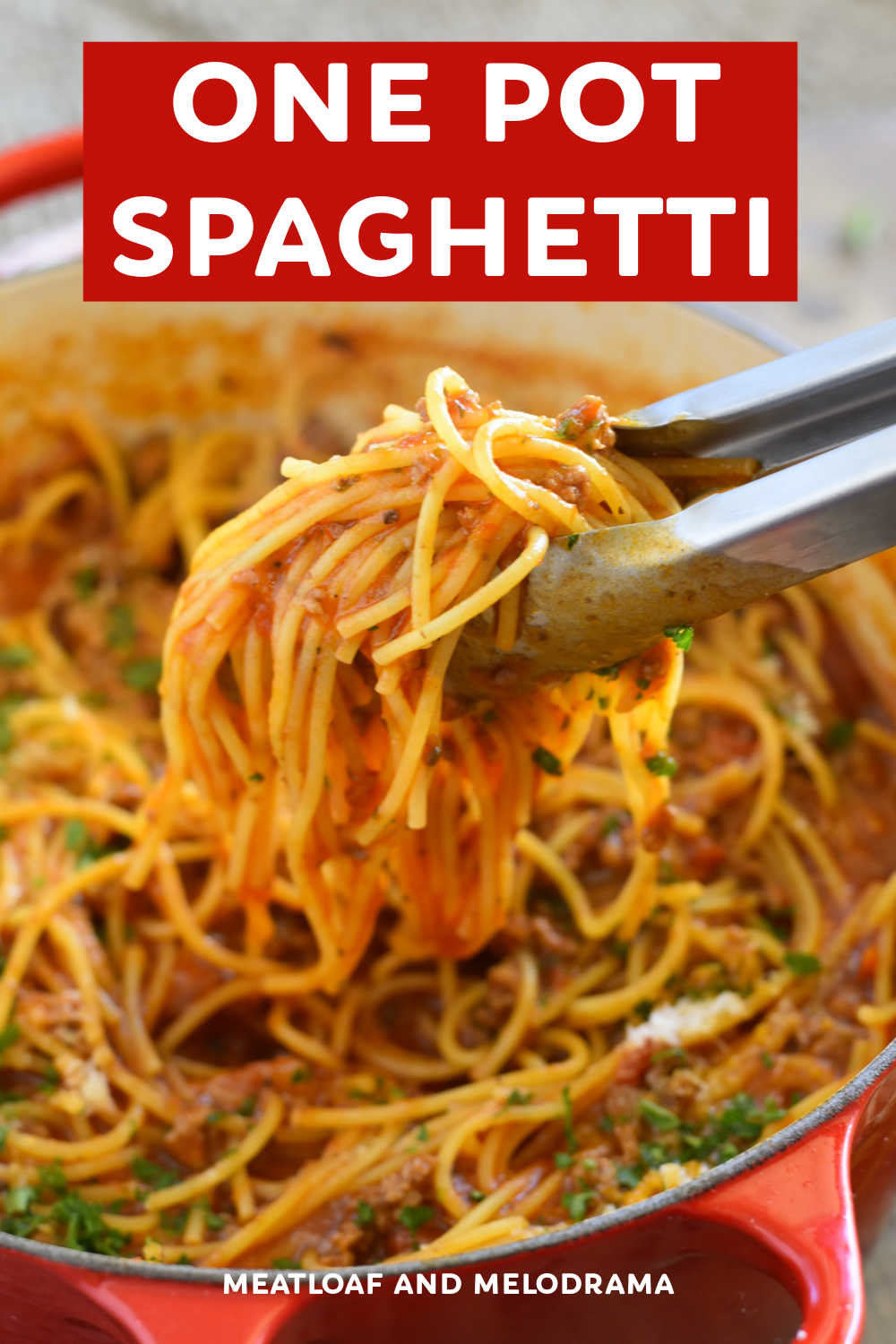 This One-Pot Spaghetti and Meat Sauce recipe cooks in a large pot or Dutch oven for an easy meal the whole family loves. This one pot pasta is ready in just 30 minutes with easy clean-up too!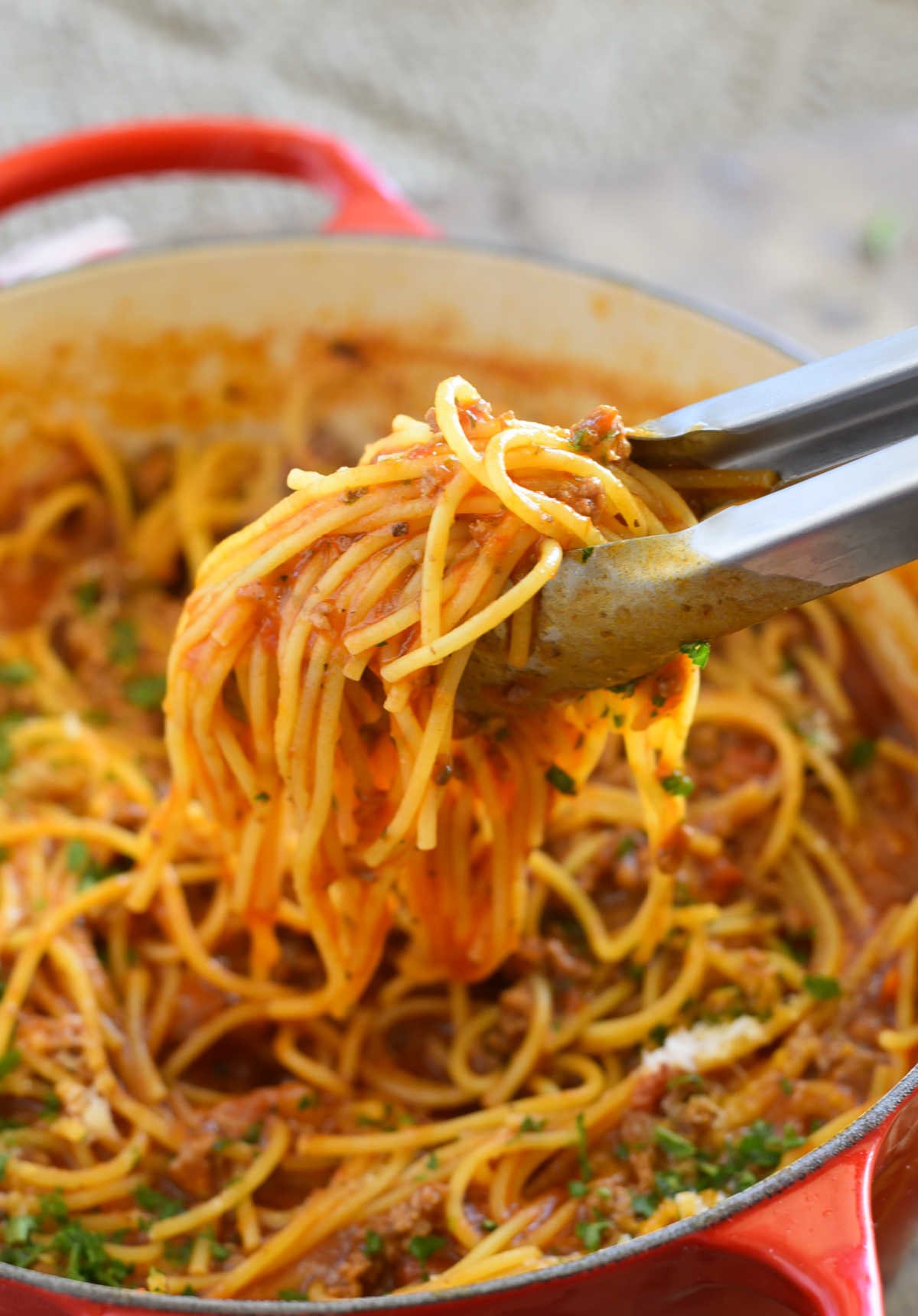 Jump to:
One pot pasta recipes are perfect for quick dinner on busy weeknights because they're quick, easy, kid friendly, and you only have one pan to wash, so fewer dishes to do. I love one pot meals!
Once you see how easy it is to cook spaghetti in tomato sauce, you'll never want to cook it any other way! You cook the spaghetti in the sauce, not boiling water.
I came up with this one pot spaghetti recipe after a few of you wrote in asking for a stove top version of my Instant Pot Spaghetti and Meat Sauce.
Spaghetti snobs (I used to be one) may disagree, but believe me, this one-pot meal is a great recipe that saves you a few steps, and it works!
And sometimes, we just need easy comfort food. All you need to make this easy spaghetti dinner is a large pot or large Dutch oven -- and a stove!
Serve spaghetti and meat sauce with a green salad and crusty bread or garlic bread, for a complete meal in minutes!
Ingredients
You only need a few simple ingredients for this Dutch oven spaghetti recipe. You can find them in your grocery store:
Yellow onion or white onion, chopped
Olive oil -- to cook the onion
Lean ground beef
Spaghetti -- 16 ounces. Break spaghetti noodles in half
Spaghetti sauce -- I love Rao's marinara sauce
Diced tomatoes -- adds texture and additional liquid
Water or beef broth
Seasonings -- Italian seasoning, sea salt, garlic powder, ground black pepper and optional red pepper flakes
Note -- This spaghetti recipe calls for 16 ounces of spaghetti -- a regular package, as opposed to 8 ounces. It makes a lot of pasta, but it's perfect for leftovers, and it freezes well for later -- easy meal prep!
How to Make One Pot Spaghetti with Tomato Sauce
First, you cook the onions in some olive oil over medium heat until they're slightly soft, and then, you brown your ground beef.
There's no need to cook the ground meat all the way because it will finish cooking with the pasta.
If there's a lot of grease, you can drain it. I use lean ground beef, so I usually skip this step. Next, season the meat, and you're ready for the pasta.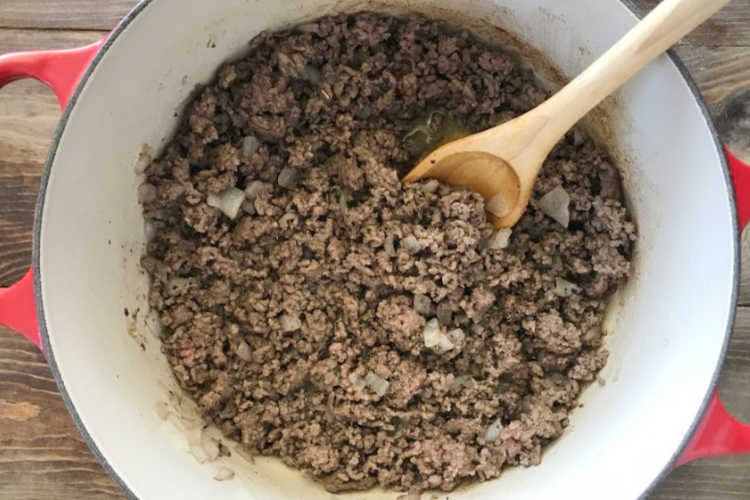 You'll need to break the uncooked spaghetti in half so that it cooks evenly and doesn't clump together.
Then, add your uncooked spaghetti to the pot, and pour in spaghetti sauce, diced tomatoes and water. Cook over medium-high heat until sauce starts to boil.
Then, reduce heat to medium while the pasta cooks.
If you want even more flavor for your spaghetti, you can use beef broth or chicken broth instead of water. Or, you can add a little red wine to really take this spaghetti dinner to the next level!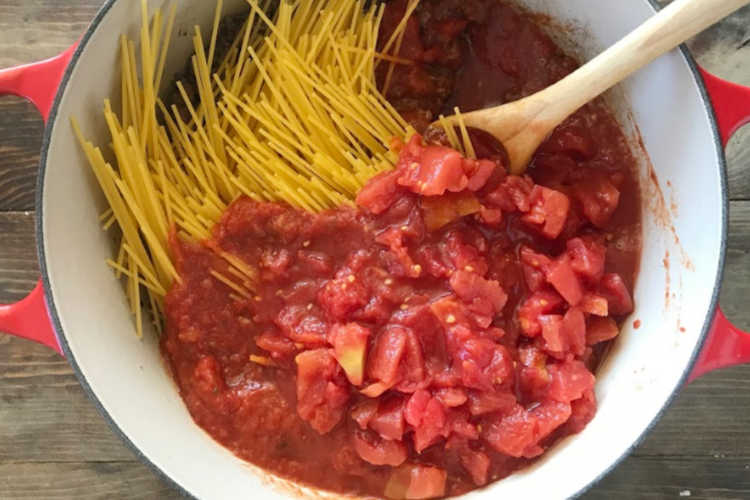 You do need to keep an eye on the pasta and stir frequently so that the spaghetti doesn't clump together or stick to the bottom of the pot.
Cook Time
Cook pasta until al dente, which is about 12 to 15 minutes. Total cooking time for this recipe is about 30 minutes, including time to cook the ground meat.
As soon as the pasta is cooked al dente or to your liking, you're done!
I like to sprinkle a little grated Parmesan cheese and chopped parsley over the top before serving. Doesn't this look gorgeous?!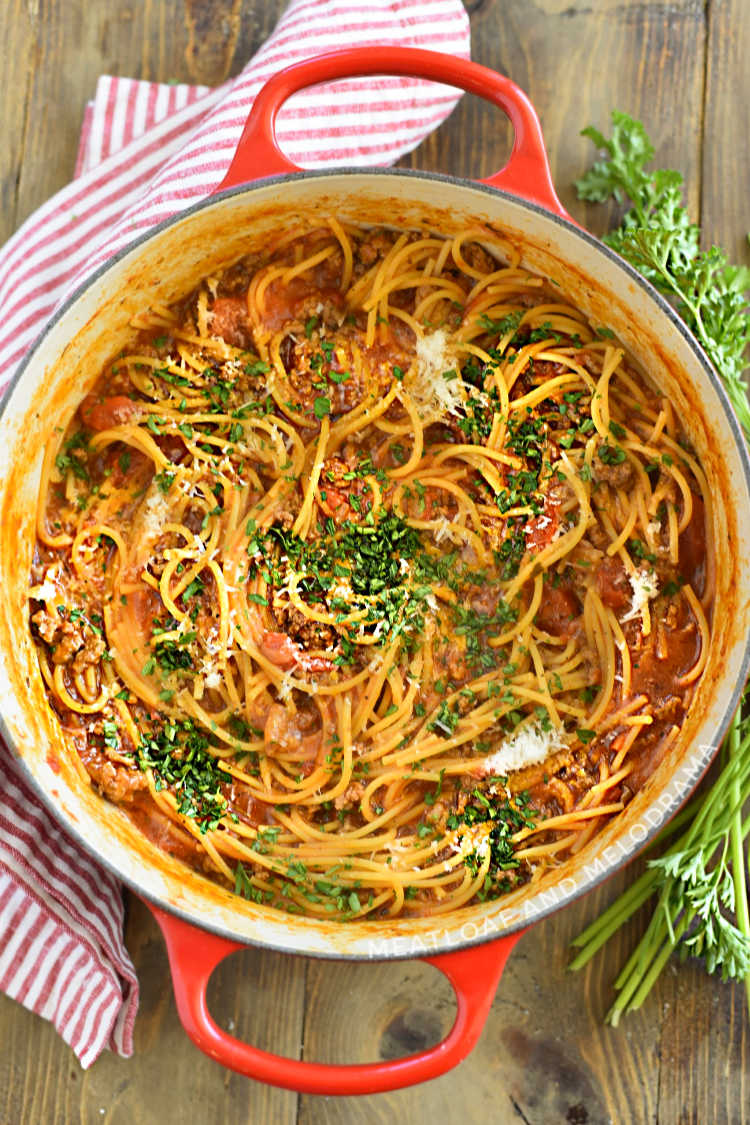 I use kitchen tongs to lift the spaghetti out of the pot directly to people's plates. Honestly, you guys, this one pot spaghetti is a lifesaver on busy days!
My kids absolutely love this flavorful spaghetti with meat sauce. It has amazing flavor, and it works so well for feeding them before they head off to football or soccer or dance.
How to Store and Reheat
Store leftover spaghetti in an airtight container in the refrigerator. It should last for 3 to 4 days. Reheat cold spaghetti in the microwave or on the stove until hot and steaming.
The leftovers heat up well, and you can freeze larger amounts for later. Just place pasta in freezer safe containers or zip top bags, and use within 3 months for best taste.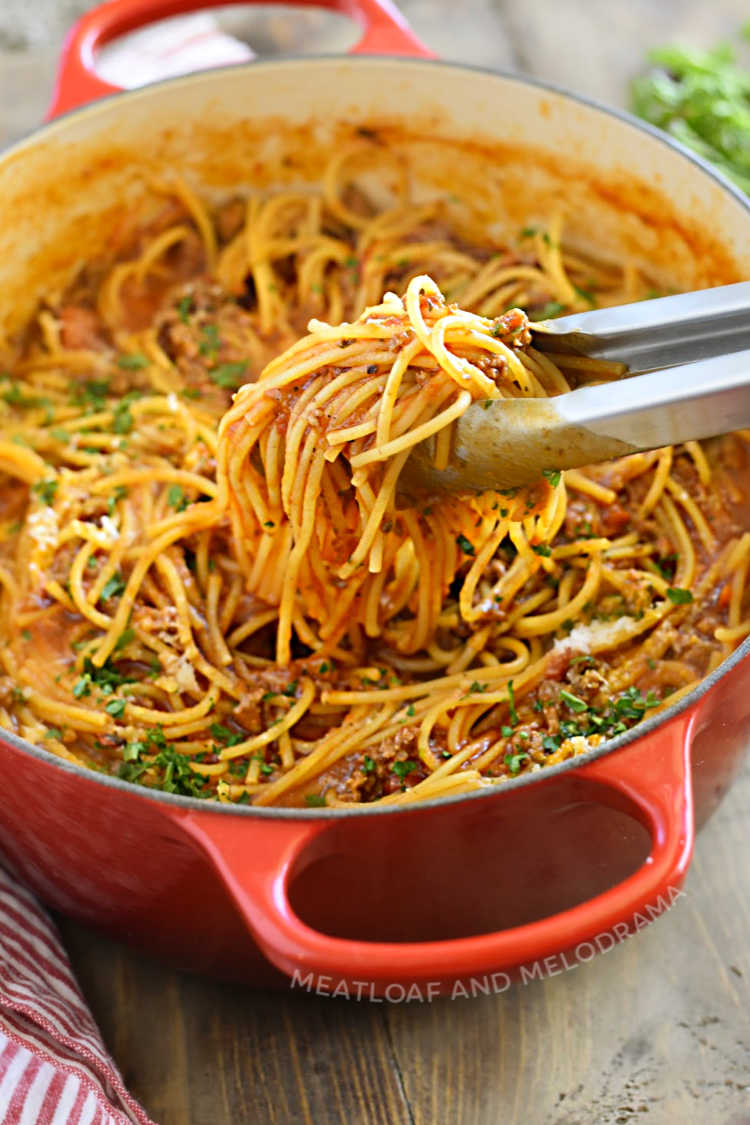 Substitutions and Variations
Use Italian sausage in place of ground beef or use half sausage half beef. You can use your favorite pasta shape in place of spaghetti noodles. Gluten free pasta works here.
Use homemade sauce (try my homemade spaghetti sauce)or your favorite brand of jar sauce and your favorite spices. Fresh herbs like basil add wonderful flavor. You can also add more marinara sauce or tomato sauce and omit the diced tomatoes.
Sub ½ cup red wine for ½ cup water or broth for extra flavor.
Add fresh veggies like fresh spinach, bell pepper, kale, zucchini or broccoli. This is a great way to sneak more veggies into your kids' meals.
For a low fat option, use ground turkey. You can also leave the meat out for vegetarian pasta.
Frequently Asked Questions
Can you cook spaghetti noodles in spaghetti sauce?
Yes, you can. As long as you add thin liquid like broth or water along with the raw spaghetti, the sauce will have the perfect consistency.
Do I have to break spaghetti in half?
You really should break spaghetti in half when you cook it in the sauce. This will help the pasta cook evenly and not stick together.
Can you add beef broth to spaghetti sauce?
Yes. Adding beef broth in place of water will enhance the flavor. You can use vegetable broth for meatless spaghetti or chicken broth for chicken spaghetti.
Recipe
One Pot Spaghetti and Meat Sauce
This One-Pot Spaghetti and Meat Sauce recipe cooks in a large pot or Dutch oven for an easy meal the whole family loves. This one pot pasta is ready in just 30 minutes with easy clean-up too!
Ingredients
½

yellow onion

chopped

1

tablespoon

olive oil

1½

pounds

lean ground beef

1

tablespoon

Italian seasoning

1 ½

teaspoons

sea salt

1

teaspoon

garlic powder

½

teaspoon

ground black pepper

pinch

red pepper flakes

optional

1

24-ounce

jar marinara sauce

1

15-ounce

can diced tomatoes

undrained

3

cups

water

or beef broth
Instructions
In a large Dutch oven or heavy bottom bot, heat olive oil over medium heat, add the onion, and cook until slightly soft

Add the ground beef, and cook until no longer pink. Drain beef if necessary, then add Italian seasoning blend, sea salt, garlic powder, black pepper, red pepper flakes (optional), and stir

Add the spaghetti noodles, marinara sauce, diced tomatoes and water, and stir well, pushing the noodles under the liquid and separating them so they don't stick

Cover, and bring to low boil over medium high heat, then remove cover, and stir frequently to make sure pasta doesn't stick and noodles aren't clumping together. Reduce heat to medium, if necessary

When pasta is al dente or done to your liking, remove from heat, add some grated Parmesan cheese and chopped parsley, if desired, and enjoy!
Notes
Make sure to break the spaghetti noodles in half before adding to the pot.
You can use more marinara sauce or tomato sauce in place of diced tomatoes.
Nutrition information is estimated. Please do your own calculation to fit special diets.
Nutrition
Calories:
111
kcal
Carbohydrates:
1
g
Protein:
15
g
Fat:
5
g
Saturated Fat:
2
g
Polyunsaturated Fat:
0.3
g
Monounsaturated Fat:
2
g
Trans Fat:
0.2
g
Cholesterol:
42
mg
Sodium:
398
mg
Potassium:
255
mg
Fiber:
0.4
g
Sugar:
0.3
g
Vitamin A:
10
IU
Vitamin C:
0.4
mg
Calcium:
18
mg
Iron:
2
mg
For more easy one pot pasta recipes and Dutch oven recipes, try One Pot Creamy Chicken Pasta, One Pot Creamy Shells and Beef or One Pot Creamy Kielbasa Tortellini. And, check out more easy recipes from the archives.
I hope you enjoy our family favorite spaghetti recipe as much as we do. My kids say this delicious dinner is the best one pot spaghetti recipe ever! If you love this delicious recipe as much as we do, please leave a star rating and comment.
Sign up for the weekly newsletter to get easy dinner recipes and more sent to your email address.