This Easy Peach Dump Cake recipe is made with canned peaches, cinnamon, cake mix and butter. An easy dessert recipe and a family favorite. Peach lovers love this delicious dessert!
Jump to:
I absolutely love peaches, and one of my favorite things about summer is the abundance of fresh peaches! Once, on a family trip in California, we stopped by a farm and were allowed to pick some fresh peaches right from the tree.
I still remember how wonderful that fresh, ripe, juicy peach tasted! There's really nothing like it. But, I love canned peaches too, and since we gobble up fresh peaches right away, I love using canned peaches for quick and easy desserts like this easy peach dump cake.
I've been making this peach cobbler dump cake for years. It's actually the orginal dump cake recipe on the blog! It's fine to cut corners every now and then when you want an easy dessert recipe. And, it's easy enough for the little kids to help make.
If you enjoy easy dump cake recipes, try our Chocolate Cherry Dump Cake, Blueberry Dump Cake, Strawberry Dump Cake, Pineapple Dump Cake, Apple Pie Dump Cake, Lemon Dump Cake and Pumpkin Dump Cake.
A dump cake might sound kind of unappetizing, although it pretty much describes this recipe to a T. Basically, you dump the ingredients into a cake pan and bake.
The first time we made it, I did have to tell my daughter not to dump everything all over the place. But other than that, the kids love making this as much as they love eating it!
Ingredients
You only need a few simple ingredients for this delicious dessert made with pantry staples. You can find them in your grocery store or online.
Box yellow cake mix
Butter -- 1.5 sticks of butter cut into thin slices
Canned peaches
Ground cinnamon -- optional
How to Make Peach Dump Cake
First, preheat your oven to 350 degrees f. Then, you just dump the can of peaches into a prepared baking dish. Use a 13-inch baking dish for best results.
I use peaches in juice, so I use the juice of 2 cans of peaches, about 1.5 cups.
Next, add a little bit of cinnamon. Cinnamon is optional, but it adds so much flavor.
We like to cut the peaches up into smaller slices while they're in the pan, but this is just a personal preference. You can keep the slices larger if you want.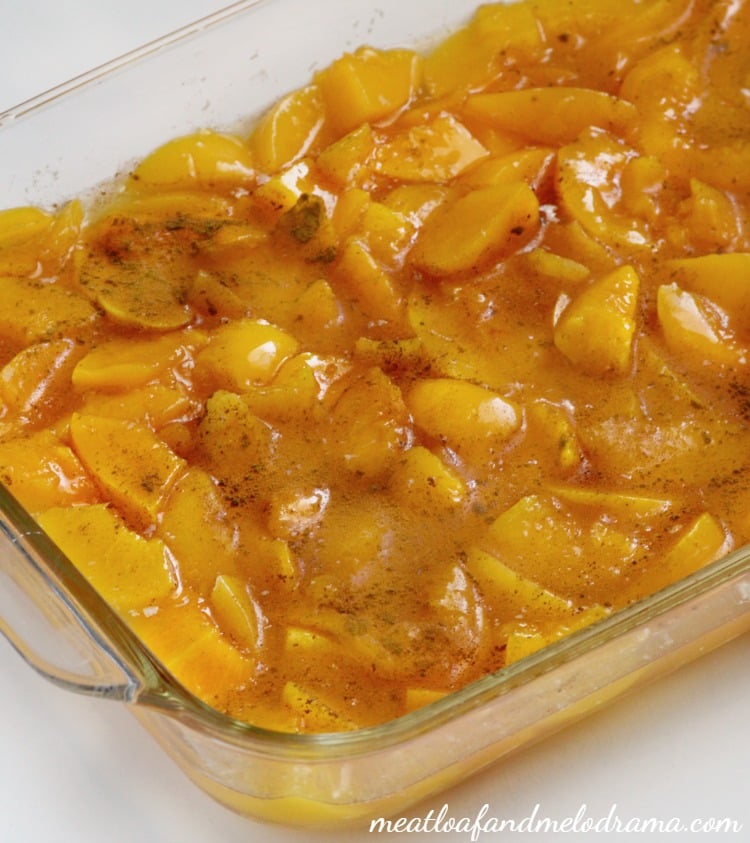 Then, you sprinkle white cake mix or yellow cake mix over the peaches. Dry cake mix -- no need to add anything to it!
Smooth the dry cake mix evenly over the peaches. I like to lightly press some of the cake mix into the peach juice so that it absorbs some liquid.
Then, top the mix with thin slices of butter. You can pour melted butter over the cake mix, but I prefer just placing pats of butter on top of the cake mix.
Cook Time
Then, you bake the cake for 45 to 50 minutes or until it's all bubbly and the top is crisp and golden brown. How easy is that?!
All ovens are different, so you may need to bake this easy peach dessert for 55 to 60 minutes if needed. The center may not be super crisp, but it will firm up as it cools down.
Your home will smell amazing! And, you're going to want to dive right into this dessert!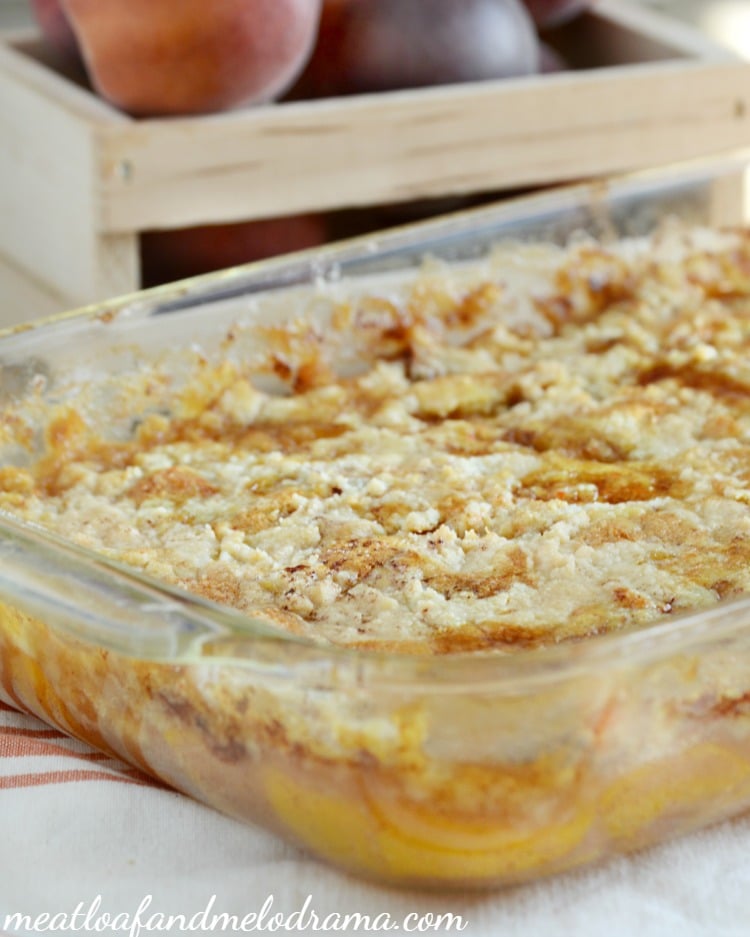 How to Serve
This easy peach cake is best eaten while it's still warm, but not hot. I highly recommend adding a generous scoop of vanilla ice cream.
It's not exactly necessary, but the ice cream makes the cake even better! It's like an easy peach crisp or Air Fryer Peach Crisp!
Variations and Substitutions
There are a few ways to customize this tasty peach dump cake to your tastes.
I use canned peaches in water, but you can also use canned peaches in heavy syrup. Peach pie filling also works just as well. The recipe stays the same for either of these options.
Dump cakes are some of the easiest desserts ever because you typically use canned fruit instead of fresh fruit. But, you can use fresh peaches-- just add water or juice, and some sugar. If using frozen peaches, add a little water or juice as well.
For some extra sweetness to that fabulous peach flavor, add brown sugar or extra sugar on top of the peaches before baking.
A box of yellow cake mix is my go-to for peach dump cake, but white cake mix and vanilla cake mix are great options as well.
How to Store
Store peach dump cake in an airtight container or covered with plastic wrap. You can leave the cake out at room temperature if you will be eating it that day.
Or refrigerate it-- it just depends on how you like it. You can eat leftover peach cake cold or reheat individual portions in the microwave.
Peach cobbler cake lasts 3 to 4 days. Of course, it never stays around that long in my house!
Recipe
Easy Peach Dump Cake
This Easy Peach Dump Cake recipe is made with canned peaches, cinnamon, cake mix and butter. An easy dessert recipe and a family favorite. Peach lovers love this delicious dessert!
Ingredients
1 15.25

oz

box yellow cake mix

1½

sticks

butter

cut into thin slices

3 15

oz

cans peaches

in juice

1

tablespoon

ground cinnamon

optional
Instructions
Preheat your oven to 350 degrees.

Grease a 13 X 9-inch pan with butter or cooking spray

Dump the peaches and juice of 2 cans into the pan.

If desired, cut the peaches in half to make the pieces just slightly smaller.

Add cinnamon over peaches

Pour the cake mix evenly over the peaches.

Cut the butter into small pats and arrange evenly over the cake mix.

Bake for 45 to 50 minutes, or until the peaches are bubbly and the top is golden brown.
Notes
You can use white or yellow cake mix for the topping.
Can use peaches in heavy syrup or peach pie filling if desired. See blog post for more variations.
Butter can be melted and poured over dry cake mix instead of using pats of butter.
Nutrition information is estimated. Please do your own calculation to fit special diets.
Nutrition
Calories:
160
kcal
Carbohydrates:
36
g
Protein:
1
g
Fat:
1
g
Sodium:
314
mg
Potassium:
20
mg
Sugar:
18
g
Calcium:
98
mg
Iron:
1
mg
This peach dump cake is a super easy cake mix recipe and a great way to celebrate peach season. It's a great recipe for whipping up a perfect dessert on those busy days when you don't have much time!
Hungry for more peach desserts? Too hot for baking? You can make Crock-Pot Peach Cobbler or Instant Pot Peach Dump Cake! Try my Copy Cat Chik-fil-A Peach Milkshake and check out my desserts page for more delicious ideas!
This cake makes your home smell heavenly, and it tastes pretty good too! Serve it with some vanilla ice cream on top, and it takes it to a whole new level. If you love peachy desserts, you'll love how easy it is to make this peach cake! I made this a couple of days ago, and we managed to make it last for two days -- that's awesome for us!
For more simple dessert recipes, cake mix recipes, and easy cake recipes, subscribe to the newsletter and follow me on social media!

Recipe was originally published in 2014 and updated on April 20, 2022