Snickers apple salad is a super easy dessert salad made with apples, Cool Whip and regular and peanut butter candy bars. Perfect for holidays and potlucks!

If you're looking for a quick and easy old fashioned side salad recipe for your next potluck or party, this double Snickers Apple Salad is for you! It's made with regular and peanut butter Snicker's bars, Granny Smith apples and whipped topping, so it's not your average salad. But, it's tart, sweet, salty, and it always goes fast!
I have to admit that I thought twice about posting this one. Why? Well, it's got Snickers candy and Cool Whip in it, and you're probably thinking that we all have horrible eating habits. But really, I haven't made this Double Snicker Apple Salad in a looong time -- truly!
In fact, the younger kids don't remember it, and they even asked why I was adding a Snickers bar to a chicken salad! But my older two used to love this, and when we were planning our Easter menu they suggested I make it again. So , I did!
I don't even remember where I found this easy Snicker salad recipe, but I think it was at a party or potluck somewhere. In fact, I used to take it to our own church potlucks, and it was always a big hit with the kids -- and probably, the adults too!
How to Make Snickers Apple Salad
This apple snicker salad is made without pudding. For this easy 3 ingredient dessert salad, you'll need:
Apples -- Tart apples like Granny Smith work best
Snicker's candy bars -- I used a combo of peanut butter and regular, classic Snicker bars
Whipped topping -- like Cool Whip
All you do is dice the apples and candy bars, and add them to a large mixing bowl. You don't even have to peel the apples first unless you want to.
I tweaked the original version, which only uses the classic Snicker bars, because not everyone in the family likes peanuts. So I combined the Snickers Peanut Butter candies with the regular Snickers, and this combination worked really well with the tartness of the green apples.
The kids love snacking on apples and peanut butter, so they love the combination in this salad. And, this is why we sometimes call it Double Snicker Apple Salad.
Sometimes, I add a little cinnamon for extra flavor, but this is optional. Next, add your whipped topping, and stir it all together until the salad is well blended.
And that's pretty much all you have to do for this Snicker Bar salad.
It does look a little plain, so I like to add some more chopped candy bars to the top. Make sure to keep the salad in the fridge until you're ready to serve it!
The nice thing about this dessert salad is that you can easily make as much as you want. You could also make it with just the Snickers peanut butter candies if you don't like the crunch from the peanuts either.
Like I said, the cinnamon is optional too, but you've probably noticed that I add it to just about everything!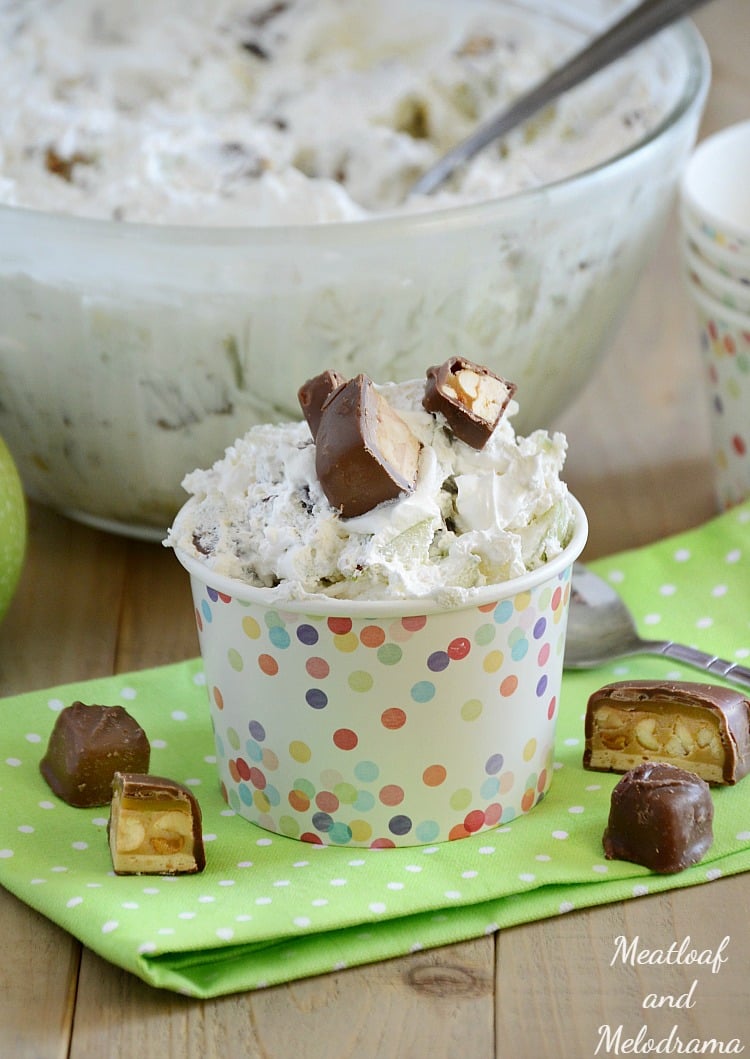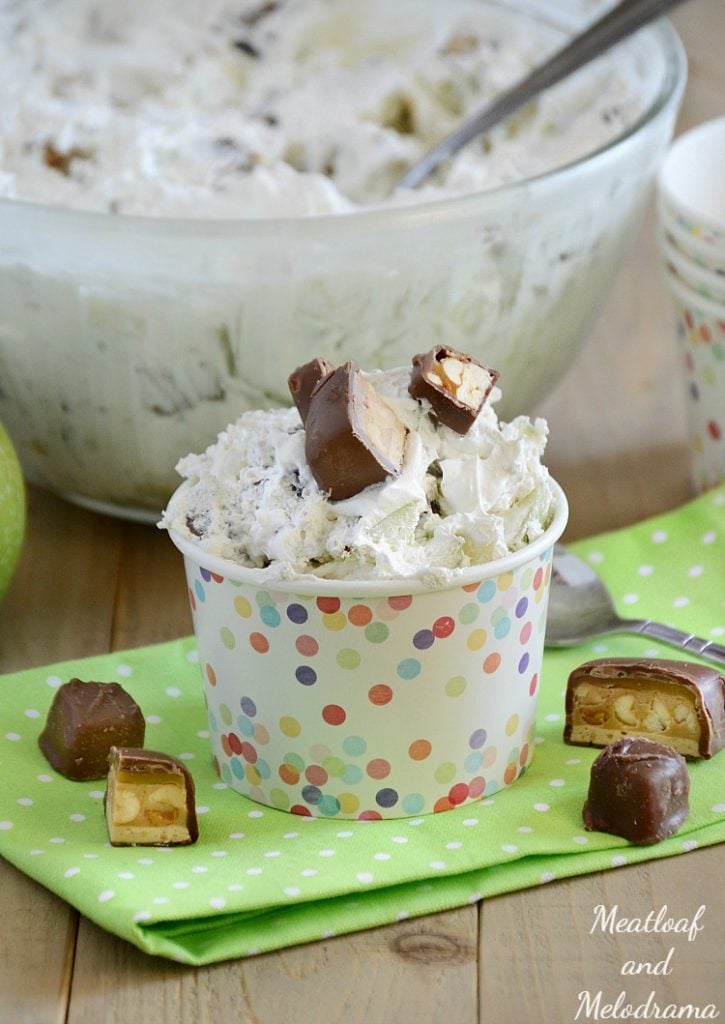 More Easy Dessert Salad Recipes

Snicker Apple Salad Recipe
Snickers Apple Salad
Snickers apple salad is a super easy dessert salad made with apples, Cool Whip and regular and peanut butter candy bars. Perfect for holidays and potlucks!

Ingredients
3

large Granny Smith apples

diced

2

large Snickers candy bars and several snack-sized Snickers Peanut Butter bars

chopped

1

8-oz

container of Cool Whip or any whipped topping

thawed

½

teaspoon

cinnamon

optional
Instructions
Combine all ingredients in a serving dish, and mix well.  You can also top with some Snickers Bites if you want.

Keep refrigerated until ready to serve, and enjoy!
Nutrition information is estimated. Please do your own calculation to fit special diets.
Nutrition
Calories:
100
kcal
Carbohydrates:
16
g
Protein:
1
g
Fat:
3
g
Saturated Fat:
2
g
Cholesterol:
4
mg
Sodium:
20
mg
Potassium:
126
mg
Fiber:
2
g
Sugar:
11
g
Vitamin A:
75
IU
Vitamin C:
2.5
mg
Calcium:
35
mg
Iron:
0.7
mg
I have to admit that this was a tasty little trip down memory lane, and we all enjoyed it!
And since it does have apples and protein, this is kind of, sort of a real salad, right? Have you ever heard of Snickers, or Snicker Apple Salad? Enquiring minds want to know!
Happy Eating!

Recipe was originally published in 2015 and updated in 2019