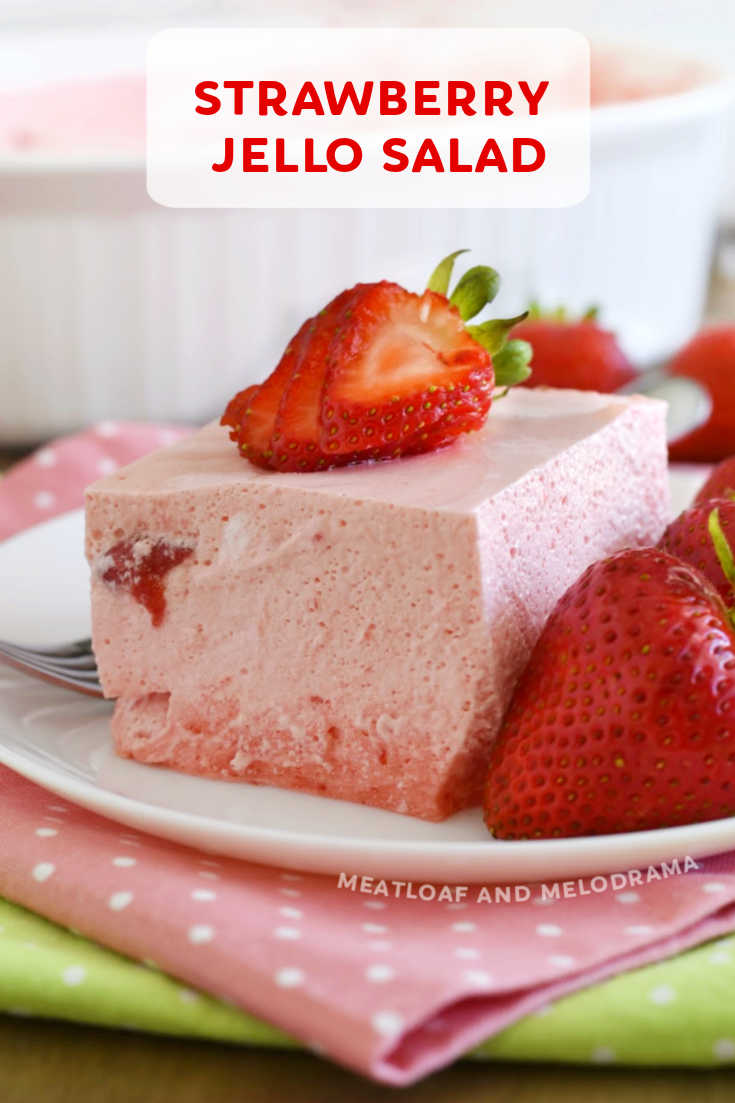 Easy Strawberry Jello Fruit Salad is a retro recipe that's perfect for spring and summer holidays, parties and potlucks. You'll love this foamy pink treat!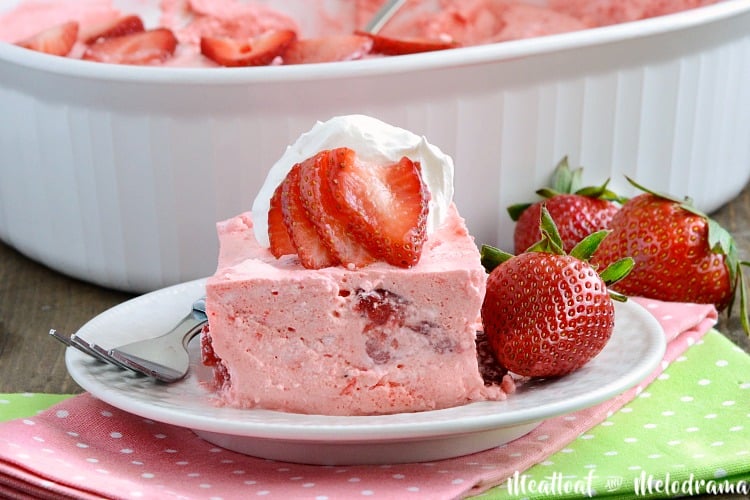 Strawberry Jello Salad is super popular, especially around holidays and especially with those of you who grew up with this classic side dish. It was first published in 2017, and I updated the instructions as of June 2020 for clarity and added tips for making the Jello set.
I found this fun retro strawberry Jello salad among my grandmother's old recipes, although it was actually in my mom's writing. The weird thing is that I don't ever remember her making this. I know I've had a similar Jello salad before -- probably at a church potluck or something like that. So, I asked my parents about it, and they both agreed that my mom probably got the recipe from my grandma but never made it herself.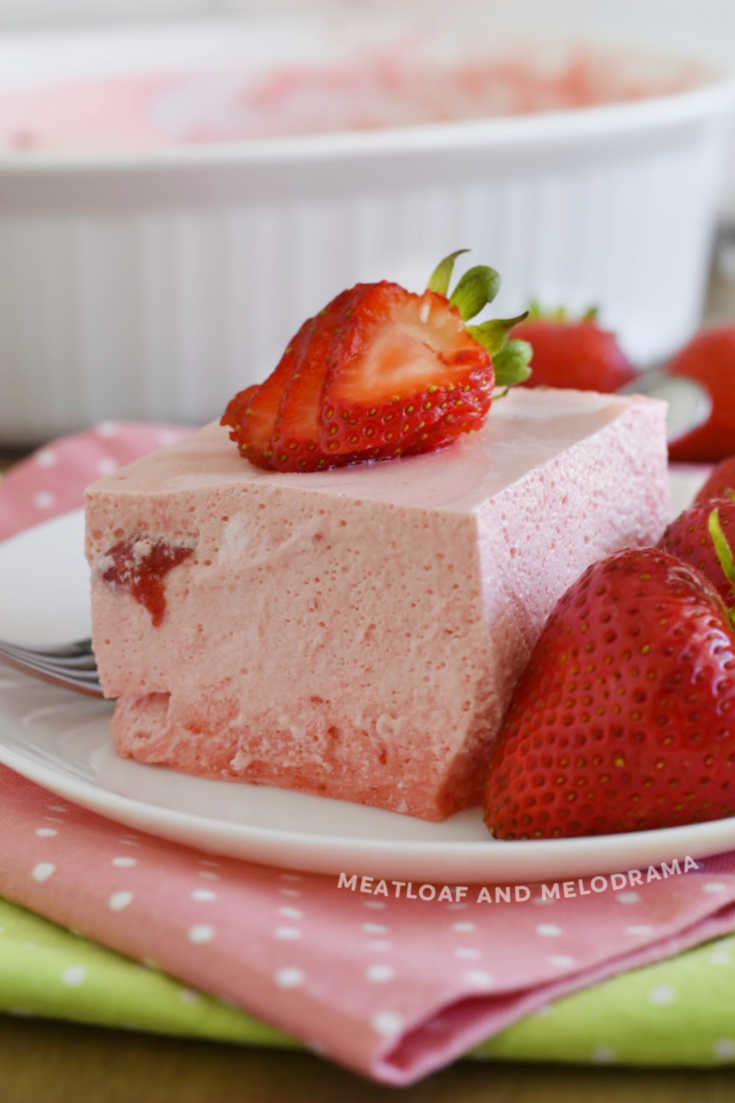 It's not that we never had Jello -- We definitely did. But it was usually served plain, without fruit. I've never been a big fan of fruit in Jello, so plain was fine with me!
But last year, I made strawberry pretzel salad and a lime Jello salad that was one of the Hubs' favorite dessert salads when he was growing up, and I actually liked it. So, I knew this strawberry Jello salad would be just as good. And actually, it's even better!
How to Make Strawberry Jello Salad
Basically, you just start out like you're making regular Jello. You mix the gelatin with hot, then cold water, and then you put it into the fridge to thicken up a little bit.
It takes anywhere from 45 minutes to an hour for the Jello to start to thicken up -- at least in my fridge! It's not supposed to be completely set -- just thicker.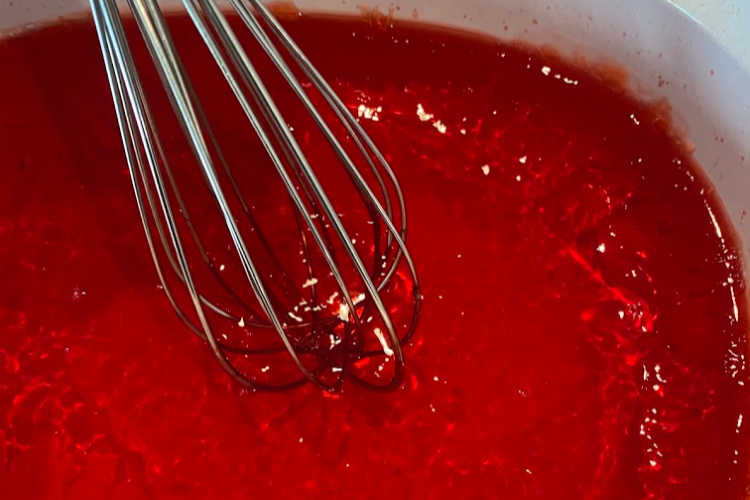 Now, take a whisk or use an electric mixer, and beat the Jello until it turns foamy. This takes just a couple of seconds, especially if you use a mixer.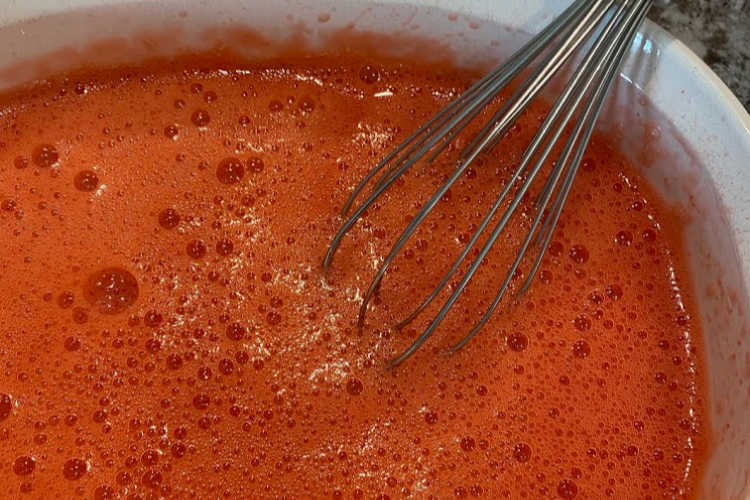 Then, you stir in your thawed Cool Whip. You can use the mixer until it gets blended. It'll look very pink and foamy. Now, gently add the strawberries, and pop it into the fridge to firm up.
It takes about 2 hours for the Jello salad to set and be firm enough to eat. You can serve it in slices, like a cake or scoop it out with a spoon. You can also get creative and add some sliced strawberries for decoration!
This strawberry Jello fruit salad is definitely more of a dessert salad. It's pink, sweet and kind of foamy. And it's loaded with strawberries, which is always a good thing! It's also super easy to make.
I have never had trouble getting the Jello to set, but some of you have written in asking for help. I reread my mom's old notes and changed the instructions slightly for clarity.
Tips for Success
Make sure you are using the regular large 6-ounce box of Jello. The sugar free variety comes in different sizes.
Use a long casserole dish to help the Jello set faster. If you're using a large bowl, it takes longer to set.
Use plain frozen strawberries, not strawberries in syrup or sugar.
Fresh strawberries are fine, but slice them and refrigerate until ready to use so they're not too warm.
You can also freeze fresh sliced strawberries instead of buying frozen ones.
Using an electric mixer helps whip the Jello up before adding the whipped topping.
Thaw the Cool Whip in the fridge before adding it to the Jello.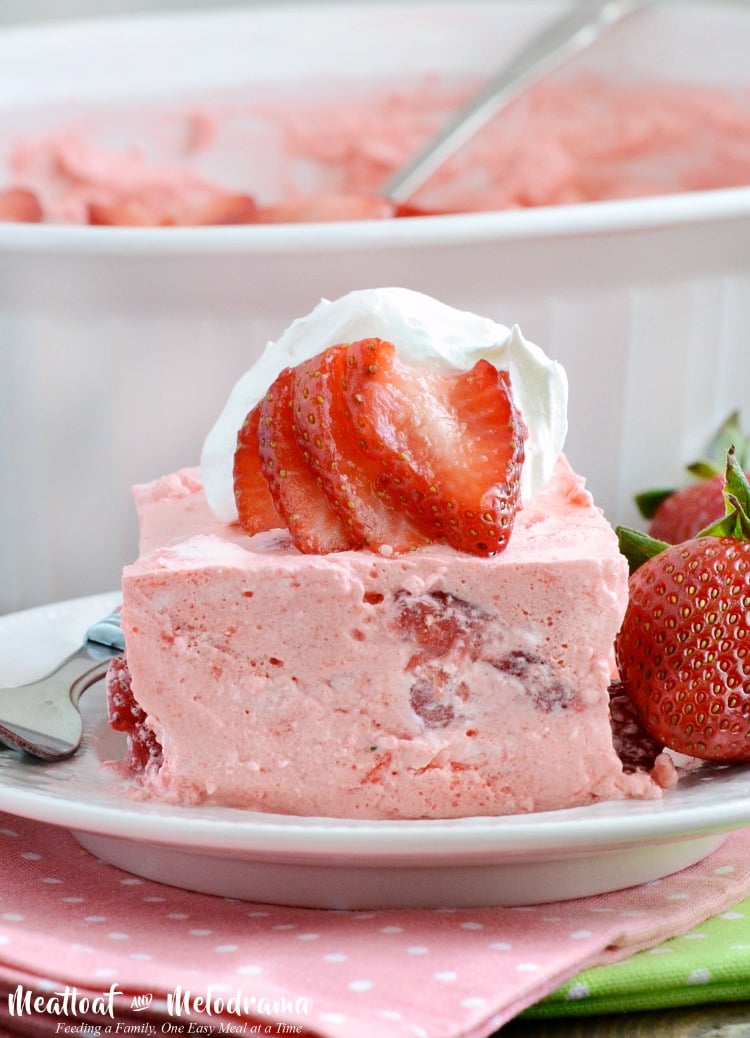 Strawberry Jello Fruit Salad Recipe
Recipe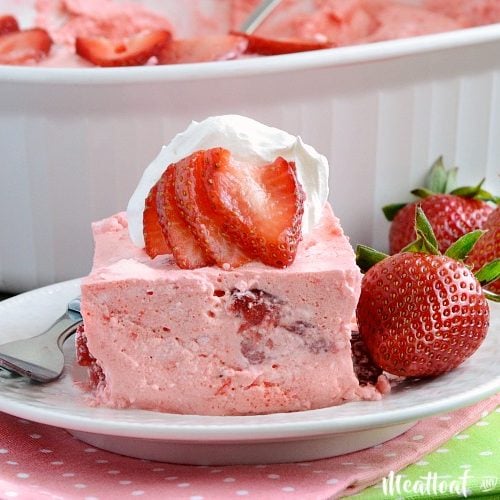 Strawberry Jello Fruit Salad
Strawberry Jello Fruit Salad is a light, foamy pink retro recipe made with strawberries, Cool Whip whipped topping and Jello. It's perfect for spring and summer holidays, parties and potlucks!
Ingredients
1

6-ounce package

Strawberry Jello

not sugar free

2

cups

hot water

1 ¾

cups

cold water

1

8-ounce

package whipped topping

like Cool Whip, thawed

1

pound

frozen strawberries, sliced

or fresh
Instructions
In a large casserole dish, mix the Jello with hot water and cold water until completely dissolved

Refrigerate for about 45 minutes to 1 hour, or until Jello starts to thicken. It will still be runny

Use a whisk or electric mixer to mix Jello until foamy and thick.

Stir in whipped topping, then gently add strawberries, and refrigerate for 2 hours or until firm and ready to serve.
Notes
Make sure you are using the large 6-ounce size of regular Jello -- not sugar free, which comes in different sizes.
Use frozen berries without sauce or sugar in this recipe, or save money, and make your own frozen strawberries by slicing fresh strawberries, transferring to a large zip-top freezer bag and placing in freezer until frozen!
There is no cooking involved in this recipe, but there are refrigeration times, so it takes about 3 to 4 hours for it to be ready to eat.
Fresh strawberries can be used, but keep them refrigerated until ready to use
Nutrition information is estimated. Please do your own calculation to fit special diets.
Nutrition
Calories:
12
kcal
Carbohydrates:
2
g
Potassium:
57
mg
Sugar:
1
g
Vitamin A:
5
IU
Vitamin C:
22.2
mg
Calcium:
6
mg
Iron:
0.2
mg
I know it's not a healthy salad recipe, but hey, it does have fruit! And besides, I'm a sucker for vintage recipes -- when you make them and taste them, it's like stepping back in time. Who's with me on that?!
Want something different? Try Orange Jello Salad or Ambrosia Fruit Salad.

My family scarfed this strawberry Jello fruit salad down like there was no tomorrow -- they loved it! It's perfect for Easter, Mother's Day, potlucks or any spring or summer gathering.
I hope you enjoy it as much as we did. And if you grew up with this retro salad, let me know.
Happy Cooking,