Ambrosia Fruit Salad recipe with sour cream, pineapple, mandarin oranges, mini marshmallows and coconut is a classic dessert salad. This creamy fruit salad is perfect for family dinners and special occasions!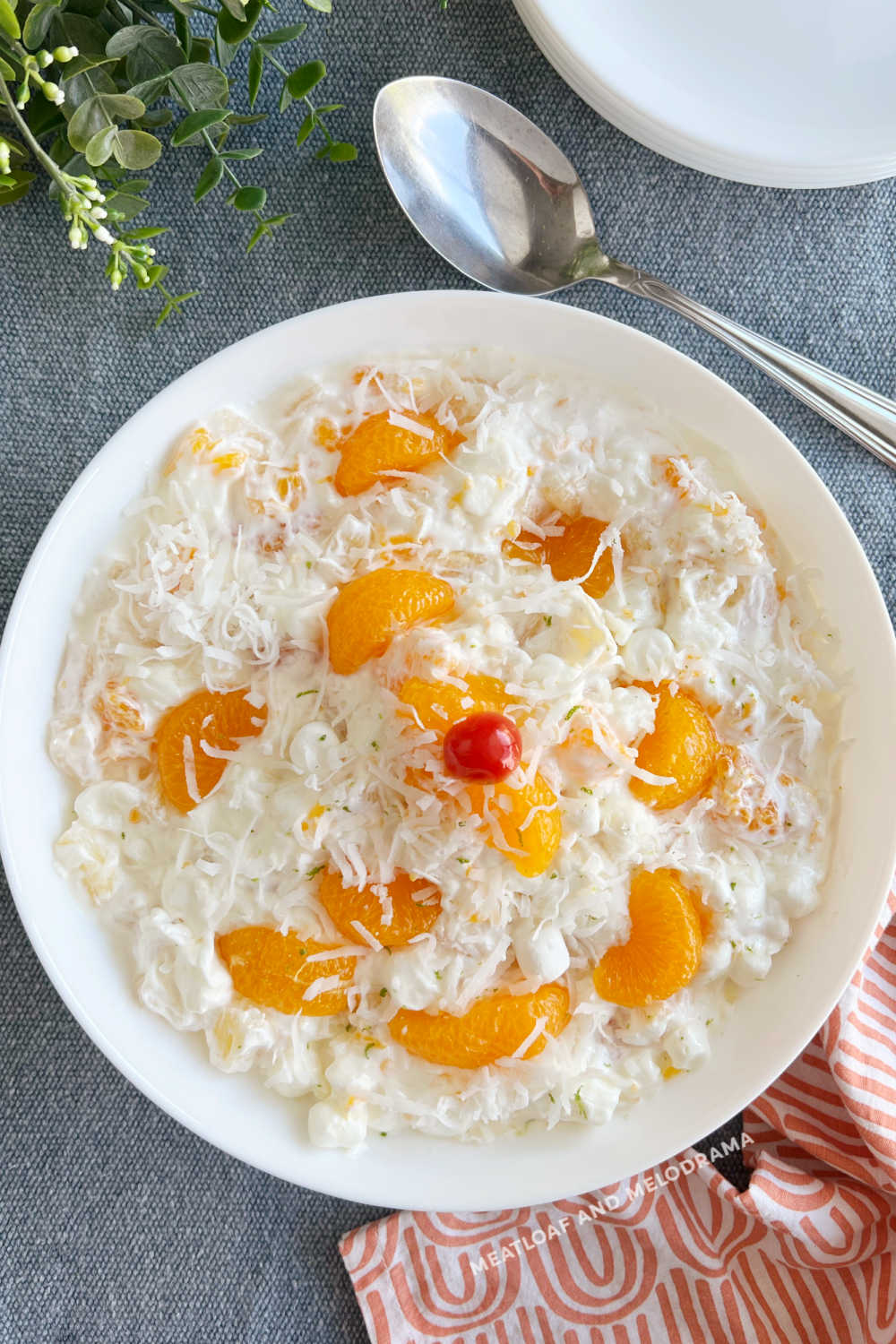 Jump to:
It's that time of year again when you start to see fruit salad recipes popping up all over. But, that's good, right? If you're looking for an easy summer side dish, you'll love this classic ambrosia salad!
I found this gem in my mom's recipe collection. You all know my soft spot for retro recipes, and this one definitely jumped out at me! Since we're heading into summer potluck season, it's perfect timing.
This ambrosia salad is your basic recipe for fruit salad with sour cream and marshmallows or a marshmallow salad with sour cream. You can also call it 5 cup salad, although this particular recipe doesn't have exactly one cup of everything.
The Hubs grew up with an ambrosia recipe that called for whipped cream or Cool Whip, but this one only has sour cream. And it doesn't have nuts, which is perfect since my kids hate salads with nuts!
I think every family has their own version of ambrosia, and that's totally fine. You really can't go wrong with any of them!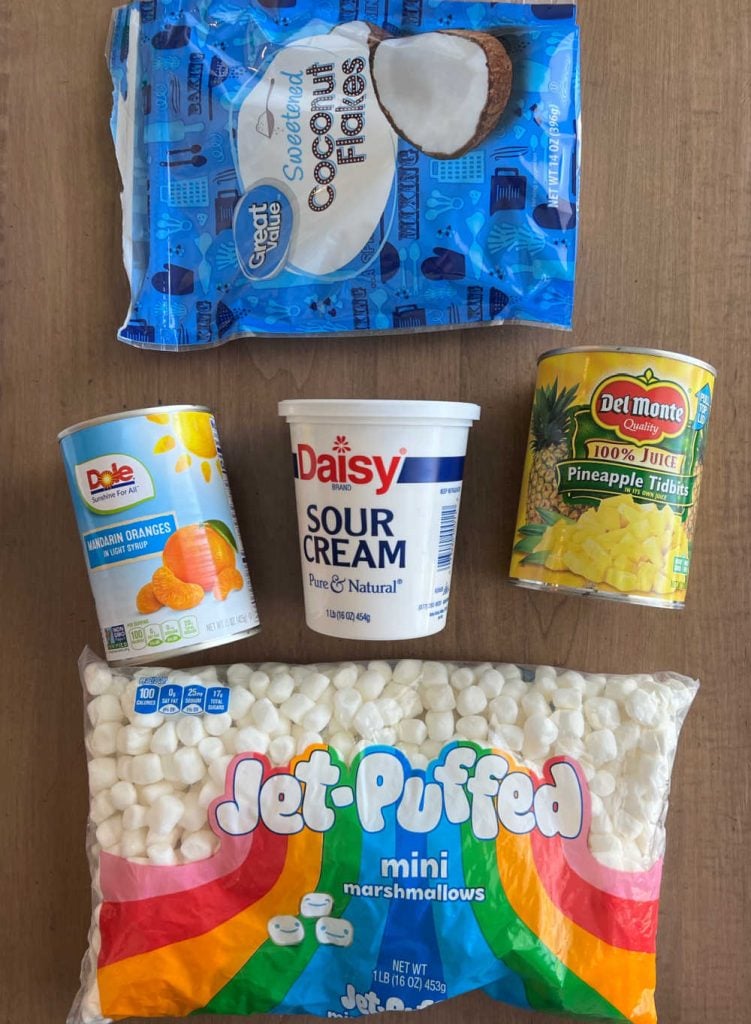 Ingredients
You only need a few simple ingredients for this classic ambrosia salad recipe. What you don't already have at home should be easy to find online or at your local grocery store.
Can mandarin orange slices, drained
Can pineapple tidbits, drained
Mini marshmallows
Shredded coconut
Sour cream
Lime zest -- optional
How to Make Ambrosia Salad with Sour Cream
This recipe is so easy that I turned it over to the kiddos. They love helping out in the kitchen, and I have one less dish to make. Works for me!
First, you just drain your pineapple tidbits and mandarin oranges, and then you add them to a large bowl.
Don't skip this step! Draining the cans of fruit prevents the salad from becoming too wet and watery.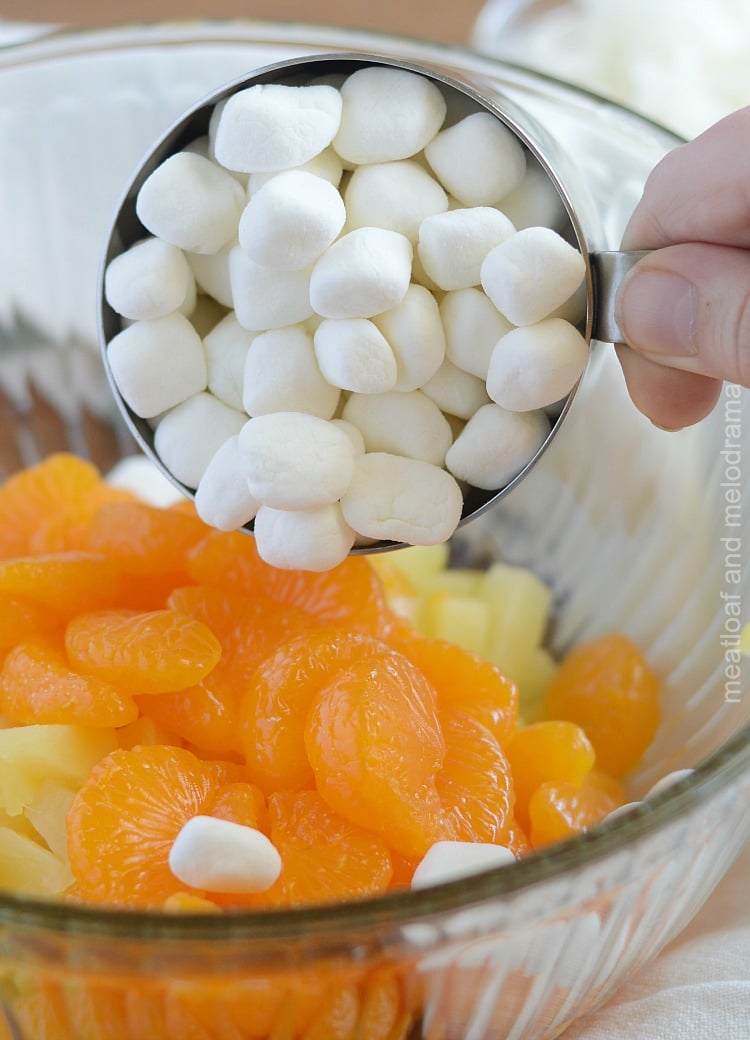 Then, you add some mini marshmallows and a little shredded coconut flakes. One of my kids hates coconut, but she didn't complain about it at all in this recipe!
It really blends in well, so don't skip it, even if you're not a coconut lover.
Try it first, and if you still don't like it, you can leave it out next time -- K?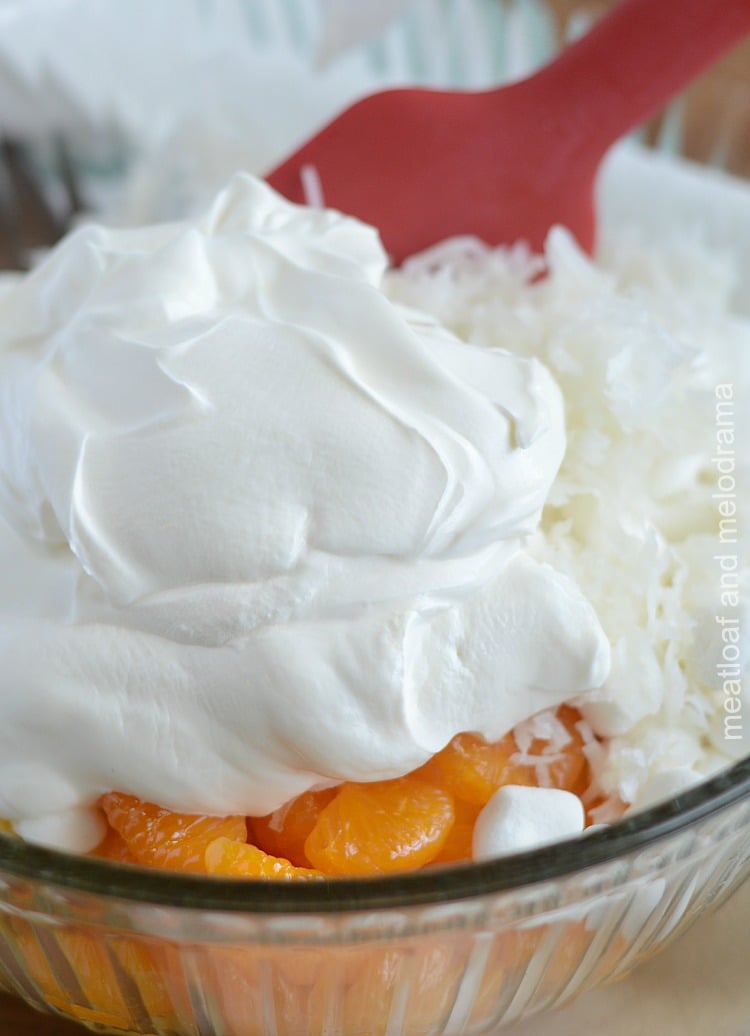 Stir it the sour cream, and that, my friends, is it. I added a little bit of lime zest to the top -- just for a little color and a zip of flavor.
This is totally optional, though.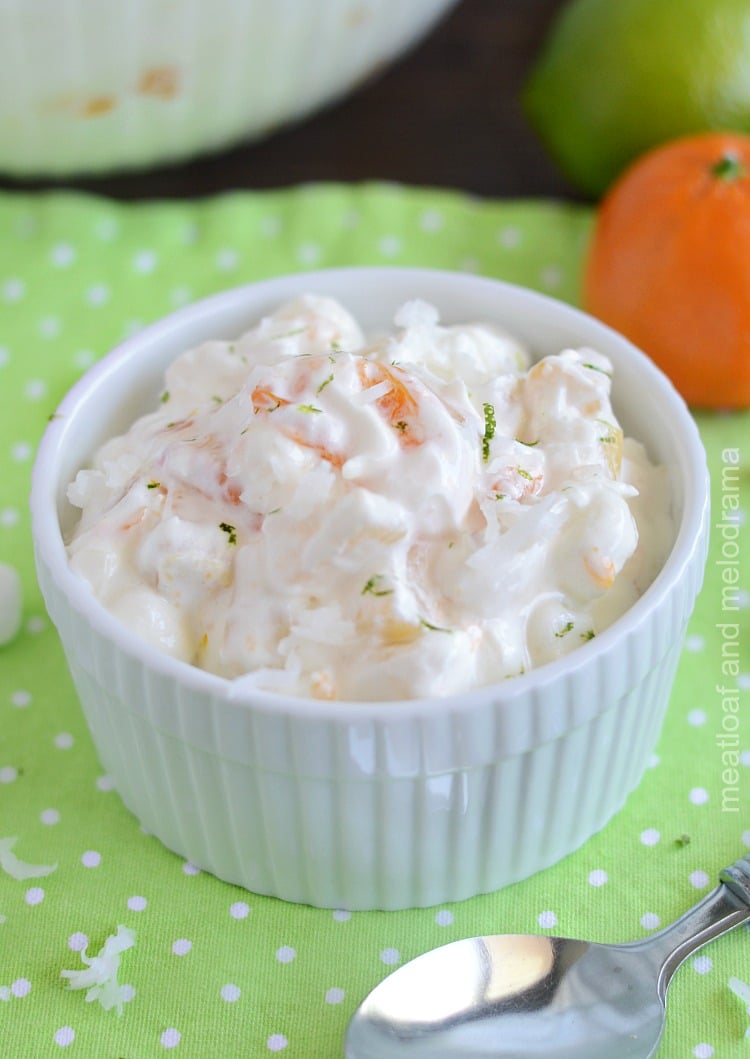 This ambrosia salad is cool, creamy and just sweet enough. No wonder it's named after the food of the gods in Greek mythology
Variations
There are a couple ways to customize this delicious fruit salad to your liking.
Add or leave out any salad ingredients you want. In addition to pineapple and oranges, I like to add maraschino cherries and green grapes. You can also use canned fruit cocktail for more fruit variety.
For some extra texture, sprinkle some chopped nuts into your salad. You can use different nuts, but crunchy pecans and walnuts tend to go best.
Instead of sour cream, use plain Greek yogurt or cottage cheese, depending on what flavor you're going for. For a sweeter variation of ambrosia salad, use whipped cream.
This is meant to be a super easy salad recipe, but you can use fresh fruit of you want. Just cut up some fresh pineapple chunks and orange slices.
If you like fruit salad recipes, try my Marshmallow fruit salad, Strawberry Jello fruit salad, Orange Jello fruit salad or Tropical fruit salad.
How to Store
Store leftover easy ambrosia fruit salad in an airtight container in the refrigerator, where it'll keep for 2 to 3 days. I do not recommend freezing leftovers.
Enjoy any extra fruit salad straight out of the refrigerator, adding any toppings you might want!
Recipe
Ambrosia Fruit Salad Recipe
Ambrosia Fruit Salad recipe with sour cream, pineapple, mandarin oranges, mini marshmallows and coconut is a classic dessert salad. This creamy fruit salad is perfect for family dinners and special occasions!
Ingredients
1

15-ounce can

mandarin orange slices, drained

1

20-ounce can

pineapple tidbits, drained

1

cup

mini marshmallows

½

cup

shredded coconut

2

cups

sour cream

lime zest, optional
Instructions
In a mixing bowl, add the mandarin oranges, pineapple, mini marshmallows and coconut

Stir in sour cream, and mix well

Top with fresh lime zest, if desired, and refrigerate for one hour or until ready to serve
Notes
Be sure to drain the cans of fruit well. This prevents the fruit salad from becoming too wet.
Nutrition information is estimated. Please do your own calculation to fit special diets.
Nutrition
Recipe published in 2018 and updated in 2022.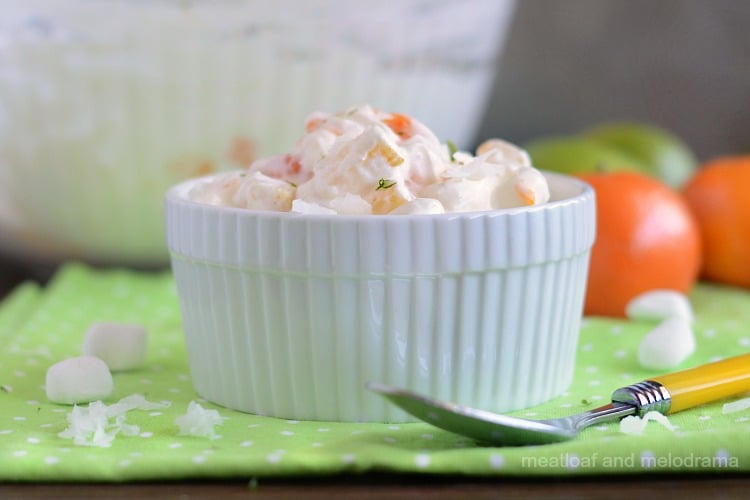 Easy ambrosia salad is my favorite version of this classic recipe, and it's always a big hit at summer barbecue and family gatherings!
If you're a fan or ambrosia salad recipes with sour cream, I hope you enjoy our best ambrosia salad as much as we do!
For more great recipe ideas, no bake dessert recipes, and perfect side dish salads, subscribe to the newsletter and follow me on social media!