Pistachio Salad, or Watergate Salad, is made with only 4 ingredients and is light, fluffy and makes a delicious side or dessert salad for potlucks, parties, picnics or holidays. It's a classic retro recipe that's worth revisiting!
We've been having such warm weather lately that it definitely feels like summer! And when I think of summer recipes, I think of cool, light fluffy recipes, if that makes sense.
I've been going through some of my grandmother's old cookbooks and notes, and reading through those old recipes is utterly fascinating!
As I was reading some of the recipes out loud, the Hubs and I got to talking about some of the retro recipes we remember, and one of them was an easy pistachio salad, or Watergate Salad, as it's also called. Bonus points if you know why it was called Watergate salad!
As I recall, this dish was usually reserved for potluck dinners or parties. I don't think we ever had it as part of an ordinary dinner.
It's super simple, and it only consists of four ingredients, or five, if you decide to add nuts. I thought it would be fun to make this fluffy green Jello salad for my own kids, just so that they could say they had tried it.
My kiddos had never tried pistachio pudding before, and at first they rebelled at the thought. I don't know if they were expecting mashed pistachios, but as soon as I showed them the ingredients, which are basically Jello pistachio pudding and Cool Whip, they got over it! And because pistachio salad is so easy to make, I let my little Diva try it on her own.
How to Make Pistachio Salad (Watergate Salad)
First, you combine crushed pineapple and a small box of instant pistachio pudding. This looks pretty wild, and you can see that the ingredients gave off kind of a weird glow.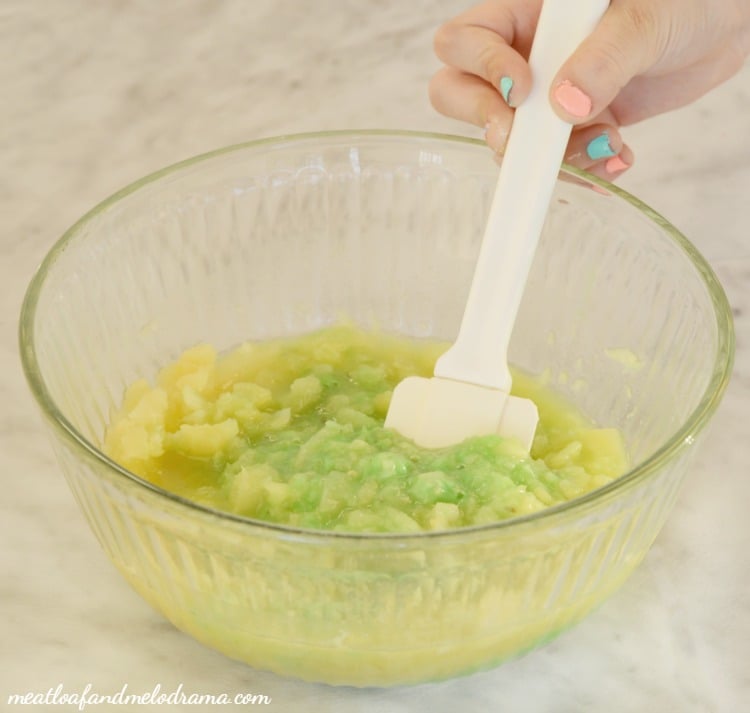 Then, you mix in a small container of whipped topping. And, the weird yellowish-green glow disappears!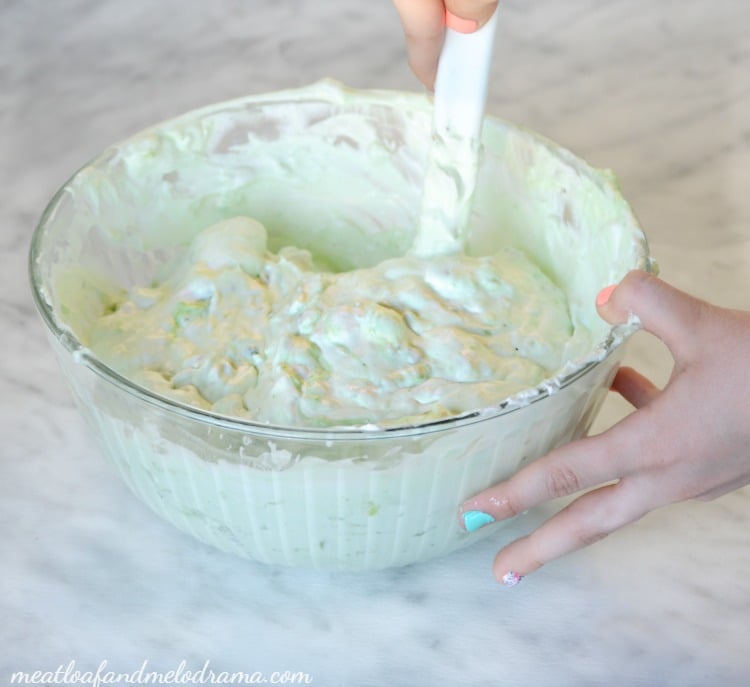 Finally, you fold in some mini marshmallows. And that's all, folks — you're done!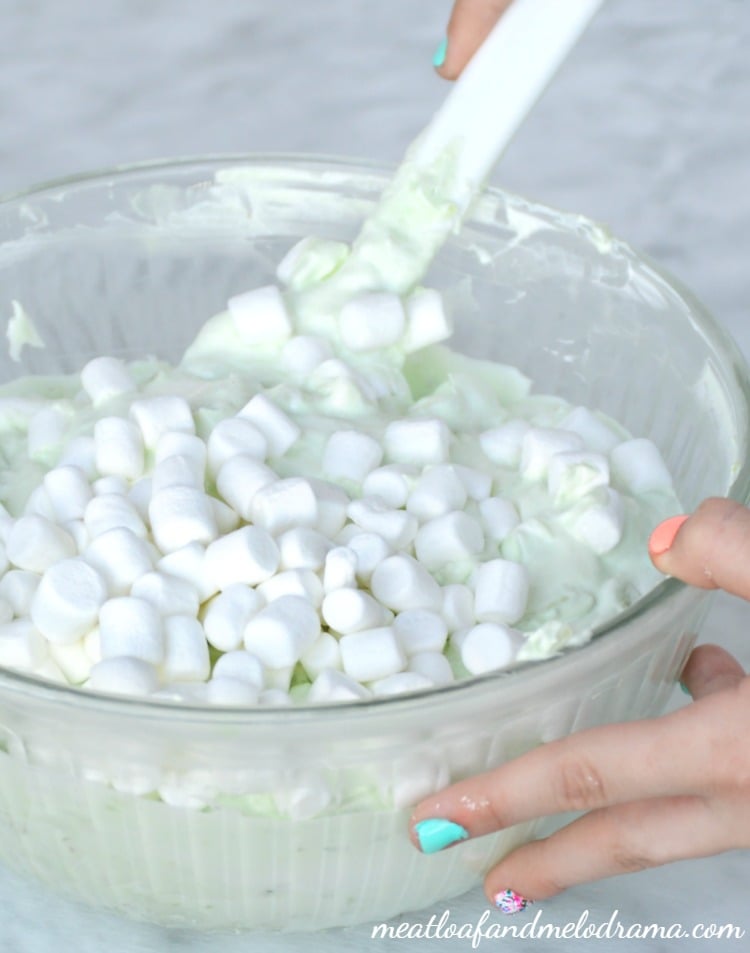 I think the original recipe for Watergate salad called for chopped almonds or walnuts, but my kids hate nuts in their food, so I left that out. If you want more of a crunch, go ahead and add some nuts. But, I think I'm going to agree with the kiddos on this recipe and say that it's fine without the nuts.
Pistachio salad is one of those recipes that instantly takes you back. I haven't had this in years, but after one bite it was like, Yes — I remember this!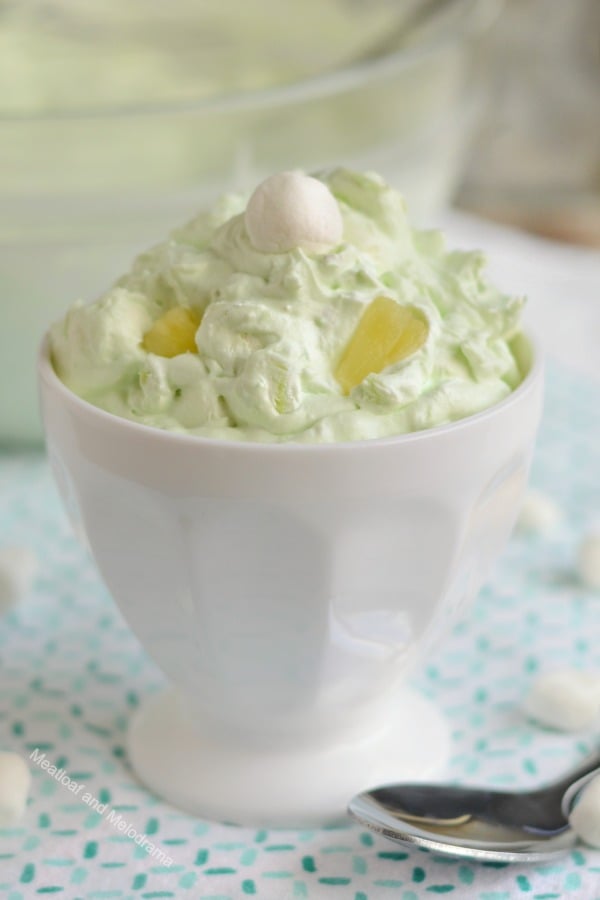 Looking for more vintage retro side salads?
Recipe For Pistachio Salad
Pistachio Salad
Classic Pistachio Salad, or Watergate Salad, as it's also known is made with Jello pistachio pudding, Cool Whip, pineapple and marshmallows.
Ingredients
1

3.4-ounce

box of instant pistachio pudding mix

1

20-ounce

can crushed pineapple

not drained

1

8-ounce

container whipped topping

thawed

1 1/2

cups

mini marshmallows
Instructions
Mix the pineapple with the pudding mix in a medium bowl

Fold in the whipped topping

Stir in the mini marshmallows

Refrigerate until ready to serve
Nutrition
If you like retro recipes, I hope you enjoy this pistachio salad recipe as much as we do!
This post was originally published in 2016.