This Easter Lamb Cake recipe is a pound cake made from cake mix, sour cream and pudding mix and baked in a lamb mold. An adorable Easter dessert for Easter Sunday that is almost too pretty to eat!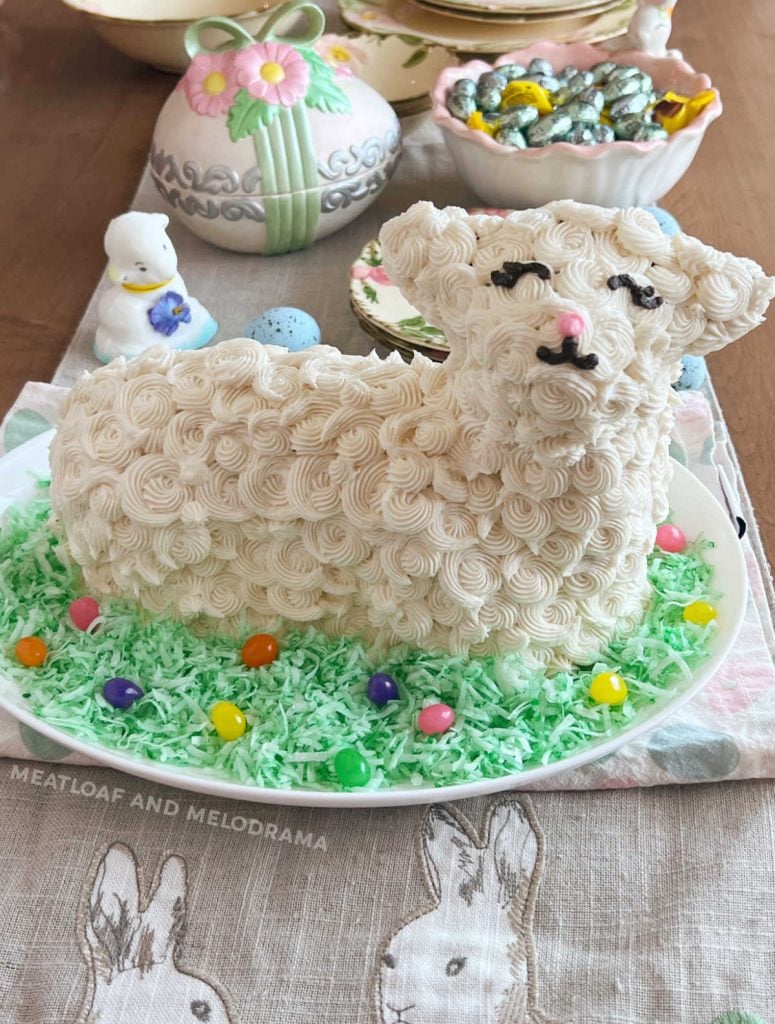 Jump to:
If you're looking for a showstopper Easter dessert, try this adorable lamb cake. Lamb cakes are traditional Easter desserts around the world.
My Polish grandma used her cast iron cake pan to bake her Polish Easter cake. If your family is German, Italian or from the Czech Republic or other European countries, you may have grown up with this Easter tradition too.
Grandma also made Nut Roll, Easter Cheese, babka and a butter lamb for the holiday.
You need a dense cake batter for this cake. Pound cakes are traditionally used in cake molds because they hold their shapes well after baking.
I don 't have my grandma's cast iron cake mold or her Polish lamb cake recipe. So, after several attempts at baking the perfect pound cake from scratch that would work in our lamb mold, my baker daughter and I turned to cake mix.
I could not find a box pound cake mix, so we made pound cake from cake mix by adding a few extra ingredients. A regular cake mix doesn't work well here because the cake won't hold its shape after baking.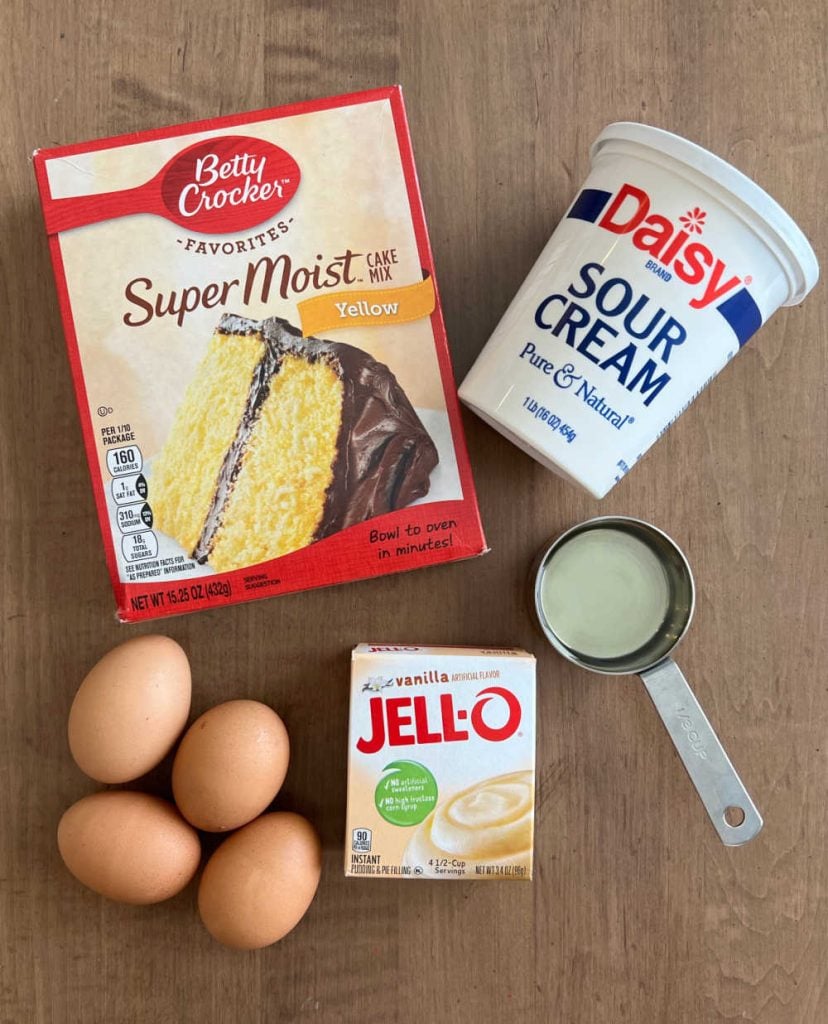 Ingredients
You only need a few simple ingredients for this lamb cake recipe. You can find them in most grocery stores or online.
Box yellow cake mix
Eggs
Sour cream
Vegetable oil
Instant vanilla pudding mix
Butter -- softened
vanilla extract
Powdered sugar
Milk
You will also need a lamb cake mold or cake pan. I used the Nordic Ware lamb mold, but Wilton makes lamb cake pans, as do other companies.
This cake batter makes enough for the cake and a few cupcakes, so get out your cupcake pan, too!
How to Make a Lamb Cake for Easter
First, heat oven to 350 degrees f. Then, get out your cake pan, and open it up. You will need to grease both halves of the cake pan very very very well!
Spray the pan with non stick spray. Then, slather the pan with solid vegetable shortening, like Crisco. Finally, dust a thin layer of flour on the bottom and side of the cake pan. A flour sifter or sieve works best for this.
It might seem excessive, but trust me, this prevents the cake from sticking to the mold. Nobody wants a broken Easter cake!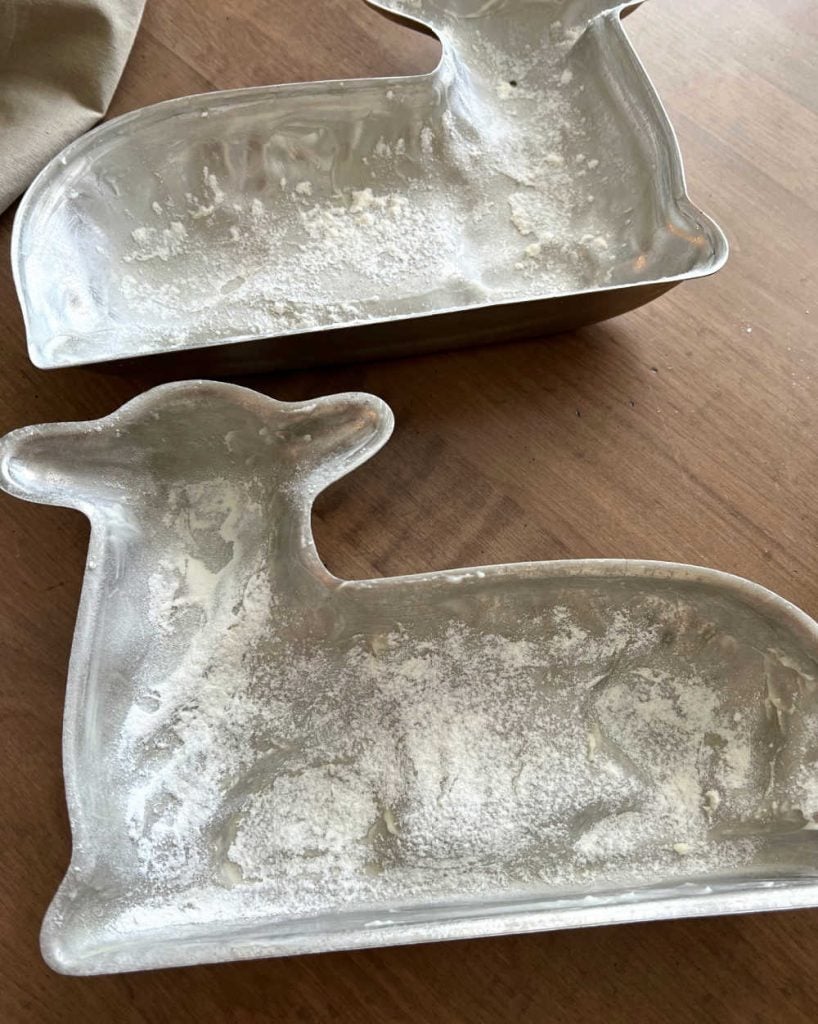 Next, add all of the ingredients to a large bowl. Use an electric mixer and start mixing the ingredients on low speed until just blended.
Then, mix the batter on medium speed for 3 to 4 minutes or until it's nice and thick.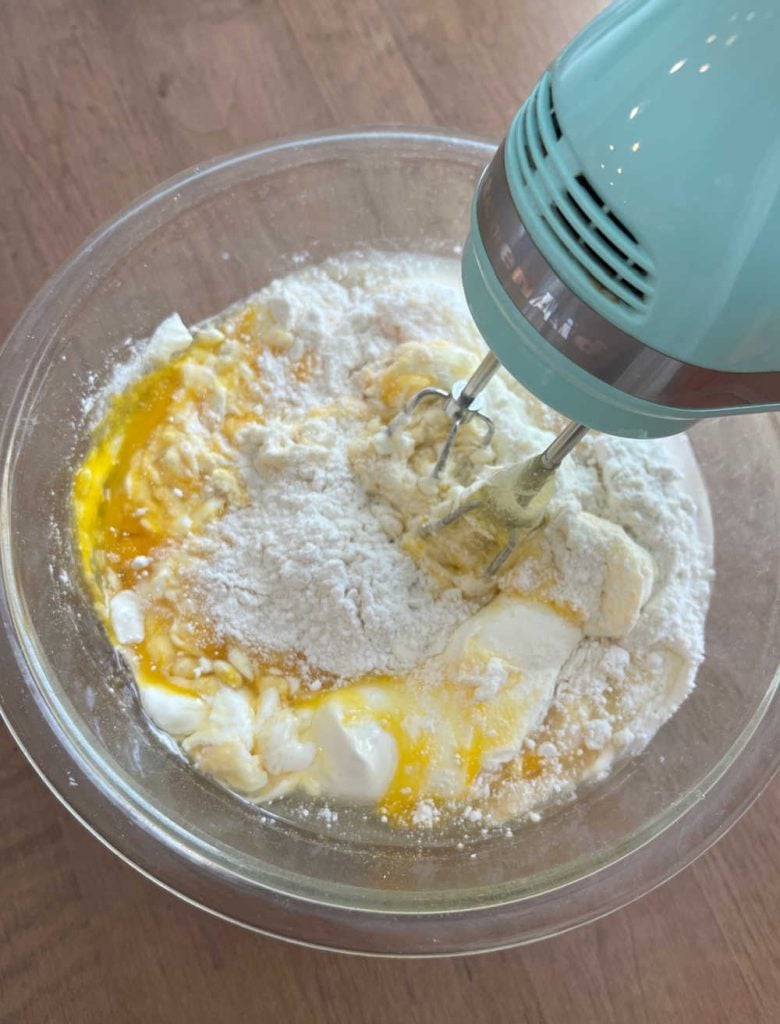 Place the front of the cake pan face side down on a rimmed baking sheet. So, the lamb's nose should be touching the baking sheet. The half with the vent hole goes on top.
Pour 2 and three fourths cups of the cake batter into the lamb mold if you are using the Nordic Ware mold.
You can add a little more batter, but it should be just under the rim. Don't fill it too full, or the batter will run out while baking. You will have extra batter left over. Use it to make some cupcakes!
Spread the batter evenly in the mold. If you want, use toothpicks to help the head and ears hold up. You can place a toothpick horizontally in each ear. You can also place a couple in the neck area.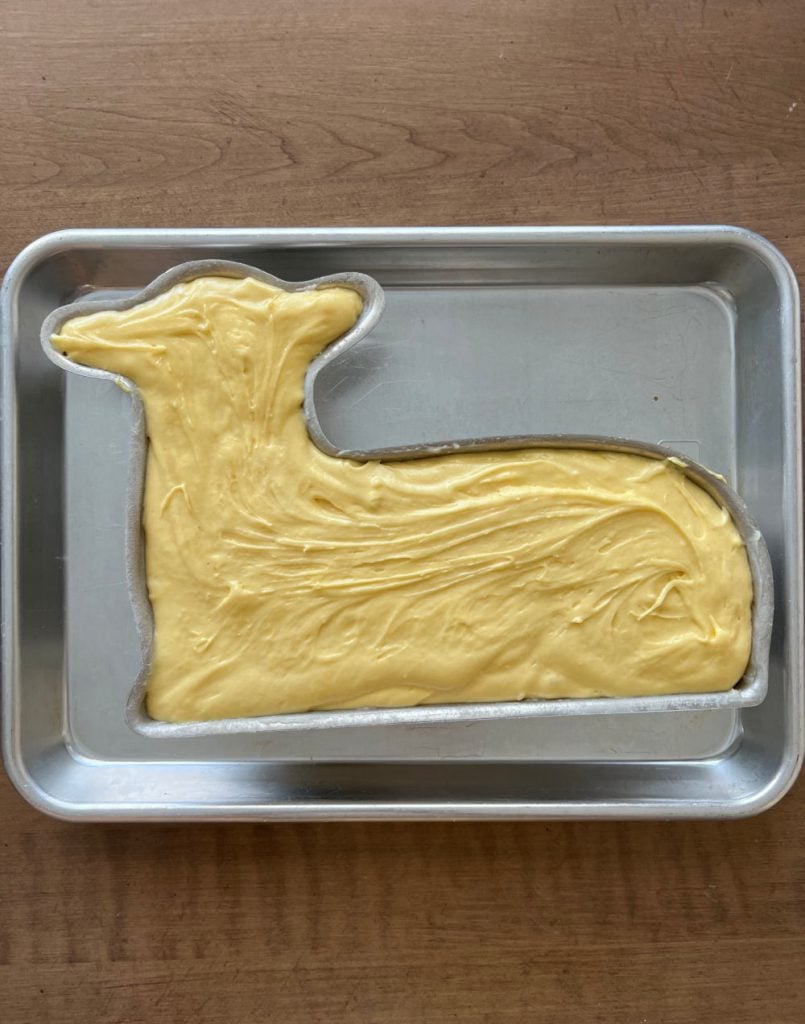 With this recipe, we left out the toothpicks, and the cake still held its shape. If you do use toothpicks, just remember to take them out when you serve the cake!
Place the other half of the cake mold on top of the first half so that the vent hole is facing up. Then, carefully place the cake into the preheated oven.
Cook Time
Bake cake for 50 to 55 minutes in your preheated oven. Insert toothpick into vent hole to check if cake is done baking. If the toothpick comes out clean, it's done!
Definitely wait until the 50 minute mark to do the toothpick test. The air hole is in the head part of the mold, so sticking the toothpick in earlier might indicate that the cake is done, when in fact the head cooks faster than the body.
When it's done baking, let cake cool in the lamb mold for 5 minutes.
Then, take off the top of the mold and let the cake cool for 5 to 10 minutes.
Finally, remove cake from the mold by flipping it over onto a cookie sheet. Let the cake cool completely then -- which could take about 3 hours.
When the cake has completely cooled, trim off any crisp edges with a sharp knife, and even out the bottom of the cake so that the cake can stand up.
And there it is! Onto the fun part now!
How to Decorate
You can use any frosting for this cute cake. We made buttercream frosting and used a pastry bag to make swirls for the lamb's coat. You can use cream cheese frosting, but it doesn't work well in a piping bag. Use your favorite brand of frosting if you like, or make a simple glaze for a lighter cake.
To help the lamb stand up, put a dab of frosting on the plate you're keeping the cake on, and place it on top of the frosting.
I usually make a white frosting for the lamb's wool, along with a pink frosting and black frosting for the nose and eyes and mouth, respectively.
To make this lamb look super adorable on your Easter table, plate it with some edible grass! If you don't have edible grass, just put a couple drops of green food coloring into some shredded coconut, and mix.
Place the green coconut grass around the lamb, and throw some jelly beans or easter candies in the grass. So cute!
Variations
If you don't want to pipe swirls over the entire lamb, just frost it normally. If you're using cream cheese frosting, the swirls probably won't be able to hold anyway.
Feel free to add whatever features you want to your lamb! Pipe a bow or tie a ribbon around the lamb's neck, make open colored eyes, rosy cheeks, or anything you think will be cute!
Use jelly beans to make the eyes, nose, and mouth if you don't want to pipe the lamb's face.
How to Store
Store completed lamb cake in refrigerator. It can be left unwrapped before it is sliced if made a day or 2 ahead of time.
However, once you have cut it, wrap the leftover cake in plastic wrap or keep it in an airtight container. If you have a cake cover, use that.
Before serving, leave the lamb cake sitting out at room temperature for about 10 minutes, so that the buttercream frosting warms up.
For a make ahead dessert, wrap the unfrosted cake in plastic wrap and aluminum foil, and freeze for up to 3 months before frosting for best flavor.
Contains affiliate links. See disclosure for information.
Recipe
The Best Easter Lamb Cake
This Easter Lamb Cake recipe is a pound cake made from cake mix, sour cream and pudding mix and baked in a lamb mold. An adorable Easter dessert for Easter Sunday that is almost too pretty to eat!
Ingredients
For the Cake
1

15 oz

box yellow cake mix

4

large

eggs

1

cup

sour cream

⅓

cup

vegetable oil

1

3.4 oz

instant vanilla pudding mix
For the Frosting
1

c

butter

softened

2

teaspoon

vanilla extract

4

c

powdered sugar

4-6

tablespoon

milk
Instructions
For the Cake
Spray both sides of the lamb cake mold with nonstick spray.

Grease both sides with vegetable shortening and then sift flour over the molds. Set aside.

Combine the cake mix, vanilla pudding mix, sour cream, vegetable oil and eggs in a large bowl, and use an electric mixer to beat on low speed until combined. Beat on medium speed for 3-4 minutes or until thick.

Place 2 ¾ cups of the batter in the bottom mold--this is the side without the air hole.

Place the top part of the mold on top of the bottom part. Place the combined molds on a small baking sheet.

Bake for 50-55 minutes. Insert a toothpick into the vent hole to see if cake is done baking.

Let the cake cool in the mold for 5 minutes.

Take the top mold of and let the cake cool for another 10-15 minutes.

Remove the cake from the mold by flipping it over onto a baking sheet. Let it cool completely--this will take awhile.

Trim off any crisp edges with a sharp knife, and even out the bottom of the cake so that the cake can stand up.
For the Frosting
Beat the butter on medium speed for 5-10 minutes, or until white and fluffy.

Add the vanilla in, and mix until completely combined.

Gradually add in the powder sugar. You can sift if if you want, but beating it on high for a long time will get rid of any lumps.

Add in enough milk so that the frosting is smooth but not runny.

Beat on medium speed for another 5-10 minutes.

Fold the frosting with a spatula to get rid of any air bubbles.

Set aside a ¼ cup of frosting into two separate bowls. Dye one bowl with black food coloring for the eyes and mouth. Dye the other bowl with oink food coloring for the nose.

Use a piping bag to frost the lamb's wool. Or, frost the cake however you please.
Notes
You can use more batter if you are using a larger mold from a different manufacturer.
Serving size depends on how big slices are.
Use leftover batter to make cupcakes. Bake for 18-20 minutes at 350 degrees f.
Nutrition information is estimated. Please do your own calculation to fit special diets.
Nutrition
Calories:
430
kcal
Carbohydrates:
50
g
Protein:
3
g
Fat:
25
g
Saturated Fat:
15
g
Polyunsaturated Fat:
1
g
Monounsaturated Fat:
7
g
Trans Fat:
1
g
Cholesterol:
137
mg
Sodium:
187
mg
Potassium:
72
mg
Fiber:
1
g
Sugar:
48
g
Vitamin A:
825
IU
Vitamin C:
1
mg
Calcium:
48
mg
Iron:
1
mg
I didn't get it right the first time, but now I have the recipe for making my own Easter lamb cake! Growing up, it was never Easter time without it.
The cake represents Jesus as the Lamb of God, so I'm super excited to be able to share this perfect lamb cake with my kids!
For more original recipes, Easter recipes, holiday desserts and cool cake ideas, subscribe to the newsletter and follow me on social media!